We specialize exclusively in the chemical industry in China, providing
- Strategy Development
- Market Information
- M&A Target Search
- Trainings/Workshops
- R&D Optimization
Our clients profit from our in-depth knowledge.
For more information contact Dr. Pflug:
Management Consulting – Chemicals Ltd.
M: Dr. Pflug +86 136 8187 3992
Email: kai.pflug@mc-chemicals.com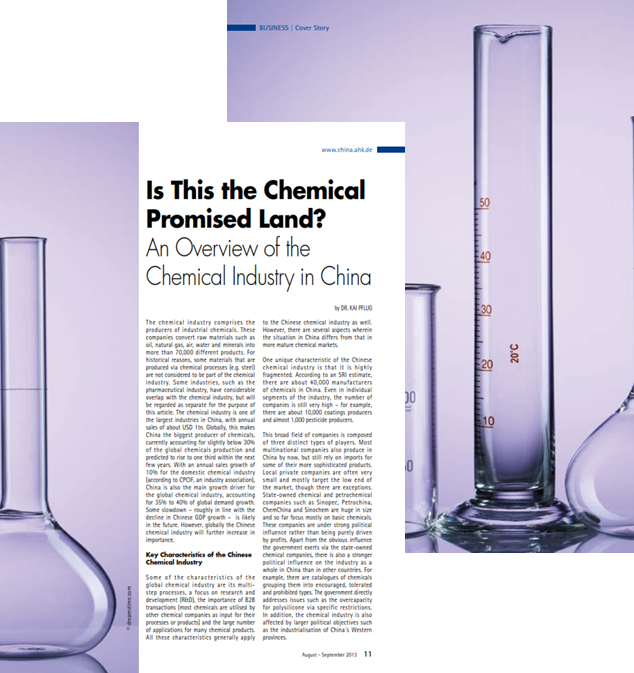 Industry News
This section contains information and comments on China´s chemical industry, as posted from January 2018 onwards. Entries are not revised later. For older entries, see separate sections. For daily updates, please join the LinkedIn group "News and Trends in China´s Chemical Industry".
---
Sep 16, 2019: BASF launched a Creation Center in Shanghai which will allow customers to explore innovative BASF materials solutions.
Comment MCC: It is somewhat surprising that this center was opened later than a similar one in Mumbai, India.
---
Sep 15,2019: According to CPCIF, total main business income for Chinese petroleum and chemical enterprises was 12.45 trillion RMB in 2018 (about 1600 billion Euro). The top 2 companies Sinopec and Petrochina accounted for 47% of this amount, companies ranked 3 to 10 accounted for 16%, companies ranked 11 to 500 accounted for about 25% and the remaining about 23,000 companies accounted for another 12%.
Comment MCC: Of course, Sinopec and PetroChina are mainly oil producers rather than chemical companies. 12 companies reach the threshold of 100 billion RMB (about 14 billion USD). This is hard to reconcile with the chemical company ranking done by C&EN - in their ranking, only 22 global chemical companies reach annual sales of 14 billion USD, and only two of these (again, PetroChina and Sinopec) are actually included.
Unfortunately, the value that would be the most interesting one for somebody following the global chemical industry - global chemical sales - is not used as a basis for either ranking. The Chinese list includes income from activities such as oil production while the C&EN list excludes all companies for which the specific chemical sales are not available (thus excluding several Chinese companies which in all likelihood have higher chemical sales than some non-Chinese companies included in the list)
---
Sep 14, 2019: Among the American products China just exempted from tariffs several are chemical ones including nonionic organic surfactants, anti-cancer APIs and lubricants
Comment MCC: Assuming that these exemptions are in areas where China finds it hard to replace US imports with alternatives, it seems chemicals constitute a relatively large share for which this is true.

---
Sep 13, 2019: Evonik Venture Capital has invested in Chinese 3D-printing start-up Meditool. The company makes implants for neuro and spine surgery using Evonik`s PEEK.
Comment MCC: Interesting to see a chemical company supporting such an innovative and high-end application of its polymers. Unfortunately for chemical companies, my guess is that most of the value created will be captured by the 3D-printing company and the medical industry rather than by the polymer producer.
---
Sep 12, 2019: Germany will begin phasing out glyphosate from next year and completely ban it from 2023 to protect insects.
Comment MCC: While less drastic than a ban due to potential carcinogenic properties, it will still affect glyphosate producers in China, reducing not only demand from Germany but also potentially that of other countries that do not want to be accused of having less stringent regulation than Germany.
---
Sep 11, 2019: Shandong province has set hard criteria for new chemical projects. Among them, the amount of investment in fixed assets in newly built chemical projects for the production of dangerous chemicals should be at least 300 million yuan
Comment MCC: While there are some exceptions, the regulation makes it clear that the provincial government utilizes the regulation not only to improve safety standards but also to limit the number of chemical producers. For bigger companies, this should be good news.
---
Sep 10, 2019: LyondellBasell has signed a memorandum of understanding for a 50:50 JV to with China's Bora Enterprise Group to invest in a petrochemical complex in northeast China. Products to be considered in phase one include PE (800 kt), PP (600 kt) and 350 kt styrene (Reuters)
Comment MCC: Despite the current weakening of the Chinese economy, it seems global chemical players such as LyondellBasell and BASF still bet on China as a major growth driver for the global chemical industry. In fact, the current tightening of environmental regulation and the subsequent industry consolidation are likely to make China a more attractive investment location for foreign chemical companies.
---
Sep 09, 2019: By the end of 2018, China had 96,000 chemical enterprises, including 16,000 which engage in hazardous chemical production (ChemLinked)
Comment MCC: Another figure is that about 23,000 chemical companies in China have sales above 20 million RMB per year. However, in order to guarantee the safety of the chemical industry, the 16,000 companies active in hazardous chemicals are the most relevant.
---
Sep 08, 2019: Wanhua is scaling back and possibly changing the location of a $1.25 billion methylene diphenyl diisocyanate (MDI) plant it intends to build in the US (C&EN). A company statement says that the company is being forced to "change the scope" of its plans because of "a significant increase in the capital expenditure budget of the MDI project in the past year." It is also reviewing a new location for the plant.
Comment MCC: The trade war between the US and China may be another reason for the possible capacity reduction, as newly imposed import tariffs on MDI imported to the US from China make it more difficult for Wanhua to establish a market for their product before starting their production.
---
Sep 07, 2019: Passenger vehicle production in China was 1.5m units in July 2019. This is a 11.0% fall compared with July 2018 (LMC Automotive)
Comment MCC: While it is nice for chemical companies to supply to the Chinese automotive sector due to its size, it also has its risks. Some companies will suffer.
---
Sep 06, 2019: The Brazilian agency responsible for pesticide authorization will reevaluate the authorization of five active ingredients of pesticides in Brazil. Each of them is currently not authorized for use in either the US or the EU.
Comment MCC: As Brazil is a big export market for Chinese pesticide producers, any ban could have a negative effect on local agrochemical companies.
---
Sep 05, 2019: China will encourage enterprises to enhance their capacity in manufacturing methanol automobiles in a bid to meet the market demand (Shanghai Daily)
Comment MCC: While the newspaper states that methanol is widely considered a clean fuel for engines, it also mentions that methanol as fuel will "give full play to the advantages of China's coal resources", indicating that the methanol will be produced from domestic coal. This would almost certainly negate any environmental benefits.
---
Sep 04, 2019: China sales of biopesticides increased by 12.7% in 2018 but are restricted by high R&D costs, high product price and the cost and complexity of registration.
Comment MCC: As a consequence, the government has started promoting biopesticides via encouragement of R&D and local subsidies, in line with government objectives to improve the environmental footprint of agriculture.

---
Sep 03, 2019: SABIC has introduced International Sustainability and Carbon Certification (ISCC) certified circular polymers produced from recycled plastic waste to the Chinese market.
Comment MCC: With such initiatives, it is hard to say whether they primarily benefit the environment or the chemical company aiming to improve its image.
---
Sep 02, 2019: After environmental compliance inspections related to phosphorous conducted in seven provinces in the Yangtze Economic Zone, 276 manufacturers were discovered to have non-compliance issues and are facing corrective actions and shutdowns. The leading manufacturers discovered to have non-compliance issues produce 43% of the country's glyphosate . Out of the top six manufacturers, only the Xingfa Group and Wynca haven't been affected (Agropages)
Comment MCC: It is good news to hear that companies compliant with environmental regulation will benefit (glyphosate prices will surely rise) while noncompliant ones have to face consequences.

---
Sep 01, 2019: US Chemicals on which China will impose import tariffs of 5 or 10% from today onwards include ABS, ammonia, industrial gases, LLDPE and titanium dioxide. On Dec 15, tariffs on chemicals including aniline, caprolactam and others will be added.
Comment MCC: While it would be better if China did not retaliate, this is clearly a reaction to the most recent US tariffs - and thus understandable from a political point of view.
---
Aug 31, 2019: Management Consulting - Chemicals, a consulting company focusing specifically on the chemical industry in China, was founded exactly 10 years ago.
Comment MCC: No comment.
---
Aug 30, 2019: Clariant will significantly expand the capacity of its SynDane maleic anhydride catalysts production facility in Panjin, Liaoning province, Northeast China
Comment MCC: This is part of the still ongoing shift of the chemical industry towards China, now covering not only commodity chemicals such as maleic anhydride but also the catalysts needed to produce them - typical specialty chemicals.
---
Aug 29, 2019: On Aug. 23, the Trump administration announced it is raising tariffs already imposed on $250 billion worth of Chinese imports from 25% to 30%, effective Oct. 1. The administration also said it will hike upcoming tariffs on $300 billion in Chinese goods from 10% to 15%. The $300 billion levy is set to go into effect in two batches on Sept. 1 and Dec. 15 (C&EN)

Comment MCC: This of course does no good to either side and thus is criticized even by American associations such as the American Chemistry Council: "ACC and our members continue to believe that negotiation is more effective than intimidation and retaliation. If this tariff dispute becomes a war of attrition, it has the potential to last for years, only doing more harm than good-to both sides."

---
Aug 28, 2019: Jiangxi Province published the Emission Standard of VOCs, which will come into force on September 1st, 2019. The standard published by the Jiangxi Government is different from the Standard for Fugitive Emission of Volatile Organic Compounds issued by the central government.
Comment MCC: While Jiangxi claims that their standard has been adapted to meet local environmental protection and economic needs, it seems unfortunate particularly for larger and foreign companies to have a variety of standards depending on the province of a specific plant.
---
Aug 27, 2019: Zhejiang province has prohibited hazardous chemical transport vehicles from driving on the highways within the province from 0 a.m. to 6 a.m. (ChemLinked)
Comment MCC: One can easily imagine how government officials in various provinces these days sit together and think about how to avoid accidents related to the chemical industry, and their negative effect on the career of the officials.
---
Aug 26, 2019: Clariant has announced the startup of Hengli Group's new mixed-feed dehydrogenation plant in Dalian, China, with its Catofin catalyst technology, claimed to be the world's largest facility to use this technology.
Comment MCC: China is getting more and more plants that are the largest of their type in the world, which should give them an excellent cost position.

---
Aug 25, 2019: A massive surge in China's manufacturing capacity for paraxylene could force leading exporters in Japan and South Korea to cut production as early as the second quarter of 2020. China will add about 10 million tons of PX manufacturing capacity from March 2019 to March 2020 (Reuters).
Comment MCC: This new capacity is expected to massively reduce China`s need for PX imports, from 16 million tons in 2018 to 13 million tons in 2019, 7 million tons in 2020 and 4 million tons in 2021 (JLC Consultancy). Margins will shrink accordingly. And if the past is any indicator, China might well be a net exporter by 2023 or 2024.

---
Aug 24, 2019: AkzoNobel will add three new production lines at its Changzhou powder coatings plant in China
Comment MCC: Interestingly, this is the company's largest facility of its kind in the world, and a CEO statement underlines the importance of China for Akzo as a high priority region.
---
Aug 23, 2019: A total of 1,165 companies were fined a total 65.1 million yuan, and 41 people were detained, in the latest round of environmental inspections lasting from Jul 10 to 15. It focused on Shanghai, Chongqing, Fujian and Hainan as well as on SOEs such as ChemChina (Xinhua, Reuters)
Comment MCC: The high rank of the inspection teams and their high level of access (according to Xinhua, the eight inspection teams were led by retired government ministers or provincial heads given the authority to visit any site or summon any official to explain their conduct) as well as the focus on SOE indicate that this is not for show, but really to improve compliance with environmental regulation, even though the fines still seem relatively low to me.

---
Aug 22, 2019: Speciality chemicals company Nouryon has purchased Chinese triethyl aluminium (TEAL) maker Zhejiang Friend Chemical (Friend) for an undisclosed amount.
Comment MCC: Interestingly, Zhejiang Friend Chemical founder HaiQing Zhang has been appointed to serve as a senior consultant in Nouryon - a move that reduces the change he will set up a rival company.

---
Aug 21, 2019: Lanxess will sell its chrome chemicals business to Chinese leather chemicals producer Brother Enterprises
Comment MCC: A sensible move as certainly chrome chemicals do not fit with Lanxess` aspired image as a modern specialty chemicals company. A Chinese player with focus on leather chemicals will not have similar concerns.

---
Aug 20, 2019: PU System house Hongbaoli expects its net profit in H1 2019 to be CNY 38m compared to CNY 10m in the first half of last year while sales are expected to be down by 2% (UTECH-polyurethane.com)
Comment MCC: The company claims that US tariffs have no severe impact on them as the US accounts for only a small share of their overseas sales. However, the issue in the future might be that current customers of Hongbaoli will buy less raw material as the export of their final products to the US gets restricted.
---
Aug 19, 2019: According to the WHO, Air pollution is the cause of more than 1 million premature deaths per year in China. A new study suggests that future climate change may worsen air quality for more than 85% of China's population, leading to an additional 20,000 deaths each year. The study is the first of its kind to look specifically at how changes in weather patterns may affect environmental health in the world's most populous country (C&EN).
Comment MCC: Hopefully such studies will, in the long run, make the Chinese government adopt a broader perspective on environmental protection - one that does not only focus on local emissions but also on the global perspective. At the moment, the country is too proud and too reliant on its coal and the associated chemistry to take these steps.
---
Aug 18, 2019: BASF will invest in a second production plant for tert-butylamine in Nanjing, China, increasing its global production capacity by more than 30%.
Comment MCC: This recognizes China`s position as the center of global tire production, for which tert-butylamine is used as an intermediate.
---
Aug 17, 2019: On July 30th, 2019, the Standardization Administration of China (SAC) announced the schedule for development of "The Norm of Carbon Emission Caps per Unit Product of Petroleum and Chemical Industry". The new standards aim to provide a scientific basis for government to implement carbon emission quotas and provide guidance for enterprises to reduce carbon emissions. It is applicable to the calculation and evaluation of carbon emission caps for key products (refining, ethylene, urea, synthetic ammonia, methanol, soda ash, caustic soda, monoammonium phosphate, diammonium phosphate). This standard will also apply to newly established enterprise to manage carbon emission per unit product (ChemLinked)
Comment MCC: This is another indication of the tightening of environmental regulation in China affecting the chemical industry, and well worth paying attention to.
---
Aug 16, 2019: Wanhua will buy Chematur Engineering AB, a Swedish company claiming to be the only independent TDI and MDI technology licensor worldwide.
Comment MCC: One would think that successful isocyanates producer Wanhua has no need to externally buy MDI technology. But then again, maybe this is a very clever move.

---
Aug 15, 2019: The Japanese government has granted the first permit for a South Korea-bound shipment of chemicals for use in semiconductors. Japan had imposed stricter controls on fluorinated polyimides, photo resists and hydrogen fluoride (Washington Post)
Comment MCC: This will be a relieve to the Chinese production sites of some of the Korean chip manufacturers.
---
Aug 14, 2019: Nouryon has increased production capacity for dialkyl peroxide at the company's Ningbo site by 25%
Comment MCC: This peroxide, which is branded as Perkadox 14, has less odor than other peroxides in the market. Chinese customers are particularly sensitive to odors, giving this product good prospects in applications such as sports shoes.

---
Aug 13, 2019: The China Securities Regulatory Commission is investigating Ruihua Certified Public Accountants, the country's third biggest accounting firm, after one of its clients, Kangde Xin, was caught inflating its profits by about Rmb12bn ($1.8bn) over several years. Kangde Xin is a producer of polypropylene laminating film which defaulted on two bonds worth 1.6 billion yuan in December despite claiming to have 12.2 billion yuan of cash on its books at the end of 2018.
Comment MCC: Such incidents clearly highlight the need for a detailed due diligence when acquiring a Chinese chemical company - to the point that even the statements of relatively reputable auditors have to be double-checked.
---
Aug 12, 2019: Agilent Technologies has reached a settlement with two Chinese companies requiring them to stop making gas chromatographs based on technology from Agilent's 6890 gas chromatograph. The settlement requires Changzhou Pannatek, Shanghai Echrom Technologies, and former Agilent employees accused of stealing instrument plans to pay unspecified damages, destroy stolen documents, and end copycat gas chromatograph sales (C&EN)
Comment MCC: According to Agilent, government protection of intellectual property is improving in China, but remains a concern …
---
Aug 11, 2019: The American Chemistry Council strongly opposes tariffs such as the most recent ones announced by president Trump in early August, saying the trade war could jeopardize the US' growing status as a global supplier with more than $200 billion in new chemical infrastructure that aims to export most output to Asia, with China easily the most dominant demand market (S&P Global Platts).
Comment MCC: Unfortunately, Mr. Trump does not listen.
---
Aug 10, 2019: According to Coatingsworld, China accounts for about 57% of the APAC coatings market. The CAGR for the period of 2013 to 2018 is given at about 4.8%.
Comment MCC: This CAGR is below the GDP growth in this period, reflecting the fact that as China matures, GDP growth comes more from services than from products. Most chemical segments will probably have to get used to growth rates lower than GDP as long as they primarily supply the domestic market.
---
Aug 09, 2019: Huntsman and Chinese partners have launched a continuous production line for plywood using MDI technology instead of traditional urea-formaldehyde adhesives
Comment MCC: According to the press release, the facility is highly automated, and 60% of the equipment are provided by local suppliers, which cuts costs by 30% compared to a standard plant. Certainly an interesting example of cost savings via localization, and one that will become the norm as local equipment suppliers get better.
---
Aug 08, 2019: While pesticide exports from China to Latin America have increased by 2.6% in 1H 2019 compared to 1H 2018, the increase was exclusively in technical, while export of formulations declined (AgroNews).
Comment MCC: This runs against China`s objective to provide solutions rather than just raw materials, as the share of formulations in China`s Latin American exports has decreased from 43 to 39%.
---
Aug 07, 2019: While Clariant 1H 2019 sales grew in most regions, they declined by 9% in China.
Comment MCC: Other chemical MNCs have seen similar drops in sales as some key customer industries such as automotive have not been doing well in China.
---
Aug 06, 2019: AO Global Investment has started a project setting up the Aramid industrial chain by building a 25 kt dinitrobenzene and 15 kt diamine plant in Maoming (CCR)
Comment MCC: With sufficient China capacities for most common polymers already established, the focus now shifts to the higher-end polymers, as intended by the 13th Five-Year Plan.
---
Aug 05, 2019: PWC reports a drop in M&A activity in the chemical industry in Q2 2019, but foresees a potential uptake for China as China's Foreign Investment Law, set to go into effect Jan. 1, 2020, is intended to encourage investment in China and may spur the purchase of Chinese firms by multinational companies (C&EN)
Comment MCC: Indeed, the number of chemical acquisitions of MNCs in China currently is limited but should increase as there is strong consolidation pressure in China`s chemical industry. Many local companies will need to find strong local or foreign partners, or stop existing.
---
Aug 04, 2019: According to an industry official, the crackdown on the chemical sector by the Chinese government is having a bigger impact on businesses than the United States-China trade war (Straits Times). Mr Fu Xiangsheng, the vice-chairman of the China Petroleum and Chemical Industry Association, stated that "Blanket cuts at petrochemical industrial parks have much bigger impacts than the Sino-US trade war".
Comment MCC: A particular issue is that some local authorities apparently have made the closure of chemical plants one of the key performance indicators for government officials.
---
Aug 03, 2019: China will promote emission treatment by third parties in chemical parks by, e.g., giving qualified businesses a reduced tax rate (Chemlinked)
Comment MCC: Emission treatment of chemical parks by specialized businesses is a promising way of improving the environmental situation at a reasonable cost, collecting expertise in emission treatment and supervising the emission of individual companies. Promoting such a model therefore looks like the right step to take.
---
Aug 02, 2019: Hengyi Petrochemical Co Ltd has started trial operations at its new refinery and petrochemical facilities in Brunei
Comment MCC: Privately owned Hengyi already operates a refinery in China and is now expanding its refining activities directly to where the oil is explored, reducing China`s need for oil imports.
---
Aug 01, 2019: On June 4, the Guangdong Emergency Management Office issued a draft "Regional Safety Risk Assessment Guidelines for Chemical Industrial Parks". The draft mentions that a regional safety risk assessment should be carried out for the chemical industry parks at least once every three years
Comment MCC: This is a tightening of the previous 5 year review period. It should strengthen safety regulation for the 54 chemical parks in Guangdong province.
---
Jul 31, 2019: Profits of the chemical industry decreased by 13.8% yoy in June 2019 while revenues increased by 0.7%
Comment MCC: The explanation given by an NBS statistician - though given for the whole industry, not just chemicals - probably still holds true. Zhu Hong attributed the fall in profits to the weak market demand in the auto industry and rising cost of the raw materials, including crude oil
---
Jul 30, 2019: Sinopec at no. 3 and Wanhua at no. 37 are the two Chinese companies in C&ENs list of top 50 chemical companies 2018, which was just released.
Comment MCC: Both had a successful 2018, with chemical sales up 22% at Sinopec and 14% up at Wanhua (which moved from position 41 to 37 as a consequence). Still, the list has its flaws - for example, Sinopec is still much more of an oil company than a chemical company (only 16% of its sales are chemicals) while other Chinese companies which also have substantial chemical activities, such as Petrochina, Sinochem and ChemChina, do not appear in the list, probably due to lack of official data on their chemical business.
---
Jul 29,2019: Chinese synthetic resin output was 85.6 million tons in 2018, an increase of 4.2% yoy, while imports were 30.0 million tons.
Comment MCC: This shows both the slowdown in growth of domestic resin production and the continuing dependence on imports for some synthetic resins.
---
Jul 28, 2019: A Study on the True Cost of Oil in China was recently released, describing the environmental external costs of oil (CCR). At the stage of oil production, water consumption and water pollution are the main external cost factors while at the stages of oil processing and oil utilization, it is air pollution.
Comment MCC: The CCR article claims that this is the world`s first report studying environmental external costs of oil - if this is true, it is remarkable that China is taking a leading role in accounting for these external costs.
---
Jul 27, 2019: China`s technology sector faces a threat from restrictions of electronic-grade HF imported from Japan, as Korean chipmakers producing in China heavily depend on using material imported from Japan, and Japan plans to impose export restrictions for this material to South Korea.
Comment MCC: China`s self-sufficiency rate for electronic materials is only about 60%, making the country vulnerable to restrictions on imports. While it is a government focus to reduce this dependence, it will be much more difficult than in many other segments to catch up, as the sector keeps innovating.
---
Jul 26, 2019: A White Paper by the National Alliance of Hydrogen and Fuel Cell indicates that hydrogen is to account for 10% of China`s energy system in 2050 (CCR)
Comment MCC: At the same time, it is far from clear whether this really solves the problem. The main idea behind hydrogen is to have zero emissions. However, currently 90% of all hydrogen produced in China comes from fossil energy sources
---
Jul 25, 2019: In the first quarter of 2019 to 0.9%, European Union chemical exports to the US for the period were down 6.8% while EU chemical exports to China rose 9.1% (C&EN)
Comment MCC: Of course, these are quarterly figures only, which may not be very meaningful. Still, the data may indicate that as the US erects trade barriers, trade between China and the EU increases.
---
Jul 24, 2019: According to Caixin, the gas factory in which at least 15 people died had made Henan's provincial list of top safety-compliant workplaces and had received a China Chemical Safety Association award in January for an "extraordinary contribution" to chemical industry safety standards
Comment MCC: This is another blow to governmental efforts to improve safety in the chemical industry - another strategy of moving chemical production to chemical parks had already been proven insufficient in the Xiangshui explosion in March 2019.
---
Jul 23, 2019: A recent article in the SCMP highlights the issues that Chinese chemical companies encounter when investing in the US.
Comment MCC: For example, SCMP discusses difference in management culture leading to issues: "Chinese companies also struggle with hierarchy given their more chain-of-command management approach. That does not always sit well with US workers known for challenging supervisors, going over bosses' heads and openly opposing decisions they disagree with"
---
Jul 22, 2019: China is aiming to reduce ozone emissions. One measure is a strategic outline to implement extensive VOC emission control measures in key industries, including chemicals and pharmaceuticals, released on Jul 03 (C&EN)
Comment MCC: This represents a shift of attention from automotive VOC emissions to non-automotive sources - a necessary step to reduce ground ozone
---
Jul 21, 2019: At least 15 people have been killed and 15 others severely injured in an explosion at a gas plant owned by Henan Coal Gas (Group) Co Ltd, located in the city of Yima (Henan) at around 5:45 pm Friday (China Daily)
Comment MCC: The factory was just named the first provincial-level enterprise to put in place a double prevention system for safety production risks in Henan. It now seems that either this system itself was not sufficient, or it existed more on paper than in reality.
---
Jul 20, 2019: In 2018, China consumed about 1 million tons of m-LLDPE, of which only 12% were produced domestically.
Comment MCC: This shows that even for commodity chemicals such as PE, China is often still far from self-sufficient when it comes to more advanced grades such as the metallocene grades of LLDPE.
---
Jul 19, 2019: Lutianhua has successfully started uup a 100 kt PC production based on a patented non-phosgene-based melt condensation technology.
Comment MCC: The Chinese PC market is certainly going to become much more competitive, now that the near-monopoly of foreign producers no longer exists. In addition, non-phosgene routes seem to become more common, even though other local players such as Wanhua rely on the phosgene route.
---
Jul 18, 2019: According to CCR, in the first five months of 2019, 758 hazardous chemical firms and 27 provincial chemical parks in Henan eliminated their potential safety hazards. The province identified more than 500,000 safety hazards and reportedly eliminated more than 90% of them.
Comment MCC: It is good that these steps are being taken, however, accidents like the one in March 2019 in Jiangsu province show that companies not substantially improving their safety records still may continue production.
---
Jul 17, 2019: China's investment in renewable energy decreased by 39% in the first half of 2019 compared with a year earlier as the government's plans to phase out set prices for electricity in favor of market-based systems spooked plant developers (Caixin)
Comment MCC: While providing materials for renewable energy projects is an obvious growth area for the chemical industry, it is also rather volatile as long as it depends on government subsidies, as this data shows.
---
Jul 16, 2019: Chinese PA6 capacity in 2018 was 4.5 million t, with a utilization rate of 70%.
Comment MCC: PA6 is typical for the high degree of fragmentation of China`s chemical industry. With a total of more than 50 producers in China, the top 12 producers only account for slightly more than half of the total production capacity. This clearly is an area calling for some consolidation. Buying a competitor may be an alternative to the current massive wave of expansion projects (with a total capacity almost as big as the existing capacity, according to CCR), which will only increase overcapacity.
---
Jul 15, 2019: Industry analysts predict that by 2020, China alone will generate some 500,000 metric tons of used Li-ion batteries (C&EN)
Comment MCC: Currently globally less than 5% of lithium batteries are being recycled, but China has already started working on a recycling system and is probably a bit better placed to deal with this issue than most countries.
---
Jul 14, 2019: Seven national departments have issued a plan to increase energy efficiency of refrigeration products. It includes items such as increased R&D spending on environmentally friendly refrigerants, recycling of refrigerants, adopting low global warming potential refrigerants and abandoning HCFCs (CCR)
Comment MCC: Hopefully this will direct business towards more environmentally friendly materials. So far China`s record in this area is somewhat spotty as some research indicates that China still produces substantial amounts of pollutants such as CFC-11.
---
Jul 13, 2019: Though China has the largest solar energy production capacity in the world, a new study described in C&EN states. However, human-caused aerosol emissions and changes in cloud cover have reduced surface radiation levels by 10-15% between 1960 and 2015
Comment MCC: Looking on the positive side, this means that as China is reducing its air pollution, solar power production has the potential to increase by 12-13%. Everything is linked.
---
Jul 12, 2019: Shanghai will establish a hydrogen fuel cell automotive industry cluster in Jiading including hydrogen refueling stations, fuel cells, fuel cell vehicles etc.
Comment MCC: It is a clever move of Shanghai not to rely solely on battery-driven EV but also support fuel cell vehicles, which may well turn out to be superior in the long run.
---
Jul 11, 2019: Nikkei Asia gives an example for the complexities of global supply chains including chemicals: "U.S. chemical maker Eastman Chemical exports specialty materials for chip-proof plastic tableware to China, where the materials are molded into dishes, plates and other products for export back to the U.S."
Comment MCC: The paper then quotes the Eastman Chemical CEO stating that since the supply chain for specialty resins is highly specialized, it cannot be reorganized on short notice. This is something many companies now trying to reduce their dependency on China will experience.
---
Jul 10, 2019: BASF has issued a profit warning stating that they expect a slight decline in sales in 2019.
Comment MCC: Among the reasons given is the trade conflict with China: "To date, the conflicts between the United States and its trading partners, particularly China, have not eased. In fact, the G20 summit at the end of June has shown that a rapid detente is not to be expected in the second half of 2019. Overall, uncertainty remains high."
---
Jul 09, 2019: Beijing's ambassador to Switzerland, Gen Wenbin, said ChemChina's $43 billion takeover of seed and agrochemicals firm Syngenta was a mistake.
Comment MCC: Unfortunately, the ambassador was not quoted giving specific reasons for his opinion.
---
Jul 08, 2019: The worldwide largest hydrogen refueling station was completed in the Shanghai Chemical Industry park in early June.
Comment MCC: In the context of a chemical park, a hydrogen refueling station is a sensible idea as hydrogen is a byproduct of basic chemical processes, particularly chlor alkali electrolysis, which is already done in the park.
---
Jul 07, 2019: C&EN has a detailed article describing the negative impact of Trump`s new tariffs on the chemical industry in the US. Currently, according to the American Chemistry Council, a trade group, the US tariff rounds affected $15.4 billion in Chinese-made chemicals and plastics, about 53% of chemical imports from China. The Chinese retaliatory measures affected $10.8 billion in US exports of chemicals and plastics to China, about 85% of the total.
Comment MCC: It is still a surprise to me that US businesses so far have not been successful in convincing the Trump administration to take a more business-friendly approach. Particularly in specialty chemicals, many of the tariffs will not be avoided easily as the number of potential suppliers for such materials is limited. In addition, many of them are located in China, and they are part of supply chains where much of the value is created outside of China, e.g., in the US. But complexity is not something that the Trump administration handles well.
---
Jul 06, 2019: Holly Lei has been made president of Covestro China. She was previously global head of electrical, electronics and appliances for the company's polycarbonates business unit.
Comment MCC: It is good to see the ongoing localization of management positions at Western companies in China.
---
Jul 05, 2019: Among the top 80 coatings companies by global 2018 sales, 8 are headquartered in China. The two biggest Chinese players in the list are Shanghai Huayi Fine Chemicals and Xinjiang Paint Group, both with slightly above 500 million USD annual sales, reaching no. 26 and no. 28 in the list.
Comment MCC: This is a chemical segment in which Chinese companies are still quite small compared to the industry leaders, three of which (PPG, Sherwin-Williams and Akzo) reach more than 10 billion USD in sales. None of the Chinese players so far has any substantial presence abroad.
---
Jul 04, 2019: Hami-based Guanghui Energy has signed a contract to build the country's first waste gas to ethylene glycol plant with a capacity of 400 kt.
Comment MCC: This is part of an ongoing trend of converting coal that is mined in remote parts of China (such as Hami) into higher-value chemical products, which can then be shipped at a much lower cost.
---
Jul 03, 2019: China depends entirely on imports for polyolefin elastomer, as the material is only produced by Dow Chemical, Mitsui Chemicals, SABIC, LG Chemical, ExxonMobil, and Borealis. (China`s imports account for about one third of global production according to CCR)
Comment MCC: This is one of the materials that so far have not been successfully produced in China even though it is a key product mentioned in the 13th Five-Year Plan.
---
Jul 02, 2019: Idemitsu Kosan is building its second lubricants production site in China, focusing on lubricants for industrial and automotive uses.
Comment MCC: China is already the largest lubricants market in the world, and despite the slowdown in car sales, the total number of cars in China (and thus the need for lubricants) is still increasing.
---
Jul 01, 2019: According to Chemweek, China will add almost 3 million t of PP production capacity in 2019.
Comment MCC: The China situation is particularly interesting as there is a larger number of routes towards PP than elsewhere, including refineries, PDH, MTO and CTO
---
Jun 30, 2019: A CCR paper on hydrogen energy states that "Hydrogen production through coal gasification is the most favored"
Comment MCC: This shows that there still is a different set of priorities compared to the Western world, as of course hydrogen production from coal does not solve the issues associated with global warming due to the release of carbon dioxide.
---
Jun 29, 2019: BASF and Sichuan Lutianhua have agreed to test a new, more energy efficient process for making DME directly from synthesis gas. Linde designed the process, BASF developed a catalyst for it, and Sichuan Lutianhua will build the pilot plant.
Comment MCC: As investments in new plants are now primarily being made in China, the country also becomes the place where new processes are being tested and employed - potentially quite a dangerous development for chemical production in Europe and the US.
---
Jun 28, 2019: Hebei Cangzhou Dahua plans to expand its TDI capacity by 265 kt
Comment MCC: If this materializes, it would mean a substantial expansion of TDI capacity in China - by more than 30% based on total China capacity of 840 kt in 2017. This could well affect prices and thus the profitability of the other major players including Covestro and BASF.
---
Jun 27, 2019: According to a recent paper by John Harty, BD director of US company Kodak Specialty chemicals, the supply disruptions, IP theft and regulatory crackdowns in China have created opportunities for US and European chemical manufacturers (Specialty Chemicals)
Comment MCC: While this is true in principle, I have also heard from such Western manufacturers that the price difference between them and their Chinese competitors often is too big for their potential customers to seriously change their suppliers - despite the acknowledged advantages of having a supplier closer to home.
---
Jun 26, 2019: Lomon Billions, a Chinese producer of titanium dioxide, will buy 68.1% of equity of Yunnan Metallurgical Xinli Titanium Industry
Comment MCC: Hopefully we will see more such deals in the chemical industry, leading to industry consolidation, rather than the previous game of each player trying to increase its capacity independently.
---
Jun 25, 2019: DSM and coatings manufacturer Chenyang Group announced plans to collaborate more extensively to drive sustainable coating solutions in the Chinese market
Comment MCC: While it is nice to hear about such collaborations between MNCs and local Chinese companies, it would be helpful if such press releases gave a bit more meaningful information than just statements such as "The reaffirmed partnership underlines DSM's commitment to working with partners throughout the value chain to shape a more sustainable coatings industry"
---
Jun 24, 2019: Revenues of the Chinese chemical sector increased by 1% YoY in the first 4 months of 2019, led by 9.1% growth in pesticides, 6% in synthetic materials and 1% in coatings.
Comment MCC: Both basic chemicals and specialty chemicals saw slight declines in revenue - automatic growth is no longer a given for China`s chemical industry.
---
Jun 23, 2019: From July 1, 2019, three national standards on air pollutants will become effective, the Standard for Fugitive Emission of Volatile Organic Compounds, the Emission Standard of Air Pollutants for Pharmaceutical Industry, and the Emission Standard of Air Pollutants for Paint, Ink and Adhesive Industry, all issued by the Chinese Ministry of Ecology and Environment.
Comment MCC: Hopefully implementation of these standards will be successful, reducing the danger to the health of workers and the environment.
---
Jun 22, 2019: China's chemical industry accounts for about 12% of China's GDP while the global chemical industry accounts for about 7% of global GDP
Comment MCC: One of the two reasons for the global importance of China`s chemical industry and market is the size of the economy and the country. The other is highlighted here. Compared to other countries, the chemical industry in China accounts for a larger share of GDP.
---
Jun 21, 2019: June is "Safety Production Month" in China. During June 2010, the Ministry of Emergency Management made unannounced visits to 34 chemical parks and 94 chemical companies (MEM)
Comment MCC: So visits were paid to about 5% of all chemical parks and ab0ut 0.4% of all chemical companies. This small share shows how difficult it is for authorities to effectively supervise the chemical industry.
---
Jun 20, 2019: Danhua Chemical Technology is planning to purchase 100% equity of Jiangsu Silbang Petrochemical by way of issuance of shares.
Comment MCC: The main business of Danhua is in ethylene glycol, which is also the main product of Jiangsu Silbang. So the transaction indicates some much-needed consolidation in the relatively fragmented domestic producer landscape. In addition, the strong reliance of China on imports of ethylene glycol offers opportunities for domestic producers.
---
Jun 19, 2019: By the end of 2018, there were 676 industrial parks with petroleum and chemical industry as the leading industries. Of these, 57 were state-level, 351 provincial level and 268 prefecture level. The top 30 nominated parks combined account for about 21% of China`s petrochemical sales.
Comment MCC: This large number of chemical parks - particularly on the prefecture level - explains why supervision so far is far from perfect.
---
Jun 18, 2019: Shaanxi Coal and Chemical Industry Group obtained the environmental impact assessment ratification to shift its 600 kt methanol plant (which had low operating rates) to production of 300 kt methanol and 300 kt monoethylene glycol (CCR)
Comment MCC: This is an indication of higher value creation in pursuing the coal chemicals value chain further downstream. Another interesting bit of information is that of an investment of 1.97 billion RMB, 9.1 million RMB (0.46%) will be used for environmental protection. That does not sound like a lot to me.
---
Jun 17, 2019: In 2018, the industrial added value of China's chemical fiber industry increased by 7.6% year-on-year while profit was up 10.3%.
Comment MCC: It is often stated by foreign competitors that China`s chemical companies do not care about profits. This is not true, at least for companies that are not state-owned, and the trend is towards a further increase in profitability.
---
Jun 16, 2019: Shanxi province has issued an action plan for the chemical industry for 2019. Among other items, the plan sets the target of a 10% sales increase and encourages companies to merge with other local or with central companies (CCR)
Comment MCC: The target for the sales increase seems quite ambitious, while encouraging companies to merge is in line with the policy of the central government to reduce the fragmentation of the chemical industry.
---
Jun 15, 2019: BASF Venture Capital is investing in the Longwater Advanced Materials Fund, a private equity fund managed by Longwater Investment, a pioneer growth capital investor in advanced materials and chemistry-related technologies in China (CCR)
Comment MCC: According to BASF, "Longwater's network will support BASF's aim to engage with fast-growing companies and develop jointly with them." That sounds sensible, though it remains to be seen whether such financial investment really brings the companies close together enough to reap meaningful benefits.
---
Jun 14, 2019: In May, Shandong published the first group of 60 Highly Supervised Chemical Firms. These are firms are located outside of provincial government and that are regarded as having a high level of technology, safety etc. The standards applied to these companies will be the same as those for chemical parks (CCR)
Comment MCC: This is an interesting development, possibly indicating that the goal of relocating all chemical production to chemical parks is neither realistic nor particularly sensible. Given sufficiently high standards, a chemical site outside of a chemical park should be similarly manageable as one inside a park, as the experience of developed countries broadly confirms.
---
Jun 13, 2019: Nylon-6,6 demand in China will increase at an annual rate of 5.1% (IHS)
Comment MCC: Currently there is no production of the precursor ADN in China, and there are only 5 plants globally. This explains the decision of Invista (and the approval of the Shanghai government) to build a 400 kt ADN plant in Shanghai.
---
Jun12, 2019: Middle Eastern countries substantially increased their PE exports to China in 2018 despite not increasing their production capacity.
Comment MCC: This is one of the reasons why the trade conflict with the US may not have quite as bad consequences as initially thought. To some extent, tariffs such as the ones on PE from the US just lead to the US supplying to markets that then use their own capacity to supply China. Probably not very efficient, economically speaking, but it more or less works.
---
Jun 11, 2018: IHS forecasts a growth of 3.3% per year for China`s market for lubricating oil additives in the period of 2018 to 2023.
Comment MCC: This sounds quite low, but it is still substantially higher than the figure for the largest market, North America, where the forecast is for -1.3% growth per year. North America is the biggest market for LOA with 29% of global share while China is the second largest with about 17%.
---
Jun 10, 2019: According to IHS, Nylon-6 capacity in China will continue increasing at a rapid pace in the period of 2018 to 2023. As a consequence, operating rates will stay below 60% compared to about 80% in the US and Western Europe.
Comment MCC: This is just to again emphasize a common phenomenon in China`s chemical industry, low capacity utilization going along with creation of additional capacity.
---
Jun 09, 2019: The president of the American Chemical Council, Cal Dooley, criticized the US trade policy toward China, stating that it is having a "significant adverse impact on some of the most competitive sectors of the economy" including chemicals (IHS)
Comment MCC: It is surprising to me that a US President - a businessman at that - can pursue a policy that is obviously not in the interest of the US industry, particularly the chemical industry.
---
Jun 08, 2018: Feihang Industry plans to start up a 50 kt epoxidized soybean oil polyol facility by the end of 2019. (UTECH-polyurethane.com)
Comment MCC: Interesting to see bio-based polyols becoming more popular as PU components. Also interesting is that the original designed capacity was 80 kt but tightened environmental regulations forced a capacity reduction - even though this will of course also mean reduced tax income for the government.
---
June 07, 2019: Air Liquide and Chengdu Huaqi Houpu established a JV for hydrogen refilling stations for Fuel Cell Electric Vehicles
Comment MCC: Personally, I think fuel cells will be the long-term future for vehicles, though of course at the moment and in the next 10 years battery-driven EVs are leading. A clever move, then.
---
June 06, 2019: Ethylene glycol production capacity in China had a CAGR of 16.9% in the last 10 years, reaching 10.5 million tons in 2018. While 55.5% of capacity is based on naphtha/ethylene, another 9.1% come from MTO and 35.4% from coal to MEG.
Comment MCC: As usual in China (but confusing for observers from other countries), in 2018 we had the typical combination of relatively low capacity utilization (64%) and rapid capacity additions(+18.6%). Interestingly, all but one of the 7 added plants in 2018 are coal-based, indicating that this China-specific technology seems to be economically viable.
---
Jun 05, 2019: New-energy vehicle sales in China grew by 60% yoy in the first four months of 2019, with EV growing faster (65%) than hybrids (44%). At the same time, overall automotive sales declined by 12% (Xinhua)
Comment MCC: Unfortunately, given the relatively small size of the EV market, currently there is more to lose for the chemical industry from lower overall automotive sales than to win from higher EV sales, despite the higher use of chemical materials in the latter.
---
Jun 04, 2019: A RAND report describes China`s important role in the global fentanyl supply, a synthetic opioid that is responsible for a large number of drug deaths in the US.
Comment MCC: While the central government has promised to crack down on this production, the implementation of this policy has to be done by local governments, which means it suffers from the same issues that implementation of environmental regulation suffers from. The report therefore concludes that the illicit production of fentanyl in China is unlikely to stop soon.
---
June 03, 2019: A Chinese environmental group, the Institute of Public and Environmental Affairs, has called on chemicals multinationals to stop "cutting corners" by outsourcing business to Chinese suppliers that violate safety regulations after an investigation into a deadly explosion at a factory in March (ChannelNewsAsia)
Comment MCC: The environmental group names a number of multinational chemical companies that sourced from Tianjiayi, the company responsible for the explosion. It is possible that multinationals linked to Tianjiayi may suffer from some backlash. In the rather harsh words of the Institute, international firms had created a "powerful engine for continued irresponsible operations around the country"
---
Jun 02, 2019: According to Solvay, Chinese court officers raided Suzhou Crystal Clear Chemical, a maker of electronics-grade hydrogen peroxide, to obtain evidence following a complaint by Solvay in the Shanghai Intellectual Property Court.
Comment MCC: Given the recent US criticism about IP theft in China, the Chinese government has some strong incentives to showcase its commitment to IP rights, as demonstrated in this case. This is impressive given that building up domestic suppliers for electronic chemicals is also an important target of the government
---
Jun 01,2019: Government subsidies for new wind power projects will be reduced after July 1, 2019 as the government moves towards a subsidy-free 2021
Comment MCC: Wind energy is an interesting customer segment for a number of innovative chemical materials including adhesives, coatings, engineering plastics and lubricants. The reduction of subsidies to this segment may mean a slowdown in this market.
---
May 31, 2019: Hebei province issued standards for safe chemical production describing 14 "unqualified behaviors" which will require companies to be shut down.
Comment MCC: After the Xiangshui explosion, provincial governments now seem to be very eager to show their commitment to safety and environmental protection. Not bad.
---
May 30, 2019: According to an article in reputable scientific paper Nature, large quantities of banned CFC-11 are still being produced in Shandong and/or Hebei province.
Comment MCC: Given the general difficulties the central government has in implementing its environmental and safety regulation, this maybe is not very surprising. The large amount of CFC produced (up to 7 kt per year) indicate that at least some local government likely is aware of this illegal production.
---
May 29, 2019: Orica and Guizhou Jiulian Industrial Explosives will establish a JV for the manufacture and service delivery of explosives in China. Orica will manage the JV and have a 49% stake.
Comment MCC: It is interesting to see that Orica accepts a 49% stake in the JV - perhaps the company thinks that by managing the entity, they can still have sufficient influence in running the JV.
---
May 28, 2019: According to Xinhua, China aims to relocate more than 80 per cent of its hazardous chemical production capacity by the end of next year. A key objective is to ensure that most production of hazardous chemicals is in specialized chemical parks, where dangers can be controlled more effectively (Channel News Asia).
Comment MCC: Given that this is in only 19 months from now, this seems to be an incredibly tight timeline, though to be fair the end of 2020 had been given as the date for relocation of small and medium size chemical companies before. Further complicating the situation, the Tianjiayi explosion showed that moving chemical production to dedicated chemical parks alone is not sufficient - for one thing, companies still need to be effectively controlled within these parks. In addition, many chemical companies may have to relocate a second time, as some chemical parks by now are quite close to residential areas.
---
May 27, 2019: In Q1 2019, among chemical segments, pesticides saw the highest revenue growth (12.1% yoy) followed by synthetic materials (9.1%), coatings/pigments (5.4%), chemical mining (4.6%), specialty chemicals (2.7%), basic chemicals (2.0%), fertilizers (1.7%) and rubber products (1.1%), adding up to a combined 4.0% growth.
Comment MCC: This is well below GDP growth - not really a surprise given the increasing maturity of the industry, but of course far below past growth rates.
---
May 26, 2019: According to Caixin, only one-fifth of chemical companies ordered to relocate away from residential areas in 2017 did so. Part of the problem is that industrial parks set minimum investment requirements, which many smaller chemical companies that work in niche products struggle to meet
Comment MCC: Indeed, it is hard for many small companies to enter chemical parks, as those in good locations tend to only accept 30-40% of all applicants, some only 10%. An investigator from the MIIT therefore suggests to establish specific parks for small companies, something which Shandong province has already started implementing. However, as the Xiangshui explosion shows, moving chemical companies away from residential areas solves only part of the problem (though admittedly the death toll of that explosion could have been much greater outside of a chemical park). China has 676 chemical industry parks, but almost one-third do not have an adequate safety supervision platform, and two-thirds have no hazardous waste treatment facilities.
---
May 25, 2019: Caixin has an in-depth report on the Xiangshui explosion. Key observations of the report are the permanent noncompliance of the responsible chemical company Tianjiayi with regulations regarding the storage of chemical waste material, the lack of experienced personnel at the company, the large number of noted safety hazards and the violation of production bans. Also, inspections by relevant agencies were frequently announced in advance, giving the company an opportunity to stop production on those days. Finally, there seems to have been no clear responsibility assigned regarding government oversight, with both the environmental agencies and the workplace safety agencies denying responsibility of oversight for chemical waste storage.
Comment MCC: With regulation now likely to tighten further, the danger is that chemical companies will increasingly shift production to areas such as Inner Mongolia, where the environmental standards in practice are even lower.
---
May 24, 2019: Sales of the top 100 Chinese technical pesticide producers reached 172 billion RMB in 2018, an increase of 11.5% compared to 2017. The top 10 companies accounted for 39% of the top 100 (Agropages)
Comment MCC: This shows both the still relatively high sales growth of the segment and its high degree of fragmentation. Actually, sales of the top 10 companies grew at a lower rate (9.5%) than those of the top 100, indicating that there is no strong trend towards consolidation yet.
---
May 23, 2019, 2019: Faraday Future, an electric-vehicle company owned by Chinese billionaire Jia Yueting, has announced the sale of land in Nevada once designated for a car factory.
Comment MCC: Obviously there are far too many companies involved in electric cars, and most of them will fail, such as Faraday Future, which is heavily indebted. Chemical companies supplying the market may want to ensure not to be too reliant on individual customers
---
May 22, 2019: China's chemical industry grew 5% year on year in the first quarter 2019, according to the NDRC
Comment MCC: At the same time, several multinational companies experience a substantial reduction in chemical sales in China.
---
May 21, 2019: Reports by the environment ministry showed its inspectors were in the last 2 years frequently presented with fake data and fabricated documents, as local officials have devised multiple ways to cheat (SCMP)
Comment MCC: That is one of the downsides of the tightened environmental regulation - it provides incentives to cheat, particularly as environmental targets are now part of the performance evaluation of government officials. And it seems the local Chinese authorities have been quite creative in this respect. Examples mentioned in the SCMP article include fake meetings, distortion of pollution monitoring data, pre-announced inspections and deletion of emission data.
---
May 20, 2019: 71.5% of domestic methanol production uses coal as feedstock, and about 51% of all methanol consumed in China is used for production of olefins. In 2019, a large number of methanol plants will start up with a total capacity of 5.40 million t/a (CCR)
Comment MCC: So far the environmental activities of the Chinese government seem mostly focused on reducing local pollution, particularly in populated areas, while longer-term and less local issues such as global warming via use of coal as resource seem to be of limited importance.
---
May 19, 2019: According to the American Chemical Council, the US tariffs implemented thus far affect $15.4 billion in annual chemical and plastic imports from China, while the Chinese tariffs impact some $10.8 billion in US chemical and plastic exports
Comment MCC: The current possible escalation of the trade war may of course lead to an even larger volume of chemicals affected. For example, China will start imposing duties on MDI and PET chips.
---
May 18, 2019: According to ICIS, China`s recent annual growth rate for specialty chemicals was 8% to 10%, however, due to lower GDP growth and tighter regulations, their forecast for 2017 to 2022 is only 6%.
Comment MCC: Of course, 6% is still quite good compared to growth rates in the US and Europe. Another important point is that growth depends strongly on the specialty chemicals segment. For example, ICIS predicts 1.7% growth for specialty paper chemicals but 15% for integrated circuit processing chemicals.
---
May 17, 2019: Shanghai ENN Gas and Pujiang Gases will jointly develop the hydrogen energy industrial chain including hydrogen production and transportation bases, hydrogen refueling stations network, and hydrogen energy application demonstration projects in the Yangtze River Delta, in setting up an
Comment MCC: These activities show that while currently the main focus is on electric vehicles, the Chinese government is still exploring fuel cells, which may well be the winning technology in the long run.
---
May 16, 2019: In follow-up inspections done by central government supervisory groups in late 2018, eight of the ten provinces inspected were strongly criticized for failing to enforce environmental protection laws while the report for the two other provinces is still outstanding.
Comment MCC: It seems that the old problem of environmental protection in China - that of implementation rather than regulation itself - is still the most important issue now. Fortunately, the central government is taking actions to improve the situation and will likely continue to do so in the face of recent accidents. Those companies that follow the rules should benefit from this.
---
May 15, 2019: BASF will include 32 kt TPU and 160 kt engineering plastics capacity at its second China Verbund site in Zhanjiang, Guangdong, an investment of USD 10 bn. The site will be 100% owned by BASF. Partial operation is scheduled to start in 2026 and full operation in 2030.
Comment MCC: It is inspiring to see a company take its China focus seriously. In addition, as this will be the first BASF site fully focused on smart manufacturing, another interesting aspect.
---
May 14, 2019: The added value of the chemical Industry in China was up 7.1% YoY in March compared to 8.5% for all industries.
Comment MCC: This is an indication that indeed the chemical industry is a relatively mature one - while there is still substantial growth, it cannot be expected to be above industry average. Another interesting aspect is the added value increase by ownership type (over all industries, not just chemicals, but very likely applying to chemicals as well). This is 4.2% for foreign-funded enterprises, 4.7% for SOEs, 10% for joint-equity enterprises, and 14.2% for private enterprises. In other words, foreign-funded enterprises currently show the lowest growth.
---
May 13, 2019: The added value of the chemical Industry in China was up 7.1% YoY in March compared to 8.5% for all industries.
Comment MCC: This is an indication that indeed the chemical industry is a relatively mature one - while there is still substantial growth, it cannot be expected to be above industry average. Another interesting aspect is the added value increase by ownership type (over all industries, not just chemicals, but very likely applying to chemicals as well). This is 4.2% for foreign-funded enterprises, 4.7% for SOEs, 10% for joint-equity enterprises, and 14.2% for private enterprises. In other words, foreign-funded enterprises currently show the lowest growth.
---
May 12, 2019: Shanghai Daily reports on a disappointed owner of an all-electric SUV (Nio ES8), which by a large margin failed to reach the range of 335 km given by the producer.
Comment MCC: Shanghai Daily is a government-subsidized paper specifically for expats based in Shanghai, so whatever is printed in there is something the government does not mind expats to know. Therefore, it is interesting to see that critical voices related to the current technological stage of EVs are published in here.
---
May 11, 2019: Sinopec-SK Wuhan Petrochemical, a joint venture between SK Group and China's largest state-run petroleum group Sinopec, will acquire a refinery in Wuhan, according to SK Group on Monday.
Comment MCC: As in all likelihood China will not want to rely on imports of relatively basic chemicals from Korea in the long run, it seems sensible for SK to extend its footprint in China itself.
---
May 10, 2019: Shaanxi province has released requirements for chemical parks to be allowed as relocation cites for hazardous chemical production.
Comment MCC: In the wake of the recent chemical accidents, provinces seem to almost compete in tightening the standards for chemical production and for chemical parks. As particularly the Xiangshui explosion has shown, just a location in a chemical park on its own does not guarantee the safety of chemical operations.
---
May 09, 2019: BMW has a self-driving lab in Shanghai and has conducted on-road tests for Level 4 autonomous driving, the second highest of the five levels of smart and driverless driving (Shanghai Daily)
Comment MCC: This is just one of the many examples of industries where the focus of innovation more and more shifts to China. Chemical companies wanting to contribute to these innovations therefore need a strong presence in China, too.
---
May 08, 2019: Wanhua`s profit dropped by 4.7% in 2018 while revenue rose by 14%.
Comment MCC: While in the process of diversifying, Wanhua still relies heavily on MDI and TDI for revenue and profit. The gross profit margin of Wanhua`s polyurethane business fell from 55% to 50% in 2018, explaining the lower profits.
---
May 07, 2019: Fujian Snowman Group plans a Hydrogen-based Fuel Cell Engine and Core Parts Manufacturing Project in Chongqing, an investment of RMB4.55 billion, with a annual production capacity of 100,000 fuel-cell engines.
Comment MCC: It is important to keep in mind that fuel cell technology is still alive despite the current focus on battery-driven vehicles, and thus remains an area of opportunity for chemical companies.
---
May 06, 2019: Wacker opened a competence center for cement and concrete applications in Shanghai. The focus will be on developing novel silicones able to improve the performance and sustainability of cement.
Comment MCC: Given that China has been by far the largest market for cement and concrete for years, it is actually somewhat surprising this competence center is only opened now.
---
May 05, 2019: Dow markets its structural foam Betafoam SR, which is applied in cavities to strengthen components, as reducing the weight of vehicles. Specifically, they claim that each kg of Betafoam used in a vehicle reduces its vehicle by 4 kg.
Comment MCC: Despite the somewhat random nature of such claims - after all, only material placed in the right spots will result in weight loss - we will see many more such specific claims as the rise of EV increases the demand for materials that extend their range.
---
May 04, 2019: Solvay is investing an undisclosed amount in a materials-focused venture capital fund Longwater Advanced Materials based in Shanghai. Longwater works with Chinese start-ups developing sustainable chemistries for markets including automotive, electronics, and energy.
Comment MCC: Investing in such a fund may be a good way to get insights into materials trends, and thus provide opportunities to adapt the own portfolio of chemical materials.
---
May 03, 2019: Apple and Tesla are separately developing novel recycling technologies to material from their old products, including metals from batteries.
Comment MCC: China is also looking at the recycling of the expected large amount of spent EV batteries - it will be interesting to see whether the eventual solution will be an open one or one specific to each producer.
---
May 02, 2019: The Ministry of Ecology and Environment plans the issuance of pollutant discharge licenses in key industries including chemicals.
Comment MCC: While details are not available yet, the key objective of the pollutant discharge licenses seems to be to reduce pollution via market-based mechanisms. The Economist would approve, I am sure.
---
May 01, 2019: Revenues of China's electric vehicle battery-maker CAT increased by 48% while net profit decreased by 12%.
Comment MCC: The net profit margin decreased by 8% to 12.6%, a rather massive decline indicating that as in many Chinese markets, rapid demand growth often goes along with an even bigger growth in capacity and a decline in profit.
---
Apr 30, 2019: In February, Shaanxi Yanchang Petroluem Yushen Energy & Chemical Company started the basic engineering of the 500 kt/a coal-based ethanol project with a total investment of RMB6.4 billion.
Comment MCC: It seems China`s pride in being in the lead in this technology is still enough to compensate for the many negative aspects of CTO, particularly the environmental ones.
---
Apr 29, 2019: In 2017, the consumption of caprolactam in China was 2400 kt while 2018 capacity was 3670 kt.
Comment MCC: Despite this overcapacity - and antidumping duties imposed on caprolactam from the US and Europe, which were extended for 5 years in 2017 - new caprolactam projects are still being started in China, for example in Shandong, where Shandong Hualu-Hengsheng has just announced a 300 kt plant, of which 200 kt will be for captive use.
---
Apr 28, 2019: Hainan province will gradually ban the production, sale and use of disposable non-biodegradable plastic products, starting with plastic bags and plastic tableware by the end of 2020.
Comment MCC: As remarked before, there now seems to be race among provinces to be perceived as the most environmentally friendly one. Leading are either provinces which benefit from bio based alternatives (e.g., Jilin province), or provinces which rely on tourism and do not have much plastic production in the first place (such as Hainan).
---
Apr 27, 2019: Alkyl polyglycoside (APG) is a mild, non-toxic, biodegradable, nonionic surfactant used as a surfactant in household cleaning. China's APG capacity and output saw rapid growth in 2014-2017, surging by around 30% and 40% respectively (CCR)
Comment MCC: While volume growth in personal care products was just 1% in China in the period from 2014 to 2017, revenue increased by 7%. So there definitely is a growing market for higher-end ingredients for personal care products, such as APG.
---
Apr 26, 2019: According to a recent scientific paper by Beijing Normal University, clean air efforts in the Beijing area may shift polluting industries into neighboring provinces. Wind could then carry emissions from these areas to the national capital region, canceling out part or all of the region's efforts to cut air pollution. As many of the plants outside of the capital region are older and technologically inferior regarding emissions controls, shifting activity to those facilities will likely lead to a net increase in total pollution and greenhouse gas emissions
Comment MCC: It is good to get such research results from a Chinese university, obvious as they may seem. Many of China`s policy measures seem to be focused on optimizing local conditions rather than the overall situation. The fact that the government still to some extent favors coal-to-chemicals in remoter provinces paints a similar picture.
---
Apr 25, 2019: The Chinese chemical sector grew by 0.2% YoY in Jan/Feb 2019 (CPCIF). Among the segments, the highest growth was for pesticides (+12.6%) while specialty chemicals were down by 2.8%.
Comment MCC: It is interesting to see that a segment that is among the hardest hit by the tightened environmental regulation - pesticides - actually performs best at the moment.
---
Apr 24, 2019: TDI producer Dahua recorded a 23% year-on-year drop in 2018 net profit while revenue remained flat.
Comment MCC: In 2018, two TDI facilities came on stream, Sadara (Saudi Arabia, 200 kt) and Wanhua (Yantai, 300 kt), both larger than Dahua`s 150 kt and leading to global surplus capacity.
---
Apr 23, 2019: In 2018, the apparent consumption of polyisoprene rubber in China was 86 kt, and the self-sufficiency rate was 64.0% (CCR).
Comment MCC: As with many other chemical products, the reliance on imports is less the consequence of insufficient domestic capacity but rather the result of a mismatch in quality.
---
Apr 22, 2019: Jiangsu province has pledged to reduce the number of chemical businesses in the province from 5433 in 2017 to under 1000 in 2022. The plan is to eliminate chemical enterprises with low safety standards and severe pollution issues.
Comment MCC: This will obviously result in substantial pressure particularly on small and mid-size chemical producers.
---
Apr 21, 2019: China has asked French utility Suez SA to help tackle safety issues in its chemical sector
Comment MCC: Suez already runs five hazardous waste treatment plants in China including one at the Shanghai chemical park, where the company incinerates the hazardous waste of 92 chemical companies. In the wake of the Xiangshui explosion and the resulting consolidation of chemical production and chemical parks, there should be more opportunities for specialized service providers such as Suez in areas including energy generation, waste treatment, water treatment and logistics provision.
---
Apr 20, 2019: CNPC performed the ground breaking ceremony for the first ethane cracker project in the Xinjiang region. The cracker will produce 600 kt of ethylene by ethane cracking, using natural gas from Tarim Basin as the feedstock.
Comment MCC: China still relies strongly on imports of HDPE, making this a potentially highly profitable project.
---
Apr 19, 2019: The Zhangjiagang container terminal has paused the loading and unloading of hazardous chemicals at the request of the Zhangjiagang Environmental Protection Agency.
Comment MCC: While this is understandable as a reaction to the Xiangshui explosion, it is probably the wrong measure as it will very likely lead to a shift to other terminals or even to unsafer modes of transportation (e.g., trucks rather than ships).
---
Apr 18, 2019: China will start a nationwide inspection into the safety of industrial products like hazardous chemicals. The campaign will last until October and focus on "high-risk industrial products", as well as systemic, regional or industry-wide safety risks. Firms that prove incapable of making the required rectifications will have their operation licenses revoked (Reuters)
Comment MCC: This is another indication that in the aftermath of the Xiangshui explosion, environmental and safety regulation of the chemical industry will be tightened rather than - as some people expected due to the uncertain economic outlook - be relaxed.
---
Apr 17, 2019: The average operating rate of China`s polyformaldehyde plants is 50% while at the same time about 50% of the polyformaldehyde is imported.
Comment MCC: This is another example for the frequent mismatch between China`s producers focusing on lower-end volume varieties while there is a bigger need for higher-end grades.
---
Apr 16, 2019: Automotive plastics compounder China XD reported a Q4 revenue decrease of 18% due to a 20% decrease in sales volume
Comment MCC: China XD is suffering from the decline of China`s automotive production, which was about 13% in the last three months of 2018 compared to Q4 2017. In addition, a reduction on import duties of car imports also may have affected XD`s sales as it made those imports somewhat more competitive with domestically produced cars.
---
Apr 15, 2019: China`s market for engineering plastics grew by an annual 10% between 2010 and 2017. While the self-sufficiency rate rose to 61%, China is still the world`s largest importer of engineering plastics.
Comment MCC: These engineering plastics still have a higher expected growth rate for the next few years, which in combination with China`s current import dependency should make China a very attractive location for these materials - provided companies can overcome the technological barriers to produce these materials.
---
Apr 14, 2019: In March, China Pingmei Shenma Group had the groundbreaking for a 400 kt PC project
Comment MCC: This project - along with a number of other ones already announced - may lead to China becoming a net exporter of PC around 2022, from its current status of a major importer with a self-sufficiency of only around 50%. If the announced projects will be built, PC capacity will increase by 189% between 2017 and 2020. It will be interesting to see how this will affect prices.
---
Apr 13, 2019: Nearly 4000 chemical production sites were closed down in Jiangsu and Shandong province in 2018, and a number of provinces including these two as well as Hebei and Henan banned the establishment of new chemical parks.
Comment MCC: Though most of these plants were small and medium sized, this still had a substantial impact on production of some chemicals, particularly pesticides. Prices of three pesticides increased by at least 30% in 2018: chlorpyrifos, fipronil and imidacloprid.
---
Apr 12, 2019: Some interesting facts about the Chinese chemical industry in 2018: Output growth was 2.3% while sales grew by 8.6%. The profit margin reached 6.89%, which does not sound much to me but is the highest ever. Export value increased by 13.1% and shifted towards higher-value products and away from low-price fertilizers and rubber products. For 2019, a growth of 6% is forecast (CCR)
Comment MCC: It is good to see that the tightening of the environmental regulation indeed seems to be beneficial to the chemical industry, making it unlikely that the policy will be reversed.
---
Apr 11, 2019: Dow targets China to become its largest market within the leadership period of the current CEO (Jon Penrice on CGTN)
Comment MCC: Given that China`s share of the global chemical market is about 37% compared to 15% for the NAFTA region (CEFIC data), this is a reasonable target, but also one that will be very difficult to achieve as DowDupont currently achieves around 35% of its sales in the US alone
---
Apr 10, 2019: Caixin reports "In the aftermath of the deadly explosion last month that resulted in 78 deaths, the city of Yangcheng announced Thursday that it will "completely" shut down the Xiangshui Chemical Industrial Park, or ground zero. Analysts told us they believe closings like this may be more frequent going forward, as inspection procedures become stricter and officials are more cautious about approving new projects because of safety concerns"
Comment MCC: Indeed the timing of the explosion - when there were just some small signs of slight relaxations of the tightening of environmental regulations due to the weakening economic outlook - means that the pressure on the chemical industry will remain high. Chemical prices may increase. For those companies with a good environmental record, this should be good news.
---
Apr 09, 2019: Sabic will build a new polycarbonate plant in Tianjin with a capacity of 260 kt. Sabic achieves about 15% of its global sales in China.
Comment MCC: It is a bit surprising to hear about this new plant just at a point in time when domestic competitors including Wanhua are entering the PC market. However, with 15% of its sales in China rather than the 40% that is China`s approximate share of the global chemical market, Sabic clearly feels they are missing out.
---
Apr 08, 2019: BASF today officially launched its liaison office in Zhanjiang, Guangdong Province, where BASF will build a wholly-owned, large-scale integrated production base. It claims to be the first production base for fully implementing smart manufacturing.
Comment MCC: It is quite likely that soon, all the most modern chemical production sites in the world will be in China.
---
Apr 07, 2019: China accounted for 40% of the global demand of antioxidants in 2017, and as the Chinese market grows faster than average, this share is expected to reach 43% in 2022 (IHS)
Comment MCC: Key applications for antioxidants in China are rubber (70%) and plastics (about 25%). As these markets are stil growing, IHS expects an approximate annual growth of 5% for the Chinese market in the period of 2017 to 2022.
---
Apr 06, 2019: Police have detained three suspects linked to the Yancheng chemical plant blast in China, which killed 78 people. According to a statement on the Yancheng government's official Weibo account, these three employees from Jiangsu Tianjiayi Chemical had "significant responsibility" for the accident.
Comment MCC: Overall, it is probably good that managers skimping on safety measures can face drastic punishment in case of accidents. However, it would of course be much better to avoid such situations in the first place. The fact that the company involved had a history of violating environmental regulations and was fined for breaking rules on solid and water waste management shows that still is not working, despite all the recent tightening of regulations.
Update: According to information published on Apr 05, 2019, the government will permanently close the Xiangshui Chemical Industrial Park where the explosion happened
---
Apr 05, 2019: Covestro and Tongji University (Shanghai) will collaborate in the automotive sector, with a focus on interior air quality. Mr. Steilemann, the CEO of Covestro, commented 'I'm thrilled to see our local innovation team is taking over more global responsibility for core technologies. It is obvious that China is on the way to becoming a leader in innovations for many important industry trends'
Comment MCC: This is a trend that will become apparent in many areas - in some of them probably even more so than in the Covestro areas of PC and PU. China will be the global technology leader for areas including EV and alternative energy, and consequently chemical innovation related to these areas should be located in China.
---
Apr 04, 2019: Subsidies for EV will be substantially reduced from June this year. For EV with ranges of 400 kilometers and above subsidies will be slashed by half to 25,000 yuan, down 50% from a year earlier. Vehilces will need to be capable of driving 250 kilometers on a single charge to qualify for any subsidies at all, up from 150 kilometers in 2017.
Comment MCC: This is a relatively drastic cut that cut significantly affect sales of EVs - and that of producers of chemical materials going into these products.
---
Apr 03, 2019: Chinese pesticide manufacturer Limin Chemical will acquire the pesticide business of ENN for 760 million RMB
Comment MCC: It is good to see some consolidation in this fragmented segment. In particular, Limin gets additional products outside of its core business of fungicides while ENN can achieve its stated target to close its pesticide and veterinary drug business to focus on (interestingly) upstream natural gas.
---
Apr 02, 2019: The Chinese markets for several pesticides are expected to be short in China as a result of the supply chain interruptions due to the Xiangshui explosion. Technicals likely to be affected include oxyfluorfen, mesotrione, bentazone, 3,4-difluorobenzonitrile and propionic acid
Comment MCC: More than 50 chemical companies located in the Xiangshui chemical park had to stop production after the explosion on Mar 21, which killed 78 people. Many of these companies supply intermediates to other chemical companies, so suppy chains may be interrupted not only for these companies themselves but also for companies relying on them as suppliers
---
Apr 01, 2019: BASF and Chonqing Boao Industrial, a car parts company, are collaborating in developing polyurethane systems for the automotive and construction industries. BASF is supplying material and technical knowledge while Boao will develop applications and new products in the automotive and construction sectors.
Comment MCC: This should be a win-win as it allows BASF to tighten its relationship with an important customer while giving Boao the chance to profit from BASF`s brand reputation and technical knowledge.
---
Mar 31, 2019: Average Chinese annual MEG capacity growth was 13.8% in the period of 2013 to 2018.
Comment MCC: Despite this impressive growth, China still hugely relies on imports of MEG. 2017 imports were 8.7 million tons compared to a domestic capacity of 9.7 million tons in July 2018. In fact, MEG is a big contributor to China`s overall ethylene import, far bigger than that of ethylene itself, though of course in the shape of MEG as a product derived from ethylene.
---
Mar 30, 2019: China will start a month-long, nationwide inspection campaign into hazardous chemicals, mines, transportation and fire safety after the pesticide plant explosion in Jiangsu. A spokesman of the environment ministry stated that "In the next stage, we will tighten environmental impact assessment approvals for chemical plants and enhance daily inspections"
Comment MCC: It is somewhat puzzling to read about the many past violations at Tianjiayi Chemicals, as at the same time supervision of the chemical industry was already tightening, particularly in Jiangsu province. The company had already had to shut down briefly due to safety violations such as chemical leaks. It seems that even though the supervision is now supposedly done by central agencies, local government - which values the chemical park as a big taxpayer - can still wield substantial influence.
For the overall campaign of improving the environmental record of China`s chemical regulation, this accident will certainly be a reason for further tightening rather than for a relaxation due to a weaker economy.
---
Mar 29, 2019: The NDRC has issued a catalogue of areas for which foreign investment is encouraged. For the chemical sector, encouraged projects include the production of adiponitrile, nylon 66 salt, functional polyesters, engineering plastics and high-performance coatings. In addition, there are specific areas encouraged in particular regions, such as fluorine chemicals and carbon fiber in Inner Mongolia.
Comment MCC: The inclusion of ADPN at least explains the recent announcement of Invista to consider ADPN production in Shanghai, which was a surprise to me.
---
Mar 28, 2019: According to Asiachem, currently ethylene/propylene produced via ethane cracking has the lowest production cost in China followed by PDH, CTO, naphtha cracking and MTO.
Comment MCC: This points to the outlook for these different technologies - good for PDH and for ethane cracking based on local or imported ethane, but not as good for CTO and particularly for MTO. For the latter, the Asiachem calculation claims that the ethylene thus produced is more expensive than imported ethylene.
---
Mar 27, 2019: In 2017, Architectural coatings accounted for about 31% of the total Chinese coatings volume (CCR).
Comment MCC: This is much lower than a few years ago (for example, it reached almost 37% in 2013), reflecting the slowdown in construction from the peak area.
---
Mar 26,2019: Firmenich opened its largest flavor manufacturing plant in the world in the Zhangjiagang Free Trade Zone in China. The plant is the company's first zero liquid discharge site
Comment MCC: With environmental regulation in China tightening and construction of new plants mainly taking place in growing markets such as China rather than in stagnating ones such as in Europe, for more and more chemical segments the most modern and environmentally friendly production plants will be located in China.
---
Mar 25, 2019: Chinese production volume of pesticides decreased by 13% in the period of Jan to Sep 2018 yoy. Insecticides suffered the biggest decline with 24.6% while herbicides declined only by 6% (Agropages)
Comment MCC: This is an obvious consequence of the tightened environmental regulation. The author of the paper concludes that "it is estimated that the Chinese government would not relax its stringent policies in the pesticide industry in the years ahead".
---
Mar 24, 2019: Guangdong province is abandoning plans to build 32 wind power projects
Comment MCC: Alternative energy is an interesting customer segment for the chemical industry due to the need for high-performing, innovative materials. However, as China shifts towards renewable energy that is competitive without subsidies, some of the potential demand coming from alternative energy may never materialize.
---
Mar 23, 2019: In his ICIS blog, John Richardson points out some interesting facts about PP and PE consumption per head in China. One is the difference by province - a Beijing resident consumes 4.6 times more PE than somebody living in the poorest province, Gansu. The other is the comparison of per-capita consumption with the US, with PE reaching about 55% while PP consumption per head in China now actually exceeds the US consumption.
Comment MCC: This underlines John`s main point that extrapolating future demand from per-head consumption is tricky, both because of the vast difference in average GDP within China and the different uses of materials (primarily for local consumption in the case of PE, at least partly for export production in the case of PP).
---
Mar 22, 2019: Yesterday, 6 people died at an explosion at a pesticide plant owned by Jiangsu Tianjiayi Chemical in Yancheng, Jiangsu province
Comment MCC: The main product of the company is m-phenylenediamine, which among other products is produced by about 280 people at the Xiangshui Eco-chemical Industrial Zone in Yancheng of Jiangsu Province. Along with Shandong province, Jiangsu province has recently been the province with the toughest restrictions on the chemical industry including the shutdown of thousands of companies and the target of relocating the vast majority of chemical production into chemical parks. As the Tianjiayi example shows, such a relocation alone may not be sufficient to ensure safe production.
Update: As of 3 pm today, the number of deaths is now reported to be 44, making this one of the worst chemical accidents in China`s recent past.
Update on Mar 23: According to the New York Times, "an inspection last year by the State Administration of Work Safety found 13 safety problems, including extensive leaks, a lack of safety training, "poor site management" and a shortage of operating procedures and technical specifications posted in the benzene tank area."
---
Mar 21, 2019: Sumitomo Chemical reduced its profit forecast for the fiscal year ending 31 Mar 2019 from 130 billion Yen to 120 billion Yen. A rationale given on the investor pages of the company includes the statement that "in the Petrochemicals & Plastics Sector, against the backdrop of a slowdown in economic growth in China, margins for petrochemical products have eroded"
Comment MCC: In FY 2018, Sumitomo achieved 38.5% of its sales in Asia excluding Japan - a large share of this will be derived from China. So a drop in profits by 8% due to the slowdown in China seems plausible.
---
Mar 20, 2019: China's environment ministry has banned the pesticides lindane and endosulfan and restricted the use of fluorochemicals PFOA and PFOS
Comment MCC: This improves China`s compliance with the Stockholm Convention on POPs (persistant organic pollutants) and indicates that the issue of soil and river pollution is taken more and more seriously by the government
---
Mar 19, 2019: BASF expanded its R&D facilities in Shanghai with a focus on the automotive industry and new process catalysts for the chemical industry
Comment MCC: As BASF correctly realizes, China will need many innovative chemical products to keep growing its economy without massively damaging the environment. And of course, it makes sense to develop many of these products locally in cooperation with local customers.
---
Mar 18, 2019: Hainan has started getting rid of fossil fuel cars. From the beginning of 2019, government and party departments can only buy new energy cars except in special cases. By 2025, 70% and by 2028 100% of all such vehicles should be new energy while finally in 2030, fossil-fuel vehicles will be banned for sale to all Hainan residents.
Comment MCC: It is interesting to see that at the moment provincial governments seem to compete on who can be the toughest with regard to improving the environment, with Jiangsu probably taking the lead with regard to the chemical industry and Hainan being the strictest with regard to fossil fuel vehicles. Of course, it remains to be seen whether the Hainan targets are realistic.
---
Mar 17, 2019: Wanhua estimates its net profit in 2018 at CNY 10.6bn, down 4.7% from 2017, while revenue rose by 14% to CNY 60.6bn.
Comment MCC: The revenue development shows that Wanhua`s ambitious plan to become a kind of Chinese BASF is still in progress. The profit decline shows that the company still relies on isocyanates for much of its profit, and thus is somewhat vulnerable to price drops for these materials.
---
Mar 16, 2019: Chinese PX capacity will grow by about 76% and output will grow by around 32% in 2019 compared to 2018 (CCR)
Comment MCC: For a long time now, PX has been a chemical with a massive Chinese import dependency. Partly this is due to local protests against the setup of PX plants. However, with domestic capacity now growing much faster than demand, the import dependency should gradually shrink.
---
Mar 15, 2019: According to the chairman of Chinese automotive company SAIC, Chen Hong, sales of new-energy cars in China are still largely policy driven and thus may drop by 40% if (as currently planned) all subsidies are cancelled after 2020.
Comment MCC: This creates substantial insecurity in the demand forecasts for chemical materials going into EVs, such as battery materials.
---
Mar 14, 2019: China PU systems house Hongbauli announced a 30% decline in profit in 2018 compared to 2017, while revenue increased by 14%.
Comment MCC: One of the reasons given by the company was that "The `America First` policy intensified foreign trade frictions". Hard to say whether this is true but it is likely we will hear this or a similar rationale a lot in the next few months.
---
Mar 13, 2019: Sinochem boss Frank Ning suggests that the government should compensate for lost revenue due to recent tax cuts by increasing the share of SOE profits turned over to the government.
Comment MCC: Interesting to hear the head of an SOE asking to make a higher contribution to the government.
---
Mar 12, 2019: Jiangsu province has announced the objective to essentially have solved the environmental issues of chemical parks in the province, including the discharge of pollutants (CCR)
Comment MCC: Jiangsu seems to have become the leader in implementing environmental regulation, and companies operating in this province can expect to remain under close scrutiny with regard to the environment. In the long term, this should be a good thing.
---
Mar 11, 2019: Some interesting examples of the way export prices and export volumes of Chinese agrochemicals changed last year (Agropages):
- 2,4-D export volume decreased by 40% while price increased by 50%
- Azoxystrobin exports fell by 10% while price increased by 50%
- Chlorothalonil exports increased by 20%, price increased by 20%
- Glyphosate export volume unchanged, FOB price increased by 23%
- Paraquat export decreased by 9%, price increased by 20%
Comment MCC: Overall, these are fairly striking examples how the tightened environmental regulation has reduced export volumes while at the same time increasing prices. Overall, this should have a very positive effect both on the industry and the environment.
---
Mar 10, 2019: In 1995, only 30% of R&D investment was done by businesses but this increased to 70% in 2016 (Caixin).
Comment MCC: While this data is not available specifically for chemicals, it will very likely show the same broad trend. As businesses get closer to global level with regard to their technology, they understand that R&D is a key success factor particularly at the higher end of the market, and allocate resources accordingly. This means that the Western superiority in having advanced products (including chemicals) is far from guaranteed.
---
Mar 09, 2019: Apparent consumption growth of PE in 2019 is forecast to reach 7.9% while the expected capacity growth is 15.1%. For PP, consumption growth is forecast to reach 6.9% while capacity will grow by 21.4% (CCR)
Comment MCC: While current domestic capacities are not sufficient yet to match apparent consumption, the much faster growth of capacity indicates that in the longer run, China may no longer need to import these polyolefins except for some specialties. This could become a problem for foreign suppliers depending on sales to China.
---
Mar 08, 2019: Orient Yuhong Construction Materials broke ground on a 100kT/year single-component waterproof polyurethane coating project on 16 February. Lu'en New Materials Technology plans to build a new 20kT/year polyurethane amine catalysts plant in Dezhou, Shandong (Utech-polyurethane).
Comment MCC: These new investments may not sound particularly interesting or exciting. However, the planned profitability of these investments is, at least to me. Yuhong plans to invest 101 million RMB, thus adding an annual profit of 166 million RMB. Lu`en plans to invest 120 million RMB, thus adding an annual profit of 41 million RMB. If this is true (and not a mixup, e.g., of profits with sales), then the Yuhong investment is a fantastic deal while the Lu`en one still looks pretty good.
---
Mar 07, 2019: China will extend winter anti-smog measures including production cuts and traffic restrictions to the winter of 2019/20. This follows a somewhat disappointing anti-smog campaign this winter, in which only six of 39 northern Chinese cities lowered PM2.5 concentrations. An official from the Ministry of Ecology and Environment (MEE) also stated that some local governments believed they deserved "a rest after years of hardship" to meet the anti-smog measures but that those governments would face punishment
Comment MCC: More indications that the tightening of environmental regulations is not going to be substantially changed.
---
Mar 06, 2019: At the end of 2018, 26 chemical enterprises along the Yangtze River in Hubei were shut down, 56 firms reformed, seven firms relocated and 12 firms switched to other products (CCR)
Comment MCC: Given the lack of comprehensive statistics about the number of chemical companies relocated or shut down, any information for particular areas is helpful. In the region mentioned here, the government measures seem to have mostly resulted in stricter emission control via improved processes or treatment steps (55% of companies) and on companies stopping production of chemicals (a combined 38%) while the share of companies relocated was relatively small (7%). However, relocation may gain in prominence later as relevant deadlines for small companies (in 2020) and for large companies (in 2025) are approaching.
---
Mar 05, 2019: Wanhua and ADNOC (Abu Dhabi National Oil Company) plan to set up a JV for shipping of liquid natural gas. The two parties are planning to set up a joint venture for owning and operating LPG tankers.
Comment MCC: Reportedly Wanhua is the largest user of LPG in China - so it is not surprising they would like to be involved in the logistics side as well. Wanhua has already signed a long-term deal with ADNOC to buy LNG.
---
Mar 4, 2019: EBITDA of BASF in Q4 2018 declined by 35% compared to Q4 2017, with BASF stating that demand from Chinese customers declined significantly.
Comment MCC: While BASF partly blames the US-China trade conflict, the slowdown in automotive sales in China may be another reason. In any case, the announcement shows how important China is for global chemical companies. In some way, the BASF statement is a bit of a surprise as BASF quite recently still stated that China will contribute half of the growth of the global chemical industry.
---
Mar 03, 2019: There is at trend towards producing chemicals rather than fuels from petroleum. C&EN gives the example of Zhejiang Petrochemical. The company is building two refineries, each capable of processing 400,000 bbl of oil per day. Overall, nearly 50% of the output-some 20 million t-will be petrochemical, much higher than the current average share of about 15%.
Comment MCC: In some way, it is surprising that this development took so long as there should be substantially more added value in chemicals than in fuel. On the other hand, a focus on chemicals requires different skills, including a gradual shift from thinking purely about volume towards value, with the associated higher complexity. If the model is adopted more broadly, the scale of chemical production could increase by a factor of 5 to 10 compared to the present situation.
---
Mar 02, 2019: Invista has signed a memorandum of cooperation with Shanghai Chemical Industry Park to build an adiponitrile plant in Shanghai
Comment MCC: This is a bit of a surprise as recently the local Shanghai government seems to have become extremely reluctant to accept chemical industry expansions, presumably because Shanghai has so many alternatives for land use that may be less controversial. However, the large investment size of more than 1 bn USD may have shifted the balance in favor of Invista, as well as the higher-end nature of the polymer to be produced in Shanghai
---
Mar 01, 2019: Fluor Corp. will do the engineering for Valvoline`s first plant in China, a plant for blending and packaging of vehicle coolants and lubricants in Zhangjiagang.
Comment MCC: This seems a surprisingly late start of local production - the plant will start producing in 2020, at a time when the strong past growth of China`s automotive market is probably already over. Still, with China as the biggest global car market, a late local production is better than none at all.
---
Feb 28, 2019: Saudi Aramco has signed an MoU to acquire a 9% stake in Zhejiang Petrochemical's integrated refinery and petroleum distillates complex in Zhoushan. Aramco has also agreed on a JV with China North Industries Corp. (Norinco) and Panjin Sincen to develop a $10-billion integrated refining and petrochemical complex in China
Comment MCC: With the value creation from crude oil probably being shifted downstream, Aramco understandably is keen to follow this shift, particularly in the still-growing Chinese market. And for the Chinese partners, the Aramco shareholding should put their raw materials supply on a solid basis.
---
Feb 27, 2019: In the Chinese chemical sector, 2018 main business revenue was up 8.6% YoY while profits were up by 16.3% YoY. Combined output of major chemicals was up around 2.3% YoY in 2018.
Comment MCC: These are very interesting figures that seem to indicate that the Chinese chemical industry has managed to increase prices and (even more) profits in 2018. Hopefully this will be taken as encouragement to stick with the tightened environmental regulation of the industry.
---
Feb 26, 2019: According to Asiachem, China`s 22 coal-to-monoethylene glycol (CTMEG) projects currently have a capacity of 4.5 million tons, which will increase by another 9.5 million tons by the end of 2021 as 33 new CTMEG projects are being built.
Comment MCC: This strong reliance on coal/based chemicals - assuming the projects will take place - casts some doubts on the importance the Chinese government places on environmental protection in a broader sense. Presumably air pollution and carbon emission are more or less acceptable to the government if not occurring in areas of high population density
---
Feb 25, 2019: Shandong chemical companies Yuhuang and Wanhua, both of which invest large amounts of money in chemical production facilities in the US, may suffer substantially from the trade war.
Comment MCC: Both companies selected the US partly as a location with access to cheap raw material (shale gas), and plan to export a substantial share of their production back to China. This is exactly the kind of trade which would suffer from any tariffs imposed in a trade war. Probably this is not quite what both companies had in mind when investing in the US.
---
Feb 24, 2019: Adhesives producer Hantuo Technology, a Sino-Korean JV with facilities in Chongqing, will soon start trial production at a new TPU plant (Utech-polyurethane) which will produce water-based adhesives and other materials.
Comment MCC: According to Utech, China's waterborne adhesive market has been growing at about 18%/year recently, an indication of how the shift towards more environmentally friendly materials provides growth opportunities for companies such as Hantuo.
---
Feb 23, 2019: Covestro and household appliance producer Haier will set up a joint laboratory for the digitalization of appliance production.
Comment MCC: This could be a clever move by Covestro as it prevents them for simply being a easily exchangeable raw materials supplier for Haier as household appliances increasingly turn into computers of sorts
---
Feb 22, 2019: The Environmental Department of Jiangsu province issued a paper with tight requirements for future chemical investments. According to the paper, there will be no new chemical parks, and no new chemical plants outside of chemical parks. It will not be allowed to add plants in areas where there is already substantial excess capacity, and a minimum investment size of 1 billion RMB for new chemical investments is set.
Comment MCC: This provincial policy illustrates clearly that apart from improving environmental protection, the improvement of the chemical industry structure is a key government objective behind the tightened regulation.
---
Feb 21, 2019: On Jan 08, 2019, a Caixin article on air pollution in China was titled "China's Smog Keeps Clearing". On Feb 19, 2019, another Caixin article on the same topic was titled "China Backslides in Campaign Against Air Pollution".
Comment MCC: Looking at the details of the two articles, the most likely explanation for the different headlines is that the first paper compares 2017 with 2018, seeing an improvement, while the second one compares Jan 2018 with Jan 2019 and seeing a deterioration. In Jan 2018, anti-air-pollution measures were extremely strict (some may say unreasonably strict), while in Jan 2019 they were somewhat less drastic. Hopefully the full-year comparison gives a better picture of the general trend and situation.
---
Feb 20, 2019: According to the Nikkei Asian Review, only a few of the Chinese EV battery makers will survive once government subsidies of up to 10,000 RMB per car end next year, with leaders CATL and BYD among the likely survivors
Comment MCC: Interestingly, the article describes even these leading Chinese companies as lagging behind their Japanese and Korean competitors with regard to their technology. Of course, for chemical companies supplying the EV battery market, it will be essential to supply to those battery makers that are the most likely to survive.
---
Feb 19, 2019: A Sinochem executive will take over the China operations of Syngenta and will thus oversea the Chinese agro operations of Syngenta, Sinochem and Sinochem and Adama (Agropages)
Comment MCC: While Sinochem and ChemChina move ever closer together, now sharing not only the chairman but also a manager for their Chinese agro business, they still officially have not merged. Probably this is about saving the face of ChemChina as all these activities only make sense if there is a complete merger eventually.
---
Feb 18, 2019: According to official reports, air pollution in 39 major northern Chinese cities rose 16 percent on the year in January (Reuters). Confusingly, the MEP also reports that China's air overall quality improved in 2018, with the average levels of a key pollutant dropping by 9.3% in the 338 cities.
Comment MCC: Interesting to see what gets reported in which media, assuming that both statements are factually accurate. According to Greenpeace, the outsourcing of industrial output that took place last winter in order for Beijing to hit air quality targets was reversed this winter, driving air pollution levels up in the region while the rest of the country has seen improvements
---
Feb 17, 2019: Wanhua plans to build a propylene oxide plant at its Yantai site using their self-deleloped production process, an investment of about 500 million USD (polyurethanes.com)
Comment MCC: Wanhua is known to be good at developing their own processes and expertise, and it will be interesting to see whether their proprietary PO technology will turn out to be superior to the competitors.
---
Feb 16, 2019: China consumes about half of the global consumption of Thermotropic Liquid Crystal Polymers (TLCPs), but in 2017, more than 95% of the Chinese TLCP demand was imported.
Comment MCC: This is one of the chemical areas which the Chinese government likely regards as strategic weaknesses, as more than 85% of TLCPs in China are used in the electronics and electric industries, making China strongly import dependent in these important industries.
---
Feb 15, 2019: A plan on recycling of NEV batteries in the Beijing-Tianjin-Hebei region was issued. It is to establish a sustainable recycling system, with a 2020 goal of establishing two to four waste power storage battery dismantling demonstration lines and cascade utilization plants
Comment MCC: This seems a eminently sensible step to ensure that NEVs actually help improve the global environment rather than worsen it.
---
Feb 14, 2019: German prosecutors are pressing criminal charges against a former Lanxess employee for stealing trade secrets to set up a Chinese copycat chemical reactor
Comment MCC: The case does not fit neatly into the standard IP infringement category against China, as the employee accused is of German nationality (though Chinese-born), and worked for Lanxess in Germany.
---
Feb 13,2019: The Chinese Environmental Ministry has warned against the loosening of environmental regulation, stating that "some regions have weakened their cognition of the significance of the environment amid economic downstream pressure"
Comment MCC: The Ministry has already announced a new round of inspections for 2019, and so far, the overall impact of the tightening on the Chinese economy seems acceptable, if not even beneficial. So, I would not bet on substantially loosened regulation.
---
Feb 12, 2019: Wacker and Shanghai Wellion Silicone Material have agreed on co-branding of ready-to-use silicone materials. The deal allows Wellion to promote its silicon compounds made from Wacker raw materials with the label "Based on Elastosil"
Comment MCC: This seems like a viable option to charge somewhat higher prices for high-quality raw materials as the user can himself use this higher quality as a sales argument. Co-branding such as this may become more and more relevant as the actual quality differences between high-end foreign chemical raw materials and local materials shrink.
---
Feb 11, 2019: The Yangtze supposedly is the river carrying the most plastics into the sea - 333 kt per year according to GreenBiz
Comment MCC: This is a suspiciously exact number which makes the scientist in me shiver a bit. Still, the basic fact is undisputable. China has now started to take some measures, such as making local members as river chiefs accountable for the quality of the water in their jurisdictions, levying a fee on single-use plastic bags, moving the most polluting chemical factories away from the edge of the Yangtze and reducing the import of plastic waste. Hopefully this will lead to an improvement in the situation
---
Feb 10, 2019: Taiwanese chipmaker TSCMC manufactured about 10,000 defective wavers due to an out-of-spec photoresist supplied by either JSR, Dow or Shin-Etsu.
Comment MCC: If none of the defective wavers can be used, this will result in losses of about 100 million USD. This is the reason why chipmakers are very reluctant to risk trying new suppliers for crucial chemicals such as photoresists - only the biggest are reliable enough and have the financial power to potentially compensate a chipmaker in case of problems. This is a massive entry barrier that the Chinese government is trying to overcome via backing up smaller local suppliers to the electronics industry, thus hoping to reduce the dependency on imports.
---
Feb 09, 2019: The chemical company responsible for the November 2018 explosion that led to the death of 24 people in Zhangjiakou (Hebei Shenghua Chemical Industry, a subsidiary of ChemChina, chemical company responsible for the blast that claimed the life of 24 people in Zhangjiakou) failed to accurately report the incident to relevant authorities and misled the investigation, according to an official investigation. The cause of the incident was a combination of sloppy management, poor maintenance and mishandling of the emergency, the report concluded.
Comment MCC: Given that the explosion happened because maintenance schedules had been ignored for a long time, it is hardly surprising that the company does not deal with such incidents properly. Still, this is embarrassing for ChemChina as it is hardly the kind of behavior one would expect from a supposed national champion. The fine recommended for the accident (about 700,000 Euro) seems low considering the number of lives lost and the neglect leading to the accident.
---
Feb 08, 2019: Kemira broke ground on a Chinese production plant for producing an annual 40 kt of polyaluminum chloride, a water treatment chemical.
Comment MCC: The production is done by a JV with a local partner, TC Wanfeng. Kemira has 80% and TC Wanfeng 20% of the JV. Kemira has an option to acquire TC Wanfeng's 20% in the coming years with pre-defined conditions. This should provide Kemira with some local support without having to give up control of the venture - a suitable model for those worried about JVs.
---
Feb 07, 2019: Hubei province is setting up a 5 bn RMB fund to help chemical firms (particularly along the Yangtze) to upgrade or relocate.
Comment MCC: The question who will pay for the upgrading and relocation of China`s chemical industry in the face of tightening environmental regulation is still open. On a provincial level, the Hubei example shows that there are some direct subsidies, while in addition there is government support via tax and land policies.
On the other hand, the planned annual 200 million RMB to be given to chemical firms in Hubei is a small amount compared to the likely overall costs of the upgrading and relocation, presumably leaving firms to bear most of the costs.
---
Feb 06, 2019: Shenzhen postponed the implementation of national VI emission standards for vehicles from December 31, 2018 to July 1, 2019. The rationale given is the low share of car models (12%) currently already meeting the tightened standards.
Comment MCC: Of course, at the moment any loosening of regulation may be interpreted as a sign of weakness of the Chinese economy, and a government reaction to soften the blow from the slowdown and the trade disputes with the US.
---
Feb 05, 2019: From Jan to Nov 2018, pesticide export volume from China decreased by 7% while export value increased by 17.4% (Agropages)
Comment MCC: This seems to be another indicator that China`s chemical industry overall so far does not suffer too much from the tightened environmental regulation, with the reduced export volume (though that is partly due to the ban of paraquat in some export countries) easily being compensated by higher value.
---
Feb 04, 2019: Effective Jan 10, 2019, the NDRC has banned the construction of four kinds of oil-fueled vehicle projects including the establishment of independent oil-fueled vehicle firms.
Comment MCC: There are two ways to view this. On the one hand, it certainly indicates a longer-term shift towards EV. On the other hand, it is probably also a reaction to the slowdown of the car market and the existing overcapacities. The Chinese government seems to utilize a broad range of measures to reduce overcapacity, including direct plant closures but also tightened environmental regulation and measures such as the one mentioned above.
---
Feb 03, 2019: Combined output of major chemicals in China was up around 2.5% YoY for Jan-Nov 2018 (CCR)
Comment MCC: As GDP growth slows down and also shifts into services, the growth rate for basic chemicals decreases and reaches values far below the ones observed in the past. The New Normal, as some people would say.
---
Feb 02, 2019: China prosecuted more than 3,500 people for pollution-related crimes in the first 10 months of the year, up nearly 40% yoy (Reuters)
Comment MCC: The number of prosecutions is still relatively small compared to the total number of offenses (about 140,000 in the same period), so most offenders get away with just paying fines. These have recently increased, but it remains to be seen whether they are now high enough to substantially reduce the number of violations.
---
Feb 01, 2019: DSM will pay $154 million for a 75% share in a new Chinese vitamin E joint venture. JV partner is the Chinese company Nenter, which will contribute production facilities in China. DSM states that the acquisition will give them access to a cost-effective source of the vitamin for its growing animal nutrition business.
Comment MCC: Nenter is one of the more established producers in the vitamin E area, accounting for about 20% of Chinese Vitamin E capacity and having EU certification, so the company looks like a good choice for DSM. Sidenote: Nenter is a subsidiary of ceramics producer Guangfu Modern Household Wares, demonstrating the relatively diversified business activities of many Chinese companies.
---
Jan 31, 2019: BASF opened a new, world-scale antioxidants plant with a capacity of 42 kt at its Caojing site in Shanghai for production of antioxidants and associated forms and blends for the plastic additives market.
Comment MCC: Asia is the biggest antioxidants market in the world, and China accounts for 2/3 of it. At the same time, some provinces in China still have massive potential for increased plastics consumption - for example, the per capita PP consumption in Gansu province is only one quarter of that in Shanghai or Beijing. So, BASF is simply following the market.
---
Jan 30, 2019: Magazine C&EN has selected Chinese WuXi AppTec as its company of the year 2018. The rationale is the recent growth and extension of services provided by the company, which aims to be able to discover, develop, and manufacture any drug
Comment MCC: Interestingly, C&EN speculates that WuXi may now the largest chemical company in the world, as measured by chemists employed - indeed a large share of the 18,000 employees of the company are chemists. Presumably these are jobs for chemists that no longer exist in the US or Europe, indicating that even the lead of Western companies in R&D is decreasing rapidly. Reason enough for some chemists to either switch to consulting, or to relocate to China, or both :)
---
Jan 29, 2019: Covestro has started a program of helping start-up companies in China, assisting them in improving their products and choosing the right materials.
Comment MCC: While this sounds interesting, it remains to be seen whether in terms of market volume this will really be worth the effort. The examples given so far - such as a smart device assisting in improving sleep via a heating and cooling pad - do not suggest that the material utilized will be a major component in the overall value of the product. Still, maybe worth trying as such electronic devices may become the major differentiating component in bigger products such as cars, and it will then pay to have a direct link to the producers of such devices.
---
Jan 28, 2019: Profits of the chemical industry in China increased by 19.1% in the period of Jan to Nov 2018 compared to the same period in the previous year
Comment MCC: This substantial increase in profit shows that at least on average, the tightened environmental regulation has not done major economic damage to the industry - in fact, it is quite possible that some of the profit increase is due to the closure of some capacity and subsequent price increases. So far the government policy of utilizing environmental issues as a tool to reduce overcapacity in chemicals seems to work.
---
Jan 27, 2019: In the past three years, nearly 30 Chinese producers of iron oxide have either stopped production, shut down or switched to other products due to stricter environmental regulation (CCR)
Comment MCC: Even after these closures, less than half of the domestic production capacity is being utilized. It is likely that in chemical segments like this one - where there is substantial overcapacity - the stricter regulation and capacity reduction will help rather than hurt the segment as a whole.
---
Jan 26, 2019: Henan province targets a reduction of coal consumption by about 15% during the period from 2015 to 2020. Among other measures, the plan includes the prohibition of new chemical parks (presumably as they tend to use coal as energy source)
Comment MCC: At the moment, the situation regarding the number of chemical parks is somewhat confusing - on the one hand, there are government targets to reduce their number (as also seen in the plan of Henan province), on the other hand, many entities are keen on opening new parks, and with the required relocation of chemical production, it seems likely that there will also be strong demand for space in the existing and possibly also new chemical parks.
---
Jan 25, 2019: China has launched a pilot program to create waste-free cities with a focus on minimizing landfill volumes and reducing the environmental impact of trash. Ten cities will be selected for the first phase, with measures to include better sorting of solid waste, improvements in urban planning and the construction of new treatment facilities.
Comment MCC: This could be a driver for the plastics industry to focus more on recyclability of their materials, and promote the use of plastics with recycled content.
---
Jan 24, 2019: Agrochemicals company Adama, part of ChemChina, is considering the acquisition of parts of the crop protection business of agrochemicals manufacturer Jiangsu Huifeng (Specialty Chemicals Magazine)
Comment MCC: Huifeng was a supplier of Adama until Mar 2018, when they had to stop production due to tightened environmental regulation. The subsequent investment requirements to upgrade the facilities and be allowed to produce again are likely to have been a major reason for the willingness to sell parts of the company. This indicates that the current situation may generally offer opportunities for M&A in chemicals, including for multinationals.
---
Jan 23, 2019: Polyurethane artificial leather producer Anhui Anli turned a 25 million RMB loss in 2017 in a forecasted 19 - 24 million RMB profit
Comment MCC: Of course, it is interesting to look at the individual components of this shift to profits. The company states that sales volumes increased by 10% and prices by 6%, which at annual sales of about 1.7 bn RMB in 2018 of course is a big lever. Some of the smaller bits of the profit and loss explanation are also interesting. For example, government subsidies reached 31 million RMB, an increase of about 10 million RMB. On the other hand, a comprehensive switch to natural gas as energy source - mandatory due to tightened environmental regulations - contributed to an increase in total energy cost by about 30 million RMB. On the other hand, it is quite possible that the increases in sales prices and volumes were at least partly the consequence of the government shutting down some competitors.
---
Jan 22, 2019: Chinese surface water quality improved in 2018, with more samples taken from river and lakes reaching standards fit for human use (Reuters)
Comment MCC: The improvement is not huge - 71% of samples were considered grade III or better, meaning they were suitable for drinking and fishing, up 3.1% points on 2017 - but at least it seems to show an initial success of China`s environmental campaign
---
Jan 21, 2019: According to a UBS survey, around 37% of 200 export manufacturers polled said that they have transferred production out of China in 2018, while another 33% plan to do so in the coming six to 12 months (Caixin)
Comment MCC: This consequence of the trade war could have major implications on the demand for some chemicals in China.
---
Jan 20, 2019: Major US suppliers of laboratory equipment and consumables are increasing prices or shifting production away from China in response to the ongoing trade dispute between the US and China (CEN)
Comment MCC: This is the reaction of a 10% tariff - if the trade war is not resolved and tariffs are increased to 25%, the disruptions could be much more substantial
---
Jan 19, 2019: According to a Reuters poll among 85 economists, China`s economic growth will slow down to 6.3% in 2019 from the current 6.6% expected for 2018
Comment MCC: Unfortunately, for chemical companies such forecasts are relatively meaningless. The success of an individual company will not depend much on whether the growth figure is 0.3% higher or lower. A much more useful information would be the likeliness of a drastic slowdown, for example from 6-7% to only 3-4%.
---
Jan 18, 2019: The Ministry of Ecology and Environment (MEE) has published a draft for the regulation for the evaluation and control of chemical substances in China, with a Feb 20 deadline for comments
Comment MCC: The regulation will require approval for new chemicals and an evaluation of existing high-risk substances, similar to regulation already in place in the US and the EU. While this should not frighten chemical producers, the devil may be in some of the detail - for example, there is no volume exemption for the annual reporting of chemicals.
---
Jan 17, 2019: At the end of December 2018, China issued guidelines for polyurethanes. These guidelines indicate certain preferred locations for sub segments of the PU industry, e.g., via funding (UTECH)
Comment MCC: Surprisingly, Shanghai is listed as a preferred location for new PU materials and related feedstock - my impression was that Shanghai is no longer particularly interested in chemical investment, but perhaps the focus should be on R&D, which is well within Shanghai`s focus.
---
Jan 16, 2019: According to the National Bureau of Statistics, China investment in the environmental sector increased by 42% in the first 11 months of 2018
Comment MCC: With the car market no longer a reliable growth market for chemical companies, the environmental sector may provide an alternative.
---
Jan 15, 2019: LG Chem will invest more than one billion USD on new battery production capacity in Nanjing
Comment MCC: Energy storage is certainly a big growth area, with China likely being at the center of the market due to its size and its focus on electric cars. The LG investment makes the China market more accessible to the company.
---
Jan 14, 2019: BASF chairman Brudermüller and the Vice Governor of Guangdong Province agreed on a framework to establish a new BASF Verbund site in Guangdong, China
Comment MCC: With an investment of about 10 billion USD, this step emphasizes the importance BASF attributes to China as a chemical market. In fact, Brudermüller stated that by 2030, China´s share of the global chemical production will be almost 50% (from the current 37% according to CEFIC).
---
Jan 13, 2019: Six Taiwanese are accused of leaking BASF knowledge to produce electronic-grade chemicals to a mainland Chinese company, Jiangyin Jianghua Microelectronics Materials, for about 6 million USD
Comment MCC: Unpleasant as this is for BASF, it also shows that IP issues do not only arise from producing in China but are inherent in having employees carrying important knowledge
---
Jan 12, 2019: Carmakers plan to spend a total of about 300 billion USD on electric vehicles (EV) over the next 5-10 years, and about 45% of this investment will occur in China (Shanghai Daily)
Comment MCC: This is due to the size of the local car market in combination with the government promotion of EVs. In essence, this will mean that the research and production of chemicals targeting EV as key customers should also primarily be located in China.
---
Jan 11, 2019: JD.com and Mitsubishi Chemical have launched what they call the largest plant factory in China based on hydroponic technology. The press release includes the claim that "no pesticides or chemicals are used in the planting"
Comment MCC: The claim is both an unfortunate indication of the negative image of chemicals and one of the low level of knowledge of chemistry in the general population. Elsewhere in the press release, there is talk about liquid fertilizer being applied automatically in the factory - somehow this does not seem to count as a chemical. There are many people who - being told that they consist of atoms - would probably be afraid of being radioactive.
---
Jan 10, 2019: The EU may ban single-use plastic items such as cutlery, plates and straws from 2021 onwards if a corresponding plan is agreed to in 2019.
Comment MCC: In the past, China has often followed EU legislation, though with some delay. And of course, the issue of marine pollution - which the ban is meant to address - is at least as bad in China as in the EU. So, in the long run, similar measures may be adopted by China.
---
Jan 09, 2019: Since China regulated emission on particulate matters and other air pollution in 2013, summer surface ozone levels have risen. Harvard chemists suspect that the particles acted as a sponge, soaking up free radicals which contributed to ozone production.
Comment MCC: Certainly not a reason to reverse efforts to reduce air pollution, but a reminder that things are often more complex than they first seem - and that therefore any quick solutions to global warming and environmental pollution should be viewed with a healthy dose of distrust.
---
Jan 08, 2019: At the end of 2015, China had about 10,000 coatings producers, of which only about 2000 reached annual sales above 20 million RMB. Of the 8,000 smaller ones, about 4-5,000 closed down or suspended production in 2016-2017 as a result of tightened environmental regulation.
Comment MCC: This is a good example of China´s government achieving several economic goals while ostensibly focusing on the environment. The reduction in the number of (particularly small) coatings producers has not only led to fewer emissions, but also to reduced competition and an increase in the average quality level.
---
Jan 07, 2019: IHS forecasts chemical demand growth in China to reach an annual 5-7% in the next 4 years. Meanwhile, BASF forecasts half of the chemical industry growth from 2017 to 2030 to come from China.
Comment MCC: These very recent statements (IHS: Jan 2019) show that despite a very likely slowdown in the growth of China´s chemical market, the country will still be the most important source of growth for the chemical industry in the foreseeable future.
---
Jan 06, 2019: The National Bureau of Statistics has issued a Classification of Strategic Emerging Industries (2018), defining 9 strategic emerging industries including new materials, new energy vehicles , new energy and environmental protection
Comment MCC: A bit hard to say how relevant such a classification is as long as it is not combined with specific measures, but at least it indicates that the government is actively supporting some areas which have a high relevance for the chemical industry.
---
Jan 05, 2019: Starting 2019, China´s Supreme People´s Court has set up a special court to take up appeals from high-level provincial courts in intellectual property cases (Caixin)
Comment MCC: This is a positive step which hopefully will lead to IP issues being treated more uniformly throughout the country, as it should lead to uniform refereeing standards. It probably also reflects the growing importance of IP as a differentiating factor among different domestic companies.
---
Jan 04,2019: A wholly owned subsidiary of Shell, Shell (Zhejiang) Petroleum Trading, received the first government license of any foreign oil companies to trade oil products independently in China.
Comment MCC: This allows the company to independently act in the Chinese wholesale-market for oil products, and it indicates an opening up of the market that is also seen in other areas relevant for the chemical industry, e.g., petrochemicals (BASF) and automotive (Tesla). In all these areas, foreign companies were previously restricted to JV participation rather than full ownership.
---
Jan 03, 2019: Akzo Nobel has acquired the minority interest of Swire Industrial in the AkzoNobel Swire Paints joint venture with paint production in mainland China.
Comment MCC: Most JVs are not meant to last forever - this one lasted 30 years. Still, this does not mean JVs are pointless. Strategies and capabilities change, and JVs offer some flexibility in this regard.
---
Jan 02, 2019: Tesla has registered a financial leasing company in China, opened a tender process to build its US$2 billion Shanghai Gigafactory, and at least one contractor is reported to have started buying materials.
Comment MCC: Tesla seems to be a bit quicker than many Western chemical companies to realize that to have a strong presence in the biggest market (whether for EVs or for chemicals), local production is required. Of course, this will also mean that a lot of chemical materials will be sourced locally by Tesla once the factory starts operating. And depending on the presence of foreign chemical companies at that point, they may or may not be considered as suppliers.
---
Jan 01, 2019: A list of the top 100 Chinese fine chemical companies was recently issued by the China Chemical Industry Information Association and the China Fine Chemical
Raw Material & Intermediate Industry Association (CCR)
Comment MCC: Not much to comment about this except that this is an indication of China´s chemical industry becoming more focused on sub segments, and of course that this list may be useful for foreign companies seeking partners, suppliers, customers or potential acquisition targets.
---
Dec 31, 2018: The 2018 CEFIC report on the European chemical industry mentions Europe 126 times but also China 87 times.
Comment MCC: This reflects the fact that China has about 37% of the global chemical market while the EU has only 16%. In fact, the Chinese share is bigger than that of the EU and NAFTA combined (16% + 15% = 31%).
---
Dec 30, 2018: Main business revenue in the Chinese chemical sector was up 10% YoY in Jan-Oct 2018 (CCR)
Comment MCC: Another indication that at least for now, the tightening of environmental regulation has not had any very serious negative effect on the chemical industry in China.
---
Dec 29, 2018: Sinopec has suspended the two top officials at its trading arm Unipec after the company suffered losses.
Comment MCC: So far, the officials are being held responsible for wrong market judgement rather than for wrongdoings. Sinopec stock reached a two-year low after the news was made public, demonstrating market dislike for uncertainty
---
Dec 28, 2018: In the period of 2013-2017, average annual Chinese capacity growth for CPL was 17.7% while output grew by 16.8% and consumption by 10.1%. As a consequence, import dependence decreased from 27.6% in 2013 to 9.6% in 2017 despite some shutdowns in 2017 as a consequence of tightened environmental regulation
Comment MCC: This is yet another chemical for which China will not much longer have to rely on imports - and in the long run, the country will likely become an exporter.
---
Dec 27, 2018: An explosian at a Xinjiang chemical plant of Xinjiang Xinzhi Energy Chemicals Co. killed three people and severely injured six (Tianshan news website according to channelnewsasia.com)
Comment MCC: This and other recent chemical accidents hopefully will strengthen government resolve to continue and tighten the current round of inspections of chemical companies.
---
Dec 26, 2018: The Chinese Academy of Social Sciences forecast that China's economy will grow by 6.3 percent in 2019, down from 6.5% in 2018 (Shanghai Daily)
Comment MCC: Of course, in a way this is more of a best-case scenario than a proper forecast, given the current disruptions. However, even at a slightly lower growth rate China will still be the most important driver of global growth, which of course includes chemicals.
---
Dec 25, 2018: According to Bloomberg, the merger between Chemchina and Sinochem is nearing completion. The government has already given preliminary approval for the merger
Comment MCC: This will only be successful if the new entity will show a greater willingness to focus its activities and to improve efficiency. Unfortunately, given past performance of both companies, this seems somewhat unlikely. For example, Sinochem has five business units with very different activities (energy, chemicals, agriculture, real estate and finance) while the recent accident at a ChemChina subsidiary illustrates that at least ChemChina´s domestic businesses often are among the weaker ones in their peer group.
---
Dec 24, 2018: McKinsey expects lube oil demand to grow at an annual rate of only about 0.8% in the period of 2017-2035 as the shift to electric vehicles decreases demand from the automotive sector
Comment MCC: The paper describes China as still the biggest growth market, which is somewhat surprising given the political support for EV in China but which may be explained by the fact that only about 40% of global lube oil demand are accounted for by the automotive segment
---
Dec 23, 2018: A number of government departments have jointly issued an action plan to combat autum/winter air pollution in the Yangtze river delta area, requiring local governments (among other measures) to urge industrial enterprises to continually upgrade pollution treatment facilities and to specifically control emission of VOCs.
Comment MCC: The target is to decrease the number of heavy air pollution days in the period from Oct 1, 2018 to Mar 31, 2019 by 3% yoy - not a very ambitious target but one that will certainly also have relevance for chemical companies and may indicate a focus area of coming government inspections.
---
Dec 22, 2018: Renault will take over a significant stake in a subsidiary of Chinese Jiangling Motors Group, a producer of NEV with a production of about 50,000 electric cars in 2018.
Comment MCC: Chinese regulation will practically force car makers to produce EV via certain fleet targets. Particularly for foreign players, these targets will be hard to achieve, and cooperating with domestic players is one option. This explains the interest of Renault in a relatively small player with only about 5% market share, but it also means that the interest in chemical materials particularly suited to EV will keep growing.
---
Dec 21, 2018: China's State Administration for Market Regulation fined three domestic API manufacturers about 13 million attempting to inflate the price of API-grade glacial acetic acid (chemlinked.com)
Comment MCC: This is the highest antimonopoly fine in the API industry imposed so far. By exchanging data, the three companies - the only producers of API-grade glacial acetic acid - tried to increase the price of the acid from about 8 RMB per kg to about 30 RMB per kg within a few months. The fine imposed was based on the illicit gains and a share (4%) of annual company sales.
---
Dec 20, 2018: Chinese domestic PTA consumption is about 35 million t/a while local capacity is about 50 million t/a (CCR). No new capacities were added in 2018 so far.
Comment MCC: While this sounds like some rational thinking has been introduced into the minds of PTA producers, the trend does not look good. CCR states that additional capacities of at least 30 million t/a are being built or planned for the next few years. And tellingly, the CCR article covering these developments is titled "PTA - Right time for development" rather than "PTA - Overcapacities looming" (which may in fact turn out to be a more realistic heading).
---
Dec 19, 2018: From 2004 to 2017, the revenue of Honeywell in China increased sixfold (Shanghai Daily, Interview with William Yu, President, Honeywell China)
Comment MCC: As Mr. Yu correctly points out, though this growth is impressive (and Honeywell is certainly one of the more successful chemical-related foreign companies in China), it could be faster. Government statistics show that from 2004 to 2017, revenues of the sector "raw chemical materials and chemical products" increased by a factor of approximately seven. This highlights a key phenomenon, namely that the domestic private chemical companies in China grew faster than the multinational ones and much faster than the state-owned ones.
---
Dec 19, 2018: Deutsche Bank predicts that the China-US trade war will have a limited impact on China's economic growth, which it sees at around 6.2-6.3% for 2019 (SCMP).
Comment MCC: One of the reasons for this relatively optimistic view is the hypothesis that a substantial share of the trade between the US and China may be replaced by that between the EU and China, particularly Germany and China, indicating opportunities for German companies.
---
Dec 16, 2018: C&EN has an extensive report on BASF´s massive expansion plans in China, both at the existing Nanjing site and at a new site in Guangdong province:
https://cen.acs.org/business/investment/BASF-readies-bold-moves-China/96/i49
Comment MCC: In some way, BASF benefited from past restrictions on cracker ownership for foreign companies - it meant the company had to spend less capital to create its integrated value chain while leaving the more profitable downstream parts of the chemical value chain completely to BASF. It seems this model was so successful that in the planned Nanjiing expansion, BASF will only own 25% of the cracker. On the other hand - and somewhat contradictory - BASF will have 100% ownership at the new site, now that new government policies allow this.
In any case, if these plans are carried out - particularly the one in Guangdong - it will mean that the most modern BASF plant in the world will be in China.
---
Dec 15, 2018: A safety expert from the Ministry of Emergency Management attributed the explosion at a ChemChina PVC plant in Zhangjiakou, that claimed 23 lives last month, was the result of sloppy management, poor maintenance and the mishandling of the emergency.The explosion was caused by a leak of vinyl chloride gas from a storage facility at Hebei Shenghua Chemical Industry's PVC plant. While such tanks should be inspected and serviced every one to two years, and undergo major maintenance work every five to six years, the company had done no inspection or maintenance at all on the storage tanks since 2012 (ChinaDaily)
Comment MCC: This points to the need to keep the current pressure on the chemical industry with regard to safety and environmental protection. It also shows that ChemChina may still be quite far away from achieving its vision, which on its website is stated as "To become a highly respected, internationally competitive chemical company that generates sustained economic and social value and is resource efficient, eco-friendly and intrinsically safe"
---
Dec 14, 2018: China's auto sales fell by 13.9% yoy in the first 11 months of 2018 while NEV sales increased by 68%
Comment MCC: These parallel developments show the importance of NEVs as a market for chemical materials that can substitute at least some of the demand coming from conventional cars.
---
Dec 13, 2018: The North Queensland Register (Australia) reports that prices for pesticides have typically increased by at least 10% in 2018 due to shortages and production cost increases in China.
Comment MCC: It is interesting to see how the tightened environmental regulation of China´s agchem producers sends waves across the world. On the other hand, given that about 80% of agrochemical formulations include components produced in China, it is not very surprising.
---
December 12, 2018: BASF SE and Guangzhou Automobile Group (GAC) have introduced three co-developed electric concept cars featuring BASF materials and solutions (PlasticNews)
Comment MCC: This is an example of chemical producers actively positioning themselves as materials providers for this new application, which promises rapid growth.
---
December 12, 2018: DuPont will invest $80 in a new manufacturing facility in Zhangjiagang, Jiangsu, to produce compounded high-end engineering plastics and adhesives. Target customers are in transportation, electronics, industrial and consumer products.
Comment MCC: Of course, with a trade war still possible, local production in China may get even more important than just based on the advantage customer proximity.
---
Dec 11, 2018: 2,177 people from 10 provinces have been held accountable in the country's latest round of environmental inspection in Shanxi, Liaoning, Jilin, Anhui, Shandong, Hubei, Hunan, Sichuan, Guizhou and Shaanxi. So far, local governments have handled 26,873 cases and imposed fines of 214 million yuan while 88 people have been detained (Xinhua)
Comment MCC: So far there is no sign of this campaign slowing down.
---
Dec 11, 2018: China's Supreme People's Court has provided details of 10 typical cases of environmental pollution offenses in the development of the Yangtze River economic belt in order to provide guidance to courts.
Comment MCC: The idea is that the release of the 10 cases will lead to unified court criteria in cases involving environmental pollution - let us hope this works.
---
Dec 11, 2018: In the Nov 17 edition of the Economist, the paper writes that "Demand from China [for plastics] is likely to slow, because consumers are buying fancier goods, such as posher cars, as well as services, both of which require less plastic"
Comment MCC: I am not a person regularly writing letters to the editor, but in this case I felt compelled to (not that they published it). As anyone familiar with automotive plastics knows, more expensive cars actually contain more plastics than cheaper models. So an upgrading in the car industry is an opportunity for automotive plastics suppliers, as is of course the shift towards electric vehicles.
---
Dec 10, 2018: In November 2018, the CPCIF established a committee for specialty chemicals companies. In China, currently 11,187 companies are counted as specialty chemicals companies, with combined sales of 3.2 trillion RMB (about 460 billion USD).
Comment MCC: In a way, it is surprising it took the CPCIF so long to recognize this segment as meriting its own committee, given the importance and value creation linked to specialty chemicals. Still, good to get some numbers this way.
---
Dec 10, 2018: Jiangsu province issued a Plan to Construct Facilities for Centralized Disposal of Hazardous Wastes, mandating prefecture-level cities and key regions to dispose their hazardous waste by 2020
Comment MCC: Now that environmental issues are included in the incentive schemes of government officials, provinces seem to almost compete on implementing as many of them as fast as possible. Much better than before, mind you.
---
Dec 10, 2018: Jilin Xingyun Chemical Co. entered a cooperation agreement with Daqing High-Tech Industrial Development zone for a 700 kt polycarbonate (PC) project (CCR)
Comment MCC: With several Chinese players entering PC production - some of them with huge capacity plans, though not all of them may be executed - the global PC market may face massive disruptions and price declines.
---
Dec 10, 2018: Benzene and PX are among the (fewer and fewer) chemicals for which China has a relatively low self sufficiency (benzene 80% in 2018, PX about 60% in 2017)
Comment MCC: Surprisingly, and different from many other chemicals, these self-sufficiency rates have not dramatically improved in the past few years.
---
Nov 22, 2018: Hubei province is requiring a total of 497 chemical companies to shut down, relocate, transform or switch to other products
Comment MCC: Another example for the provinces implementing the tighter environmental regulation on a fairly large scale.
---
Nov 22, 2018: Annual Chinese PVC demand will grow by 1.8% in the period of 2017-2020 (CNIC/CCR)
Comment MCC: Such forecasts show that indeed - as the economy is shifting towards services and higher-end products - many basic chemicals will probably have growth rates far below GDP growth.
---
Nov 22, 2018: Annual main business revenue of the chemical sector is forecast to be up 8% (Q1-Q3 2018 compared to Q1-Q3 2018) while profits are to be up by 15% (CPCIF)
Comment MCC: This data shows that so far the Chinese chemical industry as a whole has not experienced a massive negative impact of the tightened environmental regulation, as this should be visible in reduced profits and/or sales. In fact, the strong increase in profits may be an effect of an improved industry structure due to the closure of marginal producers.
---
Nov 22, 2018: China has about 21% of global LLDPE production capacity but a 31% share of global consumption, making the country strongly dependent on imports (CCR)
Comment MCC: Basic chemicals for which China is a net importer get rarer and rarer as local production capacity increases. However, for LLDPE the situation is likely to be stable in the next few years as many of the new projects are coal-based and thus bound to be delayed or canceled due to environmental and cost reasons.
---
Oct 31, 2018: Solvay will expand the production of fluoroelastomers at its Changshu plant in China.
Comment MCC: End use applications for this material include the semiconductor industry and hybrid vehicles, for which the Chinese market is big and fast growing.
---
Oct 31, 2018: BASF has signed an MoU with Sinopec to build a steam cracker in Eastern China in a 50:50 JV, with a capacity of 1 million tons of ethylene
Comment MCC: Compared to China´s global importance as a chemical market, the market share of the biggest global chemical companies in China is still low. BASF has realized this and is adjusting its production footprint accordingly.
---
Oct 24, 2018: Year on year revenues of the Chinese chemical industry increased by 10.8% in the period of Jan-Aug 2018 (CCR)
Comment MCC: While this sounds good at first glance, it is probably mostly due to underlying raw materials prices (oil). In fact, output of some chemical products fell, for example, agrochemical active ingredients by 2.3%, probably partly as a consequence of tighter environmental regulation.
---
Oct 24, 2018: China calcium carbide production increased by 2.1% in 1H2018 compared to 1H2017
Comment MCC: While this is still a bit of growth, it is lower than in the past, reflecting the fact that some calcium carbide enterprises failing to meet the environmental protection standards were forced to stop production. However, the data shows that this has not had a huge impact on production.
---
Oct 21, 2018: US Environmental agency EPA has scrapped two panels of outside scientists that reviewed national air quality standards for particulate matter and for ground-level ozone (C&EN)
Comment MCC: This is something that I cannot happen imagining in China. China seems to have a certain basic respect of and trust in science, which the US government currently sadly lacks.
---
Oct 18, 2018: Tesla signed an agreement to secure land in Shanghai's Lingang area for its first factory outside the US (Shanghai Daily)
Comment MCC: The initial production target - to be reached in 3 years - is 250,000 cars per year, which should certainly boost the demand for chemical materials used in EVs.
---
Oct 15, 2018: NEV sales in China went up 81% year on year to 721,500 units in the first nine months of this year, while production rose 73% percent to 734,600 units (Shanghai Daily)
Comment MCC: So far no slowdown in growth for electric vehicles in China - a big potential market for a variety of chemical materials.
---
Oct 15, 2018: CHN Energy and manufacturer Weichai Power Company will jointly produce heavy-duty mining trucks running on hydrogen (Shanghai Daily)
Comment MCC: While NEVs are booming, it is not clear whether they or hydrogen-powered vehicles will be the most important in the future. This cooperation shows that hydrogen is far from dead, whatever Elon Musk says.
---
Oct 10, 2018: ICIS forecasts that from end-2017 until end- 2021 in seven major synthetic resins - PE, PP, PS, EPS, ABS, PET, PVC -China will account for an average of 35% of total global consumption and 41% of growth.
Comment MCC: Enough to just quote ICIS directly: "THERE is no other country or even region in the world that comes anywhere close to being as important to the global polymers industry as China"
---
Sep 27, 2018: Hebei province in principle banned the construction of new chemical parks (CCR).
Comment MCC: In the last 2 years, we had the slightly absurd situation that the central government already wanted to control and even reduce the number of chemical parks while at the same time the actual number grew from about 500 to 700. Now it seems the provinces such as Hebei gradually get aligned with central government policy.
---
Sep 27, 2018: According to CPCIF, the number of chemical enterprises above a defined size declined by 1666 to 27641 enterprises (-6%) in the first 6 months of 2018 (CCR)
Comment MCC: Most of the enterprises were shut down as a consequence of stricter environmental regulation, while at the same time also production was completely stopped in some locations.
---
Sep 27, 2018: China´s self-sufficiency rate for PP has increased from 66.7% in 2006 to 86.9% in 2017, with a surplus expected by 2022.
Comment MCC: As this shift from China being a net importer to exporter has happened for many commodity chemicals, it will also happen for PP, and global PP producers should not bet on China as a longer-term export market.
---
Sep 20, 2018: The European Business in China Position Paper 2018/19 was published today, including 12 pages by the Petrochemicals, Chemicals and Refining Working Group. The recommendations of the group cover primarily three areas: sustainability/green development, transparency and cost of company closures and relocations, and chemicals management.
Comment MCC: The suggestions are all reasonable, and most bigger local Chinese chemical companies would probably agree with them. It is good to see that the foreign companies start to realize that sustainability and green development can be a competitive advantage for them rather than a threat.
---
Sep 20, 2018: The list affected by import tariffs on Chinese products, which will start being active on Sep 24, includes 1363 chemicals including sodium cyanide and MDI. Another 142 including a number of rare earth compounds were excluded from the initial list (C&EN)
Comment MCC: The U.S. chemical industry's main trade group, the ACC, is firmly opposed to the tariffs. It is surprising that a business person such as Mr. Trump can be in favor of it.
---
Sep 18, 2018: Sinopec plans to build a refinery to process 167,000 barrels per day of crude in Alberta, Canada, at an estimated cost of USD 8.5 billion (Globe and Mail)
Comment MCC: This is a project that the Alberta government previously rejected, citing lack of an economic rationale. However, the Chinese involvement obviously changes the situation, and China presumably sees a chance to secure some longer-term access to oil resources.
---
Sep 18, 2018: China will send out inspection teams to ensure that its provinces are complying with tough international restrictions on the production of ozone-depleting substances (ChannelNewsAsia)
Comment MCC: This has become a topic after research identified China as a major source for such substances even after the ban in China. Given the tightened environmental regulation in China, and the stricter enforcement, there is a good chance that these inspections will indeed be effective in reducing the production and use of these substances.
---
Sep 15, 2018: SABIC signed a memorandum of understanding (MOU) with China's Fujian provincial government to build a petrochemical complex. Further details were not given yet (Reuters)
Comment MCC: After the recent announcement of Exxon´s and BASF´s huge investments in China, this is the third such activity within the last few months. It highlights the importance of China for the global chemical market. Indeed, Sabic comments that the investment is part of the firm's strategy to strengthen its position in the world's top petrochemicals market.
---
Sep 12, 2018: Shandong province will reduce the number of chemical parks in the province to a maximum of 85 from the 199 listed by the end of 2017 (CCR)
Comment MCC: Shandong has already started a certification process and approved a first batch of 31 chemical parks. However, it will be tough for the province and the chemical companies to increase the share of chemical businesses in chemical parks (which is only 37% of all chemical businesses) while at the same time drastically reducing the number of chemical parks and excluding a number of cities from chemical production altogether. This points to a much tougher stance of the government towards the chemical industry, even in a province such as Shandong, where the chemical industry is estimated to contribute about 20% of GDP.
---
Sep 12, 2018: PPG will build a new paint and coatings research and development center in the Tianjin Economical and Technological Development Area, to be completed in 2021 (CCR)
Comment MCC: Though so far China has generally not been at the cutting edge of innovation in coatings, this is likely to change due to the importance of the Chinese market and specific local requirements. The setup of an R&D center by PPG reflects this.
---
Sep 12, 2018: China prices of ammonium dihydrogen phosphate (MAP) have increased in the past 12 months as a consequence of closures of phosphate mines and tightened environmental regulation
Comment MCC: This is one of the many consequences of the tightening of environmental and safety regulation.
---
Sep 12, 2018: China auto sales fell by 4% year on year in July 2018 while sales of electric vehicles increased by about 50%.
Comment MCC: The industry association describes EV as the driving force of the market - chemical companies looking for sales growth may want to examine their portfolio and see what can be marketed specifically to EV producers.
---
Sep 12, 2018: Exxon has signed a preliminary deal to build a petrochemical plant in Huizhou including a 120 kt ethylene plant, two PE lines and two PP lines (Reuters).
Comment MCC: While China is already by far the biggest chemical market in the world, Exxon´s move reflects the knowledge that its importance will increase even further.
---
Sep 12, 2018: Jiangsu plans to shut down about 1000 companies that failed to meet environmental or safety standards in the next 3 years, and prohibit chemical production within 1 km of the Yangtze (Asia Times)
Comment MCC: The province makes clear that this is not only about environment but also about moving upwards in the value chain, calling it a "strategic upgrade". In other words, richer provinces such as Jiangsu will increasingly be reluctant to host basic chemicals production and will instead focus on higher-end chemicals and other industries.
---
Sep 04, 2018: Total will sell its Chinese PS business (two production sites in Ningbo and Foshan, each with an annual capacity of 200 kt) to Ineos (PNE).
Comment MCC: The reason given by Total is that the company does not have the critical mass in China´s competitive PS market. Indeed, 400 kt are only around 3% of the total Chinese capacity, and Total is only one of more than 50 PS producers. Of course, these factors also apply to Ineos, which so far does not produce PS in China.
---
Aug 29, 2018: Haide Chemical Technology will have to pay a fine of USD 11 mio for polluting water by disposing 102 tons of untreated alkali waste liquid in 2014 (Straits Times)
Comment MCC: This is one in a number of recent high-profile cases which presumably are to demonstrate that in the future, it will be cheaper and less risky to follow environmental regulation rather than skipping it in an attempt to save costs. A very welcome development and one that should be appreciated by foreign chemical producers in China, which in the past always complained about local competitors not following the rules.
---
Aug 25, 2018: MEG is one of the US chemicals most affected by the trade war as imports to China face a 25% tariff from Aug 23. China accounts for about 7% of US MEG production (ICIS)
Comment MCC: And if there is no change in attitude, a 3rd round of tariffs will come, which will have an even bigger impact on chemicals, also including chemicals produced in China and exported to the US. Does this make sense? To quote an expert (from C&EN): "G. Brandt Jordan, a consultant advising industrial dye users, wrote that imposing a 25% tariff on Chinese-made dyes might have made sense in the 1990s when the U.S. still had a dye industry. But today, with the domestic industry long gone and its craftspeople retired, 'the net effect of what you are proposing will be an additional tax on the importers, which will ultimately be passed on to the consumers.'"
---
Aug 23, 2018: Evonik and the Chinese company Wynca will form a 60:40 JV for production of fumed silica marketed as Aerosil (Chemical Engineering)
Comment MCC: Indeed, the JV model is not dead, as this new example shows - and it is particularly suitable if the two companies cooperating are at somewhat different segments of the value chain. In this case, Wynca produces the raw material for Aerosil already.
---
Aug 11, 2018: By Aug 23, China will establish a 25% import tariff for all HDPE and the vast majority of LLDPE, a retaliation to the tariffs introduced by president Trump on Chinese imports (ICIS)
Comment MCC: According to ICIS, China accounts for half of the global net deficit (= import demand) for these grades. Replacing China as a customer for US-produced PE will therefore be extremely difficult.
---
Aug 09, 2018: Lanxess plans to sell its remaining 50% in synthetic rubber company Arlanxeo to to JV partner Saudi Aramco
Comment MCC: This was to be anticipated as there is only a limited role for a Western company in a business dominated by the raw materials suppliers (e.g., Saudi Arabia) and the main customers (primarily China), with only a limited role of technological knowledge and innovation. Lanxess is moving towards more or less the only segment still left to Western companies - specialty chemicals.
---
Aug 09, 2018: Several crude oil-to-chemical (COTC) projects are being planned or started in Asia and Saudi Arabia (seekingalpha)
Comment MCC: These COTCs are configured to produce a maximum of chemicals (40% or more) rather than transportation fuels from crude oil. This reflects both the higher value creation in producing chemicals and a fallback position for oil companies in the face of potential competition from electric vehicles. China is at the forefront of establishing COTCs, with three of them optimized to produce PX. An example is the refinery-PX complex of Hengli Petrochemical which is scheduled to start production in the second half of 2019.
---
Aug 09, 2018: Invista plans to build a world-scale adiponitrile plant in China, with a planned production start in 2023.
Comment MCC: Plans for such a plant have been mentioned for at least one year now - it seems multinational chemical companies are still somewhat slow in implementing their expansion plans in China compared to local players.
---
Aug 09, 2018: Shanghai will eliminate some chemical production by 2020, mainly along 1 km of the Huangpu River, outside chemical parks and with high safety and environmental risks (CCR)
Comment MCC: Currently it seems there is almost a kind of competition among the different provinces to implement the central government order to push chemical production to chemical parks, with each province issuing a similar statement to this effect.
---
Aug 09, 2018: Shaanxi will require chemical firms to transform or relocate to 2025. Of 24 firms covered, 13 will relocate, 9 will transform and 2 will shut down.
Comment MCC: Currently it seems there is almost a kind of competition among the different provinces to implement the central government order to push chemical production to chemical parks, with each province issuing a similar statement to this effect.
---
Aug 09, 2018: The 2018 Fortune Global 500 includes more than 20 Chinese firms related to chemicals. Sinopec and Petrochina are number 3 and 4; CNOOC, Sinochem and ChemChina are in the top 100 (CCR)
Comment MCC: China is represented by 120 companies in the list. Chemical-related companies therefore account for almost 20% of all Chinese entries, indicating the importance of the industry for the country.
---
Aug 09, 2018: APAC accounted for 28% of Lanxess turnover in 2017 but only for 17% of its employees.
Comment MCC: In common with most Western companies, there is still a mismatch between the share of employees and the share of turnover. The more companies like Lanxess try to move towards specialties/solutions, the more they will have to localize their work force to reach a share similar to their sales.
---
Aug 09, 2018: China´s vitamin C capacity is 220 kt/a while annual Chinese output is 170 kt, of which 150 kt are being exported - accounting for the vast majority of the global market of 190 kt (CCR)
Comment MCC: This is one of many examples showing the dominance of China in the global vitamin market. Exports of many vitamins increased by 5-25% in 2017 as both the global market and China´s share of it continue to grow.
---
Aug 09, 2018: China´s sulfuric acid output increased by 0.5% in 2017 to 96 million tons while capacity dropped by 2.5% to 121 million tons (CCR)
Comment MCC: This is one indication of the industry structure finally becoming a bit sounder. A similar trend can be seen with regard to the market share of the top 10 players - it increased by 1.9%, though the actual value is still low at 37.5%.
---
Aug 09, 2018: About 8 million tons of Chinese sulfuric acid capacity (of a total of 121 million tons) will have to relocate due to the recent tighter requirements.
Comment MCC: This seems like a fairly low value - only about 7% of total capacity - that is likely to increase further as more current production locations will be determined to be unsafe or unsuitable.
---
Jul 31, 2018: The C&EN list of 2017 top 50 global chemical companies has two Chinese entries, Sinopec at no. 3 and Wanhua at no. 43.
Comment MCC: Actually, a couple of comments in this case ... First, there are still several Chinese companies missing in the list, presumably as no accurate sale data (or share of chemical sales) is available. Candidates include PetroChina, ChemChina and Sinochem. Second, Sinopec is correctly included in the list only with its chemical sales, which are given as 16% of total company sales - indicating that for Sinopec, oil exploration and gasoline sales are still much more important than the business of selling chemicals. Third, Sinopec chemical sales increased by 31.5% in 2017 compared to an average increase of 12.2% for the total 50 companies - this mostly reflects the position of Sinopec´s chemicals closer to crude oil and thus the stronger effect of rising oil prices, rather than a substantial improvement in output (while ethylene and resin production increased by about 5%, production of some other chemicals such as synthetic fiber and synthetic rubber actually declined). Fourth, Wanhua is now big enough to enter the global top 50 - and with their strong position in MDI and their ongoing expansion, the company is unlikely to stay in the lower half of the top 50 for long.
---
Jul 29, 2018: The majority of the American chemical industry is opposed to the tariffs imposed on good imported from China to the US, thus objecting to current Trump policy.
Comment MCC: No need to comment myself, enough just to quote the American Chemistry Council: "Uninterrupted access to global supply chains and foreign customer markets is vital to the American chemical industry's ability to maintain its competitive position. Tariffs increase the cost of doing business in the United States and invite damaging retaliatory actions by U.S. trading partners." (quotation according to C&EN)
---
Jul 18, 2018: An explosion at chemical producer Hengda Technology in Sichuan on July 12 killed 19 people (C&EN)
Comment MCC: Though regulation of chemical production has become much stricter in the last few years, implementation has apparently not consistently tightened in all provinces. While many companies are forced to relocate and/or upgrade their facilities in Eastern China, Western China lags behind. According to C&EN, the company involved in the accident did not have a license to operate and was not supervised by local authorities.
---
Jul 11, 2018: Electric carmaker Tesla will establish a wholly owned factory in Lingang, Shanghai, with an annual capacity of 500,000 cars
Comment MCC: Obviously the government sees this as a chance to upgrade Shanghai´s industry, as made clear by the mayor of Shanghai in his statement: "Shanghai welcomes Tesla to put its entire industry chain of research and development, manufacturing and sales of electric car in the city". Due to the prospects of this industry, Tesla is exempted from having to partner with a local player. Of course, this should cause substantial demand for those chemical materials required for Tesla cars and their batteries.
---
Jul 10, 2018: Average added value of 41 Chinese industry segments grew by 6.8% yoy in May 2018 while the chemical segment grew by 4.3% (CCR, National Bureau of Statistics).
Comment MCC: Interesting to see that chemical industry added value growth is below average - a consequence of not only supplying high-growth industries such as electronics (+13.5%) but also mature industries such as textile (-1.5%)
---
Jul 10, 2018: As of the end of 2017, China had 601 chemical parks, of which 61 were on national level, 315 at provincial and 225 at prefectural level (CCIP Zhuhai 2018)
Comment MCC: This shows the strong focus on chemical parks as the more or less exclusive future location of chemical production. The number of parks has grown by about 100 from one year before. Confusingly, this is in contradiction of the 13th 5YP goal to stabilize the number of chemical parks and rather eliminate weaker ones than create additional ones.
---
Jul 10, 2018: Air Liquide and the Chinese startup STNE have signed a partnership to accelerate the rollout of hydrogen-powered electric truck fleets in China.
Comment MCC: This highlights the point that China - while putting a lot of resources in battery-powered electric vehicles - still is open to explore other technologies such as hydrogen-powered vehicles. Not everybody (me included) agrees with Mr. Elon Musk that "hydrogen is stupid".
---
Jul 10, 2018: At the end of 2017, China had about 170 producers of PET. The largest accounts for about 8% of total capacity while the top 15 players account for about 50%.
Comment MCC: This is a good example for the high degree of fragmentation for many basic organic materials - leading of course to most companies being not very competitive.
---
Jul 10, 2018: BASF is considering building a new integrated chemical complex in Guangdong, with a potential investment of 10 billion USD by 2030
Comment MCC: According to CEFIC, China´s share of the global chemical market will reach about 44% by 2030 (from the current 40%). Any global player wishing to at least keep its current market share in China will therefore need to make substantial investments, such as the one BASF is now considering.
---
Jul 09, 2018: DSM and Sinochem will sell their 50:50 JV DSM Sinochem Pharmaceuticals (Singapore) to Bain Capital
Comment MCC: This is the kind of news that almost makes me feel pity for a chemical venture - poor JV that is not wanted by either of the two JV partners! But strategically, this is the right decision for both DSM and Sinochem.
---
Jul 09, 2018: US tariffs of 25% on $34 billion of imports from China took effect on July 6. China retaliated immediately with tariffs of 25% on $34 billion of US exports.
Comment MCC: So far this does not include chemicals, but the second round of US tariffs will include a number of petrochemicals such as benzene, PC, PS, PVC and nylon, with a value of about 2.2 billion USD
---
Jul 07, 2018: AkzoNobel has broken ground for a €90-million state-of-the-art organic peroxide production facility at the Tianjin Nangang Industrial Zone
Comment MCC: This will replace the existing plant in Tianjin, which presumably is outside of a dedicated chemical park. Both domestic and foreign companies will be forced to move most of their chemical production into dedicated chemical parks within the next few years in order to comply with stricter environmental regulation.
---
Jul 02, 2018: Sinochem and ChemChina will merge. Sinochem Chairman Ning Gaoning will become the chairman while Ren Jianxin of ChemChina will retire (Reuters)
Comment MCC: This merger has been long in the making but now seems to be going through. It remains to be seen whether creating a bigger company will help solve any of the problems that both SOEs - and particularly ChemChina - face in their domestic business.
---
Jun 30, 2018: Several Japanese chemical companies benefit from reduced competition from China as a consequence of tightened environmental regulation (Asian Nikkei Review)
Comment MCC: For example, Showa Denko expects its operating profit to jump 80% on the year in fiscal 2018 as they profit from price rises for graphite electrodes, demand for which has been driven by China switching to cleaner steel production. Similarly, Japanese PVC producers such as Tosoh and Asahi benefit from China´s crackdown on coal-based PVC. Reportedly, some domestic producers of chemicals are leaving China to move their operations to places like Thailand and Vietnam. The Nikkei report concludes that "The higher materials prices appear to be the result of a structural change in the Chinese economy, rather than a temporary bubble"
---
Jun 22, 2018: Revenues of the Chinese chemical and petrochemical industry grew by 12.4% yoy in Jan-Apr 2018 compared to the same period in 2017 (CCR)
Comment MCC: Despite the ongoing environmental protection campaign and the effect on the chemical industry, it is still growing - a good sign.
---
Jun 22, 2018: Covestro established a testing laboratory for VOCs in its Shanghai R&D center
Comment MCC: It certainly makes sense to offer such a service as environmental concerns - also reflected in the requirements of end customers - become increasingly more important in China.
---
Jun 22, 2018: In 2017, there were more than 3000 small and mid-size coatings producers in China.
Comment MCC: Judging from some recent examples, tightened environmental regulation should lead to a substantial consolidation of this sector as low-end solvent-based products fall out of favor and producers are forced to move into chemical parks.
---
Jun 22, 2018: In 2016, 46% of all Chinese coatings were classified as environmentally friendly, which includes water-based coatings, powder coatings and high solids coatings.
Comment MCC: The target for 2020 (as stated in the 13th 5YP) is to reach 57% by then - seemingly not a very ambitious target, but still a boost particularly for water-based coatings, which are to reach a share above 30% by 2020.
---
Jun 16, 2018: China will apply temporary anti-dumping measures to hydroiodic acid products originating from Japan and the United States (Straitstimes)
Comment MCC: A timely reminder to the US that trade restrictions can be applied both ways. In the case of chemicals, China is a net importer from the US.
---
Jun 11, 2018: Fujian province will require firms producing hazardous chemicals, located urban areas, and failing to meet safety requirements to relocate, transform or shut down (CCR)
Comment MCC: One by one, each province now issues regulations which (with some exceptions) will force chemical production into chemical parks by 2025
---
Jun 11, 2018: Valvoline will build its first Chinese plant in Zhangjiagang, Jiangsu, with a planned capacity of about 115 million liters of lubricant fluid (CCR)
Comment MCC: As the quality level of vehicles operated in China increases, the higher-end lubricant market is growing fast, offering opportunities to foreign producers.
---
Jun 11, 2018: In 2017, Chinese output of melamine was 980 kt, the operating rate was 57.6%, and consumption was about 700 kt (CCR)
Comment MCC: Another of many examples for overcapacity in basic chemicals - even the current low operating rate can only be achieved via substantial exports. With more than 20 melamine producers in China, each individual producer essentially acts as if his actions do not affect the market - which may be almost true on an individual level but of course in aggregate leads to the current unsatisfactory situation.
---
Jun 11, 2018: LLDPE is still in short supply in China, with imports covering more than 30% of local demand and utilization of local capacity at above 85%.
Comment MCC: Though some capacity additions have already been announced, these will not nearly make China self-sufficient. So LLDPE will have to be imported for at least the next 3-4 years.
---
Jun 09, 2018: China will limit new utility-scale solar projects in 2018, and will reduce feed-in tariffs (C&EN)
Comment MCC: As China has more than half of the world´s solar market, this will have an obvious effect on materials suppliers such as Wacker, Hemlock and DuPont. Accordingly, GTM research revised their industry forecast for 2018, reducing the expected new installed capacity by 40%.
---
Jun 08, 2018: Brenntag plans to move all its warehousing in China to chemical parks by 2020/21.
Comment MCC: This is a consequence of the government initiative to shift essentially all chemical activities to chemical parks. As the Brenntag example shows, it does not only affect chemical production but also chemical storage.
---
Jun 08, 2018: Sinochem Plastic was on no. 8 of the top 100 chemical distributors by sales in 2017 (ICIS)
Comment MCC: Somewhat surprisingly, this is still the only top 100 entry headquartered in mainland China, probably reflecting the difficulty of getting accurate data for smaller local distributors rather than their small size.
---
Jun 07, 2018: Though China currently imports 59% of its PX demand, the large number of planned PX projects make it likely that China will become a net exporter by 2022 (Asiachem)
Comment MCC: As one of the few remaining large-volume chemicals for which China depends on imports, PX has attracted the attention of many investors, and several projects are in planning. If things happen as they usually do in China´s chemical industry, this will mean we will have overcapacity quite soon, as predicted by Asiachem.
---
Jun 07, 2018: TESLA has announced that it is working with officials in China to build electric cars and battery packs in Shanghai (Shanghai Daily)
Comment MCC: Of course this does not necessarily mean such a plant will actually be built, but the prospect alone should be interesting for chemical companies supplying the automotive industry and particularly for those focusing on electric vehicles.
---
May 31, 2018: On May 29, Sinopec Lubricants held an International Partner Conference 2018 in Singapore.
Comment MCC: Part of the conference was a visit of Sinopec Lubricant´s first overseas blending plant in Singapore. This - and the conference itself - demonstrates the objective of state-owned chemical enterprises to first become regional and eventually global players.
---
May 31, 2018: The IMF kept its 2018 China GDP forecast at 6.6% despite growth of 6.8% in Q1 2018.
Comment MCC: The IMF is concerned about rapid credit growth as well as a potential trade war with the US, both of which could counterbalance the current strong consumer sentiment and property sector. Of course, any change in GDP growth will also strongly affect the chemical industry.
---
May 31, 2018: BASF will double its capacity for ultra-pure sulfuric acid used in semiconductor manufacturing in Jiaxing, Zhejiang province.
Comment MCC: BASF expects an annual demand growth of 12% for this material for the next decade, which seems realistic given the strong incentives the Chinese government gives to develop a local world-class electronic industry and thus to become more independent of imports in this area.
---
May 23, 2018: China consumption of renewable energy rose by 10.8% in 2017 and now accounts for 26.5% of the total, up from 25.4% (Shanghai Daily)
Comment MCC: Given China´s policy direction, this share is likely to increase further, giving chemical companies a strong incentive to look for markets for their products in the areas of solar, wind, biomass and hydropower
---
May 22, 2018: In 2017, average Chinese capacity utilization for 28 key petrochemicals was 72%, 3% higher than in 2016 (CCR)
Comment MCC: Although an improvement, this is still low compared to utilization rates in the Western chemical industry.
---
May 22, 2018: CPCIF warns of overcapacity in PX (capacity ˃33 million tons in 2020 and 40 million tons in 2025) and coal-to-glycol (capacity ˃14 million tons in 2020 and 25 million tons in 2025)
Comment MCC: One of the mysteries of China´s chemical industry is that even though these are very clear warnings coming from a credible organization, it is still likely these products will indeed end up with massive overcapacities in the next few years.
---
May 22, 2018: Revenue of the Chinese chemical sector was up 9.8% in Q1 2018 compared to Q1 2017 (CPCIF, CCR).
Comment MCC: It is a bit surprising to me that the chemical sector revenue still grows faster than GDP, but of course nothing to complain about.
---
May 17, 2018: From June 30, China will simplify procedures for the establishment of foreign-funded companies, reducing the time foreign firms need for business registration (Shanghai Daily)
Comment MCC: It is promising that in contrast to the current US policy, China wants to position itself as a country fully in favor of global trade.
---
May 17, 2018: In Q1 2018, Asia accounted for more than 50% of the number of global chemical M&A transactions (PWC)
Comment MCC: While this data was not split further into China and Rest of Asia, it is likely that the vast majority of Asian deals was made within China. China is indeed a major focus area of chemical M&A deals, even though the average deal value seems to be somewhat smaller than in the US and in Europe.
---
May 14, 2018: China will soon launch nationwide inspections targeting the illegal transfer and dumping of waste (Straits Times)
Comment MCC: This shows that the recent focus on environmental protection is continuing and being expanded into related areas. According to stock filings, at least six publicly listed chemical producers had to stop production due to a campaign against hazardous waste dumping in Jiangsu province. And companies that are not able to meet environmental standards for waste disposal will not be allowed to move into chemical parks, which in itself is a precondition for being allowed to continue production in the longer term.
---
May 12, 2018: Electric car sales increased by 132% percent to 56,468 units in April compared to April 2017.
Comment MCC: It seems that the government´s promotion of electric cars is successful, even though at about 3% the share of EV is still small relative to the total volume of cars sold.
---
May 12, 2018: Revenue of Chinese automotive plastics compounder China XD increased by 31% yoy in Q1 2018.
Comment MCC: This is growth far exceeding the growth in the car market, probably indicating both a higher amount of plastics used per vehicle (as the amount of plastics in Chinese cars is still low compared to European and US-American cars) and a consolidation of the industry.
---
May 09, 2018: Evonik achieves about 12% (around 2 bn USD of a total of 17 bn USD) with products developed within the last 5 years.
Comment MCC: While this Evonik statement was made to show the importance of R&D, it can also easily be used to show what a mature industry the chemical industry is. Extrapolating the above statement indicates that the average Evonik product has an age of about 40 years. And which electronics company would be able to sell any products that are older than 5 years? So even for a comparatively innovative company such as Evonik, commercial success will mostly depend on selling fairly mature products rather than recent innovations. Companies need to think how to differentiate themselves with regard to such products - particularly in the face of growing competition from Chinese competitors.
---
May 7, 2018: Heilongjiang province will close 14 chemical plants and force another 5 to relocate. In addition, 69 other plants will have to be modified to improve safety and environmental protection
Comment MCC: This again demonstrates that the government is taking better environmental protection seriously. On the other hand, given that the timeframe for the actions above is to 2025, the immediate effect on chemicals prices and capacities will be somewhat limited.
---
May 05, 2018: The Chinese modified plastics market is expected to grow at a CAGR of 7.5% by value and 7.8% by volume for 2017-2021, similar to the growth between 2011 and 2017 (China XD annual report)
Comment MCC: The automotive sub segment, which accounts for about 20% of modified plastics, will likely grow above average. The plastics content of Chinese cars is still low compared to other markets - e.g., in 2017 the average plastics content was 170 kg for China but 202 kg for the US and 258 kg for Europe, indicating a large catch-up potential. And the trend towards EV in China - with their higher premium on weight reduction - should accelerate this development.
---
Apr 27, 2018: Symrise opened a new creative center in Pudong, Shanghai, where about 9000 different fragrances will be developed for the Chinese market annually.
Comment MCC: Obviously, consumer-focused development such as in the fragrance area needs to be done locally, so the opening of the center is not surprising but may even come a bit late.
---
Apr 27, 2018: Clariant´s China sales increased by 13% in 2017.
Comment MCC: This is indeed an impressive growth given that the industry growth now probably is only 8-10%, and a change from earlier times when Western chemical companies often celebrated below market growth as success in China.
---
Apr 27, 2018: 25 textile chemicals and textile firms issued a declaration to manage textile chemicals autonomously, and to establish a commission to supervise textile chemicals (CCR)
Comment MCC: Similar to earlier developments in the Western chemical industry, this shows that the key players in a chemical area try to shapen the future of the industry proactively, rather than waiting for the government to do so. This has been quite successful in Europe and thus may be a promising model for China as well.
---
Apr 27, 2018: The Chinese Standards for Testing and Materials Commission recently approved a proposal to set five CSTM association standards regarding coatings and pigments (CCR).
Comment MCC: Development of each of these standards will be lead by individual Chinese companies involved in the area. Western producers need to make sure to keep an eye on these developments or even get involved themselves in order not to later suffer from standards that exclude their own materials.
---
Apr 27, 2018: The Ministry of Environmental Protection has issued emission standards for the calcium carbide industry, the first of this kind in China (CCR)
Comment MCC: This means a tightening of standards for this chemical and may be a model which will also be applied to more chemicals in the future.
---
Apr 27, 2018: China will check if key firms in high energy-consuming industries reached the mandatory energy consuming standards in 2017 (CCR)
Comment MCC: This includes more than 2000 chemical and petrochemical companies. Sanctions will applicable to those companies not following the regulation.
---
Apr 25, 2018: VW plans to invest 15 billion Euro to produce battery-owered cars in at least 6 factories in China by 2021.
Comment MCC: With German volume car makers now also seemingly taking electric cars seriously and planning massive production in China, the market for chemical materials related to such cars (see some papers available online) should surely take off.
---
Apr 10, 2018: Dyestuff prices in China rose substantially in 2017 - for example, for disperse dyestuffs the 2017 price increases were as high as 25%-37% (CCR)
Comment MCC: Dyes are a segment particularly affected by the tightening of environmental regulation, as traditional dyestuff production creates large amount of waste water. So a number of companies had to shut down production. However, the profit of several dye producers actually increased, presumably as the combination of tightened supply and higher prices improved the situation of those companies already complying with environmental regulation.
---
Apr 05, 2018: As retaliation to recent US tariffs, China has imposed tariffs of 25% on a number of plastics imported from the US including polycarbonate and many other specific types (PlasticsNews)
Comment MCC: According to Mr. Trump, "Trade wars are easy to win". US plastics producers - representing an area where the US exports more to China than it imports - may disagree.
---
Mar 30, 2018: From the beginning of 2019, the use of water-based coatings will be mandatory for motor vehicle maintenance companies operating in Tianjin (CCR)
Comment MCC: In automotive, water-based coatings already have made substantial inroads, and the announcement above shows that local governments now almost seem to compete based on their environmental credentials. Longer-term, the shift in other areas of coatings such as wood coatings will be another driver for water-based coatings, driven by the ever growing importance of environmental aspects.
---
Mar 30, 2018: In early March, Clariant opened an online shop on 1688 to supply products to small and mid-size customers in China. Dow started offering products online on 0elem.com (CCR)
Comment MCC: Serving small customers is expensive particularly for chemical MNCs. On the other hand, China now has an infrastructure in which most activities related to online shopping (such as logistics, payment etc.) can be offered by third parties, leaving the staff of the MNCs to focus on large customers while offering product access to small ones. At least initially, this certainly is a win-win, though in the longer run the chemical companies need to ensure not to lose track of market trends emerging among small new customers.
---
Mar 30, 2018: Wanhua´s polyurethane integration project was reported to get approval by the EPA in March, allowing Wanhua to produce their own ethylene.
Comment MCC: As in many Chinese chemical companies, BASF-style value chain integration is highly valued, even if it means entering areas which already suffer from overcapacity, such as PVC.
---
Mar 30, 2018: MTBE operating rates were only about 56% in 2016, a result of annual capacity increases of about 16% annually between 2011 and 2016 (CCR).
Comment MCC: The case of MTBE - though in some way typical for many commodity chemicals - is particularly serious as MTBE will be partly replaced by ethanol in its application as part of gasoline.
---
Mar 30, 2018: In 2017, China's acetonitrile capacity reached was 102 kt but output was only about 60 kt (CCR).
Comment MCC: Another example for the fact that many commodity chemicals still suffer from overcapacity.
---
Mar 23, 2018: Lanxess China sales grew by 30% in 2017 and now account for 13% of global sales
Comment MCC: Lanxess had been somewhat of a China laggard in the past, showing growth much below market growth in the last decade. This is much better, and encouraging also for other multinational companies. Reaching a growth rate as high as the market growth rate should be the minimum requirement, and in 2017 Lanxess did much better than that.
---
Mar 20, 2018: The new China Ministry of Ecological Environment replacing the Ministry of Environmental Protection, will add responsibilities for climate change, agricultural pollution, and marine ecology
Comment MCC: 10 year ago the Ministry of Environment was created from the State Environmental Protection Agency, indicating the first intensification of the focus on environmental protection. Now, the responsibilities of the Ministry have been expanded again while the overall number of ministries in China has decreased. This again highlights the growing importance of environmental protection in China and should simplify the focus on these efforts by putting them under a unified control.
---
Mar 16, 2018: BASF will allocate about 15% of their spending within the next 5 years to Asia. Also, the company aims to increase their share of R&D staff in Asia from 10% to 25%.
Comment MCC: Given that of course BASF is much stronger in Europe and the US than in Asia, these figures seem strangely unambitious. Given that China´s chemical market alone accounts for 40% of the global volume, spending only 15% on Asia seems quite low indeed.
---
Mar 14, 2018: Covestro´s China sales increased by 8% in 2017 to about 3.7 billion USD, 0r 22% of global sales, making it Covestro´s biggest market.
Comment MCC: It is news like these that occasionally highlight the dramatic increase of China´s importance for the global chemical market. When I came to China almost 15 years ago helping what is now Covestro in a consulting project, the ambition of the business was to become the third biggest market in Asia. Now they are the biggest globally.
---
Mar 08, 2017: Ecolab sold its Chinese phosphonate business to Italmatch, a specialty chemicals company. The business had been acquired as part of the acquisition of Jianghai in 2015.
Comment MCC: Such sales may become more common as MNCs acquiring companies in China often acquire bits that do not fit into their broader strategy (in Ecolab´s case, presumably the focus on water treatment services rather than individual chemicals). As the example shows, this may offer opportunities to other specialty chemicals companies, such as Italmatch in this case. Suitable buyers for such assets may even be identified on the basis of existing supplier-customer relationships outside of China.
---
Mar 08, 2018: German auto-parts producer Continental and battery manufacturer Sichuan Chengfei will form a 60:40 JV to produce 48-volt batteries.
Comment MCC: An interesting JV for a number of reasons - a clear split between cell manufacturing (Chinese partner) and system integration (Continental), and an example for a mild hybrid technology in which the combustion engine is not replaced but the higher battery voltage allows the battery to take over more functions.
---
Mar 07, 2018: According to Li Keqiang, China plans to increase spending on fighting air, water and soil pollution by 19% from last year, to 40.5 billion RMB.
Comment MCC: While this may negatively affect some polluting chemical companies, it also offers market opportunities for others.
---
Mar 06, 2018: The chemical companies closed down in Changzhou for environmental reasons include companies from all kinds of chemical segments.
Comment MCC: In the discussion of the recent company closures, sometimes it is mentioned that specific segments are hit particularly badly. However, an analysis of MCC of companies recently closed down in Changzhou did not find such a specific focus. While a relatively large share of companies closed down produced relatively simple organic intermediates (e.g., glyoxal), there are also companies producing inorganic products (e.g., zinc oxide, hydrogen fluoride, caustic soda), basic organic chemicals (e.g., pentane), specialty formulations (e.g., adhesives, coatings), polymers (e.g., PVC), pharmaceutical ingredients, sweeteners (sucralose) and pesticides. While most companies are smaller entities, the wide range of segments seems to indicate that indeed the companies were closed down for environmental violations rather than for other reasons.
---
Mar 06, 2018: Eleven Japanese carmakers will cooperate to double the number of hydrogen stations for fuel cell vehicles in Japan.
Comment MCC: This is a reminder that while in China the current focus is on battery-driven vehicles, there are other alternatives as well, in particular fuel cells. Depending on which technology will win, the chemicals required will obviously be very different. Potential suppliers should therefore keep an eye on developments in this area given the huge importance the automotive market has for many chemical companies.
---
Mar 02, 2018: China decommissioned or suspended 65 gigawatts of coal-fired power stations in 2017, apparently to reduce air pollution and carbon dioxide emission.
Comment MCC: The logical consequence of this should be that coal-to-olefins projects will also come under greater scrutiny, as any big expansion in this area would at least partly contradict the goals of the coal power limitation.
---
Mar 01, 2018: Over 260,000 enterprises and other entities will have to start paying an environment tax in April (People´s Daily)
Comment MCC: This replaces the previous environmental pollution fee system, which was imposed by local governments (the new tax is by the central government) and thus was often waived or reduced for political or other considerations.
---
Feb 28, 2018: In a presentation showcasing the Changzhou National High-Tech District, it is mentioned that the District shut down 35 chemical companies.
Comment MCC: It is a sign of the changing attitude towards environmental pollution that such a statement is now used to highlight the qualities of this industrial zone, rather than to show its limitations.
---
Feb 24, 2018: Nikkei Asia Review reports on a number of Japanese chemical companies profiting from tighter Chinese environmental regulation.
Comment MCC: Examples include Teijin (a producer of air filters profiting from tighter Chinese emission regulation for particulate matter), Mitsubishi (profiting from production stops of Chinese companies for HCN), Asahi Kasei (similar for acrylonitrile) and Ube (similar for Caprolactam). Of course non-Japanese companies may also profit in a similar way.
---
Feb 21, 2018: The Houston Chronicle reports about China´s tightening environmental regulation opening up opportunities for Houston´s chemical companies
Comment MCC: Specific opportunities mentioned are in caustic soda as well as in the export of natural gas and in olefins. Companies potentially benefiting include Westlake, Olin and LyondellBasell
---
Feb 15, 2018: The Chinese government has hinted at imposing anti-dumping tariffs on styrene imported from the US, which in 2017 amounted to a value of about 4 billion USD (Channelnewsasia)
Comment MCC: While Mr. Trump may think it is a good idea to start a trade war with China, the Chinese can quite easily reply with sanctions themselves, and they are quite willing to demonstrate this.
---
Feb 14, 2018: In 2017, Chinese R&D spending increased by 11.6% to 1.75 trillion yuan (US$280 billion) in 2017, or 2.1% of GDP (National Bureau of Statistics)
Comment MCC: Interestingly, the increase is now mainly driven by enterprises (+13.1%) rather than by government institutions (+7%) and colleges (+5.2%), indicating that there seems to be an economic case to be made for spending more on R&D, rather than just a political one.
---
Feb 14, 2018: The Chinese government is preparing policies for the recycling of lithium batteries due to the rapidly-expanding new energy vehicle market.
Comment MCC: According to some estimates, about 120-200 kt of batteries will be disposed between 2018 and 2020, and 350 kt in 2025. The state council has asked producers of electric vehicles to set up a suitable recycling system. Chemical companies active in this or related areas may check whether they want to be involved in this.
---
Feb 13, 2018: China's government is leaning toward allowing provinces continue with local subsidies for electric vehicles to sustain the rising demand for new-energy automobiles in the country (Bloomberg)
Comment MCC: This is a reversal of an earlier plan to reduce EV subsidies, making it more likely that the EV market will continue its fast growth - with the corresponding effect on chemical materials used in EVs.
---
Feb 08, 2018: According to the National Bureau of Statistics, capacity utilization in China´s chemical industry reached 77.7% in Q4 2017 (CCR)
Comment MCC: While these are the official figures, they are to be taken with a grain of salt. In fact, an average capacity utilization of 78% seems somewhat unlikely given the large number of commodity chemicals for which capacity utilization is only 50-70%. On the other hand, the current trend of these figures is undoubtedly positive.
---
Feb 08, 2018: The China chemical price index rose by 5.1% in 2017 (CCR).
Comment MCC: While prices showed an upward trend, this can partly be explained by the oil price development. And the overall price increase is not huge. So at least for the time being, the increased environmental regulation in China has not led to large across-the-board price increases, though of course in specific sub segments the situation is different.
---
Jan 21, 2018: New industrial projects in 28 northern Chinese cities will have to comply with tougher emission curbs when undergoing environmental impact assessments from March 1.
Comment MCC: This information was published on the website of the Ministry of Environmental Protection on Jan 19, 2018. It particularly refers to emission limits for substances such as sulfur dioxide, nitrogen oxides, particulate matter and volatile organic compounds, and includes coverage of the chemical industry.
---
Jan 18, 2018: After pilot projects starting in 2013, China will establish a market in carbon trading starting from 2020 (Shanghai Daily)
Comment MCC: While the trading will initially be limited to power generation, it is to be extended at a later stage and will then include chemicals.
---
Jan 18, 2018: Profit of China´s petrochemical industry grew by 30% in 2017 while revenues grew by 12.5%.
Comment MCC: This improvement particularly in profitability seems to indicate that the increased environmental regulation does not have a particularly negative effect on the industry. In fact, it may help increase profitability by reducing overcapacity.
---
Jan 10, 2018: Average Chinese annual adipic acid capacity growth between 2010 and 2016 was 19.1% while consumption growth was only 14.3% (CCR)
Comment MCC: As a consequence, as for many other commodity chemicals, there is now substantial overcapacity, and capacity utilization in 2016 was only 59%. In addition, the number of producers increased from 5 to 11, further shifting the pricing power away from the producers to the buyers.
---
Jan 10, 2018: A report by CNCIC lists lack of technological standards, lack of talent, lack of product diversity, technological risks and environmental issues as key issues facing coal-to-chemicals
Comment MCC: Somewhat surprisingly given the current low oil prices, coal-to-olefins projects are being described as successful, with more than 80% capacity utilization in 2015 and nearly 30 projects being planned or constructed. So for suppliers of these plants, there should still be substantial opportunities.
---
Jan 06, 2018: According to a UN report, China contributed to about one third of global growth in 2017.
Comment MCC: As the share of global chemical growth is likely to be at least as high as this, China should stay a key focus of chemical companies seeking global growth.
---
Jan 06, 2018: Caustic soda is among the chemicals affected by increased environmental regulations in China, with prices having about doubled within the last year (Nikkei)
Comment MCC: The difference to previous regulations is that this time the government is serious about implementing the regulation. Not achieving environmental progress would be a serious loss of face for Xi Jinping as he has made this area one of his top priorities.