We specialize exclusively in the chemical industry in China, providing
- Strategy Development
- Market Information
- M&A Target Search
- Trainings/Workshops
- R&D Optimization
Our clients profit from our in-depth knowledge.
For more information contact Dr. Pflug:
Management Consulting – Chemicals Ltd.
M: Dr. Pflug +86 136 8187 3992
Email: kai.pflug@mc-chemicals.com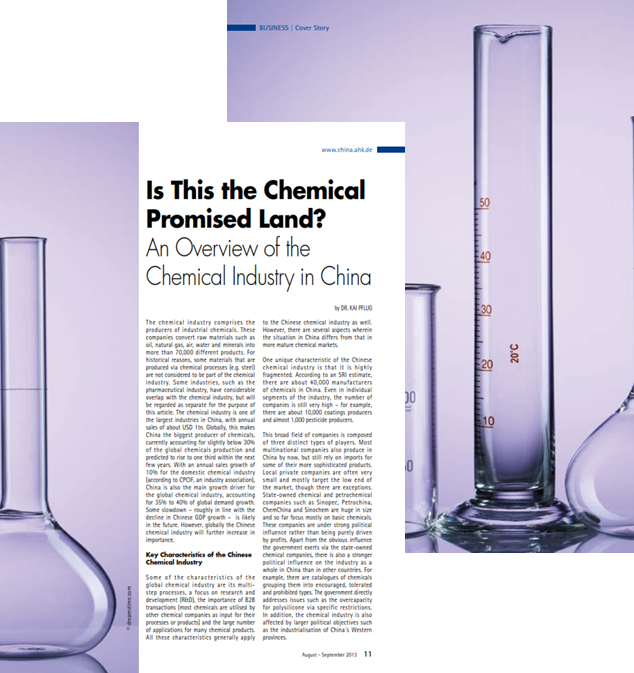 Older Industry News (before 2016)
This section contains older information and comments on China´s chemical industry dating from 2014 and 2015. Entries are not revised later. For updates, please join the LinkedIn group "News and Trends in China´s Chemical Industry"
---
Dec 29, 2015: Sinopec´s first phase of its Fuling shale gas project has gone into production with an annual capacity of 5 billion cubic meters (China Daily)
Comment MCC: While certainly less important than for the US and with a substantial delay, shale gas may well also affect the chemical industry in China in 10-15 years.
---
Dec 25, 2015: Lanxess sales in China have increased from below 500 million Euro in 2005 to about 1 billion Euro in 2014 (Shanghai Daily).
Comment MCC: While this is being mentioned as a success and a demonstration of the importance of China for Lanxess in the company press release, it calculates to an annual growth rate of only 8% - far below that of the growth of Chinese GDP or the Chinese chemical industry in the same period. In other words, Lanxess´s market share in China has shrunk - as has that of most other global chemical companies.
---
Dec 24, 2015: Chinese PP prices have decreased by 35% this year (sci99.com, Plastics News China).
Comment MCC: While the lower oil price is a key reason for the decline, another is the low level of demand. As Plastics News points out, the capacity utilization of injection molders has decreased from 60% to 52%. So the economic slowdown clearly affects PP demand.
---
Dec 22, 2015: Hengli Petrochemical in Dalian will build the world´s largest single-train dehydrogenation plant, with a dehydrogenation capacity of 300 kt propane and 600 kt isobutene.
Comment MCC: This is not a particularly large capacity for a PDH plant but indicates that there is a trend towards not relying only on propylene but also (or in this case primarily) on butylene, as the outlook for pure propylene production in China is not very positive.
---
Dec 22, 2015: Sichuan Wuliangye and Celanese aim to form a JV for the production of cellulose-based specialty products including plastics and films.
Comment MCC: According to the JV agreement, the Chinese partner will provide production assets while Celanese will provide technology and know-how. As such, it is an example of a "modern" JV between a Chinese and a foreign partner which takes into account China´s basic production capacity and its relative abundance of investment capital as well as the technological superiority (and relative scarcity of capital) of multinational chemical companies.
---
Dec 21, 2015: China has about 70% of global melamine capacity but produces only about 50% of global production volume and consumes about 40% (CCR).
Comment MCC: This is one of many examples of the overcapacity issue in China´s chemical industry - capacity utilization is much lower than global average (45% in the case of melamine). In addition, even this low capacity utilization can only be achieved via low-price exports, making China vulnerable to anti-dumping regulation, as just imposed by the US on Chinese melamine.
---
Dec 21, 2015: In 2014 China had 45 methanol producers with capacity exceeding 500 kt/a, that's 22% of the producers. These accounted for 58% of total national capacity (CCR).
Comment MCC: Like for many other commodity chemicals, the methanol market is still highly fragmented - one reason for the low capacity utilization. However, the recent coal-to-olefins projects increase the importance of the bigger producers, and in fact capacity utilization has also risen by more than 10% in the last 5 years.
---
Dec 17, 2015: Sinopec acquired a 10% stake of Russian petrochemicals company Sibur and signed an MOU with Rosneft for a petrochemical JV in Siberia (CW).
Comment MCC: Focusing on Russia is probably currently the easiest way for Sinopec to become a global player of sorts, and can be called strategic as it helps China to secure raw materials for its chemical industry. Whether this is really better than just acquiring crude oil on the global market is another question.
---
Dec 17, 2015: AkzoNobel started a new plant for packaging inks used for beverage and can packaging, establishing the company as a local supplier (CW).
Comment MCC: Localization, localization, localization.
---
Dec 17, 2015: Fujian Gu Lei, a JV between Sinopec and a consortium of Taiwanese companies, broke ground for a $15 billion petrochemical project in Fujian (CW).
Comment MCC: China is clearly betting on both petrochemicals and coal to chemicals.
---
Dec 15, 2015: Shell and CNOOC plan to expand capacity of their Huizhou refinery JV. Ethylene-based derivatives plants include EO, EG, polyolefins, phenol-acetone and POSM (CW)
Comment MCC: Despite the rise of coal chemicals, there is still room for growth in petrochemicals. Shell´s participation in this venture should ensure that the JV has the capability of state-of-the-art derivatives production, something CNOOC may not be capable of on its own. And Shell of course needs the local partner for legal reasons.
---
Dec 13, 2015: Chinese authorities have granted water resources to 10 major coal chemical projects in 2015 (Asiachem).
Comment MCC: While I am doubtful about the economics of these projects in the face of the very low oil price, at least it seems the water restriction is not as serious as thought before. In particular, projects now focus on reducing the water usage via increased investment in water treatment and via using air cooling as an alternative to water cooling.
---
Dec 12, 2015: China will close loss-making state-owned enterprises by the end of 2017, according to as Zhang Xiwu, vice director of SASAC (Shanghai Daily).
Comment MCC: Apparently, SOEs with three consecutive years of losses would have to cease operations through asset reorganization, transfer of property rights, closure or bankruptcy. But this still leaves a lot of wiggle room - for example, losses depend on government-determined prices (e.g., of petrol for petrochemical companies), and a reorganization may end up not being much more than a name change. It would be surprising if SOE reform suddenly becomes serious.
---
Dec 11, 2015: China XD will cooperate with the Institute of Chemistry, Chinese Academy of Sciences in the area of additive manufacturing including the use of patents.
Comment MCC: China XD is focusing on automotive plastics, an area that may not offer as much room for growth as previously thought (an ICIS blog entry just stated that the plastics usage in US cars is decreasing rather than increasing). So moving into the growth area of additive manufacturing may be a smart move - or at least it gives investors a growth story.
---
Dec 11, 2015: Dow and DuPont intend to merge followed by a split into 3 separate entities focusing on agriculture, materials and specialties 18-24 months later.
Comment MCC: Realistically speaking, this seems more like a takeover of DuPont by Dow. And in the past, Dow taking over more specialty oriented businesses such as Rohm&Haas has not been very successful. So it will be important that the proposed creation of an entity focused on specialties happens sooner rather than later, and that the specialty entity will be dominated by DuPont rather than by Dow.
---
Dec 11 2015: Adidas will start sourcing moreproducts from South East Asia as a reaction to rising labor costs in China (China Daily)
Comment MCC: This type of news seems to be quite frequent recently. Despite the economic slowdown, Adidas still expects Chinese labor costs to rise by 11-15% per year, making them look for cheaper alternatives, though they still plan to do about 30% of their global sourcing from China. In the longer run, this may mean that growth of chemical raw materials used in the shoe industry will also slow down due to a shift to South East Asia.
---
Dec 10, 2015: According to Chemical Week, ChemChina will announce a $44 billion bid for Syngenta in the next few days.
Comment MCC: Not very likely that this one will be accepted as it is only a slight improvement of the previous $42 billion bid. Still, it shows that ChemChina continues to focus on growth via global acquisitions - which is probably easier than improving their domestic businesses.
---
Dec 08, 2015: Sabic is contemplating a coal-to-chemicals project in China, according to an interview ICIS did with the company CEO.
Comment MCC: This is surprising as Sabic obviously has a good feedstock position in oil, but it may reflect either a long-term objective not to be too dependent on oil, or indicate the willingness to cooperate more closely with Chinese SOEs.
---
Dec 08, 2015: In the first 11 months of this year, China Railway (CRC) transported 2.5 billion tons of goods, down 11.6% from the same period of last year (Caixin)
Comment MCC: Transportation of goods is of course an indicator for the status of the economy, and at least with regard to rail transportation, there is a clear indication of a downturn.
---
Dec 08, 2015: Oil prices fell to the lowest level in nearly seven years after OPEC failed to agree on production cuts
Comment MCC: As oil prices now are likely to remain low for the time being, the economics of coal-to-chemical conversion should be less and less viable.
---
Dec 06, 2015: A paper in the CCR describes graphene as a key material to be featuered in the 13th Five-Year-Plan, with a number of Chinese companies active in the area.
Comment MCC: While the commercial market for graphene was only about 9 million USD in 2012, the material has huge potential. And China is now at a technological level where the country aims to be among the leaders rather than just an imitator of developments in other countries (such as with silicone).
---
Dec 06, 2015: China exports an increasing share of its rubber additives production - from 29% in 2012 to 32% in 2014 (CCR).
Comment MCC: By Chinese standards, this segment is already relatively consolidated, with the top 10 players accounting for about 60% of sales - still, prices are deteriorating as a consequence of overcapacity and reduced growth in the tire market.
---
Dec 03, 2015: Major clothing producer TAL Group will close a factory in Dongguan due to rising wages and has already begun transferring pants orders to its factory in Malaysia (WSJ).
Comment MCC: Somewhat surprising as salaries in Malaysia are not that low either. In any case, in the long run this trend may lead to lower sales for China-based chemical companies producing textiles and textile chemicals.
---
Dec 02, 2015: In Nov 2015, the MEP has accepted four coal chemical projects, including a CPI-Total joint venture 800kt/a coal to polyolefin project (Chinacoalchem)
Comment MCC: It seems that despite the potential negative impact of these projects on the environment, the government now has become somewhat more friendly towards them again - maybe as a consequence of the slowdown of the economy.
---
Dec 01, 2015: China's manufacturing activity fell to its lowest level for more than three years in November as the official PMI fell 0.2 points from October to 49.6.
Comment MCC: You know the situation is bad when even the official figures look bad - of course, the inofficial Caixin PMI shows a much worse picture.
---
Dec 01, 2015: LabNetwork, WuXi AppTec's global eCommerce platform for sourcing research compounds, has reached 2.2 million products and more than 200 suppliers since its launch in May.
Comment MCC: Interesting to see that Chinese companies now emerge as drivers of eCommerce on a global level, showing the strength of companies like WuXi AppTec in their field.
---
Dec 01, 2015: Honeywell expects an investment of more than $100 billion in coal-to-chemicals technology in China in the next five years (Honeywell).
Comment MCC: While this may be a bit optimistic, it still represents a big market opportunity not only for technology and catalyst providers such as Honeywell, but also for companies active in, e.g., water treatment, filter materials and industrial gases.
---
Dec 01, 2015: Beijing municipal government will require businesses that consistently fail to meet pollution standards to pay for environmental service companies (China Daily)
Comment MCC: These firms will have to pay professionals to improve their existing emissions treatments facilities or build new ones. Apparently the government wants to promote the development of a stronger market for third-party pollution control institutions.
---
Dec 01, 2015: The Chinacoat 2015 in Shanghai had 1088 exhibitors compared to 1059 at the 2014 edition in Guangzhou.
Comment MCC: While the fair had a record number of visitors, it is interesting that 213 exhibitors were new - which means that given that the total number of exhibitors was more or less stable, about 20% of the 2014 exhibitors chose not to be present in Shanghai.
---
Nov 30, 2015: South Korea´s export of chemicals dropped by 4% from September to October 2015 (Yonhap)
Comment MCC: Of course this is just one data point but it is hard to resist interpreting it as a sign of the slowing down of the Chinese economy (which is the main importer of Korean chemicals) and the buildup of domestic chemicals for exactly the chemicals that Korea exports to China.
---
Nov 30, 2015: China's Ministry of Public Security has acknowledged that most new psychoactive synthetic drugs sold worldwide are made in China (Caixin)
Comment MCC: Unfortunately, not all segments of China´s chemical industry are as entrepreneurial and innovative as this one.
---
Nov 29, 2015: According to the MEP, China has achieved the pollution reduction targets for major pollutants outlined in its 12th Five-Year Plan (China Daily).
Comment MCC: Fortunately the ministry is aware that this is not sufficient: "The minister warned, however, some 20 million tonnes of major pollutants are still discharged annually in China, and that figure must be reduced by another 30 to 50 percent (China Daily).
---
Nov 28, 2015: Japanese drugmaker Eisai will acquire Liaoning Tianyi, a Chinese generics company selling about 20 generics, for about $78.2 million. Tianyi had 34 million RMB sales in 1H2015.
Comment MCC: While the price is steep based on the sales multiple, this looks like a good way to accelerate an entry into this fast-growing market, the second-largest pharma market in the world.
---
Nov 28, 2015: Sinopec offers some subsidiaries incentives to export diesel fuel (about 240 RMB per ton of diesel exported).
Comment MCC: This is the problem with couple products - Sinopec expects strong gasoline demand and needs to find an outlet for the diesel. Still, subsidiaries may not be the best way to achieve this.
---
Nov 25, 2015: Lanxess completed construction for a new red iron oxide pigments plant. The plant will use an innovative and highly sustainable new production process.
Comment MCC: In the future, we will have more of the globally most environmentally friendly processes established in China - not so much because of stricter regulations, but rather because China will be the most recent investment site. Hopefully this technology leapfrogging will also include local companies, not just the MNCs.
---
Nov 24, 2015: China invested $89 billion in clean energy in 2014, the largest among 55 developing nations surveyed in a global report (Xinhua)
Comment MCC: Indeed China is a major market for materials going into clean energy segments, and a growth segment for the chemical industry.
---
Nov 21, 2015: In the first 10 months of 2015, China exported more mechanical/electrical products (+1.4%) and fewer labor-intensive products such as shoes and textiles (-2.5%) (CCR)
Comment MCC: An indication of China´s gradual shift to a middle-income country - with consequences for the chemical companies supplying the different industry segments.
---
Nov 21, 2015: In the first 10 months of 2015, China´s basic chemicals segment grew by 0.7% while specialty chemicals grew at 4.8%.
Comment MCC: Given the overcapacities and slower growth of basic chemicals, specialty chemicals are generally much more attractive - however, the figure of below 5% for specialty chemicals indicates that even this segment is not as attractive as in the past.
---
Nov 21, 2015: BASF will establish the headquarters of Advanced Materials & Systems Research, one of three global research platforms, in Shanghai effective 2016.
Comment MCC: At the same time, there is anecdotal evidence of some MNCs already reducing their R&D efforts in China after limited success in the past few years. So the verdict on basic chemical research done by MNCs in China is still out.
---
Nov 19, 2015: Johnson Matthey will supply Inner Mongolia Lianhe Energy with a methanation technology license for a major new coal-to-chemicals plant in Inner Mongolia.
Comment MCC: Interesting to see that Western companies can still hold their ground in this area despite the market currently being almost entirely in China.
---
Nov 13, 2015: Syngenta rejected ChemChina´s initial bid to buy the company for about 42 billion USD (Bloomberg).
Comment MCC: Not so surprising after rejecting the Monsanto offer of about 47 billion earlier. Now it is up to ChemChina to offer more.
---
Nov 13, 2015: Prices of energy, logistics and some raw materials in China have surpassed those in the US, according to the 2015 China Purchasing Development Report (Xinhua)
Comment MCC: According to a BCG report, the cost advantage of manufacturing in China now is only 4% compared to 14% in 2014, and will erode further. However, this primarily affects China as an exporter - a segment that is decreasing in importance.
---
Nov 10, 2015: Solvay started opened a new fluoroelastomers plant Changshu, targeting particularly automotive applications.
Comment MCC: China has so far been lagging in the replacement of metal by plastics, particularly in the more demanding applications such as the ones for fluoroelastomers, but is catching up. Stricter environmental regulation and a shift towards electric cars, both forcing automotive producers to focus on weight savings, may further push this market.
---
Nov 10, 2015: BASF SE has inaugurated an expansion of its R&D center in Shanghai, with a focus on advanced materials (Plastics News)
Comment MCC: This indicates that some companies such as BASF are actually continuing to expand and localize their R&D efforts. Anecdotally, there is word that other multinational companies seem to already have retracted a bit from such an expansion as initial efforts - and particularly the transfer of good lab results into commercial products - have not been highly successful.
---
Nov 10, 2015: According to the OECD, China´s economic growth is likely to slow to 6.5% in 2016 and 6.2% in 2017.
Comment MCC: This indicates that it will be quite tough for China to achieve the growth rate of at least 6.2% targeted for the next few years.
---
Nov 09, 2015: Acccording to IHS, the Chinese market in 2014 was USD 124 billion, about 23% of the global market. The growth forecast for 2014-2019 is an annual 7.1%
Comment MCC: These 23% compare to a 33% share of China in the global chemical market, indicating the lower importance of specialty chemicals in China (though this is a comparison of figures from different sources, something that is fraught with danger). 7.1% growth sounds realistic to me but is quite a bit lower than what many Western chemical companies have assumed in their strategic planning.
---
Nov 09, 2015: Q3 2015 results of China XD, a producer of plastics composites for automotive applications, dropped substantially - revenue was -24% YOY, profit -55%.
Comment MCC: This is a company that showed similarly-sized growth just two or three years ago, indicating the maturing of the market and the slowdown in the automotive segment. It still is curious that sales volumes dropped by 14% at a time when automotive sales in China were stable - according to the XD press release, they lost one Korean customer they apparently had substantial exposure to.
---
Nov 06, 2015: According to RNR market research, the global construction chemicals market will grow at 7.62% CAGR to 2020, with APAC holding the largest share.
Comment MCC: The figure seems rather optimistic given that global GDP growth will be much lower in this period, and even China´s GDP growth will very likely be lower than this - and this GDP growth will be less and less driven by construction and more by service. On a side note, isn´t it ridiculous to give a two-decimal forecast for such a huge market and long period, as if the research company had exactly figured out that 7.63% was too optimistic a forecast?
---
Nov 06, 2015: Global on-purpose propylene production increased from 3% (2000) to 14% in 2013 and is forecast to rise to 29% in 2018, partly due to PDH units and CTO projects in China (IHS)
Comment MCC: The need for on-purpose propylene arises from shale gas replacing naphtha as cracker feedstock. The question is whether the on-purpose units built in China are cost competitive - according to some calculations by Braskem, PDH is almost twice as expensive in China as in North America. But then there are the usual strategic reasons for Chinese production as well.
---
Nov 06, 2015: China replaced Canada for the first time as the United States' top trade partner between January and September (China Daily)
Comment MCC: While mostly a reflection of low crude oil prices, it also hints at Chinese exports moving towards higher-end materials, which should strengthen the market for specialty chemicals here in China.
---
Nov 06, 2015: China´s largest Porsche dealer Jebsen Group has built a $40 million lubricating oil plant in cooperation with a refining company (China Daily)
Comment MCC: In China, generally the separation between the chemical sector and others seems to be less distinct (there are Chinese chemical companies claiming to have "chemicals, real estate and finance" as their core areas). However, the move by Jebsen may make sense if indeed - as they claim - they can leverage their distribution network for automotive and industrial products.
---
Nov 06, 2015: Chinese textile manufacturers are looking at building factories in Vietnam as a consequence of future zero tariff (for US exports) and low labor costs (China Daily).
Comment MCC: For the chemical industry, the interesting question will be whether the supporting chemical segment will also move away from China in the long run.
---
Nov 06, 2015: China plastics production increased by 14% in 2014. 1690 plastics producers have sales of 20 million RMB or above. The top 10 players account for 18.7% (Plastics News China)
Comment MCC: This illustrates some aspects of the Chinese plastics market - i.e., increasing domestic production capacity and a highly fragmented competitive landscape.
---
Nov 05, 2015: Borouge will close its Hong Kong office. In China, the company also has offices in Shanghai and Guangzhou (Plastics News)
Comment MCC: An indication of the decreasing importance of Hong Kong for manufacturing in China, even though some major global chemical companies still have their regional headquarters there rather than on the mainland.
---
Nov 05, 2015: Joseph Foudy, professor of economics at New York University, expects the healthcare, automobile and electronics sectors to thrive under the 13th five-year plan (China Daily)
Comment MCC: There is a minor cottage industry of predicting the impact of five-year-plans. Fortunately, the sectors mentioned by Prof. Foudy are all ones from which the chemical industry could benefit.
---
Nov 04, 2015: Acetone prices in Asia are under pressure as 3 Chinese plants (Sinopec, Formosa, Ceps) have come online this year, lowering utilization of Chinese phenol/acetone plants to 60-70% (IHS)
Comment MCC: Phenol (and with it coproduct acetone) is one of several major chemicals for which China is rapidly turning from an importer to an exporter. While phenol self-sufficiency was only 49% in 2009, China will likely become a net exporter in 2016, and the rise in capacity already affects prices now.
---
Nov 2, 2105: The list of the top 20 global agrochemical companies includes 4 Chinese players at No. 14, 15, 16 and 19 and sales growth between 6 and 20% (agropages)
Comment MCC: These companies are still quite small compared to the global leaders, with only about 5% of the sales of global leader Syngenta. Current growth figures do not indicate that this will change rapidly.
---
Nov 2, 2015: In a speech in Seoul, Premier Li Keqiang gave an annual goal of 6.5% economic growth for China for the next five years (South China Morning Post).
Comment MCC: No surprise. Still, this will be tough to achieve. And even if this will be achieved, it will likely mean chemical industry growth will be a few percent lower due to the increased focus on services.
---
Oct 30, 2015: Within their announcement of Q1-3 2015 results, Sinopec states that ethylene equivalent consumption growth was 3.2% in this period in China (CW).
Comment MCC: For producers of basic chemicals, these 3.2% are a much more realistic growth figure than the 6.9% GDP growth.
---
Oct 30, 2015: Earnings at Petrochina (-81%) and Sinopec (-92%) dropped massively in Q3 2015 compared to Q3 2014 (rigzone).
Comment MCC: This is of course due to the drop in oil prices. At the same time, this has caused the chemical businesses of both companies - which profit from lower input prices - to turn their previous loss into profit, showing how even within a company oil price changes can have different effects.
---
Oct 30, 2015: Weifang Huawei Bentonite claims invention of clay-based biodegradable plastic which can fully biodegrade into water, carbon dioxide and nitrogen (Plastics News China)
Comment MCC: This is a composite material made of modified starch reinforced with bentonite - not sure how well it works but pretty certain that it is not really "clay-based" (clay is just a filler, not the matrix material), nor is it likely to create much nitrogen upon biodegradation, unless there is something else in there other than just modified starch and bentonite. I guess this does not matter too much though if it indeed works well in the applications advertised, e.g., food packaging and automotive interior.
---
Oct 30, 2015: In Q3, Chemtura`s sales in the Industrial Engineered segment were down by about 9%, with the Tianjin explosions quoted as a factor: the segment suffered from "supply chain disruption surrounding the ability to import and export hazardous products due to the explosion at the port of Tianjin, China." (Plastics News China)
Comment MCC: Of course it is hard to verify from outside whether the Tianjin events were indeed a major factor in the sales decline or not - they may well have been. What is a bit surprising is that Tianjin gets quoted only as a factor in the decline within one segment and not the other (Industrial Performance Products), where the relative decline in sales is on exactly the same level (9%)
---
Oct 30, 2015: Automotive supplier Kautex Textron will open a fifth China plant in Wuhan, where they will produce plastic fuel tanks (Plastics News China)
Comment MCC: The location Wuhan - along with the 4 existing sites of the same company in Shanghai, Guangzhou, Changchun and Chongqing - indicates the spreading of the automotive industry in China, and the closer local production that automotive suppliers are targeting.
---
Oct 30, 2015: Wacker reported an Asia sales increase of 15% in Q3 2015 compared to Q3 2014 and now achieves 42% of its sales in the region. Polymers and silicones were key growth drivers.
Comment MCC: Good to have an example of a global chemical company still doing well in China - these examples are getting fewer these days.
---
Oct 29, 2015: China Daily reports that China´s efforts to stop water pollution have been only partly successful. From 2011-2014, 55% of the goals of the 12th 5 year plan were achieved.
Comment MCC: This leaves 45% of the targets for 2015, the last year of the plan, making overall success somewhat unlikely. The general problem is that China´s government often seems to think that a problem is already solved once targets have been set and included in an official plan - it will be a painful realization later that this is not true.
---
Oct 29, 2015: According to a deputy director of the National Energy Administration, China will enforce a strict limit on total coal consumption and continue to cut production
Comment MCC: This makes me wonder how this can be aligned with the huge number of coal to chemicals projects still in planning or construction stages. One of these two has to give.
---
Oct 29, 2015: Heraeus inaugurated a 30 million RMB production site for electronic and semiconductor manufacturing in Shandong province (Shanghai Daily).
Comment MCC: Of course, nothing wrong with this - electronic materials continue to be an attractive segment of the chemical industry. However, I am wondering whether a few years ago an investment not much bigger than buying a downtown apartment in Shanghai would have made the pages of Shanghai Daily.
---
Oct 29, 2015: Wanhua Chemical intends to build an integrated MDI production site on the US Gulf Coast (CW).
Comment MCC: This will make Wanhua a truly global player, adding capacity in the US to the existing one in Europe and China. A very successful company so far, and it will be interesting to see whether the success of Wanhua´s very focused approach (i.e., focus on isocyanates) can be maintained once all of Wanhua´s current projects in other chemical areas such acrylates and polycarbonate come onstream.
---
Oct 29, 2015: China aims increase its use of non-fossil fuels to 15% in 2020 and 20% in 2030 (China Daily).
Comment MCC: Needless to say, this should substantially increase the market for all kinds of chemicals required to utilize the different kinds of renewable resources such as sun, wind, hydro, biomaterials. According to the International Energy Agency, China accounts for 40 percent of global renewable capacity growth, so anyone marketing such materials needs to focus on China.
---
Oct 27, 2015: China's cement production fell by 4.7% Q1-3 of 2015 compared to the same period in 2014, indicating that the building materials market - and the property market - are weak (Xinhua)
Comment MCC: The cement market can be used as a proxy for many construction chemicals for which figures are less easily accessible - and obviously, the market situation for such chemicals and those which are being used somewhat later in the process (e.g., architectural coatings) is not very good.
---
Oct 24, 2015: The government will further extend tax deductibility of R&D costs and related expenses.
Comment MCC: Among the items added are R&D expenses incurred in hiring external researchers and consultants and a negative list of expenses not deductible. Indeed, China´s chemical industry could hugely profit from more long-term R&D - however, the issue may be one of management mindset rather than of tax deductibility.
---
Oct 24, 2015: Tesla could begin producing cars in China in two years. According to CEO Elon Musk, local production could lower prices of its models by a third.
Comment MCC: Though currently the number of Teslas sold in China is only a few thousands and thus not a relevant target market for suppliers of chemicals used in automotive applications, this could change if sales prices are lower and the government further supports technology such as that of Tesla.
---
Oct 23, 2015: China's fertility rate has fallen to 1.4, well below the 2.1 replacement minimum, and is even lower in places like Shanghai (0.9).
Comment MCC: Another issue in which at least a partial solution is pretty obvious, the end of the one-child policy - it is just a question of time until it gets announced. On the other hand, for chemical companies aiming to align their China strategy with megatrends, this will not change much as it is highly unlikely that the end of the one-child policy will end the overall phenomena of an aging Chinese population and rising salaries.
---
Oct 23, 2015: Some Chinese plastics compounders suffer such as Shanghai Pret and Kingfa from the lower yuan as they have procurement contracts or debts nominated in USD (Plastics News China).
Comment MCC: Still, the devaluation will probably help the overall Chinese chemical industry - a likely reason for pursuing the devaluation in the first place.
---
Oct 22, 2015: China Daily quotes a State council expert stating that China can achieve at least 6.5% of annual growth in 2016-2020, the period of the 13th Five-Year Plan. Shanghai Daily reports that a cut in GDP growth target is being advised by economists for the same period, with some economists even seeing short periods of 6 percent growth as tolerable.
Comment MCC: Interesting to see how the public is now being prepared for the unavoidable outcome of China´s growth targets. Hard to disagree with experts, whoever they may be ... On the other hand, even 6% may be hard enough to achieve in the future. And 6% GDP growth may mean lower growth for the chemical industry, as services are almost certainly going to grow faster than manufacturing.
---
Oct 22, 2015: BP and Petrochina agreed on a framework to cooperate on shale gas exploration and fuel retailing during president Xi´s visit in the UK.
Comment MCC: As this agreement was signed during a state visit, it may be just one of these documents signed to have something to show, without much resulting from it later. However, shale gas exploration and improving the profit from fuel retailing are certainly two topics at which Petrochina has huge improvement potential, and with which BP could help.
---
Oct 22, 2015: SOE profits fell by 8.2% in the first three quarters of 2015 compared to the same period in 2014, including a strong decline in the petrochemical sector (Xinhua).
Comment MCC: Seeing that this comes on top of the low base profit levels of 2014, it does not lend a lot of credibility to government statements hinting at making SOEs more profit- and market-oriented.
---
Oct 20, 2015: Sinopec may buy a controlling stake in Taiwanese PX producer Dragon Aromatics. Sinopec involvement is reportedly a government condition to restart production after a recent fire (CNA)
Comment MCC: This may send a chill down the spine of foreign chemical producers - if the Chinese government indeed insists on Sinopec taking over the majority of Dragon Aromatics as a condition to resume production, this could be used as a precedent for taking over other foreign players in the future.
---
Oct 20, 2015: China expects the share of its urban population to increase to 60% by 2020 - from below 54% now but still below the 80% share typical in the West (PFI)
Comment MCC: Urbanization is one of these megatrends so beloved by management consultants like me. Indeed it seems very safe to bet on this one. Unfortunately, deriving meaningful actions and strategies from such a megatrend for a specific chemical business is not straightforward and may not yield meaningful and/or specific conclusions.
---
Oct 19, 2015: The Ministry of Industry and Information Technology issued standards for the production of PX in China, covering aspects such as location, processes used etc. (CCR)
Comment MCC: Due to previous protests, PX is a controversial topic in China. The function of these standards likely is to decrease the risk of future protests, e.g., by requiring complete pollution control, location in a chemical park etc. In this respect, at least Eastern China is becoming more and more similar to Western countries, where citizen concerns also play an important role for chemical projects.
---
Oct 19, 2015: China is the biggest market for and biggest producer of MSG. China accounts for about 44% of global MSG exports as well (CCR).
Comment MCC: One so-called expert stated to me yesterday that China is not a big exporter of chemicals - MSG is just one example of many why this is wrong. There are many others of course, and there will be even more in the future.
---
Oct 19, 2015: China has more than 200 producers of silicone fluid. Biggest players are Dow corning (15%), Bluestar (11%), while the next 8 account for 28% and the rest for 46% (CCR).
Comment MCC: Another fragmented market - and while there is some consolidation (about 10 players exited last year), this is a slow process given the large number of players and the occasional new entrant. Time for consolidation via acquisitions?
---
Oct 19, 2015: In 2014, China switched from being a net importer to a net exporter of silicone fluids (CCR)
Comment MCC: Obviously, a lot of items in this blog hammer home the same points again and again. This is one of those. In the future, China will be more of a threat as an export competitor than an opportunity for importers - bad if you do not produce in China yourself.
---
Oct 19, 2015: China´s polycarbonate imports were 1480 kt in 2014. About 955 kt of new capacity are currently being planned or under construction (CCR).
Comment MCC: So probably polycarbonate is safe from further massive price pressure for a few more years. On the other hand, the nature of the market may still change. In contrast to before, the new entrants are mostly local companies and may have other ideas regarding pricing. Also, several of them use a non-phosgene process - a potential danger for the phosgene users.
---
Oct 19, 2015: Bisphenol A prices recently fell substantially (CCR).
Comment MCC: In this case, rather than coming up with a pessimistic statement myself, I will just quote the one from the recent CCR paper on the Bisphenol A market in China: "Several enterprises will persist in building new bisphenol A units and put them into operation in the next few years, probably doubling the total production capacity and intensifying market competition."
---
Oct 19, 2015: Qingdao Soda Ash Industrial New Material Technology Company started a 500 kt styrene project with a projected startup date in mid-2016 (CCR)
Comment MCC: China had 6.9 mio t styrene capacity in 2013 (utilization 81%), with 3.6 mio t of imports. At least on paper, this gap will be more or less closed as new capacity of 3.2 mio t is planned for 2014-2017. Korea is likely to be hit hardest as it is the biggest exporter of styrene to China.
---
Oct 19, 2015: In 2014, apparent China consumption of sulfuric acid increased by 7.2% (CCR)
Comment MCC: In the past, the production of sulfuric acid was used as a measure of the economic strength of a country as it is involved in many industrial processes. Today, it is still relevant though only as an indicator of manufacturing strength. So 7.2% could be taken as a 2014 growth figure - some kind of chemical version of the "Li Keqiang index".
---
Oct 19, 2015: China has about 106 sulfur-based sulfuric acid producers - the top 10 account for about 53% of total production (CCR)
Comment MCC: Obviously still a highly fragmented industry with many small and presumably inefficient producers.
---
Oct 17, 2015: The CEO of HSBC, Stuart Gulliver, stated that the worries about the Chinese economy are exaggerated, and that there will not be hard landing but rather growth around 7% (Xinhua)
Comment MCC: Well, this was said at a China-specific conference - hardly the occasion for an Asian-focused bank to position itself as being bearish on China. His rationale is based on consumer spending and a suggested recovery in the property market. Still, some of his statements on, e.g., opportunities in new knowledge economies sounded a bit too vague to be very comforting.
---
Oct 17, 2015: China´s patent applications increased by 22% (Xinhua)
Comment MCC: I have had cases in my own work where Chinese chemical companies just took existing blueprints from foreign experts and used them as a basis for a patent application in China. So the increased numbers do not necessarily indicate progress.
---
Oct 15, 2015: Orion Engineered Carbons will buy Evonik´s stake in China-based carbon black maker Qingdao Evonik Chemical.
Comment MCC: This is a further step in Evonik´s exit from carbon black that was started in 2011 with the sale of most of the other Evonik carbon black activities. Overall, this shapes Evonik to become a bit more like the pure specialty chemicals company it always claims to be - though of course Evonik is still a big player in hydrogen peroxide, a product that can hardly be described as a specialty chemical.
---
Oct 15, 2015: China will lift price controls over basically all goods and services in competitive sectors by 2017. By 2020, the market will play a decisive role in determining prices (Xinhua)
Comment MCC: The details of this and their effect on the chemical industry are still quite vague, e.g., "China will lift oil price controls at a due time", which is not much of a statement as no indication of what "due time" means is given.
---
Oct 14, 2015: In Tianjin, Firms handling dangerous chemicals will be relocated to the Nangang Industrial Zone 30km from the blast site and at least 10km from the nearest residential area (Xinhua)
Comment MCC: I find it hard to believe that in densely populated coastal China there is any spot located more than 10 km from residential areas.
---
Oct 14, 2015: According to Credit Suisse, China now has a larger middle class than the US, with 109 million vs. 92 million.
Comment MCC: However, the definition of middle class used to get to this number is relative to the country it is measured in - middle class is defined as having at least double the average income in the country. So it does not necessarily imply these people are all already in the market for those products considered to be middle class in the West (and consequently may not need all the chemicals to produce them).
---
Oct 14, 2015: According to Zhaopin.com, the best paid jobs in Shanghai were in professional services with an average monthly salary of 14,024 yuan.
Comment MCC: It always seems to me that most companies I work with pay much higher salaries than those given in such surveys, so I sometimes doubt the validity of such surveys. Or maybe it is just because all my clients are in the top bracket ...
---
Oct 13, 2015: A warehouse used to store chemicals in Tianjin, which exploded on Monday night, was not registered with the government (Xinhua)
Comment MCC: The warehouse contained about 5 tons of chemicals - not a huge amount the case shows that implementation of the existing regulation is still the major issue, and this will not change quickly despite the spotlight on this issue after the major Tianjin explosions earlier.
---
Oct 13, 2015: Municipal Beijing collected over 100 million yuan in fines from polluters in the first nine months of the year, almost double the comparable 2014 figure (Xinhua).
Comment MCC: It is hard to overhear the tone of pride in announcing the higher fines - yet the amount is still ridiculously low compared to the size of the economy, and to the money that can be made by not obeying existing environmental regulation.
---
Oct 13, 2015: According to industry association CEPIA, China´s high end plastics suffers from poor links between industry and academia, short ¬term thinking and IP protection issues(Plastics News China).
Comment MCC: These points were made by association president Zhu Jin in an interview with plastics news - though the first point surprises me a bit (I do not think China is inferior in this respect to the West, where this kind of communication also is not always ideal), the other two points are clearly important issues, and it is good to have them confirmed from a Chinese perspective.
---
Oct 13, 2015: BASF started China´s first production of isononanol, an intermediate in production of plasticizer isononanol, in a 50:50 JV with Sinopec in Maoming (Plastics News China).
Comment MCC: Interesting to see that this is done as a JV despite BASF certainly not needing any technological or capital support from Sinopec. The likely reason for this is that to be cost efficient, the production needs to be fully integrated into the Maoming site - and that would make BASF too vulnerable as an independent party. Sinopec could simply squeeze out all the profit of the production. A hint is in an earlier CheManager article: "The full integration of the new INA plant into the existing petrochemical site of MPCC in Maoming will allow for a comprehensive system for managing energy as well as minimizing water use, emissions, and waste"
---
Oct 13, 2015: Dow opened a branch in Xinjiang, claiming to be the first major foreign chemical company to do so (Plastics News China)
Comment MCC: Xinjiang is indeed a major starting point for many chemical value chains in China as it holds about one third of China´s coal, gas and oil resources - and it is always nice for a foreign company to align itself with Government initiatives such as "One belt, one road".
---
Oct 12, 2015: Chinese-owned Northwest Innovation Works has enlarged its planned methanol capacity in Northwestern US to a total 0f 14.4 mt/year, primarily for shipment to methanol.
Comment MCC: This may end up in tears as at the same time, domestic methanol capacity also increases rapidly. Substantial methanol overcapacities will only be avoided if MTO turns out to be truly cost competitive at whatever future oil prices will be.
---
Oct 12, 2015: Air Liquide will build two air separation units for Yan'an Energy and Chemical Co., a large oil and natural gas company.
Comment MCC: The on-site industrial gas sector is still dominated by multinational companies despite the presence of local competitors such as the gas subsidiary of Baosteel.
---
Oct 10, 2015: Sinopec is now the biggest global chemical company by sales according to Chemical Week´s annual Billion-Dollar club, after BASF led in the last 8 years.
Comment MCC: This is somewhat puzzling as a similar list by ICIS just published a month ago still shows a major difference between BASF and Sinopec (about 90 bn vs 69 bn USD sales in 2014). Of course, there are always variables such as exchange rates etc., but the biggest uncertainty may be the part of Sinopec sales regarded as chemical ones. Maybe somebody from IHS can explain to group members?
---
Oct 09, 2015: Reuters reports a positive impact of e-commerce on PP sales in China, quoting Vince Sinclair from Wood Mackenzie's: "(Plastic) film seems to be getting a boost from the explosion of e-commerce in China - what we call the 'Alibaba effect'. All those packages have to be wrapped"
Comment MCC: While the Reuters piece states that "Asian demand for plastic is set to defy economic slowdown in top consumer China and other nations", other plastics applications which are less driven by private consumption - e.g., construction - will certainly suffer from a slowdown. So I am not sure the overall Reuters conclusion is correct.
---
Oct 09, 2015: A CEFIC study sees the European share of global chemical sales sliding to 12% in 2030 from 17% in 2014 and 33% in 2005. Key reasons cited are US shale gas and chemicals production moving to high-growth markets, particularly Asia.
Comment MCC: According to Solvay CEO Jean-Pierre Clamadieu, energy can account for up to 50% of the cost of many essential chemical building blocks - which would explain a shift of chemical production to the US. On the other hand, CEFIC still expects 2016 growth of the European chemical industry - not great growth but not really below general GDP growth in the region either. As usual with statements by organizations such as CEFIC, they often are primarily political statements rather than mere facts.
---
Oct 09, 2015: Government projects will have a positive impact on the plastics pipe sector. 800 bn yuan is invested in 57 major water projects (Plastics News)
Comment MCC: Indeed many projects driven by environmental considerations will require plastic pipes. Relevant projects include those for rainwater storage and for improved drinking water via renovation of urban underground pipelines.
---
Oct 07, 2015: BASF will expand its emollients and waxes production in Shanghai, China. Current products manufactured at the site are primarily used in skin care, oral care and deodorants.
Comment MCC: Two trends in one news announcement: 1. Localization (replacement of imports from the West by locally produced goods. 2. Shift towards a consumption driven economy (cosmetics not concrete).
---
Oct 07, 2015: The IMF is confident about its GDP growth expectations for China in 2015, giving a range of 6.5-7.5% (Xinhua). This is also in line with government expectations.
Comment MCC: It seems funny to me to give a 1% forecast range (i.e., a pretty broad one) when we are already 9 months into the forecast year. Easy to be confident about this estimate then ...
---
Oct 07, 2015: The Chinese minister of commerce stated during a G20 meeting that during China´s 2016 G20 presidency, trade growth will be on top of the agenda and that China is ready for cooperation to develop a comprehensive, international trade system
Comment MCC: China has indeed benefited strongly from global trade in the past, and there are indications that Chinese consumers may also be a future driver of global trade via ecommerce. However, as global chemicals companies active in China know, there often is a gap between high-level ministerial statements and day-to-day realities, including those for imports of chemicals into China.
---
Sep 30, 2015: The BASF chairman Kurt Bock referred to China several times in his presentation at the BASF investor days.
Some statements related to China:
- Strong growth of chemical R&D in China
- Overcapacity for many basic chemicals in China, e.g., MDI, TDI, acrylic acid
- Increased regulation in China
Comment MCC: Overall BASF still seems somewhat optimistic with regard to China, despite suffering from some of the aspects mentioned above. With (according to BASF) 91% of chemical growth in 2011-2015 coming from emerging markets (which nowadays mostly means China), they probably do not have much choice unless they take a very pessimistic view.
---
Sep 29, 2015: The Plastics News China blog gives about 10 examples of Chinese plastics processors expanding their activities in the US recently, driven by lower domestic growth.
Comment MCC: Hopefully in the long run this will end up with Western and Chinese companies each doing business in each other´s region without this being exceptional or particularly interesting - similar to European companies doing business in the US, and US companies doing business in Europe.
---
Sep 26, 2015: China will launch a national carbon emission trading system in 2017 (China Daily).
Comment MCC: So far details on this system are limited, but at least some of the pilot schemes running in different locations already cover the chemical industry, e.g., in Shanghai. Time to get prepared.
---
Sep 25, 2015: German automotive supplier Hella suffered from a Chinese supplier stopping delivery of some molded parts, apparently due to "unreasonable financial expectations" (Plastics News China)
Comment MCC: A somewhat bizarre incident, but more likely to happen with a Chinese supplier than with some others. Most private Chinese chemical companies are dominated by a single individual much more than Western companies. And not all of them got to their position due to their business skills.
---
Sep 24, 2015: The Caixin Flash China General Manufacturing Purchasing Managers' Index fell to 47 from 47.3, the lowest level in the last 6 years (Shanghai Daily)
Comment MCC: Not a huge additional drop but the turning point has not been reached yet either.
---
Sep 21, 2015: Main business revenue in the Chinese chemical sector rose 3.0% YoY in the first seven months (CPCIF).
Comment MCC: These 3% seem to be a much more realistic benchmark to compare to the performance of individual chemical companies. However, performance is quite different depending on ownership type, with foreign companies performing much worse: "By registration type of firms, private enterprises managed a 5.9% YoY growth in main business revenue from January to July, while Hong Kong, Macao and Taiwan based firms and foreign companies saw decreases, at 6.3% and 5.2%, respectively" (CCR).
---
Sep 21, 2015: Exports of electromechanical products grew by 0.7% in the first eight months, clothing fell by 6.7%, textile products by 1.8%, footwear by 3.4% (CCR).
Comment MCC: This shows both the relatively low export growth and the shift away from low-cost, labor-intensive industries in which China now has increased competition from lower-cost countries. Eventually, this may lead to the chemicals suppliers for these industries also getting weaker in China.
---
Sep 21, 2015: In 1H 2015, 16% of Sinopec´s revenue came from the chemical segment. The segment's operating profit reached RMB10.1 billion, increasing RMB14.1 billion YoY.
Comment MCC: While according to ICIS Sinopec is the second biggest chemical company of the world, its chemical business accounts for only a small share of its total sales. This makes it easier for the company to live with losses in this segment.
---
Sep 21, 2015: There are around 60 bromine manufactories in China, with the total capacity of nearly 200 kt/a (CCR)
Comment MCC: Another example for a segment that is too fragmented to be profitable.
---
Sep 21, 2015: Around 64% of the new Chinese ethylene capacity of 2014 is methanol-to-olefins (MTO).
Comment MCC: However, overall Chinese ethylene production is still almost 90% based on petrochemistry despite the rise in MTO.
---
Sep 21, 2015: At the end of 2014, there were more than 60 polyvinyl chloride (PVC) producers in China, with a total capacity of 23.9 million t/a. Utilization was 68%, and YoY consumption growth 6.6% (CCR).
Comment MCC: Another segment that is too fragmented. In 2014, consumption growth was already below GDP growth, a phenomenon which will affect more and more commodity chemicals in the future.
---
Sep 20, 2015: Shandong Yuhuang Chemical Co. Ltd. started construction on its $1.85 billion methanol manufacturing complex along the Mississippi River in St. James Parish,Louisiana (Area Development)
Comment MCC: I am somewhat surprised this is actually going ahead. But it seems the sales plans for the methanol are somewhat more realistic now than in the past, with a larger share to be sold in the US rather than in the oversupplied Chinese market: "The company projects 50 percent of the methanol produced by the first phase will be sold to North American customers. The remaining 50 percent will be exported globally, where approximately 15 percent to 25 percent could be used by Shandong Yuhuang Chemical Co. Ltd. in China."
---
Sep 15, 2015: California intents to list glyphosate as a carcinogen. In contrast, the EU intends to extend the approval for marketing glyphosate in Europe until the end of June 2016.
Comment MCC: With glyphosate being by far the biggest agrochemical produced in China and exported abroad, any regulatory changes abroad may have a strong impact on local producers.
---
Sep 15, 2015: Manufacturers of furniture, petrochemicals, automobiles and electronics in Beijing will start paying fees in October for emitting volatile organic compounds (Xinhua).
Comment MCC: Despite the European Chamber´s objection to locally divergent standards, this seems to be a sensible step, particularly if - as claimed - fines will be higher than the cost of reducing the pollution.
---
Sep 15, 2015: China is by far the biggest market for Polyphenylene Sulfide (PPS), accounting for more than 50% of the market, according to a report by Grandview Research.
Comment MCC: This is not surprising as the top applications for PPS are in automotive and filter bags, both big markets with foreseeable strong future growth.
---
Sep 15, 2015: The Chinese market for water treatment chemicals is about MB 16.4 Bn, or USD 2.6 Bn, according to a report by Research & Markets.
Comment MCC: The report claims that Sewage water treatment plants and municipal water are the end-users that grow the fastest. This is a change from the previous situation, when growth was mainly driven by industrial applications. The change probably reflects tightening of environmental regulation on the level of local governments.
---
Sep 15, 2015: The Chinese market for metal surface treatment chemicals is about RMB 16.4 Bn, or USD 2.6 Bn, with annual growth forecast at about 7% (Research & Markets)
Comment MCC: Within the different sub segments, aluminium surface treatment is growing at a faster rate than steel, reflecting a gradual increase in the quality level of surfaces treated.
---
Sep 15, 2015: Shandong Tengzhou Ruida has started building China´s first domestic plant for polybutylene, starting with a capacity of 60 kt (Plastics News China).
Comment MCC: Polybutylene is a somewhat minor polyolefin as it is no longer very popular for use in piping due to some issues in the past. The construction therefore shows that even in the more niche plastics segments, China is rapidly getting more self sufficient, reducing the room for plastics imports.
---
Sep 14, 2015: Ningxia Baota Chemical Fibre has licensed BP technology for its 1.2 million t PTA plant, to be started in 2018. The BP technology is claimed to have lower capital and operating costs than conventional PTA plants.
Comment MCC: With 2015 PTA capacity utilization estimated at about 68%, it is optimistic to build additional capacity now - unless the plant is at the low end of the cost curve. It seems Ningxia Baota has understood this.
---
Sep 14, 2015: BASF has expanded its Nanjing tert-butylamine capacity from 10 to 16 kt. TBA is used as intermediate for accelerators for the tire industry, and as intermediate for agro and pharma chemicals.
Comment MCC: Despite the recent slowdown, China still accounts for about 50% of global demand for rubber chemicals. For comparison to the 16 kt: in the USA, about 5 kt of tert-butylamine are being produced in the whole country (a 10 kt producer stopped production about 10 years ago).
---
Sep 14, 2015: China aims to modernize its SOEs. According to a guideline, "The competence of SOEs will be improved and they will become fully independent market entities"
Comment MCC: The Xinhua report on this topic includes a number of goals that seem mutually incompatible. For example, "the government expects SOEs to be more robust and influential and have a greater ability to avoid risks". To me this sounds like wishful thinking rather than a sensible program for SOE reform.
---
Sep 14, 2015: SOEs will be divided into two categories, for-profit entities and those dedicated to public welfare. The former will be market-based and stick to commercial operations and aim to increase state-owned assets and boost the economy, while the latter will exist to improve people's quality of life and provide goods and services (Xinhua).
Comment MCC: The major chemical SOEs are likely to end up in the second category as the supply of petrochemicals is regarded as strategic by the government. Theoretically, one could consider whether some of the chemical companies with more downstream-oriented activities (such as Sinochem and ChemChina) also fit into this category ...
---
Sep 08, 2015: The EU Chamber of Commerce released its 2015 position paper. One recommendation is to standardize penalties imposed on pollutants in the chemical industry. The concern quoted is as follows: "Concern: Local governments are setting stringent local pollution discharge standards for pollutants not specified in the national pollutant discharge standards, which has created a complex series of emissions standards across different provinces and municipalities."
Comment MCC: This is a somewhat surprising recommendation coming from the chamber - in essence it seems to be a veiled call for laxer standards, though of course there is some logic in calling for nationwide and thus less complex standards. But it fails to take into account two important aspects. One, stricter standards are generally beneficial for foreign chemical companies (as of course represented by the chamber of commerce) as they make it harder for low-end, low-technology local companies to compete. Therefore any opposition to them - if they are indeed implemented properly - is probably not in the interest of the EU. Secondly, China´s government likes the approach of testing new policies (such as stricter environmental regulations) in parts of the country, and it seems hardly realistic to implement strict environmental regulations nationwide when at the same time coal chemistry is explicitly promoted in areas in which the environmental consequences of such plants are believed to be more manageable. It is unlikely China will be willing to give up this general approach of locally testing new policies (not only this one, but also on, e.g., carbon dioxide emissions) merely due to the opposition of foreign chemical companies.
---
Sep 07, 2015: ICIS just published a list of the 100 biggest global chemical companies based on 2014 sales. Sinopec (at number 2) is the only Chinese entry.
Comment MCC: Obviously this list is frustrating for those of us being interested specifically in China - certainly, Petrochina, ChemChina, Sinochem, CNOOC or possibly even some private companies should also be in the list but were excluded due to limited data availability. For some companies, this seems like a somewhat lame excuse - for example, the magazine Tirereview lists ChemChina 2014 sales as 39.7 bn USD, a figure apparently not available to ICIS (this would have gotten ChemChina at number 7 of the list between Lyondell and DuPont). For the petrochemical companies, it should also be possible to make a reasonable range estimate based on the (given) amount of chemicals produced by these companies ... So this list is not quite what it claims to be, and under represents the strength of the Chinese chemical industry.
---
Sep 06, 2015: Chinese PE consumption grew by an annual 7.4% over the past 5 years. Until the end of 2016, almost 3 million tons of coal-based capacity will come on stream (CCR).
Comment MCC: Admittedly, two somewhat unrelated bits of PE information squeezed together in one entry ... PE growth in the last 5 years was already 1-2% below GDP growth, showing the gradual maturing of the Chinese economy away from commodity materials. For the future, a growth of about 5% therefore seems realistic. And out of 10 new plants, only one uses oil as a raw material while the other nine use coal - though of course this does not mean this would be the favored approach right now. Oil prices were still at around 100 USD when these plants were planned.
---
Sep 06, 2015: While currently the four biggest producers of super absorbent polymers (SAP) in China are all foreign-owned, there are four domestic projects of similar size announced or ongoing (CCR).
Comment MCC: This may be another area in which the Western companies gradually lose their competitive advantage - so far they were the preferred suppliers due to their higher product quality. But with large-scale domestic producers entering the playing field, this may soon cease to be a differentiating factor.
---
Sep 04, 2015: ChemChina will acquire a stake in Rosneft's Far East Petrochemical Co. Meanwhile, Rosneft itself will acquire a 30% stake in ChemChina Petrochemical Cooperation (CW).
Comment MCC: It does not seem to be quite clear whether ChemChina will acquire a majority stake - while CW reports this, the Rosneft CEO states they will keep the majority (source: TASS). In any case, it is somewhat hard to see how these overlapping ownerships contribute to the real-life chemical business and are not just political statements.
---
Sep 02, 2015: 5 people died at an explosion at Shandong Binyuan Chemical in Dongyin. Several executives of the company have already been detained.
Comment MCC: Ironically, the company website praises the high technology level of the company and also indicates that the company is involved in adhesives production: "We has introduced advanced chemical production from the world leading companies such as Japan's Mitsui, Sumitomo and so on to build a new project which has the capacity of 20,000 tons of modified adhesive materials one year. This project was applied the most advanced technology of continuous hydrogenation and hydrolysis reaction in the world. The whole production process use DCS process control and the key procedure is using chain control, key areas are applied video monitoring and alarm facilities. These measures made to provide security leakage protection for the project safe, stable and economic operation, provide powerful guarantee for a long period of time."
---
Aug 31, 2015: According to Asiachem, two CTO projects (by Shenhua and by China Coal Energy) still had substantial operating earnings in 1H2015 while one by Datong had only very limited production.
Comment MCC: At first glance, these results are somewhat difficult to believe as substantial information suggests that these projects should not be profitable at an oil price of about 50 USD. However, a large share of the cost of these projects (typically 30-40%) is financing. As the interest payment is not included in the operating earnings, these may still be positive even if the project as a whole has long ceased to be profitable.
---
Aug 30, 2015: Local Chinese governments plan to move or upgrade about 1,000 chemical plants after the Tianjin explosions (SCMP)
Comment MCC: It is somewhat ironic that after the public uproar about the Tianjin events, now local governments quote opposition from local residents as the biggest obstacle to relocating sites.
---
Aug 29, 2015: Changes in China´s air pollution laws are expected to make local governments directly responsible for meeting environmental targets. They also ban firms from temporarily switching off polluting equipment during inspections and outlaw other behavior designed to distort emission readings (Reuters).
Comment MCC: While a step in the right direction, there is also criticism from Chinese scientists, basically stating that the law is not sufficient to substantially improve the situation.
---
Aug 29, 2015: China Pesticide exports to Latin America were 3.6 bn USD in 2014, 3% less than in 2013. Glyphosate (1.0 bn USD) / Brazil (1.2 bn USD) were the biggest product / destination (Agropages)
Comment MCC: The fragmentation of the Chinese market becomes obvious from the fact that the top 20 Chinese exporters to Latin America only account for slightly less than 50% of total exports. Possibly the stagnating export value can work as an additional driver for consolidation of the industry.
---
Aug 28, 2015: BASF has begun MDI production at its 400 kt Chongqing plant. According to the company, production will be gradually be ramped up according to demand (Plastics News).
Comment MCC: No doubt BASF will be glad to start production as this was a project with many obtacles. Still, the timing could be better. CNCIC predicts that there will be no surplus capacity of MDI in China to 2020, but this is under the assumption that annual demand growth will be 7% - something that is far from certain now and far exceeds the slightly above 2% growth of Chinese chemical production in the last 12 months.
---
Aug 27, 2015: Sinopec´s chemical segment showed improved profit in 1H while revenue fell by 22%.
Comment MCC: The operating profit margin is still low at 6%, but better than the loss obtained before. And at least according to company information, Sinopec managed to increase the share of differentiated resin and fiber in their sales. If this continues, it could put pressure on foreign players which mostly rely on the more differentiated products for their profit.
---
Aug 26, 2015: German industrial gases company Messer will produce nitrogen, oxygen and high-purity gases for the electronics industry at a new plant in Suzhou.
Comment MCC: This highlights two of the more positive segments in the chemical industry in China, industrial gases and electronic chemicals.
---
Aug 26, 2015: Evonik Industries AG is looking to sell off or find a partner for its Performance Materials unit, which includes acrylic resin and other specialty plastic materials.
Comment MCC: Even Chinese players are not happy with the margins achieved in acrylics - another segment getting more and more unattractive mostly because of overcapacity in China. No wonder Evonik wants to sell it.
---
Aug 25, 2015: More than 4,000 people were killed in 3,600 accidents involving hazardous chemicals in China in 2009-2014, according to Jiaotong university professor Zhao Laijun (Reuters).
Comment MCC: Still, it takes a big event such as the Tianjin explosions to really make people aware of the situation.
---
Aug 25, 2015: Commodities as an asset class fell to their lowest in 16 years on Monday (Bloomberg).
Comment MCC: While low commodity prices are not necessarily a bad thing for chemical companies as such, they indicate the negative outlook most investors currently have, which in turn will also affect the sales of chemicals producers.
---
Aug 23, 2015: An explosion happened at a warehouse of Runxing Chemical in Zibo. According to The Guardian, 9 people were injured. The warehouse is said to contain adiponitrile.
Comment MCC: This would probably not even have been reported if it had not been for the Tianjin explosions. Zibo is a major location for chemical plants in China.
---
Aug 21, 2015: According to industry federation CPCIF, the Chinese chemical sector grew by 2.9% yoy in 1H2015 while profits grew by 11.1% (CCR)
Comment MCC: Even though this does not look great given announced GDP growth of about 7% in this period, it is not too bad either given the lower cost of raw materials due to the lower oil price - something that is reflected in the substantial profit increase.
---
Aug 21, 2015: After average annual growth of 17.6% from 2005 to 2014 and 7.9% growth in 2014, China´s coatings output is expected to grow by 6-8% in 2015 (CCR)
Comment MCC: As mentioned before, as a whole the coatings segment is no longer a segment with growth substantially higher than GDP. Only specific areas have higher potential, such as functional coatings, photocatalytic and particularly environmentally friendly coatings.
---
Aug 21, 2015: In the period of 2009-2014, acrylic acid capacity grew by an annual 18.6% while output grew by an annual 18% (CCR).
Comment MCC: This is one of the rarer examples for chemicals in which output and capacity growth are somewhat aligned. CCR forecasts this to continue to 2019 as the capacity announced until then will only lead to a decrease of capacity utilization from 72% to 70% - not ideal but better than for many other chemicals in China. It helps that (by Chinese standards) the number of players is limited - only 16, of which only half produce at least 100 kt.
---
Aug 21, 2015: Transportation, construction and assembly work are the fastest growing adhesives and sealants applications in China (CCR).
Comment MCC: This shows the potential for high-end adhesives - not the traditional ones used in, e.g., production of shoes or paper, but rather in those industries in which metal is replaced by plastics or where environmental standards are increasing.
---
Aug 21, 2015: The preliminary Caixin China general manufacturing PMI reached 77-month low of 47.1 in August from 47.8 in July.
Comment MCC: It will probably get better eventually, but sometimes it gets worse before it gets better ...
---
Aug 19, 2015: Evonik has opened its first application lab for medical devices in Shanghai, supporting medical device manufacturers using Evonik polymers. A second lab will later be opened in Germany to serve Europe.
Comment MCC: While the opening of an application center in China is not exactly news any more, this one is interesting in that it is the first one Evonik opens globally for this application, and that medical devices are on the upper end of polymer applications. This indicates the growing global importance of China for higher-end applications and segments in general.
---
Aug 17, 2015: The auditor of Tianhe, a Chinese fluorochemicals and lubricants producer, has indicated serious concerns about Tianhe´s tax payments, bank statements and vendor relationship (AP)
Comment MCC: This is one of several cases of private Chinese chemical companies - sometimes even backed by Western banks and private equity - being accused of fraud. Investors beware.
---
Aug 16, 2015: Crop protection company Adama is considering combining with Chinese Hubei Sanonda, the rationale given being full integration and public listing.
Comment MCC: The Chinese crop protection market could certainly benefit from consolidation, and Sandonda could benefit from getting better access to global markets.
---
Aug 16, 2015: Several hundred tons of sodium cyanide were apparently stored at the Tianjin warehouse, a clear violation of rules that the warehouse could store no more than 10 tons
Comment MCC: Not that this is a very interesting comment, but China very frequently has the right regulations but lacks proper implementation.
---
Aug 15, 2015: The State Council Work Safety Commission said the [Tianjin] blasts ... revealed a lack of safety awareness ... and lax implementation of safety regulations (Xinhua). Other problems mentioned include inadequate safety management of dangerous materials at ports, irregular practices among workers, weak emergency responses to incidents and lax supervision by authorities.
Comment MCC: There is always the mild comfort of potentially learning from past mistakes.
---
Aug 15, 2015: The IMF expects China growth to slow to 6.8% this year and 6.3% in 2016.
Comment MCC: While this is marginally below the government target of about 7%, other parts of the IMF statement read like praise for China´s policy - at least as reported by Xinhua: "China is transitioning to a slower yet safer and more sustainable growth, which involves giving the market a more decisive role in the economy, the International Monetary Fund (IMF) said Friday." (Xinhua)
---
Aug 15, 2015: China's electricity consumption fell 1.3% yoy in July (Xinhua). Consumption in primary industries increased 7%, in secondary industries decreased 3.3% and in tertiary industries grew 4.4%. Residential consumption grew 3.8%.
Comment MCC: For the chemical industry, the secondary industry data is the most relevant, and unfortunately it does not look good.
---
Aug 14, 2015: Among the chemicals stored at the Tianjin warehouse where the explosions occurred were TDI and calcium carbide (NYT).
Comment MCC: These are chemicals that react with water, which makes one wonder whether the firemen at the site were aware of this. The NYT also makes a comment similar to mine from yesterday: "The disclosure that dangerous chemicals were stored less than a mile from dense residential areas raised questions about the government's role in monitoring operations at the site."
---
Aug 14, 2015: The U.S. Green Building Council listed the Top 10 Countries for LEED, a green building rating system. China is ranked 3rd after the US and Canada (Coatings World).
Comment MCC: This comes as a surprise but shows that in some areas, China is actually quite advanced with regard to environmental aspects. Other areas are solar power generation and alternative energy vehicles.
---
Aug 14, 2015: Kingfa, China´s largest plastics compounder, is looking for growth opportunities outside of the Chinese market and has already established a US subsidiary (Plastics News China).
Comment MCC: The most interesting part is the rationale given for the overseas expansion: "The company sees the benefits of being closer to the target market but also emphasizes another goal - attracting more global talent."
---
Aug 14, 2015: China accounted for 29% of the global volume and 24% of the global value of the coatings industry in 2013, according to Coatings World.
Comment MCC: This is actually low compared to the estimated value share of 33% of the global chemicals market, probably reflecting the fact that a large share of coatings (e.g., architectural) is applied locally and thus does not quite benefit as much as other parts of the chemical industry from China´s position as the global manufacturing hub.
---
Aug 13, 2015: Stock of Chinese waste water treatment companies rose substantially after government statements announcing massive investment in environmental protection (China Daily).
Comment MCC: This is probably still a good sector to invest in, particularly if focusing on solutions and services rather than on individual chemicals and products.
---
Aug 13, 2015: The Yuan fell for the third day in a row, this time by 1.1% after 1.9% and 1.6% in the past two days (Xinhua)
Comment MCC: Reading reports from different parts of the world on this development, it gets harder to sort out to which devaluation each article refers - the first, the second, the third? Maybe tomorrow the fourth?
---
Aug 13, 2015: China's fiscal expenditure rose 24.1 percent year on year to 1.27 trillion yuan ($201billion) in July (Xinhua). Government revenue only rose by 7.5%.
Comment MCC: Currently every tool available to the government seems to be applied - whether stimulus or devaluation. Worrying as it indicates the government really regards the situation as bad.
---
Aug 13, 2015: China will become the world's largest market for new energy vehicles this year due to supporting measures from the government (Xinhua)
Comment MCC: China has more room to direct consumers towards new energy vehicles due to bigger restrictions, e.g., via the limited number of license plates. New energy vehicles require more and higher-end chemicals, e.g., engineering plastics for weight reduction as well as battery materials.
---
Aug 13, 2015: A dangerous goods warehouse storing ethanol exploded in Tianjin, killing 17 people and injuring many more.
Comment MCC: At first sight, it seems surprising that a dangerous goods warehouse can be located so close to so many people.
---
Aug 13, 2015: He Jingtong, a professor of investment at Nankai University in Tianjin, said the yuan devaluation will benefit the country's garment, steel, shipping, chemical and automobile industries (China Daily)
Comment MCC: Let us hope so. At the moment, global markets seem to see the devaluation more as an admission of weakness than an opportunity for the economy, or even (as stated in the Chinese press) a move towards pleasing the IMF.
---
Aug 13, 2015: In 1H2015, the environmental ministry dealt with 45 emergencies nationwide, 18 less than one year earlier. However, the number of pipeline leaks increased (CD)
Comment MCC: While this sounds like progress of sorts, China Daily also quotes an anonymous environmental policy researcher: "The majority of domestic enterprises have not invested enough in their facilities and technology to make their processes safe, especially in how they test and monitor their sites, a major reason for the increased emergencies in the oil pipelines,"
---
Aug 12, 2015: BASF opened a plant for resins and electrocoatings in Shanghai, targeting primarily the automotive industry.
Comment MCC: Signs of localization and quality upgrades in China´s chemical industry. This is a plant with 70 jobs - in the future, we will have more MNC news of this type rather than announcements of big investments.
---
Aug 12, 2015: China XLX Fertilizer, a leading private fertilizer producer, has started production at its urea V plant in Xinjiang. The plant is based on coal gasification.
Comment MCC: Producing urea from coal is one of the more sensible ways of using low-cost "stranded" coal in areas like Xinjiang.
---
Aug 12, 2015: China devaluated the yuan for the second day in a row.
Comment MCC: After the bank described yesterday´s devaluation as a one-off activity, this is surprising and not inspiring any confidence at all. China so far has rightly been been lauded for not playing the devaluation game but that seems over now, a possible sign that the government regards the status of the domestic economy as so fragile now that improving it is more important than to be credible to the outside world. For global chemical producers, it may mean some sales gains in China but these may be offset by losses elsewhere.
---
Aug 11, 2015: More than 10,000 residents were evacuated from a suburb of Nanchong, Sichuan, after ammonia leaked from a fertilizer plant of Chuanlong Chemical (dpa)
Comment MCC: Still Chinese chemical companies often are too close to residential areas - in the Eastern provinces, there is a strong trend to move companies into designated chemical parks but in the less developed parts of China progress is slower.

---
Aug 11, 2015: China will resume charging 13% value-added tax on fertilizer from September, ending an exemption that started 1994.
Comment MCC: A bit of a puzzle, this one. According to a statement from the responsible ministry, now the fertilizer market is burdened with overcapacity, with farmers and companies facing increasing problems due to the outdated policy. How the end of the tax exemption can help in this situation is a mystery to me. Though as a consultant, any move towards reducing complexity is generally appreciated by me.
---
Aug 11, 2015: Yuhuang Chemical has secured long-term natural gas transportation capacity for its planned 1.7 mio t/year methanol plant in Louisiana.
Comment MCC: This is a project (converting natural gas to methanol in the US, then shipping the methanol to China mostly for conversion into olefins) that I doubted would be implemented, so any step moving it closer to realization is interesting. The rationale must be purely economical as there is no supply security to be won from plastics depending on methanol imports, which is different from domestic CTO projects.

---
Aug 11, 2015: China has allowed its currency to devaluate by about 2% (WSJ).
Comment MCC: This seems like a rather clever move as China essentially just allowed the Yuan to weaken based on markets, while at the same time this may give a push to exports which recently have been disappointing. On the other hand, China´s economic future probably is more in domestic demand than in export, so the move only addresses secondary issues. Still, probably a minor boost for the chemical industry in China.

---
Aug 11, 2015: Plastics compounder Kingfa achieved 2.1% growth in 1H 2015 compared to 11.6% in 2014 and 17.9% in 2013 (Plastics News China)
Comment MCC: This is one of the many indicators that at least for the manufacturing industry in China - including chemicals - 7% annual growth is probably not achievable in 2015. Notice how I try to avoid the dreaded "New Normal" term.
---
Aug 11, 2015: Foxconn is investing about 5 billion USD in a manufacturing and R&D site in India (Plastics News China)
Comment MCC: While this site is still smaller than the Zhengzhou site (50,000 compared to 200,000 employees), the investment hints that China may not remain the global production site forever.

---
Aug 10, 2015: Chinese company Northwest Innovation Works will use Johnson Matthey technology at three US plants producing methanol for export to China and conversion to olefins.
Comment MCC: With such mega-projects (total investment 5.4 billion USD), it is never quite clear how likely their realization is, but at least this takes the project one step further. These projects could be strong competition for coal-to-olefin projects based on Chinese coal.

---
Aug 10, 2015: China's producer price index (PPI) fell 5.4 % yoy in July, an increasing drop from 4.8% a month earlier (Xinhua).
Comment MCC: This is partly the result of lower raw materials prices, but probably also due to overcapacities in a slowing economy. Not easy for any chemical company to be profitable in such an environment.

---
Aug 08, 2015: China will increase efforts to stop illegal production and sales of rare earth elements (China Daily).
Comment MCC: I like the explanation for this measure: "Xin Guobin, vice minister of Industry and Information Technology, said the illegal mining of rare earth causes oversupply and suppresses the market price". Does not sound very much like a market economy type of explanation to me. Contrast this with Xi Jinping in Nov 2013: "We must deepen economic system reform by centering on the decisive role of the market in allocating resources...."

---
Aug 07, 2015: Shell will sell its 75% share in Tongyi Lubricants in China to the JV Partner Huo Group and private-equity firm Carlyle (Reuters).
Comment MCC: This is explained as a focus on the core business, and of generating cash to pay dividends. Still, it may not be the wisest of strategies as the lubricant business may well be less volatile and more profitable than the core business, particularly in a growing market such as China.

---
Aug 07, 2015: Net China import of butyl rubber and halogenated butyl rubber was about 260 kt in 2014. Planned domestic projects that may come into operation by 2017 have a capacity of 490 kt (CCR)
Comment MCC: This may be another market for which imports will soon become less relevant, though the details of course depend on cost and quality.
---
Aug 07, 2015: Capacity utilization of Chinese PPG producers was about 70% in 2014 (CCR)
Comment MCC: PPG shows some of the recent typical characteristics of many Chinese commodity chemicals segments - large number of producers (about 40), low capacity utilization, substantially higher unit price for imports than for exports (an indication of relatively low quality), lowish market growth rates (about 5% in 2013) and decreasing prices.
---
Aug 07, 2015: During the period of 2010-2015), the production value of China's membrane industry grew at an annual average rate of over 20% (CCR).
Comment MCC: As mentioned elsewhere, producing membrane materials is therefore an interesting segment for chemical companies.
---
Aug 07, 2015: DuPont has licensed its cellulosic ethanol technology to Jilin New Tianlong, and allows them to use its enzymes for China´s largest cellulosic ethanol plant (CCR)
Comment MCC: This looks like a fruitful cooperation for DuPont it allows DuPont to showcase its technology on a large scale and in a dedicated (as government sponsored) environment.

---
Aug 07, 2015: Output of Chinese plastics processors grew by only 1.46% yoy in 1H 2015, after 7.4% in 2014, 8% in 2013, 8% in 2012 and 22% in 2011 (CPPIA/Plastics News China)
Comment MCC: And even this little growth was mostly driven by exports, leaving only about 0.5% for domestic volume growth. Makes it hard to believe that GDP growth was 7% unless services grew very strongly - and this does not help the chemical industry much either.
---
Aug 06, 2015: BMW´s 2106 7 series was required to drop 130 kg weight from the previous generation, achieved by a variety of redesigns and materials changes (Automotive News)
Comment MCC: The trend towards lighter-weight cars should be a big opportunity for plastics and carbon fiber producers.
---
Aug 06, 2015: Hengli Petrochemical will begin a turnaround of two of the three purified PTA lines at its Dalian plant. The restart date has yet to be determined
Comment MCC: A good time for a turnaround - but it does not mean the market will be ready for the production volumes once the plants are restarted.
---
Aug 06, 2015: China XD, a plastics compounder focusing on automotive applications, reported a yoy revenue increase of 0.5% for Q2 2015, and a slight decrease in profits.
Comment MCC: Further proof that in many chemical segments, China´s growth is slowing down or even coming to an end.

---
Aug 6, 2015: Wison Engineering, a Petrochina supplier active in petrochemicals and coal-to-chemicals, has been fined 30 million yuan for bribery (Reuters)
Comment MCC: Still a low fine given that 2014 sales of Wison were about 6992 million RMB.

---
Aug 06, 2015: Sinopec has recalled more than one-third of the people working at an overseas gas exploration unit back to China as part of a cost-cutting drive (Caixin)
Comment MCC: Times must be bad if an SOE like Sinopec becomes concerned about costs ...

---
Aug 03, 2015: The Caixin (previously: HSBC) China Manufacturing Purchasing Managers' Index (PMI) fell from 49.4 in June to 47.8 in July, the lowest since July 2013. China's official PMI was 50.0 down from 50.2 in June (China Daily)
Comment MCC: The situation is getting more serious - and it does not exactly inspire confidence in the official statistics that they do not show the same huge drop in PMI.
---
Aug 03, 2015: Shanxi provincial government and Tsinghua University will establish a research center that will work to reinvent Shanxi's struggling coal industry (China Daily)
Comment MCC: This - similar to coal chemicals - seems to be a pipe dream. Coal is either cheap or environmentally friendly, but not both.
---
Aug 03, 2015: As textile production in China becomes increasingly unprofitable due to rising wages, some mainland producers have set up facilities in the southern US (NYT/CER)
Comment MCC: However, I doubt that the textile chemicals needed by these companies will be supplied by US producers ...

---
Aug 01, 2015: Sinopec was downgraded by Zack´s to a "Strong sell" - the reason given is that the company combines two segments currently not performing well, "oil" and "China".
Comment MCC: Now that rationale hurts a bit, being dangerously close to the topic of this blog ... Apart from that, the logic also seems to be a bit superficial as of course not the whole of the segments will be bad. On the other hand, I would probably not invest my own money in Sinopec either, but the main reason would be the strong underperformance of SOEs.

---
Jul 31, 2015: BASF has reduced emissions of greenhouse gases by about 0.1% from 2013 to 2014 despite increased production volumes (PlasticsNews China blog)
Comment MCC: What I find interesting is that knowing how companies work, my guess is probably most of these initiatives start out by everyone grumbling about a new initiative from top management that increases workload and complexity and does not directly contribute to revenue. However, once responsibilities are assigned and some people´s careers depend on progress in this area, the topic establishes a driving force of its own and progress is made. Hopefully more and more domestic Chinese companies will move - or be forced to move - in the same direction.
---
Jul 31, 2015: China Premier Li Keqiang has made improving China´s system of underground pipelines a high priority, requiring an investment of about 60-80 billion USD (PlasticsNews China blog).
Comment MCC: As often with what Nina writes in her blog, I do not really need to come up with my own comment but can just quote her: "Industry analysts said they expect the pipe industry (including plastics) to receive a major boost of demand from the government initiative. I can see benefits for the cable industry as well."
---
Jul 31, 2015: According to El Economista, China is the country with the second largest trade deficit of plastics in the world, after Mexico and before Russia (PlasticsNews China blog)
Comment MCC: Both in Mexico and - more relevant for this blog - in China, these trade deficits are likely to be shrinking in the future as more domestic capacity is created. This will likely result in harder times for plastics exporters, particularly for commodity plastics rather than engineering plastics.

---
Jul 30, 2015: Clariant´s Q2 2015 results were slightly below analyst expectations, with weak demand in China given as one of the reasons (Bloomberg, Clariant).
Comment MCC: No specific China numbers are given in the press release but in total MNCs had a 5.1% sales decrease in China in the period from Jan-May 2015. This is quite different from the constant sales increases everyone (including the industry analysts) has come to expect from China. Many other MNCs will have similar issues in China, though not all of them will mention them as openly.

---
Jul 30, 2015: Showa Denko will dissolve its subsidiary Baotou Showa Rare Earth. BSR produces magnetic alloy from Chinese rare earths but suffered from the 2012 termination of export duty exemption for these materials.
Comment MCC: Chemical companies may always be affected from unexpected government regulation - not only in China, but the influence of MNCs and their chance to avoid such regulation via lobbying is certainly lower here than in their Western markets. Of course, the recent lower global prices for rare earths likely also play a part in Showa Denko´s decision.

---
Jul 30, 2015: According to Chinese Finance Minister Lou Jiwei, China´s economy is stabilizing and recovering, but still facing significant downward pressure (China Daily)
Comment MCC: This is an acknowledgement that the current economic situation does not look very promising. China Daily also states that "He also urged further advances in the country's tax reforms, which includes replacing turnovertax with value-added tax and implementing consumption tax and resource tax reforms." This sounds a bit strange to me given that he is an active member of the government. Is he basically urging himself?

---
Jul 27, 2015: According to a report by the Shanghai University of Finance and Economics, China´s economy will have difficulties reaching the 7% growth target this year (SHDaily).
Comment MCC: Best to quote others when bringing bad news, I guess. This is a statement by the professor taking the lead in preparing the report: "We are not optimistic that China can fulfill the target of a 7-percent growth for the whole year, considering the risks of growing deflationary pressures, local government debt, capital market rout, corrections in the housing sector, failure to get international deals paid, volatility in exchange rate and flee of foreign capital"
---
Jul 27, 2015: Jiaxing Petrochemical will establish a second PTA line at its Jiaxing plant, and has already licensed Invista´s P8 process technology.
Comment MCC: Now of course there may be good reasons for this second line, but just 5 days earlier Shaoxing Yuandong, a major PTA producer, filed for liquidation. I wonder whether Jiaxing Petrochemical considered an acquisition of existing assets of a competitor instead of adding to the capacity via a new investment, thus further contributing to the current low PTA capacity utilization in China.

---
Jul 23, 2015: Byk, the coatings and plastics additives subsidiary of Altana, will build a production plant in Shanghai (CW).
Comment MCC: This is certainly the right thing to do even as the Chinese market slows down - but this does not change the fact that it will be the biggest global chemical market, and that any global player needs to have a full local presence here including production and R&D.
---
Jul 23, 2015: The MNI China Business Sentiment gauge of current business conditions dropped to 48.8 points this month from 53.3 in June (CER).
Comment MCC: This is a rather massive drop, hopefully mostly due to the stock market fluctuations - on the other hand, several real-world events in the chemical industry also indicate that China´s economy is weakening.

---
Jul 22, 2015: Chinese bank's NPL ratio reached 1.39% by the end of this quarter, an increase of 0.35% percent. A KPMG report gives overcapacity and economic slowdown as major causes
Comment MCC: Surely some of these nonperforming loans are related to the chemical industry - see second entry for today ... So credit management may become more of an issue for those chemical companies (and distributors) providing products on credit.
---
Jul 22, 2015: Shaoxing Yuandong Petrochemical, a major producer of purified terephthalic acid (PTA) has filed for liquidation as lacks the ability to repay debt due for repayment. (CW).
Comment MCC: Yuandong (Far Eastern) is one of the biggest PTA producers with capacity of 3.2 million t, about 7% of total capacity. However, utilization in 2014 was only about 60%, far below the industry average of about 73%. The company is now looking for strategic investors - however, as there are more PTA plants coming onstream presumably with a better cost structure, this search will not be easy.

---
Jul 22, 2015: Several Chinese SBR producers including Tianjin Lugang, Zhejiang Zhechen Rubber, and Zhejiang Weitai Rubber have temporarily stopped production due to low margins (CW).
Comment MCC: This is a bit frightening as margin expectations of Chinese chemical companies usually are not that high in the first place. So stopping production really indicates margins are practically zero. As there is no strong growth to be expected in the near future, some SBR producers are likely to go bankrupt.

---
Jul 21, 2015: According to a press release by Italian Eni subsidiary Versalis, Versalis will distribute the SBR produced by Reliance in their new Indian plant in China.
Comment MCC: The Versalis press release talks about "China, where the automotive and tyre industries are developing rapidly and represent a massive potential for rubber producers". However, it is to be seen if this is still true. Some Chinese SBR producers have currently stopped production, and the growth of the automotive market is likely to be only 1-3% this year. It may not be so easy for Versalis to sell the Reliance material here in China unless it has some specific advantages.

---
Jul 21, 2015: Ningxia Baota Chemical Fiber will build a petrochemical complex in Yinchuan, Ningxia, producing petrochemicals including PX from naphtha using UOP technology
Comment MCC: No wonder this is being done in Ningxia - presumably there will be much fewer protestors against PX plants than in more populous areas such as Shanghai or Xiamen, where plans to set up PX plants have led to protests.
---
Jul 21, 2015: The CEO of Akzo stated that China´s property boom is over: "China's growth trajectory has slowed down significantly. China is not the constantly growing construction market that it has been for the past 10 years"
Comment MCC: Of course, as producer of architectural coatings, Akzo is affected by this change, as are of course many other chemical companies including competitors of and suppliers to Akzo.

---
Jul 21, 2015: Coatings World published a ranking of the top 80 global coatings producers. Compared to last year´s list, there are now only 3 instead of 4 Chinese companies. Of the three still in the list, one has risen slightly (Carpoly from no. 35 to 33 with sales growth of +9%) while two have dropped (Taiho from no. 54 to 56, sales growth of +7% ; Shanghai coatings from no. 33 to 43, sales development of - 31%). Yips dropped out of the list as sales decreased by at least 30%.
Comment MCC: It seems that at least the leading domestic coatings producers overall did not gain market share in China - surprising as the situation in most segments of the chemical industry is different.

---
Jul 21, 2015: In the ICIS list of the top 100 chemical distributors, Sinochem Plastics is now listed as the no. 5 with annual sales of USD 3.4 bn (in 2014)
Comment MCC: It seems ICIS has finally realized that there are major chemical distributors in China - in previous lists, Sinochem Plastics was not included despite sufficient sales. A bit late for ICIS, but still - congratulations.

---
Jul 20, 2015: Express deliveries in China increased by 43% year on year in 1H 2015 (China Daily).
Comment MCC: It would be surprising if such a dramatic increase does not also affect the chemical industry, in particular, chemical distribution. And buyers of chemicals may wonder why they should wait longer for chemicals they order than for clothes or books.

---
Jul 20, 2015: Jan-May 2015 revenue of the Chinese chemical industry declined by 6% but the picture is very different depending on ownership, with foreign- and state-owned companies the losers (CPCIF). All companies: -6%; private companies: +4.5%; HK/TW/Macao companies: -8.3%; foreign companies: -5.1%; SOEs: -18.5%.
Comment MCC: Some of the difference can be explained by the more upstream nature of the SOEs and their higher dependency on oil prices. However, overall the private domestic companies still clearly gain market share at the expense of state-owned and foreign companies. They now account for 29% of total chemical revenue versus 18% for foreign companies (including HK, TW, MC) and 34% for SOEs, and their share is growing further. Both foreign companies and SOEs need to pay much more attention to them, and examine the reasons for their success (see www.mc-chemicals.com, Knowledge section, for some articles on the higher growth rate of private chemical companies).
---
Jul 20, 2015: Akzo launched an online ordering platform, e-zyrefinish, for auto refinish customers. Functionalities include data analysis, order processing, warehousing management, logistics support (CCR)
Comment MCC: An awfully predictable name but the sign of a recent trend towards larger chemical companies trying to bypass chemical distributors in China, see the opening of BASF´s Alibaba shop. The key rationale seems to be that most chemical distributors in China do not add much value in terms of marketing support.

---
Jul 18, 2015: From 2016, China will place restrictions on six substances (Pb, Cd, Hg, Cr(VI), PBBs and PBDE) for use in cars, similar to existing EU regulation (Chemical watch)
Comment MCC: Always good to see China follow up statements on sustainability with actions.

---
Jul 17, 2015: Sinopec and Petrochina are the two 500 Chinese companies listed on domestic or overseas stock markets with the highest revenue, according to Fortune China.
Comment MCC: This also shows the importance of the petroleum/petrochemical/chemical industry in China compared to other countries, where companies from this sector rarely lead the country list. E.g., in the US, WalMart leads (not ExxonMobile), in Germany it is Volkswagen not BASF.

---
Jul 17, 2015: Starting in October, producers of plastics, rubber, petrochemicals and organic chemicals will be charged for emissions of volatile organic compounds (PlasticsNews).
Comment MCC: Good news in principle, not only for the environment but also for those companies already dealing responsibly with emissions - however, implementation will be done by local authorities, and it remains to be seen whether they will be capable of doing so.
---
Jul 17, 2015: PlasticsNews reports very good opportunities in bioplastics in China, particularly in Jilin where nondegradable plastics are now banned for some applications.
Comment MCC: It is interesting that in this case the main rationale is not an environmental one but rather a kind of protectionism on a provincial level - Jilin wants to be a leader in bioplastics and has a suitable raw materials base for this. Still, the opportunities are there, and according to PlasticsNews, companies such as Foxconn are utilizing them. See http://www.pnchina.com/en/Detail.aspx?id=1361249710
---
Jul 16, 2015: CHINA plans to give more of its importers subsidized loans to support the trade sector after the import growth target of +6% was missed by a wide mark
Comment MCC: As stated earlier, the main reason for the missed target is the decline in raw materials prices but the government measure indicates that there is a non-price component as well.
---
Jul 15, 2015: A Chinese petrochemical company is said to be interested in investing in insolvent state-owned PVC producer Oltchim SA, hoping to use Romanian crude oil as raw material (PlasticsNews)
Comment MCC: Without knowing too much about the details, the combination of the words "Romania" and "PVC" hardly sounds promising.
---
Jul 15, 2015: Ineos and Sinopec are likely close to settling a patent dispute related to acrylonitrile. This dispute also led to the halt of a joint phenol plant project of the two companies in Nanjing.
Comment MCC: The words from Ineos CEO Radcliffe indicate that there is an amicable settlement - however, IP protection seems to remain an issue in collaborating with some Chinese companies. And even if the dispute is solved, the delay or stop of the phenol project will already have done some damage.
---
Jul 14, 2015: China's economy grew by 7% percent year on year in the second quarter of 2015, unchanged from the first quarter (National Bureau of Statistics/ Shanghai Daily).
Comment MCC: My suggestion to the people from the responsible agency would be to make these figures look a bit more interesting, e.g., by introducing some slight variations from quarter to quarter. The current constant values make it all too easy to agree with Li Keqiang that railway cargo volume, electricity consumption and loans disbursed by banks are better indicators of the Chinese economy than official GDP measures (see Wikipedia: https://en.wikipedia.org/wiki/Li_Keqiang_Index)

---
Jul 13, 2015: According to government data, CHINA'S foreign trade dropped 6.9 percent year on year in 1H 2015. Exports rose slightly (+0.9%), while imports fell by 15.5% (Shanghai Daily)
Comment MCC: This compares very unfavorably with past figures. Export growth for the past few years was +17.9% (2010), +13.4% (2011),+14.1% (2012), +7.9% (2013), +6.1% (2014) compared to +0.9% in 1H 2015 while import growth was +25.6% (2010), +11.8% (2011), +6.1% (2012), +7.3% (2013), +0.4% (2014) compared to -15.5% in 1H(all data Mofcom). The downward trend is clear for both parts, however, the drop in imports is particularly striking. Part of the explanation of course lies in the lower oil price - a back-of-the-envelope calculation suggests that had oil prices stayed at the level of 1H2014, the import growth would have been about -8.5%. Still, this means that many other imports either were done at a much lower price level or at reduced volumes, or both. In fact, for many bulk commodities such as iron ore and coal, both factors apply.

---
Jul 13, 2015: The government-backed China Association of Automobile Manufacturers expects annual sales of both passenger and commercial cars to increase by only 3% (CER)
Comment MCC: This should directly affect those chemical segments relying on the automotive industry for a substantial share of their sales, whether it is plastics, coatings, lubricants, tires or others.

---
Jul 13, 2015: The acetone price in China sank to an all-time low last week (CW).
Comment MCC: The market has been oversupplied for a while now, as witnessed by the antidumping duties imposed on imports from a number of countries including Japan, Singapore, Korea and Taiwan. This is the result of both increasing production (acetone is produced as a byproduct of phenol production, for which entities such as a Mitsui/Sinopec CV have just added domestic capacity) and static demand (particularly as a solvent due to the ongoing shift towards water-borne coatings). The constellation of acetone being a byproduct makes it unlikely prices will improve soon.

---
Jul 10, 2015: Stock prices of many listed Chinese chemical companies have dropped by about 30-40% in the last few weeks, for example, Shanghai 3F dropped by 43% (C&EN)
Comment MCC: Obviously this is not a phenomenon specific to chemical companies but applies to most Chinese listed companies. In some way, it even happens when the real economy shows some signs of recovery, as the Economist points out in the Jul 11 edition. Now it seems the downward trend has stopped for the moment - but only at the price of heavy government intervention, hardly a measure to generate long-term stability of the market.

---
Jul 09, 2015: Evonik completed construction of a pilot plant for precious metal powder catalysts (used in life sciences and fine chemicals) in Shanghai (CW)
Comment MCC: As the press release likely says, this allows Evonik to offer shorter customer delivery times and more customized solutions - all aspects of the ongoing and necessary process of localization of chemical MNCs in China.

---
Jul 8, 2015: Shares of Sinopec were suspended from Hong Kong trade after dropping 3.45 percent during the day.
Comment MCC: Of course this is only a sideshow of the current rapid decline of Chinese stock market, but it shows that major companies including chemical SOEs are also affected - at a time when Sinopec claims that second quarter earnings rose by more than 1000% (though this bit of information is an indication more of the previous low earnings than of the dimensions of the improvement).

---
Jul 8, 2015: According to Reuters, 40 kt of rare earth metals were smuggled out of China in 2014, far exceeding the 28 kt of officially recorded exports.
Comment MCC: Given this situation, it is not surprising that overseas producers of rare earths such as Molycorp and Lynas are struggling.

---
Jul 7, 2015: Chinese car producer Geely plans to become a major shareholder in Icelandic Carbon Recycling International (CRI), a developer of renewable methanol from carbon dioxide emissions (CW).
Comment MCC: For Geely, the investment of about 45 mio USD is a minor amount - possibly the investment can be justified on PR grounds alone, as the cost-efficient production of methanol from carbon dioxide will likely still take decades. Or to quote the chairman of Geely: "This is an important symbol of our global commitment to sustainability", rather than mentioning an economic rationale. So gradually Chinese car makers also get interested in developing a greener image - while at the same time (like international car makers) focusing on heavier and less fuel-efficient SUVs in their portfolio ...

---
Jul 06, 2015: Shanghai company Desano Pharmaceuticals will produce the active ingredient for an HIV drug of ViiV Healthcare, the HIV unit of GlaxoSmithKline.
Comment MCC: This is part of the ongoing shift of this market away from Europe and North America as global pharma companies increasingly trust the quality and reliability of API producers in China.

---
Jul 6, 2015: Honeywell opened an R&D center in Luoyang. The center will focus on air emission reduction, and will be part of the alliance with Chinese company Ruichang (CCR).
Comment MCC: Presumably the location in somewhat backwaterish Luoyang is due to the alliance with Ruichang, but still an interesting move. May be difficult to get good staff at this location though.

---
Jul 3, 2015: Sichuan Hebang, a Chinese chemical company, will acquire a 51% stake in Israeli crop protection company Stockton for $90 million (CW).
Comment MCC: This follows the acquisition of Makhteshim Agan by ChemChina in 2011. However, the rationale for this deal seems less compelling. Sichuan Hebang is essentially a commodity producer with a focus on sodium carbonate and ammonium chloride, with limited reach outside of China. So the deal will only be successful if Sichuan Hebang is willing to move into crop protection with the whole group.
---
Jul 3, 2015: Versalis, the chemical subsidiary of Italian ENI, will develop green tires with subsidiaries of Mesnac, a Chinese rubber and tire machinery producer.
Comment MCC: Based on my experience, this is the kind of cooperation most likely to succeed: the two parties have distinctly different areas of knowledge and have a chance to fruitfully combine the two areas in their cooperation. No guarantee for success, of course ...

---
Jul 3, 2015: BP commissioned the third phase of a PTA project in Zhuhai, adding 1.25 million t for a total of 2.7 million kt (CW).
Comment MCC: This does not even get BP among the top PTA producers - three local players account for a total of about 55% of China´s total PTA capacity of about 43 million t in 2014. However, this is another chemical for which capacity grows much faster than demand. As a consequence, capacity utilization will likely drop by 5%, to 68%. Another market becoming unprofitable?

---
Jun 30, 2015: China has pledged to reduce 2030 carbon intensity by 60-65% (from 2005 levels) and to achieve peak carbon emissions in 2030 or earlier (Carbon Pulse)
Comment MCC: As usual from China, these are not very ambitious targets - for example, 33% of the reduction in carbon intensity has already been achieved and experts expect peak emission to occur around 2025. This is similar to the GDP targets - it is more important for China to succeed reaching an unambitious target than to use ambitious targets as a motivation to achieve more. Still, better than nothing.
On a sidenote, this is similar to what consultants often claim to be their principle: "Underpromise and overdeliver". But I hope China will be more successful at this than typical consultants.

---
Jun 30, 2015: Givaudan expanded its flavors production capacity in China via an investment of about 50 mio USD in their Nantong plant (CW)
Comment MCC: Fragrances and flavors are still an area with very good prospects for Western companies. One reason for this is the distrust against local producers, the other the strong service and formulation component of offerings in this area - something Chinese companies generally tend to be weak at.
---
Jun 30, 2015: BASF opened its first Alibaba online store, targeting in particular smaller companies which can buy directly from the site.
Comment MCC: This is an indicator of a likely extensive move of chemical business to online channels - though the development has been quite slow so far. However, for products with limited need for customization, it should work well. This is the kind of news that could be really worrying to chemical distributors.

---
Jun 30, 2015: In an interview with Plastics News, automotive supplier Magna mentions some of the recent changes in China´s automotive market. These include a shift to higher requirements as a substantial share of buyers are already buying their second car, and a shift to SUVs.
Comment MCC: Chemical suppliers to the Chinese automotive industry - whether in plastics, lubricants or other areas - need to be aware of these trends and adapt their portfolio accordingly.
---
Jun 30, 2015: According to Nina Ying Sun´s blog (Plastics News China), the Asian Infrastructure Investment Bank may improve the situation of the plastics industry in China.
Comment MCC: Nina states that China is really hoping AIIB can help it reduce the pressure from its domestic manufacturing industry's severe overcapacity. AIIB may help Chinese manufacturers to shift some of their overcapacity to supply projects in other Asian countries and improve China's industry structure. It may will strengthen supplies and lower the price of commodities, in turn lowering production costs for manufacturers.
These points should not only be applicable to plastics but also to the broader chemical industry, probably even including foreign chemical companies active in China.
---
Jun 29, 2015: Solvay and Sinochem signed a cooperation memo to work on fine and "green" chemicals (PlasticsNews), witnessed by Xi Jinping and the Belgian king
Comment MCC: To me the idea of a democratic country having a king (or a queen) seems fairly ridiculous, but I guess this is should not be the topic here. It seems whenever something is "green" enough, even high-level politicians (like Xi Jinping) and kings will want to profit from the positive image of this part of the chemical industry.
---
Jun 29, 2015: A. Schulman named the first R&D director for APAC (PlasticsNews).
Comment MCC: As the press release states, "[this shows ] the company's commitment to advancing its R&D capabilities and innovation potential in APAC", or in other words, R&D in APAC is getting more important.
---
Jun 28, 2015: Molycorp, the only major North American producer of rare earth oxides (REOs), filed for bankruptcy on June 26 following REO price decreases due to additional Chinese supply (WSJ).
Comment MCC: With the benefit of hindsight, this situation was an obvious dilemma - Chinese producers had a lucrative near monopoly but also the power to make the market unattractive to potential overseas entrants via price decreases. It seems Molycorp did not really understand this.

---
June 27, 2015: Several thousand residents of Shanghai district Jinshan protested against the possible relocation of a PX plant to a chemical park in their area (Reuters).
Comment MCC: A few notable points about this: 1. As in Western countries, the general population has a very limited perception of the risks of different chemicals. PX is not really among the most worrying chemicals. 2. The population has very limited trust in the government in these matters - protests continue despite denials by the local government. Based on past experience, this distrust seems very justified. 3. Though most of these protesters are likely not opposed to general government politics and would never protest against Xi Jinping or the Party, they feel it is legitimate and even worthy to make themselves heard in this local issue.

---
Jun 26, 2015: Clariant sees opportunities for US methanol producers to supply Chinese MTO plants, but regards lack of suitable vessels for shipping the methanol to China as a constraint (CW).
Comment MCC: It needs to be added that Clariant is a producer of synthesis gas catalysts, and the comment was made at an Air Liquide sponsored Methanol Day, so there is an interest to paint an optimistic picture. Personally I find it surprising how MTO in China apparently has taken a life of its own far away from the original rationale of making China more independent from imports and allowing the use of cheap domestic coal, both of which do not apply when doing MTO based on imported methanol.
---
Jun 25, 2015: The Ministry of Environmental Protection (MEP) published the "Guidance for New Chemical Substance Notification and Registration (Draft)" for comment - deadline is end of July.
Comment MCC: Most of the changes compared to the 2010 guidelines are on a fairly technical level - still, it may be worth going through the details for some chemical companies.

---
Jun 25, 2015: Zhong Yung, a Chinese JV of Brenntag, had zero accidents in 2014 and got a company-internal award for this achievement (CW).
Comment MCC: Nice to hear this as I had some involvement in the original deal. Not sure about Zhong Yung´s earlier safety performance but in general, this is an area in which domestic chemical companies can learn from MNCs.
---
Jun 24, 2015: Shares of Elementis fell by 17% on June 24, partly due to substantially lower sales of oilfield additives in the US market.
Comment MCC: Admittedly about a year ago I still thought of oilfield additives as a fairly attractive segment of specialty chemicals - it seems I was wrong, at least in the short term.

---
Jun 20, 2015: Russian oil producer Rosneft has signed a memorandum to buy 30 percent of China National Chemical, a subsidiary of ChemChina Petrochemical (Reuters)
Comment MCC: It seems Russian companies increasingly have to rely on China as an outlet for those products - such as crude oil - that are more difficult to sell to the West due to the Ukrainian conflict. This is likely to be a good deal for ChemChina as it is not really a top-tier petrochemical player in the first place.

---
Jun 18, 2015: The U.S. International Trade Commission dismissed FMC's complaint on sulfentrazone infringement by Chinese company Jiangxi Heyi Chemicals (Agropages)
Comment MCC: This shows that not every IP infringement complaint directed at Chinese chemical companies may be justified - at least the words of the (US) administrative law judge sound quite straightforward in this matter. And let us not forget that Western companies also direct many infringement suits at each other.

---
Jun 16, 2015: Ecolab has acquired a controlling interest in Chinese industrial water treatment company Jianghai Environmental Protection (CW)
Comment MCC: Water treatment - particularly industrial - is an exciting specialty chemicals segment in China, with substantial room for growth and the need for consolidation. The acquisition seems like a wise move for a global player such as Ecolab.
---
Jun 16, 2015: John Richardson of ICIS reports that the three most important "real" indicators of the Chinese economy have weakened. This includes generation of new credit (-18% yoy), rail freight transport (-9%) and electricity demand (+1.6%).
Comment MCC: While John sometimes is too pessimistic about the Chinese economy for my taste, these are clearly warning signals - and given what I hear from chemical companies in China, they are heeded already.
---
Jun 16, 2015: China will have a national carbon-trading market in late 2016 or early 2017 (CW).
Comment MCC: It is uplifting to see the government get more active in this area. It seems the currently running pilot trading schemes in, e.g., Beijing, Shanghai, and Shenzhen are successful.

---
June 12, 2015: A large share of European businesses in China (39%) plan to cut costs, primarily by reducing headcount. However, 58% are still optimistic about growth (PlasticsNews/EU CoC)
Comment MCC: This seems more of a reflection of a global trend than a specific negative statement about China - for most companies, China still offers the biggest growth prospects.

---
June 12, 2015: A Hunan court began hearing a case in which chemical company Melody Chemical is accused of causing high lead levels in the blood of local children (Reuters).
Comment MCC: The start of the case alone is already progress of sorts, though the fact that most of the initial participants dropped out of the lawsuit hints at the ongoing difficulties in implementing environmental regulation in China.
---
June 11, 2015: Ashland has formally designated its office at Shanghai, China as the regional headquarters for the Asia/Pacific region.
Comment MCC: Many more chemical companies will follow - nobody would seriously consider running the European business of a global chemical company from Denmark, so why still stick with Singapore (or even Hong Kong)?

---
Jun 10, 2015: Bayer CropScience has succeeded in enforcing its patent in China for spirotetramat and will get compensation from Hebei Sannong Agrochemical and distributor Nanjing Heyuan (CW).
Comment MCC: As IP protection is still a major concern of foreign chemical companies asking me about risks of doing business in China, this is another encouraging sign.

---
June 9, 2015: Kingfa will add a plant in Chengdu, but will also diversify into banking (PlasticsNews).
Comment MCC: This follows similar diversification activities by some of the other Chinese plastics compounders. Interesting how trends that are currently being reversed in the West just become popular in China. Is this madness or a logical consequence of different market maturities? I do not know.
---
Jun 8, 2015: In May, CNOOC Huahe Coal Chemical started a Hegang, Heilongjiang plant with a capacity of 300 kt of ammonia and 520 kt of urea (CCR).
Comment MCC: This is the kind of activity of state-owned chemical enterprises that is hard to understand. CNOOC is not among the top 10 producers of urea in China, and domestic urea capacity is more than sufficient, with a utilization rate of about 75% in 2015 and China already being a net exporter. So there is no good reason for CNOOC to invest in such a plant unless there is a strong profit motive - which given the SOEs usual attitude would be quite surprising.
---
June 8, 2015: In April, Hebei Qiming Chemical Technology started up production at a 10 kt line for hydrogenated C9 petroleum resin (CCR)
Comment MCC: According to a CCR article, hydrogenated C9 petroleum resin consumption in China in 2013 was about 33 kt while capacity added in 2014 to 2016 will be about 112 kt. So unless Qiming´s product quality is so high they can compete with the high imported grades used in hot-melt adhesives and sanitary products, they will have a hard time selling their capacity domestically.

---
June 8, 2015: President Xi Jinping called for stronger party control of China's SOEs (China Economic Review)
Comment MCC: I guess this makes sense in the context of the anti-corruption campaign, but from an economic point of view, and additional strengthening of non-economic aspects of SOE control will only amplify the low performance of these companies, including the chemical ones.

---
Jun 06, 2015: China consumed about 12.9 mio ton of ethylene glycol in 2014, mostly for polyester production. Import dependency is still strong at about 65% of consumption (CCR).
Comment MCC: This is one of the fewer and fewer commodity chemicals which still show good prospects for importers. However, two trends are obvious. Local production capacity will increase substantially (by about 80% of current capacity) in the next 1-2 years, reducing the need for imports. In addition, the production process will shift away from cracker derived ethylene to syngas and related sources.

---
Jun 05, 2015: Henan Billions has acquired in rival Chinese titanium dioxide producer Lomon for USD1.47 billion. The deal will make Henan Billions the largest TiO2 manufacturer in Asia and the fourth largest worldwide.
Comment MCC: Curiously, Lomon is the stronger and bigger of the two companies but management of Henan Billions will become the biggest shareholder of the new entity. In the bigger picture, this is a sign of the necessary industry consolidation in the Chinese market, which is much more fragmented than other markets.
---
Jun 05, 2015: Chinaplas attendance showed a slight decrease for the first time after 2009.
Comment MCC: I have been trying hard to avoid the term "New Normal" but sometimes it is hard.
---
Jun 05, 2015: The environmental ministry (MEP) recently published a stricter petroleum refining emission standard (Chemlinked)
Comment MCC: This one is tougher than before and also replaces some separate ones, making the overall regulation more stringent and more transparent. Can´t be bad.
---
Jun 05, 2015: The Coatings Standardization Committee has published three standards for water based coatings - for PU, epoxy and acrylic resins.
Comment MCC: With a weaker push from consumers for such coatings, pressure has to come from the government, and fortunately, it increasingly does.

---
Jun 01, 2015: The WSJ states that China's slowing growth and excess manufacturing capacity are putting downward pressure on global commodities.
Comment MCC: The article does not specifically mention chemicals, though it lists chemical fibers and tires. However, the phenomenon of Chinese producers adding capacity even when there is no strong additional demand is familiar for those observing the local chemical industry. This is indeed worrying for every chemical company competing with Chinese players in comparable products - and there will be more and more of such products.

---
June 01, 2015: From 2016, producers of steel, glass, cement and energy in Hebei province will have to pay for permits covering their pollution (Reuters).
Comment MCC: As a regular reader of the Economist, I have been brainwashed to believe in market-based solutions to pollution issues, so I feel this is probably the right approach. China is usually good at testing new approaches in specific areas first, so if this works well, it may well be extended to all of China, and then probably cover the chemical industry as well.
---
June 01, 2015: The new name for Bayer MaterialScience will be Covestro - supposedly standing for cooperation, well in-vest-ed and stro-ng.
Comment MCC: My prediction - made to a number of business partners - was that the new name was going to contain a lot of "o"s (the vowel). Should have put some money on this. Admittedly, low China content of this news.
---
June 01, 2015: Two environmental groups have asked EPA to block an operating permit for the first phase of Yuhuang Chemical´s $1.85 billion methanol complex in the US (The Advocate).
Comment MCC: It may come as a shock to a Chinese chemical company that even after permits have been granted, the game is not over yet. On the other hand, as seen with PX, China is moving in the same direction.
---
June 01, 2015: A Chinese consortium including Fosun Pharma and Wuxi PharmaTech will buy US biotech firm Ambrx, a company using nonnative amino acids to create drugs known as bioconjugates.
Comment MCC: Similar to the global pharma companies, it seems the Chinese players now also enhance their innovation capabilities by acquiring interesting companies rather than focusing only on own R&D.
---
June 01, 2015: According to Asiachem, the NDRC announced a simplified and standardized approval process for 9 CTO projects.
Comment MCC: This comes as a bit of a surprise as most of the recent higher-level actions hinted at a growing skepticism about coal chemical projects. Maybe the low coal prices make it a political necessity to support CTO projects.

---
May 29, 2015: Sundiro Holding sold its Inner Mongolia calcium carbide project to Shenyang Tonglian, quoting low demand, low prices and high costs for the material as reason for the sale (CCR).
Comment MCC: Makes sense, but makes you wonder why Shenyang Tonglian wants to buy such an asset (for about 400 million RMB), particularly as they state on their website that Tonglian wants to grow by "focusing on the core of biopharmaceuticals". Another example for a non-strategy of a Chinese chemical company.

---
May 29, 2015: The average annual salary for Chinese workers rose by about 9 percent to nearly 50,000 yuan last year, the lowest increase since 2011 (Caixin/National Bureau of Statistics)
Comment MCC: Still, 9% is substantially above GDP growth - so the share of GDP going to labor is increasing, thus supporting the government´s drive to increase domestic consumption. Chemical companies will presumably do better focusing on consumer-oriented end markets rather than on investment-driven ones.
---
May 29, 2015: China's environmental regulators want to increase the use of drones watching pollution levels, supplementing the existing monitoring system (Caixin).
Comment MCC: Another sign that environmental issues are getting taking more and more seriously. Let´s hope it helps.

---
May 29, 2015: A Dow manager states in PlasticsNews that in the West, they sell 50% differentiated LLDPE and 50% commodity grades while in China it is only 15% vs 85% commodities.
Comment MCC: As a consequence, Dow sees big potential for selling more differentiated material. However, one could also say that there is a good chance the commodity share may in the future be supplied either by local players or by the Middle East. In many other segments such as surfactants, Western players are more and more already reduced to supplying the specialties.

---
May 28, 2015: According to a Nexant/PlasticsNews survey, 33% of US plastics producers have already reshored (brought back to the US) some of their production while another 37% are examining this.
Comment MCC: Indeed China´s relative cost position has worsened as a result of rising salaries in China and the cheapening of raw materials (shale gas) in the US. However, the fact alone that China accounts for twice the chemicals market as the NAFTA region will mean that there is a limit to the extent of sensible reshoring.

---
May 27, 2015: Glyphosate producer Jinfanda Biochemical was fined about 12 million USD and some of its employees imprisoned for up to 6 years for illegally discharging wastewater (AP)
Comment MCC: A good sign, I think, particularly the part about imprisoning employees. In the past, fines were often so weak that they failed to act as a deterrent. Decisions like these should also level the playing field a bit more for foreign law-abiding chemicals producers in China.
---
May 27, 2015: Chinese industrial sector profits rose 2.6% from a year earlier, though they are 1.3% down for the year to date. In particular, profitability in the chemical/petrochemical sector improved (Reuters)
Comment MCC: Reuters gives recovering global fuel product prices along with cheap crude oil inventories as one reason for the improvement. Let´s hope there are others as well as this one would not have a permanent effect.

---
May 27, 2015: ICIS has published a list of the top 100 M&A transactions in the chemical industry in 2014. Only three of the 100 transactions involve a Chinese company, always as a seller.
Comment MCC: It is not fully clear to me what the criteria were for inclusion in this list (for some transactions, the value is not known, so the top 100 cannot easily be defined by deal value alone), and I am aware of transactions in China that are not in this list. However, it is still remarkable that given the importance of the Chinese chemicals market (33% share of the global one according to CEFIC estimates), the number of deals is so low. In some way it is even more surprising that not a single deal involved a Chinese party as a buyer, given how much some domestic players could gain from getting access to technology and to global markets by an acquisition abroad.
---
May 25, 2015: According to UK professor Hongyi Lai, in their overseas acquisitions, PetroChina focuses on natural resources while Sinopec focuses on strategic assets such as advanced technology and management, valuable equipment and facilities, distribution networks and brands (SCMP).
Comment MCC: This could be an indication of a future, clearer task split between the two companies, with PetroChina focusing on getting oil and gas into China and Sinopec oriented at downstream activities such as refining and distribution.

---
May 23, 2015: UBS lowered the forecast for domestic Chinese ethylene capacity by 13% for 2019, the rationale being the lower oil price and the subsequent cancellation of coal chemicals projects (ICIS).
Comment MCC: According to UBS, the economic viability of CTO and MTO is bad below an oil price of US$ 90 per barrel - one can find some lower values but my own estimate at US$85 is pretty similar. So the UBS forecast trend sounds reasonable even assuming there is no major impact of environmental issues preventing the further spread of coal chemicals.
---
May 22, 2015: ChemChina is not bidding for all or parts of Monsanto and Syngenta, according to Robert Lu, VP for overseas acquisitions (Reuters).
Comment MCC: This is the right decision - ChemChina is busy enough with the Pirelli acquisition.
---
May 22, 2015: According to Cleantech.com, large chemical companies participated in about one third of all venture capital financing rounds in 2014.
Comment MCC: Such a participation can be a low-risk (typical investment is 10 million USD or less) way of examining new areas and securing a presence there. It should be considered more even more broadly by chemical companies aiming for true rather than just incremental innovation.

---
May 21, 2015: DSM Engineering Plastics will add PPS produced by Chinese company Zhejing NHU to its global portfolio, and take over NHU´s PPS compounding business via a JV (PlasticsNews)
Comment MCC: This seems like a good deal for both sides, with the Chinese company getting much better market access while being able to focus on its core production strengths, and DSM able to extend its portfolio with limited or no investment and in a very short time.
---
May 20, 2015: Chinese police have arrested a chemistry professor for helping to produce a psychoactive drug in a case with similarities to US crime drama Breaking Bad.
Comment MCC: Who knows how he got this idea? Maybe Oscar Wilde? "Life imitates Art far more than Art imitates Life".
---
May 20, 2015: BASF Performance Materials will open a design consultation center in Shanghai next year, helping designers to work with BASF materials.
Comment MCC: This is part of an ongoing localization trend that now covers far more than just production but also R&D and design. Overall, localization should improve both the cost position and the attractiveness of the portfolio of chemical MNCs in China.
---
May 18, 2015: Chinaplas, the Chinese plastics fair, this year for the first time has more exhibitors than the K fair in Düsseldorf, though the latter still has a slightly larger floor space (PlasticsNews).
Comment MCC: Admittedly, the Chinaplas is still a much more regional affair as 60% of the exhibitors and 75% of the visitors are Chinese. But this may change too - and of course, the Chinaplas is every year while the K fair is only every three years. With the Chinese chemicals market now about twice the size of the European one, this is not really a surprising development.

---
May 17, 2015: Eight people were killed as carbon disulfide leaked at a plant of Yangcheng Ruixing chemical company in Shanxi (Xinhua)
Comment MCC: The information given by Xinhua so far is extremely sparse. This does not exactly inspire trust in the local authorities.
---
May 15,2015: A Platts blog gives some figures for the slower import growth of basic plastics into China, raising the question of the future of such imports. For example, China's PP imports in 2014 were almost unchanged from 2013 while PP imports grew at just above 3% in the same period.
Comment MCC: My hypothesis is that in the next few years China will create enough domestic capacity for almost all basic chemicals and plastics as investment continues and growth rates decrease. However, as we can see from markets such as methanol, this does not necessarily mean imports will be strongly affected. For some chemicals - probably including PP and PE, at least if produced in regions with low-cost raw materials, such as the Middle East - imports will continue to be quite competitive, and thus will continue.

---
May 15, 2015: Lego has begun construction on a production site in Jiaxing. It will start to operate in 2017 (PlasticsNews)
Comment MCC: Localization of production and the rise of the Chinese consumer middle class are two trends mirrored by this news. The fact that Lego sets up production in China now and not 10 years ago clearly shows that this is about serving the local market, not about cheap production.
---
May 15,2015: Production of lithium batteries increased by 10.9% in 2014 compared to the previous year. Government subsidies for new energy vehicles are one reason for this increase (PlasticsNews)
Comment MCC: Lithium batteries should be an interesting market for qualified foreign chemical companies, e.g., those companies making separator films.
---
May 14, 2015: In the second draft of China´s updated cosmetics safety standards, the Food and Drug Administration proposes stricter cosmetics standards (CIRS). If implemented, the standard would ban a further 100 ingredients and classify oral care products, including toothpaste, as cosmetics requiring pre-market approval.
Comment MCC: This would not be good news for foreign companies in this area as the regulations are quite strict already (only 10 new substances have been approved in the last 10 years), and increase registration efforts. From the Chinese perspective, this is probably a reaction to Chinese companies suffering from similar regulation introduced in Europe via REACH.

---
May 13, 2015: The Chinese government looks at separating PetroChina and Sinopec from their pipelines. An independent pipeline company could improve pipeline access to third parties (Bloomberg)
Comment MCC: This is seen as part of President Xi Jinping's reforms to allow markets a more decisive role in the economy - which we just have seen illustrated nicely in the top management changes in these two companies, and in the rumors of their mergers ...
---
May 12, 2015: Revenue of China XD dropped by about 1% in Q1 2015 compared to one year earlier. The company is looking at diversifying its customer base from its main focus on automotive.
Comment MCC: Indeed this is a sign of a slowdown of the Chinese automotive industry, though the drop of China XD revenue seems more steep than the movement of the automotive market. However, overall the company seems successful in shifting away from lower-end plastics (they used to focus heavily on modified PP) and into products such as PA, POM and PPO, which now account for almost 80% of sales.
---
May 11, 2015: Saint Gobain acquired ZenPure, a US company producing filters and membranes made from polymeric materials. Production of ZenPure is done in Hangzhou (PlasticsNews)
Comment MCC: Membrane and filter materials are one of the growth areas pointed out in a paper published a while ago ("Attractive segments in China´s Chemical Industry"). I guess that proves conclusively that the Saint Gobain people read my papers.

---
May 11, 2015: Kemira and Stora Enso have started a pilot project improving water supply and treatment in three Guangxi villages.
Comment MCC: These projects are certainly needed in many areas of China, and good PR for the companies involved. Should not hurt Kemira to position itself as a water treatment company in China, and important market.

---
May 11, 2015: The top 100 Chinese pesticide producers increased sales by 9% in 2014. The biggest is Wynca at 3805 mio RMB; no. 100 is Shandong Dacheng with 324 million (Agropages)
Comment MCC: There is some research on structural similiarities between such rankings. For example, one would expect that the top 100 cities in one country have a similar relationship to each as in another country. So I compared this top 100 list to the ICIS list of top 100 global chemical companies. There are indeed marked differences. For example, no. 100 in the pesticides list has about 8.5% sales of the biggest player while in the ICIS list, this value is only 3.9%. Similarly, the no. 10 in the pesticides list has 68% of the sales of the leading player - in the ICIS list, this is only 29%. In other words, the pesticide top 100 list is more homogenous than the ICIS list.
My guess is that this is a sign of the immaturity of the Chinese pesticide industry - there has not been enough time yet for a "normal" ratio of bigger to smaller players to develop. Somebody please remind me to look at this again in 10 years ...
---
May 8, 2015: China's exports fell 6.4% in April compared to April 2014 while imports fell 16.2%. Oil imports increased by 8.6% (Reuters)
Comment MCC: For China´s chemical industry, the decline in imports is not necessarily a bad thing – after all, MNCs keep adding local production, and domestic companies also add capacities. The decline in exports, however, could directly affect demand for many chemicals that go into the production of these export products.
---
May 8, 2015: After Monsanto made an offer to buy Syngenta, Channel News Asia quotes an unnamed source stating that ChemChina could be another possible buyer.
Comment MCC: Compared to the Monsanto offer, there is less logic in an acquisition by ChemChina as the synergies are much lower. There could even be potential for conflict as ChemChina – through Adama – is heavily involved in off-patent products which form a lower-cost competition to Syngenta. On the other hand, ChemChina may get government support if Beijing dislikes being too dependent on multinational seed companies.
---
May 8, 2015: More than two thirds of China´s plastics recycling companies have exited the business, according to a consulting company specializing in the industry (Plastics News China).
Comment MCC: Key reasons for this development are the decline in oil prices, the tougher environmental regulation and the reduced import of scrap plastics due to the "Green Fence" initiative.
---
May 8, 2015: Saudi Aramco is building a 260k barrel/d refinery with PetroChina and Yunnan Yuntianhua, and already manages a 280k barrel/d refinery in Fujian with Sinopec and Exxon Mobil (Bloomberg)
Comment MCC: Saudi Arabia is trying to secure long-term demand for their oil in the face of lower global oil prices, and utilizes these JVs to assure this demand.

---
May 7, 2015: Kao opened a surfactant plant in Shanghai, an investment of US$ 42 million. It is the third Kao plant in China.
Comment MCC: The majority of surfactants (about 60%) goes into consumer daily use products such as laundry detergents and shampoos, though surfactants also have a large number of industrial applications. So Kao´s investment can be seen as a bet on increased consumption.

---
May 6, 2015: Dyestuff sales in China increased by 8.0% in 2014 while profits increased by 22.8% (CCR).
Comment MCC: CCR gives two main reasons for this, the increased consumer spending particularly for higher-end products and the tightening of the market as some producers were forced to close down due to stricter environmental regulation. If these are indeed the true reasons, it would indicate both that government policy works (encouragement of domestic consumption and improved environmental protection), and that there should be many opportunities for foreign chemical companies particularly in higher-end specialty chemicals.

---
May 6, 2015: The NDRC and Mofcom published a new list of areas for which foreign investment is encouraged. The focus is on downstream chemicals and products particularly in specialties (CCR).
Comment MCC: A long list, of course, with not too many surprises in there. The common factor seems to be to encourage foreign companies to bring innovative, environmentally friendly and advanced products to China, though some items seem to be included mainly to encourage foreign companies to find outlets for existing overcapacity in China (e.g., "Development and production of new downstream products of polyvinyl chloride and organosilicon")
---
May 5, 2015: Residents of a town in Hunan filed a lawsuit against local chemical plant and smelter Melody Chemical, claiming it caused elevated lead levels in the blood of 11 children (Reuters)
Comment MCC: As Reuters correctly states, this can be seen as a test of the central government's resolve to tackle pollution. Local government plays its customary role of siding with industry against the local population - a local government official claimed the elevated blood levels came from the children chewing on pencils. Had he been a bit more knowledgeable, he would be aware that pencils do not contain lead but are made of graphite ...
---
May 5, 2015: Bayer CropScience started a partnership with venture capital firm Flagship Ventures. BCS will help Flagship identify, fund, and develop startup companies in agriculture.
Comment MCC: This is the kind of collaboration consulting companies love to suggest to their chemical clients as on paper, the synergies of technological/market knowledge and financial expertise are so obvious. Does not mean it will always work well in reality though.
---
May 5, 2015: There are signs of a slowdown of the establishment of coal-to-gas (CTG) plants in China. According to the Washington Post, the main reason is the worsened economics of these projects.
Comment MCC: At least on a provincial and lower level in Western Chinese provinces, economic considerations still are much more important than environmental ones despite all talk of policy changes. So only economic reasons such as lower oil prices will lead to a real slowdown in CTG projects.

---
May 5, 2015: Korean plastics additives producer Songwon will build a plant for PVC stabilizer formulations in Qingdao in a JV with local chemical company Qingdao Long Fortune (PlasticsNews).
Comment MCC: Presumably the rationale for doing this as a JV is that Qingdao Long Fortune is a strategic supplier to Sinopec and has also participated in drafting the national standards for polymer additives, thus adding important local connections and know-how to the venture.

---
May 1, 2015: Plastic pipe maker Weixing will invest 500 million RMB in a production plant in Shaanxi, in a city that the company describes as the start of the New Silk Road economic belt (PlasticsNews).
Comment MCC: Similar to the "Go West" strategy, this Chinese initiative will probably show up in many presentations of chemical companies in the future - all trying to benefit from this government initiative to strengthen the links to Central Asia. Even if nothing comes out of it, it will certainly impress people at the HQs of Western companies to be so knowledgeable about China ...

---
Apr 29, 2015: BASF has begun trial operations at the nitrobenzene plant within the 400 kt MDI plant in Chongqing.
Comment MCC: This project has been difficult enough up to now, whether due to political changes in Chongqing or unforeseen other changes such as the need for BASF to establish its own chlorine supply. The company will surely be glad once not just trial operations of a precursor but proper MDI production is established.

---
Apr 29, 2015: Sinopec's chemicals segment had an operating profit of 3.16 billion RMB in Q2 1025 compared to a loss of 1.3 billion RMB in Q1 2014 (CW).
Comment MCC: As always with SOEs, a bit hard to say what this really means - most likely chemicals benefiting from lower input prices. Chemicals sales decreased by 29% in value (+3% in volume) as the chemicals customers also ask for their share of the lower costs. ,
---
Apr 28, 2015: Wacker achieved 14% sales growth in China in 2014, substantially higher than their global growth (8%) or China GDP growth (7.4%). They now have about 25% of their sales in China.
Comment MCC: Not a bad result compared to many other MNCs, though of course it helps Wacker to be in many areas such as photovoltaic and consumer electronics which grow much faster in China than GDP.

---
Apr 28, 2015: Praxair will supply oxygen and nitrogen for a refinery expansion project of CNOOC in Guangdong (chemicals-technology.com)
Comment MCC: Industrial gases seem to be one of the areas in which Western companies still dominate in China - even though domestic alternatives such as Shanghai Baosteel Gases exist and are aiming to become bigger players (they bought the industrial gases assets of Henan Jinkai in 2014).
---
Apr 28, 2015: CEPSA inaugurated a 250 kt phenol plant at SCIP (Shanghai), close to major customers such as Bayer MaterialScience.
Comment MCC: This is interesting for two aspects. One, though CEPSA is a Spanish company, it is now owned by IPIC, an Abu Dhabi fund - another example for the gradual shift to direct business links between the Middle Eastern and the Chinese chemical industry at the exclusion of Western players. The other is that due to the added domestic phenol capacity, phenol will soon also be a chemical with sufficient domestic capacity and no need for imports. Imports were already reduced from 762 kt in 2011 to 365 kt in 2013, increasing self-sufficiency in that year to about 77%. An added 250 kt - which is not the only capacity addition (in total, about 2000 kt may come on stream during the period of 2014-2016) - further diminishes the need for imports, though market growth (about 7% per year) will take care of some of the new capacity. However, producers should prepare for a price war and China as a phenol exporter ...
---
Apr 28, 2015: Petrochina still lost 1.3 billion RMB in its chemical business in Q1 2015, though this was substantially less than the Q 1 2014 loss of 4.2 billion.
Comment MCC: This is actually a success of sorts for the chemical business as the overall loss of Petrochina increased. However, it most likely is just the result of a combination of oil price reductions and internal transfer pricing.
---
Apr 28, 2015: Honeywell opened a China plant for dehydrogenation catalysts used for propane dehydrogenation, to produce propylene from propane.
Comment MCC: The catalyst is part of Honeywell subsidiary UOP´s Oleflex technology. The importance of the Chinese market for chemical technology providers such as UOP is highlighted by the fact that 25 out of the global 30 licensees for this technology are based in China.

---
Apr 27, 2015: Ningbo Zhetie Daphoon claims to have started the first domestically operated large-scale PC production, with 100 kt capacity and using a non-phosgene process (Zhejiang Daily/PlasticsNews)
Comment MCC: If this works out well, it is indeed something of a milestone as PC is one of the remaining bastions of foreign-operated and imported products. Several other domestic companies also intend to produce PC, so foreign companies may soon look back at the period until now as the easy times ...
---
Apr 27, 2015: Sales of Shanghai Pret, a plastics compounder with a strong focus on automotive applications, grew by 18.5% in 2014 while profits were stagnant (PlasticsNews).
Comment MCC: Growth is much faster than that of the automotive market (7%) for a number of reasons: diversification/innovation (e.g., introduction of a long glass fiber reinforced PP, introduction of a liquid crystal polymer); increasing plastics content in vehicles; and capacity expansion/industry consolidation (Pret added 30 kt of capacity in Chongqing). The acquisition of US company WPR did not contribute to 2014 sales growth as it was only effective in February 2015.

---
Apr 27, 2015: Chinese agrochemicals producer Rotam increased 2014 sales by 21%, far above the average market growth of 4-5% (Agropages).
Comment MCC: Rotam is not a very big player, but already quite far in terms of globalization of sales. In fact, China sales grew the slowest of all regions (only 7%) while more than 30% growth were achieved in NAFTA (+36%) and Latin America (+31%). And Latin America is already a much bigger market for Rotam than China, accounting for 46% of their sales compared to 29% for China. Chinese chemical companies such as Rotam may well be better qualified than MNCs to serve lower-end and mid-markets - and they have a strong incentive not to focus on their highly competitive home market.

---
Apr 27, 2015: The president of Sinopec is now also being investigated for corruption. Previous corruption investigations primarily focused on Petrochina (NYT).
Comment MCC: Corruption investigations now extend throughout the management of chemical SOEs, to the extent that these managers do not even accept simple lunch investigations for fear of being accused of corruption. Quite a change from the past, but also not a development that will make it easier for SOE managers to take the right economic decisions.
---
Apr 27, 2015: Chinese chemical company Guangdong Yinfan will manufacture non-premium automotive refinish coatings for BASF at Yinfans Jiangmen plant, using BASF formulations (CheManager)
Comment MCC: To be successful in the mid-market for refinish coatings in China, it is essential to be competitive with the cost of local producers. BASF now tries this approach as an alternative to buying a local player, as Akzo did before. An interesting concept which presumably allows BASF to only define requirements for the finished product without having to look at the whole production process in detail (which would certainly increase production costs).
---
Apr 27, 2015: PetroChina and Sinopec stock rose substantially due to merger rumors as the government may reduce the number of centrally controlled SOEs to 40 from the current 112 (Bloomberg)
Comment MCC: The reduction of the number of centrally controlled SOEs from about 150 in 2008 to 112 in 2015 did nothing to improve their performance, so a further reduction is not likely to help. And of course it goes against the stated government policy to have markets play a bigger role in resource allocation. It seems if in doubt, control is more important than efficiency.
---
Apr 23, 2015: China's factory activity (as measured by the HSBC Purchasing Managers Index) declined at its fastest pace in a year, to 49.2.
Comment MCC: At the moment, there seem to be quite a few indicators of a slowdown of the Chinese economy that is more marked than expected.
---
Apr 23, 2015: China's work safety agency blamed an explosion at a Fujian PX plant this month on failings of factory management and local government supervision (AP). For example, the bosses of the plant chose the cheapest bidder to build the facility at the expense of safety. A furnace was too close to storage tanks, making those vulnerable to get on fire.

Comment MCC: Of course in this case it is predictable that the central agency blames local conditions, but indeed in the past the divergence between high central standards and low local implementation has often been the cause of problems in the chemical industry.
---
Apr 23, 2015: Jacobs, a major engineering company, has bought a controlling share Chinese chemical engineering firm Suzhou Han Chemical Engineering (Democrat-Herald).
Comment MCC: In principle, this seems a very sensible move as a large share of global chemical plant construction is now done in China. In addition, SHCE has has two Class A design licenses in China's chemical and petrochemical industry, which allow the firm to provide engineering design for all types of chemical projects in China irrespective of project size. This will allow Jacobs to execute projects that previously were not accessible to the company. If well plaid, it will allow Jacobs to get substantially more business from local clients.
---
Apr 22, 2015: The CEO of Saudi Aramco wants to work with China on downstream chemical projects and in the consumer products sector (Caixin).
Comment MCC: Without being too alarmist, there is a danger for the multinational petrochemical companies - and multinational really means Western - that in the long run there will not be too much need for their involvement in petrochemicals. Markets will be primarily in Asia, and and a large share of the raw materials will come from the Middle East - so once Western technology has sufficiently spread to these two regions, there is limited need for Western companies to be involved. Of course, US companies are somewhat protected from this as they have their own local raw materials, but European companies will be affected.
---
Apr 22, 2014: China will review the antidumping duties on nylon-6 imports from the European Union, Russia, Taiwan, and the United States, the Ministry of Commerce (Mofcom)
Comment MCC: Commercially speaking, these duties are probably ripe for lifting (if they were ever justified in the first place) as in the next 2-3 years capacity increases for caprolactam in China alone will be about 25% of current demand. Due to their scale and proximity to Asian markets, these new capacities should be capable of competing with imports. However, import duties seem generally more driven by politics than anything else, so who knows ...
---
Apr 21: Celanese will halve the capacity of their Belgian acetate tow production, while at the same time their 30% minority JV in Zhuhai, China will increase production (CCR, Businesswire).
Comment MCC: In this example, the standard story of the chemical industry - shifting commodity capacity away from Europe and to China - is accelerated by the divergence in smoking habits in Europe and China - in China, it is still more or less cool, in Europe it is almost a sign of being out of touch with modern developments. I hope not too many of potential clients reading this are smokers.
---
Apr 21, 2015: China´s electricity consumption rose by only 1% in Q1 2015 (ICIS/Hodges).
Comment MCC: While the increase in electricity consumption has usually been a bit lower than that of GDP growth (e.g., 4% in 2013, 6% in 2014), this time it is particularly low. And it is one of the figures that are much more difficult to manipulate than others and thus more of a true indicator of China´s economy. So either China´s economy has suddenly become a lot more energy efficient - not too likely - or growth has been slowing down substantially.
---
Apr 21, 2015: For 2014, Chinese plastics compounder Kingfa reported a profit decline of 34% despite revenue growth of 12% (PlasticsNews).
Comment MCC: It seems Kingfa to some extent aims to be the Amazon among Chinese plastics players - always looking for future growth rather than for current profits. Most of the losses come from relatively new businesses such as biodegradable plastics, plastics recycling and its Indian subsidiary. The strategy of investing first and profiting later does not always work too well in China as competitors often catch up, but Kingfa has a better chance than other companies due to its leading position.
---
Apr 20, 2015: BASF will introduce a new anti-fake technology (as part of the product label) to fight against counterfeiting in the crop protection market in China (CW).
Comment MCC: While fake products become less of an issue in some areas - nobody wants to buy pirated DVDs any more anyway - they are still a big problem in some Chinese markets, particularly sensitive ones such as drugs and apparently crop protection. Let us hope that the new BASF solution cannot be pirated as easily as the holograms on CDs.
---
Apr 17, 2015: The Chinese government has ordered the closure of smaller plants in 10 different industries to reduce water pollution (Financial Times). Industries ordered shut include fertilizer and coking plants, small tanneries, paper mills and oil refineries.
Comment MCC: Better than nothing - though the exclusion of bigger plants (which are to be given access to technology to reduce their contribution to water pollution) will reduce the overall positive environmental effect. The belief that bigger Chinese plants are more environmentally friendly is probably too optimistic as these plants also have the strongest influence on local government.
---
Apr 15, 2015: Shanghai UOP, a JV of Honeywell and Huayi, has opened a new plant, making the company the largest Asian producer for molecular sieve adsorbents (CCR). These molecular sieves are used in refining, petrochemical, natural gas and other applications to remove various contaminants.
Comment MCC: While I often hear about issues of foreign-domestic JVs - which makes some multinational companies reluctant to even consider them - there are also many examples for successful ones, like this one, which is regarded as successful by both sides.
---
Apr 15, 2015: A new Arizona law prohibits local bans, taxes or fees on plastic bags and other containers in the state (PlasticsNews).
Comment MCC: At the danger of sounding a bit too positive about China, some things work better here than in the US. If for example the government concludes that banning the use of low-end plastic bags can help the environment, they can just enact such a law. In the US, this quickly becomes a political issue, and the right to use plastic bags is elevated almost to a basic human right, with the environment potentially suffering.
---
Apr 15, 2015: In Q1 2015, China´s economy grew by 7.0% (Reuters).
Comment MCC: By now I more or less expect China´s economic growth at least to reach the government target (in this case, around 7% for 2015). But this figure illustrates that this year this may be hard to achieve. No need to say much about the consequences for the chemical industry.
---
Apr 13, 2015: Valspar opened a new Tianjin plant for waterborne coatings in the areas of consumer paint, wood coatings and industrial coatings (CW)
Comment MCC: Nice to know that waterborne coatings are spreading more and more after a very slow start, even in relatively cost conscious areas as wood coatings.
---
Apr 13, 2015: Exports from China fell by 14.6% in March compared to February. Forecasts had expected an increase of 10% after the Chinese New Year celebrations in the previous month (Spiegel online).
Comment MCC: Indeed somewhat surprising, even though the RMB now is expensive compared to the Euro due to its partial link with the US dollar. Imports into China also fell by 17% in Q1 2015, showing that the government policy of increasing domestic consumption is not fully successful. These circumstances may tempt the government to start another stimulus program despite its uncertain prospects to be successful.
---
Apr 12, 2015: March producer prices in China fell 4.6% compared to one year earlier, while consumer prices rose by 1.4% (National Bureau of Statistics).
Comment MCC: In this kind of environment, producers of chemicals need to be very careful when considering price increases.
---
Apr 9, 2015: The wholesale price of electricity from coal-fired plants will be reduced by 0.02 RMB per kilowatt-hour (China Economic Review).
Comment MCC: This is one of probably many clashes between environmental policy and the perceived need to stimulate the economy. Here, it seems the latter is regarded as more important - the goal to reduce coal utilization in order to reduce air pollution will certainly not be achieved by lower electricity prices.
---
Apr 9, 2015: Flames started again at the para-Xylene plant in Fujian province after officials had already stated that flames had been put out (China Economic Review).
Comment MCC: Hardly the right approach to inspire trust of the population in the chemical industry and the government.
---
Apr 9, 2015: A Beijing court has accepted a lawsuit of citizens requesting a toxicity report from the Ministry of Agriculture related to the approval of glyphosate, a pesticide recently declared to be "probably carcinogenic" by the WHO (China Economic Review).
Comment MCC: A good sign hinting at greater transparency, and particularly relevant given the immense economic importance glyphosate has for a number of Chinese chemical companies.
---
Apr 9, 2015: The Asian Review of Books has a glowing review of just-released book "The Greening of Asia: The Business Case for Solving Asia's Environmental Emergency" by Mark Clifford.
Comment MCC: Though mostly focusing on energy, urban infrastructure and nature´s services, the book is relevant to chemical industry readers as well as it has a strong China focus and of course many of the solutions require application of chemical materials. Read the review here:http://www.asianreviewofbooks.com/new/?ID=2219
---
Apr 9, 2015: Bloomberg discusses SOE reform. The focus is on improving the performance of SOEs such as Sinopec rather than on reducing state ownership or giving up control of the SOEs. (Link:http://www.bloomberg.com/news/articles/2015-04-08/how-china-wants-to-overhaul-its-16-trillion-corporate-monster)
Comment MCC: This has been going on for many years now - actually it was one of the aims of creating SASAC in the first place. However, there may well be a fundamental conflict between state ownership and performance optimization - at least as long as state-ownership means including a number of non-financial targets as company objectives. On the other hand, state ownership is probably one of the few characteristics of the Chinese economy that still allow the country to call itself "socialist" to some extent, and thus justifies party control. So it is not very likely state ownership will be reduced substantially.
---
April 7, 2015: Production of EPDM has started at the new Lanxess plant in Changzhou (capacity 160 kt). The product will be used in automotive applications (PlasticsNews)

Comment MCC: So far China is the biggest importer of EPDM, but more and more the local production gaps are closing - both by local Chinese players and by local capacity of multinationals such as Lanxess. Foreign companies should therefore be very careful in relying on long-term high-volume exports to China unless they have a substantial cost advantage in their production abroad.

---
Apr 7, 2015: Police broke up a protest against toxic waste at an Inner Mongolia refinery. The government ordered the site to shut down and companies to relocate (Salt Lake Tribune)
Comment MCC: Apparently this is the escalation of previous protests - the government had promised improvements earlier but not delivered. Likely the local government is keen for the chemical operations to continue while central government hopefully now is strong enough to prevent ongoing environmental pollution.

---
Apr 6, 2015: Polyolefin consumption in China increased by 8.4% in 2014 according to a paper by Yang Guiying of Sinopec (CCR).
Comment MCC: Like all writers, I am happy to highlight whenever my previous predictions seem to come true. In this case, it is about commodity chemicals no longer having a substantially higher growth rate than GDP growth (7.4%). And in the next few years this rate may even go below GDP growth as the economy shifts more towards services and consumer goods, and away from construction.

---
Apr 6, 2015: Part of an oil storage facility exploded at Dragon Aromatics, a producer of p-Xylene in Zhangzhou, Fujian (Reuters)
Comment MCC: It is almost ironic that this happened at a PX plant as these plants already have a very bad reputation in China - though from the details known so far the explosion was not really related specifically to PX. Still, this will not help companies seeking to produce PX in China.

---
Apr 5, 2015: CCR reports on the sorry state of polyisoprene rubber (IR) in China, affecting all 10 current producers with a combined capacity of about 275 kt.
Comment MCC: The article illustrates one of the most puzzling aspects of the workings of the Chinese chemical industry. First it states "The average operating rate [for IR] once reached around 50%, in 2011, dropped to 17% in 2013 and was down further to around 12% in 2014." The mystery then comes in the next paragraph: "Despite all this, quite a few commercial IR production units will be constructed or expanded in China in the next few years." Given the reasons for the low current demand, such as competition from low-price natural rubber and high raw materials costs, it is not clear to me why anyone would further invest in this industry. Still, they do.
---
Apr 3, 2015: Shandong Dawn Polymer received several US medical-grade certifications for a thermoplastic butyl rubber, to be used for caps and similar medical uses (PlasticsNews).
Comment MCC: PlasticsNews states that so far only 2 other companies, global players Lanxess and Zeno, can make this material, which can be sold at a high price. It is an interesting development to see a Chinese company so far mostly focusing on the automotive plastics market to move into such a high-end area, requiring both additional investment and a slightly longer timeframe. Of course, this is a danger for Western companies making some of their highest margins in these niche areas.
---
Apr 2, 2015: Bank credit for smaller private firms is still tight. China´s banks prefer to lend to SOEs and local governments, rendering the looser monetary policy ineffective in boosting growth (WSJ)
Comment MCC: This affects private chemical companies, which then either have to try and get access to other, more expensive sources of funding, or aim for a quick IPO. Good for some parties involved (investors, shadow banking etc.) but probably not good for the overall economy, or for the patient long-term growth of individual companies.
---
Apr 1, 2015: Brenntag will provide laboratory, warehouse rental and thinner toll manufacturing servies to AkzoNobel in Southwest China via a three-year service contract.
Comment MCC: As the Southwestern coatings market is still somewhat underdeveloped, it makes sense for AkzoNobel to reduce own capital spending and rather have a dedicated service provider and distributor such as Brenntag take over this task. This is particularly true as the services provided by Brenntag are not those which are the basis of customer relationships, e.g., sales and technical service - so it should be possible to easily replace Brenntag at a later point in time if necessary.

---
Apr 1, 2015: Three U.S. PET have submitted a request to the U.S. authorities to impose anti-dumping duties on PET imported from Canada, China, India and Oman (PlasticsNews). Allegedly, the four countries named in the filing have been selling PET resin below fair market value, with some of that resin made at government-subsidized plants.
Comment MCC: Is there any good explanation for asking for such duties, other than just pure protectionism? It seems rather unlikely that these four unrelated countries have all committed a crime against the market - rather, they just happen to have more competitive producers than the US ones. Call me naïve, but I do not really understand how such duties - except in very rare cases - can be aligned with the WTO. The only reason this goes on seems to be that every country - including China - uses the same protectionist measures whenever the political damage of exposing an industry to competition becomes too big.
---
Apr 1, 2015: CEPSA will officially start its 250 kt phenol plant at the Caojing chemical park in Shanghai.
Comment MCC: For phenol, the degree of self-sufficiency rose from about 49% in 2009 to about 77% in 2013 - in that year, phenol imports were at about 365 kt (CCR) - a gap which will already be mostly covered by the new CEPSA capacity. With a number of additional plants under construction, mostly by local companies, it seems that phenol is another market for which China no longer offers good export prospects.
---
Apr 1, 2015: Linde opened a combustion R&D center at Suzhou, aiming to develop green combustion technologies and improve heat treatment processes.
Comment MCC: According to Linde, this is the first such combustion center owned by an industrial gases company in China. It illustrates one big trend - the strong expansion of local R&D by chemical companies - and may be the start of a second one - establishing R&D centers outside of Shanghai.
---
Mar 31, 2015: Wacker inaugurated its Nanjing polyvinyl acetate (PVAc) plant. With capacity of 20 kt, the plant produces food-grade material that can be used in, e.g., chewing gum
Comment MCC: Producing high-end material in a segment where both reputation and quality matter (e.g., food) seems to be one of the ways that multinationals can still be profitable in relatively basic chemicals in China.
---
Mar 31, 2015: Sinopec Engineering and ExxonMobil Research and Engineering agreed on a JV to develop methanol-to-gasoline technology.
Comment MCC: I doubt that methanol to gasoline is a very promising approach - in a way, this is highlighted by the fact that this is a JV. Probably both companies could to this research on their own but do not think it is promising enough to do so.

---
Mar 30, 2015: Shandong Dongming Petrochemical will sell a 49% stake to Qatar investment group for US$ 5 billion. The money will be used to build about 1000 petrol stations and an LNG terminal (CCR).
Comment MCC: In this deal, Dongming gets money to expand downstream while Qatar hopes to become a preferred supplier to Dongming.

---
Mar 30, 2015: Wison Engineering obtained 62% of their revenue from coal-to-chemicals engineering projects in 2014 (CCR).
Comment MCC: The strong dependency of companies on this segment will make it more complicated for the Chinese government to reduce support for coal conversion, even if both the lower oil price and environmental considerations speak against it.

---
Mar 30, 2015: Reuters has a glowing article on Ren Jianxin of ChemChina (link below), stating that "he gets the importance of markets and the limits of government assistance."http://www.reuters.com/article/2015/03/30/us-pirelli-m-a-chemchina-ren-i...

Comment MCC: I cannot help feeling this is a bit too positive - looking at ChemChina´s domestic portfolio, most of the companies in there perform badly and are not being improved much. Maybe this is the condition under which Mr. Ren is allowed to take them over - but still it is nothing to be particularly proud of. At least domestically, ChemChina seems more like a stamp collector - adding companies to the collection, then leaving them unchanged - rather than a seriously market driven company.

---
Mar 29, 2015: ChemChina states to be committed to uphold Pirelli's autonomy after the acquisition of the company is completed successfully.
Comment MCC: Anything else would be rather self-defeating -Chinese companies need access to strong, globally established brands and would only hurt themselves by endangering this reputation after an acquisition.

---
Mar 27, 2015: China´s chemical/petrochemical imports rose by 1.8% in 2014 while exports increased by 9.1% (CCR).
Comment MCC: China is still a major net importer of chemicals - imports were 478 bn USD compared to exports of 197 bn USD - but the different growth rates for these two components of foreign trade indicate that China is gradually reducing its dependence on chemical imports and strengthens its own local production capacity. Something to note for companies relying on importing their products to China.

---
Mar 27, 2015: The chemicals business of Petrochina had an operating loss of Rmb16.4 billion in 2014, slight improvement over 2013 when the loss was Rmb19.7 billion.
Comment MCC: While (as typical for press releases) the company sells this as a success due to cost cutting, it is still a major loss that the company can only bear because their state ownership and the limited importance of this business compared to the overall business of Petrochina.
---
Mar 26, 2015: Adama, the agrochemical company formerly named Makhteshim Agan and now majority owned by ChemChina, increased sales by 5% in 2014 (Agropages)
Comment MCC: The surprising part of the annual results is that sales in the region including China actually had the lowest growth of all regions (below +1%). For the pessimist, this means the company did not leverage its China connection yet - for the optimist, it is an indication of major future growth potential. Recent activities of Adama (set up of R&D hub in China, acquiring agchem subsidiaries of ChemChina in China) indicate that the latter is at least possible.

---
Mar 25, 2015: According to customs data, imports of basic polymers to China fell substantially YoY - whether HDPE (-8%), LDPE (-26%), LLDPE (-32%) or PP (-16%).
Comment MCC: Future imports are likely to be even smaller. Main reasons are the slowing economic growth and - more importantly - the increased local production. For example, according to CCR there are currently 20 units being built in China capable of producing HDPE.

---
Mar 24, 2015: HSBC´s China Manufacturing PMI dropped substantially in March, from 50.7 (February) to 49.2.
Comment MCC: Indeed a rather big drop that will not only frighten chemical companies but also the Chinese government - maybe it will force them to react.
---
Mar 24, 2015: Chairman Xu Xianda of Guangdong Delian, a supplier of chemicals to the auto industry including brake fluids, coolants and gasoline additives, is the latest Chinese billionaire.
Comment MCC: Good to see one can still become a billionaire by working in the chemical industry. There is hope for all of us.

---
Mar 24, 2015: It now seems very likely ChemChina will indeed buy Pirelli.
Comment MCC: Indeed Chinese acquisitions in Europe seem quite strong this year, though surprisingly not so much is related to chemicals. Only ChemChina really seems to repeatedly buy European chemical companies (or those related to chemicals, such as tires). Maybe an opportunity for other SOEs and even more for privately owned companies.
---
Mar 24, 2014: Altana achieved 8% sales growth in China in 2014.
Comment MCC: Is this a high or a low figure? Given that global Altana growth was 11%, it sounds low - however, the Rockwood acquisition boosted sales in the US and thus distorts the overall figure. The changes in the operative figures (excluding, e.g., acquisitions and exchange rate effects) is more telling - here, it is 5% growth for China versus 4% for global. This to me sounds a bit disappointing as the overall difference in economic growth between China and global surely is more than 1%, and GDP growth in China was 7.4%. It seems these days foreign chemical companies already need to perform quite well just to achieve GDP growth for their chemical business.
---
Mar 24, 2014: Hengli Petrochemical (Dalian, China) has started up its third purified terephthalic acid (PTA) plant at Dalian.
Comment MCC: This is a typical phenomenon in China - despite overcapacities, still more plants keep coming onstream. No wonder some companies go bankrupt (see entry of Mar 19).

---
Mar 23, 2015: Evonik announced that they will expand their production capacity for specialty silicones in China. Main drivers are the construction, textile, coating, furniture and appliance industries.
Comment MCC: While by now there are many Chinese competitors in silicones, the focus on specialties protects Evonik to some extent and gives them room for growth, even though some of the main customer industries such as construction and textile do not have great growth perspectives in China.
---
Mar 22, 2015: Sinopec´s 2014 operating profit margin was 1.6% (comparison BASF: 6.9%) while chemicals had an operating profit margin of -0.5%.
Comment MCC: Of course, falling oil prices are a partial and fairly convenient explanation, but overall, based on purely economic criteria Sinopec is simply not a successful chemical company. Nor are most other chemical SOEs.
---
Mar 20, 2015: ChemChina may soon become the biggest single shareholder in Pirelli, which would trigger a 7 billion euro buyout of the Italian tire company (Reuters).
Comment MCC: The shares ChemChina apparently aims to buy are now owned by Russian Rosneft, a company that has been hurt by Western sanctions in the aftermath of the Ukrainian crisis and the low oil price. However, currently the offer seems to have no premium over the market price, making it unlikely other shareholders would sell. As for ChemChina, the company already makes tires, so there are potential synergies. On the other hand, my feeling is that ChemChina in the past has never really managed to substantially improve a large share of their existing businesses, preferring instead to add new businesses that end up being equally badly managed.
---
Mar 19, 2015:Chinese PTA producer Shaoxing Yuandong Petrochemical stopped offering PTA futures on the Zhengzhou Commoditiy Exchange, likely due to the company entering bankruptcy (CW).
Comment MCC: China has a vast overcapacity of PTA, with demand of about 28 kta being far exceeded by domestic capacity of about 47.5 kta (2014). This has meant prices and margins have suffered, leading to financial instability of producers such as Shaoxing (even though it is one of the biggest by total combined capacity). More of this is likely to come as the current capacity will not be needed for a long time.
---
Mar 17, 2015: Guangdong Zhenrong, a majority state-owned Chinese oil trade company, will spend US$3 billion to build a refinery in Myanmar (CCR).
Comment MCC: Despite the recent frictions at the Myanmar-China border, Myanmar is still an attractive location for Chinese companies, and one in which China may have some advantages compared to Western competitors as Chinese companies may be more adapted to the local level of infrastructure.
---
Mar 17, 2015: A government report concludes that China is the major source for plastics waste in the seas around China (PlasticsNews).
Comment MCC: The most interesting sentence in Nina Sun´s PlasticsNews blog reporting on this is the last sentence: "The Beijing-based trade group [China Scrap Plastics Association] also blamed China´s weak environmental protection system for playing a critical role in the result of Ocean pollution". Unless I am getting too optimistic already, I think it can be taken as a good sign that in the current political climate in China even fairly apolitical groups can make statements critical of the government if they relate to the environmental situation. Thanks as always to Nina for writing about this.
---
Mar 17, 2015: Chinese shares rose by more than 2% on Mar 16 as Li Keqiang hinted at a future stimulus program, talking about "a host of policy instruments" available to the government (Seeking alpha)
Comment MCC: This seems to a bit of a contradiction to the "new normal" statements we have heard so much in the last few months. And another question is how big China´s room for a stimulus really is given the existing debt and the overinvestment of the past. So perhaps this is more a claim of being in charge of the economy rather than a serious statement. Which would make Li Keqiang very similar to many Western politicians who usually seem to make such statements and then just hope that the economy will improve by itself.
---
Mar 17, 2015: A team has started preparing a draft for the petrochemical 13th 5-year plan (2016-2020), defining innovation as the core topic and listing a number of focus segments (CCR). These are advanced materials, new energy, biochemical and biofuel , modern coal chemical , environmental protection and energy saving as well as productive services.
Comment MCC: It is hard to say how realistic this plan is - five years is not a very long time in relation to chemical R&D - but at least the draft already clearly states China´s ambition to change from a mass producer of commodities to a leading force in cutting edge chemical products. So any chemical company in China - whether foreign or domestic - concentrating on the focus segments listed above should be able expect a supportive attitude from the government.
---
Mar 17, 2015: According to GfK, China´s crop protection market reached 14 billion USD in 2013. Key growth areas are seed treatment (growth above 15%) and fruit/vegetables (Agropages).
Comment MCC: Particularly the latter shows the trend of Chinese agriculture to focus on higher-value crops rather than on increasing the output of staple crops. Given the government goal of not increasing the overall fertilizer and pesticide usage, agrochemical companies need to follow a similar strategy, increasing the customer value and the price of their agrochemicals rather than the output volume. At the moment, multinationals seem better at doing this than domestic companies.
---
Mar 16: China XD, a Chinese provider of plastics for the automotive industry reported a 2014 increase of 5.7% over 2013 and a 20% yoy decrease for Q4 2014.
Comment MCC: It seems the company has reached a sales plateau, something that may also happen to other chemical suppliers to the automotive industry. While oil price decreases certainly are have some influence on sales, the margins also decreased. Probably as the automotive industry is maturing, automotive producers will focus more on squeezing costs than on chasing growth - not a great situation for the suppliers.
---
Mar 16: DSM will spin off its composite resin business along with the feedstocks caprolactam and acrylonitrile into a separate company.
Comment MCC: Probably a sensible move given the fast commoditization of these materials driven partly by strong and increasing competition from Chinese companies - still, the shift in strategy is a bit surprising considering that DSM started production of the expansion of its Nanjing caprolactam plant only last year. It seems plant setup times now are longer than the validity of corporate strategy. And I am only half joking.
---
Mar 16: HB Fuller introduced new products - adhesives for use in the electronics industry, which they obtained via the acquisition of Tongsan, a Chinese specialty adhesives producer.
Comment MCC: This example is still a bit of a rarity - most Chinese chemical companies, even those in specialties, do not yet exceed the portfolio level of Western players, not even in specific segments. So most acquisitions of multinationals in China are not driven by the desire to get access to leading products. But it is a fairly low-budget prediction that we will see more of these in the future.
---
Mar 16, 2015: A Credit Suisse report quoted by the SCMP states that typical mainland coal-to-chemical project would roughly break even when the oil price slightly exceeds US$60 a barrel.
Comment MCC: Overall, this report is more optimistic about the future of coal-to-chemicals in China than I am. Depending on the specific situation of the companies running such projects, experts I talked to give an oil price range of about 60-85 USD as the break-even point for coal conversion projects. Another aspect is the toughening of the government stance towards these projects based on environmental reasons. I feel this change of attitude has been quite significant in the past few months.
---
Mar 13, 2015: The Economist has some interesting statistics showing that while China´s share of global clothing exports is stagnating, their share in electronics is still rising rapidly.
Comment MCC: This is an indication of China´s maturing economy - along with rising salaries, work done in China shifts away from lowest-end labor and towards more sophisticated tasks. This will certainly have implications on the chemicals used - bad for some segments, e.g., those related to textiles, but good for many others, mainly in specialty chemicals.
---
Mar 13, 2015: The environmental ministry ordered five companies in NW China including Shilin Chemical Plant in Inner Mongolia to halt production or illegal waste discharges (Caixin)
Comment MCC: Shilin is a state-owned company producing methanol from coal, so this shows that even companies with strong government backing are affected by the tighter implementation of environmental regulation. In this case, the issue is related to wastewater evaporation ponds, which probably never were such a good idea in the first place. On the other hand, in another, similar case, a company called Yuheng Coal Chemical had to pay a fine of only 50,000 RMB - hardly incentive enough to justify buying expensive equipment to reduce environmental problems.
---
Mar 13, 2015: Guangdong Silver Age, a plastics compounder, has started diversifying into 3-D printing due to the low margins in plastics compounding (PlasticsNews).
Comment MCC: So far the strategy seems to work as the company made substantial profit from government grants for the 3-D project ...
---
Mar 13, 2015: An inspection by the Shanghai quality supervision agency found 10 % of resin used for plastic packaging failed, but all finished products met the standards (PlasticsNews).
Comment MCC: No comment from myself, just want to point out the great headline "Mystery: Subpar resin can yield quality products?" in Nina Sun´s PlasticsNews blog. She also gives some explanation: "Trying to explain why subpar resin could possibly yield quality products, the agency said it might have been that the manufacturers mixed quality resin and subpar resin in a certain ratio. But it also could be that the testing standards for resin were higher than those for products, it added."
---
Mar 12, 2015: Chinese courts heard almost nine times as many cases against polluters in 2014 than the year before (WSJ).
Comment MCC: Indeed - as the WSJ states - proof of a more aggressive attitude of the government

---
Mar 11, 2015: SOEs in strategically important industries will be consolidated and reorganized as asset-investment firms. They will be run more like commercial operations than government arms (WSJ). The goal is to make the biggest state companies profitable enough to go public by 2025.
Comment MCC: This will be very difficult to achieve for the petrochemical and chemical SOEs as long as the leadership selection is still done by the government, and their targets still include many political ones rather than commercial ones. I am very doubtful that this will solve the issues of chemical industry SOEs. Maybe it is an issue that will just be solved by the ever-shrinking market share of SOEs in the industry, though this is probably hardly what the government wants.
---
Mar 11, 2015: According to shipping consultant Drewry, the Weak Chinese demand puts pressure on chemical tanker rates.
Comment MCC: China accounts for about 1/3rd of global organic chemical imports, so any weakness in China will definitely be felt globally. However, another reason is the capacity buildup of chemical tankers, which is occurring at the same time as demand stagnates.

---
Mar 10, 2015: China has released the updated Catalogue of Hazardous Chemicals (2015), effective May 1st 2015, listing substances controlled under various regulations (ChemicalWatch).
Comment MCC: This is a comprehensive-looking list co-authored by a total of 10 different ministries including the ministries of work safety, health, agriculture, transport, environment, information technology and agencies responsible for quality assurance, civil aviation, state railways. The multiple authorship shows one of the issues that this type of regulation faces in China: very frequently there is substantial overlap in responsibilities, so it is not always clear which organization has the final responsibility.
---
Mar 10, 2015: China's export of plastics products jumped more than 20 percent in the first two months of this year (PlasticsNews/General Administration of Customs).
Comment MCC: Surprising news that makes me wonder what the reason behind this is - the global economy certainly did not suddenly pick up enough to explain such a change.
---
Mar 09, 2015: A 2015 draft "Standard for Uses of Additives in Food Contact Materials and Their Products" has just been released (ChemLinkedin)
Comment MCC: The draft expands the number of listed additives -from 958 to 1316 - but also limits the use of some, such as phthalates, diamines and phenol. Overall, it got stricter - but of course, implementation will determine whether this will make the Chinese trust local food again.

---
Mar 6, 2015: ICIS discusses the impact of low oil prices on the chemical industry. For China, the report mentions the reduced competitiveness of China coal-to-chemicals operations.
Comment MCC: Coal chemicals indeed are under pressure not only based on their negative environmental impact, but also because most of them are only competitive if the oil price is 60-90 USD per barrel (depending on the specific project). Indeed, getting permission for such projects is already getting much harder.
---
Mar 6, 2015: The documentary on China's poor air quality, which created a major buzz among the Chinese, was taken off major domestic online sites (WSJ).
Comment MCC: After the documentary was first praised even by some government officials, this is a bit surprising and inconsistent. Likely the government wants to be seen as the driver rather than a follower with regard to environmental protection - my hope is the documentary will still push China in the right direction.
---
Mar 6, 2015: China´s pesticide production volume increased by 1.7% in 2014 compared to the previous year, according to the Chin Crop Protection Industry Association (CCR).
Comment MCC: According to the Ministry of Agriculture, China aims to slow fertilizer and pesticide consumption growth to zero by 2020. It seems this point is already not too far off any more. Or - more cynically - this is another case where the goal is only set once current trends indicate it is easily achievable.

---
Mar 6, 2015: A story that has been going round Chinese media is that of Chinese tourists buying expensive high-end toilet seats in Japan, only to discover they are actually made in China. Nina Sun discusses this in her excellent PlasticsNews blog, focusing on the potential opportunity of Chinese producers raising their quality image to the extent that Chinese consumers feel comfortable to buy from them directly without the detour via Japan or other countries (which currently gives customers some extra assurance of product quality).
Comment MCC: Once this happens, it will also mean that the perceived quality advantage of foreign producers in China - including chemical ones - will shrink, making it even harder for them to compete with local producers.
---
Mar 6, 2015: China´s capacity of coal-derived olefins (including olefins from imported methanol) grew by 78% to 4.5 million tons while production grew by 31% to 2.4 million tons (PlasticsNews).
Comment MCC: As at the same time a much larger amount of olefins is still imported, this casts substantial doubt on the competitiveness of domestically produced coal-derived olefins. Reasons include both cost and quality level - China´s producers still primarily produce lower-end resin grades.
---
Mar 5, 2015: China´s government plans to invest more than Rmb800bn ($130bn) on new railways and more than Rmb800bn on water diversion, irrigation and conservancy projects (FT).
Comment MCC: As indicated by the above program mentioned in Li Keqiang´s speech to the National People´s Congress, China´s government now seems to worry enough about the state of the economy to try further stimulation. Chemical companies should check whether the investment areas offer opportunities to them, though foreign companies may not be considered as suppliers in all areas.
---
Mar 5, 2015: Li Keqiang stated that the Chinese government aims to reduce the amount of energy used per unit of GDP, or energy intensity, by 3.1% in 2015 (RTCC).
Comment MCC: While nice to hear such commitments in general, this does not seem very ambitious. Reportedly energy intensity fell by 4.8% in 2014, so 3.1% a year later should be fairly easy to achieve. And any decrease in energy intensity by less than about 7% means the overall energy used is still increasing - as in 2014, when energy usage increased by 2.9% despite the decrease of 4.8% in energy intensity.

---
Mar 5, 2015: China lowered its annual growth target to about 7%, as announced in a speech by Li Keqiang at the opening of the National People´s Congress (WSJ).
Comment MCC: Hopefully this will be a realistic target - recent activities such as encouraging bank lending seem to indicate that this may not be straightforward either. In any case, with the chemical industry maturing and economic growth slowing down, across the chemical industry a similar 7% annual growth is likely. It will probably be higher in some specialty chemicals areas but lower in basic chemicals.
---
Mar 3, 2015: Axalta Coating Systems, the former DuPont coatings business, has opened a Shanghai plant to produce waterborne coatings for the automobile market.
Comment MCC: Having been in China for 11 years now, the spread of waterborne coatings has always been a topic for discussion. While in the past progress towards this material class was slow, it now seems to be accelerating as the government gets more serious about pollution.
---
Mar 2, 2015: According to a study by consultancy A.T. Kearney, China will be the strongest growth region for chemicals M&A activity in 2015. Main drivers quoted are further consolidation of the local market as well as an increase in geographic expansion and inbound international investments in the China market.
Comment MCC: With regard to market structure, the fragmented situation in many segments of China´s basic chemicals market is certainly ripe for consolidation via M&A. However, many of the issues related to market fragmentation - e.g., subcritical size of plants and geographical spread of assets - can only partly be dealt with via mergers. So the logic for consolidation is sometimes weaker than it may seem at first sight.
---
Mar 2, 2015: AkzoNobel has started construction of a new alkoxylation plant in Ningbo. Target use for the ethoxylated amines is as surfactants in agrochemicals, oilfield and personal care markets.
Comment MCC: Akzo already has about 12% of its sales in China and seems to be on track to expand this share further, primarily by establishing local production.
---
Mar 2, 2015: Spokespersons of Petrochina and Sinopec told Caixin, a Chinese magazine, that they had not heard of any plans to merge the two companies.
Comment MCC: Again, a case of "I could not have said this better myself". Qiu Xiaofeng of Galaxy Securities told Caixin the following: "The two companies control most refineries, oil distribution networks, and almost all oil and gas pipelines. If merged, they will form an actual monopoly and use their power to seek extra profits. The combined 800,000 employees of the two companies would be too many to manage."
---
Mar 2, 2015: An online documentary on air pollution in China attracted millions of viewers and got praised by state media and the new minister of environmental protection (China Economic Review).
Comment MCC: The greater openness of official channels to accept the seriousness of China´s environmental problems for me is one of the most promising signs that things are improving.
---
Feb 27, 2015: A Beijing-based NGO has started compiling the environmental track record of publicly listed companies (Caixin). The idea is that investors may avoid companies with negative records for fear of future fines. This in turn is expected to push companies to improve their records - a potential market based solution to China´s environmental issues.
Comment MCC: An interesting concept, though probably only fully effective once regulation related to environmental violations is both severe and routinely being enforced.
---
Feb 27, 2015: Three of the six new plants that automotive molder Plastic Omnium plans this year will be in China (PlasticsNews). In the near future, the ratio is even more skewed towards China - the company will locate 12 of the 20 new facilities in its near-term investment plans in China.
Comment MCC: This is an indication of both the relative strength of the Chinese automotive market and the trend towards higher usage of plastics, driven by fuel consumption considerations and technological progress.
---
Feb 27, 2015: In the US, recycling of non-bottle rigid plastics declined by 1 percent from 2012 to 2013. (American Chemistry Council/PlasticsNews). According to the ACC, the one-percent decrease in rigid plastics recycling largely attributable to China's stricter standards for accepting scrap imports, commonly referred to as the "Green Fence," which began in 2013. As U.S. recyclers have had to meet higher quality standards to sell their material to China, they collected slightly less.
Comment MCC: Always interesting to see how everything is connected - less recycling being done in the US because of stricter import standards in China.
---
Feb 27, 2015: Coal from China could become a major source of lithium, according to a paper published in the International Journal of Oil, Gas and Coal Technology. Lithium has been found dispersed and even anomalously enriched in coal deposits, and is potentially extractable from coal ash
Comment MCC: At the moment, this is only being done on a laboratory scale, however, it would be curious if eventually lithium batteries for electric cars would be made from the waste of burning coal - potentially from exactly the same coal power plants which would initially probably provide a substantial share of the electricity for electric cars.
---
Feb 25, 2015: After initially focusing on countries with simpler registration procedures such as Bolivia, Chinese pesticide producers now primarily target Brazil as South American export market as it is bigger and more lucrative despite the more challenging registration procedure (Agropages)
Comment MCC: As Chinese companies get more experienced, they will not be kept out of markets by registration procedures in the long run - something that is definitely relevant for European chemical companies which think that REACH can give them protection from Chinese competitors.
---
Feb 25, 2015: China's manufacturing activity improved slightly, with the HSBC flash manufacturing PMI for February increasing to 50.1 from 49.7 in January.
Comment MCC: Somewhat more positive news than we are used to recently, though HSBC warns that the domestic economic activity is likely to remain sluggish and external demand looks uncertain.
---
Feb 22, 2015: The easy access to precursor chemicals of crystal meth indicates corruption in the pharmaceutical and/or chemical industries in China. (UN, SCMP). A UN official stated "To operate a [meth] lab like this, you need a lot of chemicals, which are legitimate, regulated chemicals from the pharmaceutical industry. This group has been able to get their hands on the precursor chemicals necessary to produce the drugs. They've been doing it for a long time, which means they're getting these chemicals on a regular basis. There is some kind of corruption in the chemical/pharmaceutical industry taking place allowing this to happen."
Comment MCC: At least this is an area where government policy (and increasingly implementation) may make a difference in the long run.
---
Feb 18, 2015: According to WSJ, China may merge its state-owned oil companies. Possible mergers are one of Petrochina with Sinopec as well as one between CNOOC and Sinochem.
Comment MCC: The rationale given is that the combined entities will be more efficient and more competitive with major foreign players, and have less overlap and competition with each other. I am not sure it convinces me - many of the issues that these companies have probably come from being rather big and without strong need for efficiency, and these issues would be further emphasized by creating even larger entities. It also seems to go against the stated government intent of giving markets a bigger role in resource allocation. Admittedly, for the chemical industry in China it may not make a big difference as for most of these companies, chemical production is more of an afterthought anyway.
---
Feb 16, 2015: Kingfa has registered a wholly owned subsidiary in Michigan. The location indicates the likely focus on automotive plastics (PlasticsNews).
Comment MCC: Similar to the activities of its Chinese competitors, Kingfa also targets a more global presence in plastics for automotive. Kingfa already produces automotive plastics in India. China XD has already established a compounding plant in Dubai, and Shanghai Pret acquired a US company recently.

---
Feb 12, 2015: Showa Denko will form a JV with Eternal Materials (Taiwan), to build a new production site for thermosetting bulk molding compounds (BMC) at Zhuhai, China.
Comment MCC: One of the growth applications of BMC is for use as encapsulation material for motors installed in electric vehicles and hybrid vehicles. Showa claims that its existing Shanghai plant is working at full capacity, so the expected further growth in these applications requires a second plant.
---
Feb 12, 2015: The former CEO of China Sky Chemical Fibre will pay a civil penalty of S$2.5 million for making misleading statements in announcements to the market (ChannelNewsAsia)
Comment MCC: The former boss of this mainland Chinese nylon producer employed a rather common trick - masking related parties as unrelated ones, a favorite way of shifting profits around.
---
Feb 12, 2015: Due to lower profits from oil, PetroChina plans to shut unprofitable chemical projects while Sinopec aims to enter growth areas such as clean energy generation, new materials research and 3-D printing (Bloomberg)
Comment MCC: Some of the SOEs chemical activities have in the past been subsidized by their upstream activities - it is possible that this will happen less in the future, which could help its competitors. The Sinopec move into new areas may have the opposite effect, though I have doubts that it will be very successful.
---
Feb 11, 2015: The US goverment is to file a case against China at the WTO over export subsidies in areas including specialty chemicals (NYT).
Comment MCC: Hard to see how this could be completely untrue. Also hard to believe that the US does not do the same in the same or other areas.
---
Feb 10, 2015: China's main anti-graft body reprimanded the environment ministry for interference by officials and their relatives in environmental impact assessments (ChannelNewsAsia)
Comment MCC: In China, any public news about corruption is good news as it indicates a willingness of the authorities to change the situation, rather than the existence of issues (which we know are there anyway). So, by that measure this is good news.
---
Feb 9, 2015: China´s manufacturing PMI decreased by 0.3% to 49.8% in January 2015, indicating a contracting economy
Comment MCC: While possibly also caused by falling commodity prices and the approach of Chinese New Year, the low value is also a sign of the relatively weak economic situation in China.
---
Feb 9, 2015: According to industry association CPCIF, revenues of the domestic chemical industry rose by 11.1% in 2014. Profits rose most strongly in specialty chemicals.
Comment MCC: The growth rate still seems a bit high to me - this would still be almost 4% above GDP, and GDP also includes services, which almost certainly grew at a higher rate. Use for comparison with similarly flawed numbers only.
---
Feb 9, 2015: China´s exports slipped 3.3% from Jan 2014 levels, while imports plunged by 19.9% (WSJ).
Comment MCC: Facts that show both the weakening of the Chinese economy and the lower reliance on imports (= more localization) - both hopefully reflected in the strategy of foreign chemical companies in China.
---
Feb 9, 2015: According to industry association CPCIF, revenue of the Chinese chemical industry is forecast to rise 8% in 2015, with profits increasing by 7%.
Comment MCC: It surprises me when I hear people forecasting Chinese chemical industry growth much at a much higher rate than GDP. The CPCIF does not take such a position - a growth forecast of just 1% above GDP seems realistic given the breadth of the chemical industry. So unless a chemical company is in particularly attractive sub segments or particularly competitive, it will be hard to grow substantially faster than this rate. Or "7% are the new 11%".
---
Feb 7, 2015: China's anti-corruption watchdog stated to have uncovered kickbacks and theft at Sinopec Group.
Comment MCC: Not a big surprise but a clear demonstration that any political trends in China - such as the recent anticorruption drive - will surely affect the big chemical SOEs.
---
Feb 6, 2015: Foster Wheeler has won a project management contract from Shenhua for a coal-to-chemicals project in Ningxia.
Comment MCC: This is one of the most ambitious coal chemicals projects due to its broad range of products including polyethylene, polypropylene, synthetic ammonia, and aromatic hydrocarbons. It seems that even a company as experienced as Shenhua still believes that a Western engineering company can manage such a project better than a local one.
---
Feb 5, 2015: Shanghai has announced it will spend 100 billion yuan in the coming three years on hundreds of anti-pollution projects.
Comment MCC: This should represent a good business opportunity for the many higher-end chemical businesses providing materials required in anti-pollution projects, be it water treatment chemicals, catalysts, filters, and many others.
---
Feb 3, 2015: The National Institute for Food and Drug Control published the "Safety Technical Standard for Cosmetics (draft)" for public comments (ChemLinked).
Comment MCC: Given the large number (almost 4000) of Chinese companies with a license to produce cosmetics and the general distrust of Chinese consumers towards locally produced cosmetics, this is a step in the right direction, though as always in China, it still needs to be implemented properly to have a real effect.
---
Jan 30, 2015: Yanbu Refinery, a JV between Sinopec and Saudi Aramco located in Saudi Arabia, has started operation in January.
Comment MCC: This is an interesting example of a cooperation between China and the Middle East, in which the Western world is bypassed. My guess is we will see many more of such cooperation, particularly in the areas in which the technology is so mature that Western input is not required.

---
Jan 30, 2015: Shenhua has won approval from the government of New South Wales in Australia to build a 10 million tonnes a year coal mine (Reuters).
Comment MCC: It may seem slightly bizarre for a major Chinese owner of coal assets to want to open a mine abroad, but could make sense as shipping from Australia may result in cheaper coal than in transporting it by train from Shenhua´s mines - particularly as this could mean Shenhua has more coal for its coal chemicals projects. However, at the moment coal is also coming under environmental pressure from the Chinese government, something that was not easily foreseeable when Shenhua bought the exploration license in 2008. And coal chemicals may turn out to be unprofitable unless the oil price rises again. So Shenhua is either betting on things taking a turn for the better, or does not fully understand the concept of sunk costs.
---
Jan 30, 2015: PVC producer Sichuan Jinlu Group continues to make losses and is now in danger of being delisted. Stock trading is currently suspended (PlasticsNews, thanks Nina!)
Comment MCC: In 2014, China turned from a net importer to an exporter of PVC. Chinese PVC prices have decreased in the last 2 years, and demand has been affected by separate issues such as the slowdown in construction (almost 70% of PVC usage is related to construction, e.g., for pipes) and trade restrictions (e.g., India´s antidumping tax on Chinese PVC). 2014 capacity utilization was well below 65%. As a consequence of all these issues - occurring in a fragmented market - losses of producers are not surprisingly and are unlikely to end soon.
---
Jan 28, 2015: China has appointed Chen Jining, the president of Beijing's prestigious Tsinghua University, as party chief of its environment ministry (Reuters). The previous holder of the position was heavily criticized for not having been able to prevent the degradation of China´s environment in recent years.
Comment MCC: A further indication of China´s central government taking environmental protection more and more seriously. Interestingly, Chen has no previous government experience - maybe this will give him more credibility in opposing past policies that damaged the environment. To some extent, the switch may also be interpreted as an admission of failure of these old policies.
---
Jan 28, 2015: A Chinese 2015 growth target of around 7% was endorsed by top party leaders at a closed-door Central Economic Conference in December and will be announced in March (Reuters).
Comment MCC: After the 7.4% officially achieved in 2014, 7% seems a reasonable goal for 2015. On the other hand, one could say this is not really a goal but rather an acceptance of the realities of slower Chinese economic growth. Or to put it differently: it seems strange that the Economist Intelligence Forecast of 7.1% is higher than the government target. In any case, the chemical industry obviously needs to adopt to the slower economic growth.
---
Jan 28, 2015: DuPont Fluoropolymers and Zhonghao Chenguang , a subsidiary of ChemChina, have formed a 50:50 JV for fluoroelastomer gums and pre-compounds in China.
Comment MCC: The press release hints that DuPont will contribute mostly technology while ChemChina will primarily contribute manufacturing capabilities. The likely rationale: DuPont Fluoropolymers will soon be split off from DuPont as part of the broader spin-off of DuPont performance chemicals (the new entity will be called Chemours) - a movement that DuPont pursues to focus on the more profitable activities in food, biotechnology etc. As a consequence, DuPont Fluoropolymers currently will likely not be getting investment funds from DuPont and thus needs to find other sources for investment in additional production capacity. This is where ChemChina comes in.
---
Jan 27, 2015: From Feb 1, The government will impose a 4% tax on VOC-containing coating 420 or more grams of VOCs per liter (thanks to Ed Barlow of TZMI for the information).
Comment MCC: Not a huge tax, and only imposed on coatings with rather high VOC content, but a step in the right direction. In China, many environmentally friendly products will only be adopted once there is regulation - otherwise cost considerations are too prominent.
---
Jan 27, 2015: Cao Jian, executive VP of the China Plastics Processing Industry Association, expects the Chinese plastics industry to grow by 6-8% in 2015 after 7.45% growth in 2014 (PlasticsNews)
Comment MCC: The 2014 growth figure is almost exactly the same as for GDP growth. So the days when the general chemical industry grew faster than GDP are over - this may now only apply for some specialty chemicals areas, for which demand will increase as markets and consumers get more sophisticated. In fact - as pointed out earlier - some very basic plastics may well grow below GDP in the future as the economy shifts from investment and physical products to consumption and services.
---
Jan 26, 2015: As previously reported, Chinese chemical company Yuhuang plans to build a massive methanol plant in Louisiana, USA. Al Jazeera reports on potential motives of the Yuhuang boss, a Mr. Wang. They speculate Mr. Wang may want to use the US investment to shift some of his assets away from China as Xi Jinping´s anti-corruption campaign may threaten his future in China. Mr. Wang and his company apparently had some problems in China, including fines for pollution and obtaining energy credits based on misrepresented measures.
Comment MCC: It is fun to quote Al Jazeera as a source, I have to admit ... Another example that in China things often are not as obvious as they seem - shifting assets out of China is an interesting possible reason to build a 1.85 bn USD methanol plant.
---
Jan 23, 2015: According to China Daily, the profit of chemical SOEs (state-owned entities) in China declined in 2014 compared to 2013.
Comment MCC: This decline comes from a very low starting point - so while a lot is being said by the government about "having market forces play a decisive role", the application of this principle is not too strict in the chemical sector. Petrochemicals - which are a main area of chemical SOEs - are regarded as strategic and thus seem to be exempt. Conflicting government goals - for having control of strategic segments and for moving towards a market-based economy - give the leaders a lot of wiggle room. And so far they mostly err on the side of the strategic goals.
---
Jan 23, 2015: Badger has licensed its bisphenol-A technology to Lihuayi Weiyuan Chemical, to be used in a 120 kt plant in Lijin, China (CW).
Comment MCC: While up to now all polycarbonate production in China involves foreign companies, there is a wave of about 7 domestic companies setting up PC production right now. Lihuayi Weiyuan is one of them. Once these companies start production (probably within the next 2-3 years), the market situation will likely be much more competitive, particularly as domestic production also has to compete with imports. Prepare for hard times.

---
Jan 23, 2015: Benecke-Kaliko will build an environmentally-friendly auto interior trim plant in Changzhou, China (PlasticsNews)
Comment MCC: Somewhat different from the past development in Western countries, the main driver of environmental improvements in China is not a general concern for nature but specific worries about effects of pollution on the health of individual consumers. The plant investment fits well into this scheme as the above effect will very likely lead to increased demand for good in-car air quality.
---
Jan 23, 2015: China XD has experienced substantial delays and cost overruns in setting up their fourth production base in Sichuan (PlasticsNews). According to the company, delays were caused both by slow government activities as well as difficulties arising from the high humidity at the production location.
Comment MCC: China XD has experience in plastics compounding in the North of China. Their difficulties in transferring this experience to Sichuan show that even for a domestic company, it can be quite a challenge to adapt to the local conditions at a specific city. China is a highly diverse country - something MNCs should keep in mind when developing and producing chemical products.

---
Jan 22, 2015: At the end of December, Wanhua began producing MDI at its new 600 kt plant in Yantai, making the company the biggest global producer of MDI (CCR).
Comment MCC: Wanhua is one of the relatively few success stories among chemical SOEs in China. Ten years ago, their product quality was far inferior to that of Western producers - now they are a very serious competitor with the ambition to become a truly global player. It seems Wanhua managed better than other SOEs to give its employees freedom and incentive for own initiative. However, so far Wanhua´s success is mostly based on technical capabilities. For the future development, Wanhua will also become an expert at marketing its products.
---
Jan 22, 2015: A survey by headhunter firm Robert Walters expects the chemical industry to be one of the top hirers in China this year. Employees working in the operations and manufacturing sectors of these two industries are expected to realize salary hikes of about 30 percent if they switch to another company.
Comment MCC: Good to hear that the chemical industry will be among the leaders in salary growth - this is a sign of good industry prospects rather than a cause for concern. It also means that chemical companies should consider proactively raising the salaries (or other benefits) of their top performers - given the importance of high salaries in China, it will be hard even for a satisfied employee to reject an offer that is connected to a 30% salary increase. Strangely, many companies tend to only reconsider their salary increases once top performers are leaving. A sound alternative would be to have much more differentiated salaries, thus taking the risk of average performers leaving the company but better protecting the real human assets, the top performers.
---
Jan 21, 2015: Forbes quotes a report by Charney Research stating that 33% of all chemical companies doing business in China pay bribes, and 90% see bribes as a problem.
Comment MCC: The 90% are not surprising given the publicity recent corruption cases have received. Harder to evaluate the fact that 33% of chemical companies pay bribes as the composition of the sample is not available. I would have guessed that the share among foreign companies is lower as company-internal rules make these activities more difficult and therefore usually require an "outsourcing" to third parties (e.g., distributors) ...
---
Jan 20, 2015: China´s GDP grew by 7.4% in 2014, the lowest figure in the last 25 years and slightly below the 7.5% target. Electricity usage grew by only 3.8%. The IMF reduced the GDP growth forecast to 6.8% for 2015 and 6.3% for 2016.
Comment MCC: If China indeed achieved 7.4% last year, it is still very decent growth. However, the steep decline in electricity consumption growth - from 7.8% in 2013 to 3.8% in 2014 - suggests that the GDP growth drop was more severe than just 0.3%.
---
Jan 19, 2015: Sinopec wants to invest in 3D printing as part of a larger move to turn the company into a science- and technology-based petrochemical company (3dprint.com)
Comment MCC: An analyst of UOB is quoted as saying that this is a good idea as margins in petrochemicals are shrinking. However, I have my doubts such a move will be successful. To be successful in innovation, a different mindset is required – one that focuses on risk-taking, creativity, and understanding customer requirements. While Sinochem has the funds to invest heavily in R&D, it lacks these basic requirements. And it is hard to see the company change much as long as it still is essentially a non-profit, state-owned entity.
---
Jan 14, 2015: Global Bio-chem, a Chinese converter of sugar into biochemicals, and US company Edeniq, a biorefining company, aim to develop a low-cost process to convert corn stover to cellulosic sugars.
Comment MCC: Global Bio-chem is based in Jilin province, where bioplastics are promoted by the government, and a big user of sugars for biochemical conversion. This makes the company a good partner for global companies trying to push and further develop their technologies to turn agricultural materials into sugar.

---
Jan 14, 2015: China's state planning agency has ordered Shanghai, Zhejiang, Jiangsu and Guangdong to reduce coal consumption in order to improve air quality (Economic Times).
Comment MCC: Another measure emphasizing the growing environmental concern of China´s government, again with potential negative implications on coal-based chemistry if extended to other areas.
---
Jan 13, 2015: A report published in China's Proceedings of the National Academy of Sciences has predicted the intensification of China's water shortages (WSJ).
Comment MCC: This should also negatively affect the prospects of the rather water-consuming coal chemical projects, which recently seem to have become less favored by the government anyway.
---
Jan 13, 2015: According to PlasticsNews, a new ban on non-biodegradable plastic bags in Jilin province is creating a strong push for bioplastics manufacturing.
Comment MCC: It is interesting to see how commercial and environmental interests as well as central and provincial government are aligned in this case. Usually the central government pushes strongly for environmental improvements while provincial governments are reluctant to follow. In this case, commercial interests and environmental interests of the Jilin provincial government are aligned as the province is a strong producer of bioplastics, allowing the initiative to work. Please take a look at the PlasticsNews blog entry by Nina Sun for more information on the companies involved.
---
Jan 12, 2015: Axalta Coatings and Shanghai Kinlita, a Chinese producer of industrial coatings, will form a JV targeting the commercial truck market
Comment MCC: Potentially that is a slightly problematic JV as both companies are active in the same area and in the same step of the value chain. In addition, they are far from equal with regard to size, with market caps of about 6.2 bn USD (Axalta) vs. less than 0.5 bn USD (Kinlita). However, it seems the logic of combining Axalta´s technologies with Kinlita´s market access trumped these concerns.
---
Jan 11, 2015: A Lanzhou subsidiary of Petrochina was challenged by local government to improve its environmental performance after several leaks of ethylene and ammonia (SCMP).
Comment MCC: Another indicator of the growing importance of environmental protection - in the past, local government would not have publicly criticized a major SOE that is also an important taxpayer. Now it seems the publicity gains from doing so are worth challenging Petrochina - a good sign.
---
Jan 7, 2015: China´s supreme court will give environmental NGOs special status and reduced court fees. They will be allowed to sue polluters independent of their own location (Guardian)
Comment MCC: If this is indeed implemented as announced, it should give a strong push to environmental protection. China´s will to fight environmental pollution is getting substantially stronger in the last few months.
---
Jan 7, 2015: Shanghai Pret Composites plans to acquire Wellman Plastics Recycling (USA) for $70 million USD. The acquisition target focuses on engineering plastics and plastics recycling.
Comment MCC: While this may at first indicate an interest of the Chinese company in plastics recycling, it is more likely that the engineering plastics part of Wellman is the reason for the acquisition. Shanghai Pret is among the leading suppliers of plastics composites to the automotive industry in China, along with China XD and Kingfa. Most likely they aim to expand their reach to include American-based automotive suppliers - a first step towards becoming a global player?
---
January 6, 2015: CCR has a paper on the impact of low oil prices on China´s petrochemical and chemical industry, which so far has been strongly negative. Upstream refining companies suffered from the value decrease of their crude oil stock. Most coal-based chemical projects are currently below the profitability threshold, for which an oil price of around 60-80 USD/barrel is required. For downstream chemical users of oil, so far the expected gains from lower raw materials costs have not filtered through.
Comment MCC: An interesting article, though probably a bit one-sided - most companies prefer to complain about their bad situation rather than talk about potential gains and opportunities. In addition, many of the negative aspects listed are probably only temporary and will no longer be valid if the oil price stabilizes at a lower level.
---
December 30, 2014: Six chemical and pharmaceutical companies in Eastern China were ordered to pay a record fine of 160 million RMB for discharging chemicals into rivers (AP).
Comment MCC: I am getting more and more optimistic about China´s government being serious about environmental protection this time around. This is a record fine for China, and one that may make some companies reconsider to continue their established approach of dealing with waste.
---
December 29, 2014: The government increased the threshold for a tax on oil production from USD 55 to 65. At current prices, this means no tax has to be paid. Shares of domestic oil companies rose (SCMP).
Comment MCC: A reminder that the profits of Chinese oil producers are mainly determined by ever-changing government regulations. Maybe one of the reasons why these oil companies do not really seem to strive for profits.
---
December 28, 2014: An article on the website of CCTV, the predominant state television broadcaster in mainland China, states that "China gets tougher on polluters" via NPC draft legislation.
Comment MCC: It is encouraging to see this topic now being openly discussed on government-controlled TV channels - both as an admission that there is a serious problem and as a statement of aiming for change. Some quotes from the article: "The previous amendment is not effective in controlling current multiple pollution sources, and isn't working in ongoing efforts. The amended draft now specifies punishment for violations such as discharging pollutants without certificate, excess discharge and fabricating monitoring data"; "Based on the Ministry of Environmental Protection's annual report on air quality, in 2013, the air in only three of China's major 74 cities were within acceptable national standards. "; "The average number of smoggy days in the country in 2013 was 35.9, the most since 1961."; "Coal-consumption sources contribute more to air pollution than they did 14 years ago, with such sources now including industrial production."; "The new draft lists detailed financial punishments, saying those responsible for air pollution will face larger fines, at most five times the direct economic loss in each case."
---
Dec 24, 2014: The ministry of environmental protection (MEP) issued a comprehensive set of rules to other ministries and organizations (ChemLinked). One part is a directory of 777 products that are highly polluting and of high environmental risk. Over 30 of these products produce large amounts of volatile organic compounds (VOCs) as byproducts, nearly 200 products cause heavy metal pollution and nearly 500 products are of high environmental risks. These products will be more restricted, partly by imposing higher production costs. The second part is a directory of 40 priority pieces of equipment used in environmental protection, including equipment for environmental monitoring, air pollution and solid waste prevention and treatment.
Comment MCC: Of course, the MEP has not always been the most powerful agency in the past. Still, these rules give the ministry another handle to improve the environmental situation in China.
---
December 19, 2014: According to the China Plastics Processing Industry Association, Chinese plastics production volume grew by 7.7% in the first 9 months of 2014 compared to the previous year.
Comment MCC: This single-digit growth is below that of previous years - probably both an indication of the slowdown of the economy and a shift away from manufacturing to services.
---
December 18, 2014: Bayer MaterialScience started a new polycarbonate sheet production plant at its Guangzhou site
Comment MCC: It makes sense to move downstream as polycarbonate gets more and more commoditized. Via this plant, BMS can offer more diversified sheets, allowing the company to differentiate itself from its competitors.
---
December 18, 2014: China is seeking to reduce the use of chemical fertilizers and pesticides (Reuters). According to the chief economist at the agriculture ministry, the cap should be implemented by 2020.
Comment MCC: A sensible measure as about 19 percent of farmland soil samples contain excessive levels of heavy metals or chemical waste. According to an environmental officer, almost two-thirds of pesticides used in China are wasted.

---
December 17, 2014: According to state-run newspaper China Energy News, China will complete the construction of approved coal-to-natural-gas plants but will not approve new projects until 2020.
Comment MCC: Coal-to-gas projects created a lot of industry interest in the last few years – 2 are already running but another 48 are planned or under construction. However, not approving new projects will stop the industry and will mean that the government´s earlier, very positive attitude towards coal-to-gas is being reversed. It seems that critics such as Lin Boqiang, director of the China Center for Energy Economics Research at Xiamen University, now are gaining ground. He stated that "building coal-to-gas projects is opposite of China's goal to save energy and cut emissions. If the government does not call off the industry expansion now, it will certainly have to do so in the future." A changing attitude towards coal-to-gas likely will also mean the prospects for coal-to-methanol and on to olefins are less positive. While all this may have negative effects on individual chemical companies, it is good news for the global environment.
---
December 16, 2014: China's manufacturing activity dropped to a seven-month low, according to the HSBC flash manufacturing PMI of 49.5 for December, which is indicates contraction.

Comment MCC: The HSBC PMI was also below 50 early in 2014 but currently the trend indeed seems to be downward, which will affect chemical companies providing many of the starting materials of manufacturing activity.
---
December 16, 2014: Israel Chemicals will invest up to $500 million for 50% of a JV operating an integrated phosphate business in China and a 15% share in phosphate rock producer Yunnan Yuntianhua.

Comment MCC: Another deal that combines technology and marketing expertise of a foreign company with backward integration and scale of a Chinese player. It may just work.
---
December 16, 2014: Sinochem International will acquire most of the agrochemical activities of the parent company Sinochem for slightly below 1 billion RMB (AgroNews).
Comment MCC: SOEs and their stock-market listed subsidiaries (such as Sinochem International) often have overlapping activities - it is certainly a good idea to simplify this picture, to reduce internal competition within the Sinochem group, and to obtain better economies of scale. It may also help Sinochem to become more professional and possibly even more profitable. Once the acquisition is done, the agro sales of Sinochem International will be more than 3 billion RMB, which will put the company among the top 5 of China´s agrochemical companies.
---
December 16, 2014: Platts staff visited several Chinese teapot refineries and will publish some findings. These small, independent refineries seem surprisingly optimistic about their prospects.

Comment MCC: While refreshing, I do not share this optimism. The teapot refineries can indeed compensate for their lack of scale and prohibition from exporting oil products by being more flexible than the state-owned petrochemical companies with regard to raw materials, output and tax optimizaton. But my guess is they will suffer heavily from tightened regulation (as will the SOEs, but they have the resources to react). A telling excerpt from Platts states that the most successful independent refinery, Shandong Dongming Petrochemical, is officially listed as the "18th most developed" refiner in the country, which does not sound so impressive to me.

---
December 12, 2014: BASF and Jiahua Energy Chemical will set up a new electronics-grade sulfuric acid plant in Jiaxing, Zhejiang. Target customer is China's semiconductor industry.
Comment MCC: BASF is indeed rather good at using cooperation with local companies. Jiahua produces standard-grade sulfuric acid at the site, so BASF only needs to purify their material. In addition, they can use the Jiahua site, which should save both costs and time. And Jiahua gains both a stable customer and the reputation coming from working with a global player.
---
December 12, 2014: Lumenca, a Chinese producer of Polyphenylene Sulfide (PPS), has admitted having difficulties related to the financing of current operations, and will therefore have to reduce production (PlasticsNews)
Comment MCC: It is tempting to see this as a result of the tightening of lending conditions for smaller, private businesses but Lumenca was already under attack in the spring of 2014 for allegedly inflating their production capacity, so this may be a special case unrelated to general financing conditions in China.
---
December 12, 2014: The Guangzhou Environmental Protection Agency will generally stop approving new bases for reprocessing waste plastics, and force recyclers to move into existing recycling parks with centralized pollution control.
Comment MCC: Nina Ying Sun from PlasticsNews already commented on this - as I cannot say it any better, I will just quote her: "If local governments in the rest of the country start to follow the suit and use administrative measures to better regulate plastic recyclers, it could form a good trend that further cleans up and consolidates China's plastic recycling industry. After 'green fence' successfully safeguards the ports, now it's time to also focus on the processing part of the value chain."
---
December 11, 2014: Nippon Paint China and Dow Microbial Control, the world's leading biocide supplier, will strategically collaborate in R&D of sustainable coatings.
Comment MCC: Waterborne coatings are getting more and more popular but have high requirements regarding biocides, making this a highly relevant area for cooperation. However, it is a tradeoff between the benefits of deeper integration (more information exchange, joint R&D, etc.) and the disadvantages (e.g., limitations regarding working with other suppliers or customers). In this case, both partners obviously accept these limitations, which indicates they see the biological properties of coatings as an important topic with substantial room for improvement.
---
December 11, 2014: Shell plans to sell its 75% in Tongyi, a large Chinese oil lubricants producer. The expected sales price is around 350-500 million USD (WSJ).
Comment MCC: Presumably this is to compensate for some of the losses of Shell due to the lower oil price - nicely packaged as a focus on Shell´s core business. However, it is doubtful whether this is a wise decision as surely the lubricant business will be less volatile than oil exploration, and probably more profitable as well.
---
December 11, 2014: Sinopec and Mitsui announced the start of production at two Shanghai JVs, one for ethylene propylene diene terpolymer (EPT) and one for phenol and acetone
Comment MCC: Both fairly typical JVs in which the foreign partner Mitsui provides the technology. The JV also allows both parties to benefit from economies of scale - both the EPT and the phenol plant are among the largest in the world. EPT, which is used in automotive applications, is already being marketed by Mitsui and is likely to benefit from the growth of the Chinese automotive and other markets.
---
December 11, 2014: Bayer MaterialScience will invest in a polyurethane dispersion (PUD) upscaling facility at its Shanghai site in Shanghai, China - the first such facility outside of Germany.
Comment MCC: This is another step in the gradual shift of R&D from the Western world towards China. So far most companies focus on development, particularly on local adaptation of existing products. BMS now shifts process development to China as well, allowing the company to react to local market requirements more quickly by producing the material for large-scale tests.
---
December 10, 2014: Yuhuang, a Chinese chemical company, is interested in buying a school in Louisiana. The company is considering building a large-scale methanol plant next to the school (AP).
Comment MCC: This kind of news does not have any big meaning but it is still kind of amusing. The school apparently is surplus, so presumably everybody wins. Still, I am not sure if the Chinese were happy to sell a school building to a US company investing in China. Then again, I am not sure all the local US citizens are happy about the potential sale either.
---
Dec 10, 2014: BASF will build a plant for manufacturing of catalysts used in production of fatty alcohols, sulfuric acid, butanediol and for the removal of impurities from olefins at the existing Shanghai site.
Comment MCC: This is the first BASF plant for process catalysts in Asia. It seems the company is getting more confident regarding IP protection in China. Given that BASF has the goal of producing 75% of Asia´s needs in Asia by 2020, such an attitude is necessary.
---
December 10, 2014: The NDRC released the Interim Measures for the Administration of Carbon Emissions Trading, covering emission quota management and trading
Comment MCC: A key consideration seems to be not to initially put a high burden on polluters, as the initial carbon allocations are free and will only gradually be reduced. Furthermore, the rules will generally be set by the NDRC, giving provincial governments only the right to tighten the rules further but not to weaken them. However, the provincial governments will likely be setting the fines for violators, so the power struggle between national and provincial governments will continue despite the NDRC claiming superiority with regard to environmental issues.
---
December 10, 2014: Several domestic environmental groups issued a "Green Stocks Investigative Report" in which they name particularly polluting chemical companies in China.
Comment MCC: This sounds like an interesting approach – rather than relying on Chinese regulation, the idea is to shame Western investors (such as Fidelity and JPMorgan in the case of Kingboard, one of the big polluters) to either put pressure on the companies or disinvest.
---
December 9, 2014: DSM opened an R&D center for their composite resin business in Nanjing (PlasticsNews).
Comment MCC: Interesting to see that Shanghai is not the only place for R&D centers of multinationals. The DSM center still seems to focus on development, as most of these "R&D" centers seem to - but it is still a step in the right direction of better adapting to local requirements.
---
December 8, 2014: Indorama Ventures, a Thai petrochemical company with focus on PET, EO/EG and PTA, will acquire the Asian assets of Performance Fibers (PF), a producer of industrial fibers and fabrics. PF Asia focuses particularly on tyre fabrics and is the second largest producer of these in China.
Comment MCC: Indorama already has PET production near the PF site, which can be used as raw materials input for the tyre cord production at PF. It seems that together with earlier acquisitions of Trevira and PHP, Indorama is moving downstream into the area of automotive safety, which should be an attractive market in China. This is sensible as the existing businesses of Indorama are highly commoditized. Another interesting aspect is that the owner of PF Asia, a PE firm, was willing to sell the Asian part of PF separately - the PE fund will keep the ownership of the European and American parts of PF.
---
December 8, 2014: BASF will acquire the Taiwan and Mainland business of Taiwan Sheen Soon (TWSS), a producer of TPU adhesives base material.
Comment MCC: This sounds like a sensible acquisition as BASF is already active in TPU and in adhesive raw materials (both polymers and additives). The acquisition adds TPU as a resin base to the existing acrylic resins. On the other hand, a large share of TPU adhesives is used in relatively mature applications such as footwear, rather than in the fastest-growing adhesive segments such as automotive and assembly.
---
December 6, 2014: A paper in the most recent edition of CCR points out that MIBK has good prospects in China as currently more than 30% of domestic demand are imported.
Comment MCC: The paper also gives some interesting performance data that indicates that the current Chinese production is far less competitive than imported materials: "At present, to produce one ton of MIBK, the consumption of acetone, hydrogen and steam of the international advanced level is 1.26 tons, 260 Nm3 and 2.5 tons, respectively, while these figures of the technologies developed by domestic scientific research institutions is 1.44 tons, 2 800 Nm3 and 13 tons." With such differences, imports should still be possible even if - as announced - local capacity will increase soon.
---
December 5, 2014: According to ChemLinked, China's inventory of hazardous chemicals is expected to be issued at the end of 2014.
Comment MCC: The source states that "two rounds of internal meetings were held to discuss the social background" (whatever that means), and finally an agreement was reached on the nominated chemicals. Let us see which chemicals make the list.
---
December 5, 2014: Plastics company A. Schulman will double manufacturing capacity for masterbatch concentrates at its Dongguan plant (PlasticsNews)
Comment MCC: Masterbatches is one of the segments that may profit from a switch to a consumption-driven rather than an investement-driven economy in China. Indeed, A. Schulman states that the new capacity will be focused on packaging and personal care industries.
---
December 5, 2014: Chinese recycling companies suffer from low oil prices and tight credit but feel that government policies such as the "Green fence" initiative are supportive (PlasticsNews).
Comment MCC: It is always interesting to see how a factor such as oil prices ripples through the whole economy. Recycling companies cannot just cut their raw materials prices by 30% if the oil price falls by this percentage, so their margins are squeezed. In addition, plastics recycling is fairly capital intensive, so the tightened bank lending hurts the industry as well. In contrast, the government regulations requiring better cleaning and sorting of imported plastics waste have led to some industry consolidation and thus helped the surviving bigger companies.
---
December 4, 2014: ChemicalWatch states that a German government report finds Chinese imported products to have the highest chemical risk.
Comment MCC: This is one of the news bits that could also have been reported in a much more positive way (maybe I am gradually turning into a China apologist). If one looks at the German report in detail, it states that while in 2008 about 60% of all dangerous products came from China, this has decreased to 32% in 2013. Still high, but a big improvement.
---
December 4, 2014: GTC Technology will license its toluene alkylation technology to Chinese refiner Shandong Sincier Chemical (CW)
Comment MCC: This is the first commercial use of a new naphtha isomerization technology to produce clean fuel. Generally Chinese companies are fairly reluctant to accept commercially unproven technologies, but it seems they are getting a bit more progressive now.
---
December 4, 2014: Procter & Gamble has sold a 78.8% stake in Fujian Nanping Nanfu Battery to the Chinese investment fund CDH - the first time P&G has sold a brand to a Chinese buyer.
Comment MCC: This may mark the start of investment funds behaving more like those in Western markets, focusing more on steady cash flow and less on fast growth. After all, alkaline batteries are already a fairly mature market even in China as the focus shifts to lithium batteries.

---
December 4, 2014: According to a forecast by Markets&Markets, succinic acid demand in China will grow with a CAGR of 30.5% between 2014 and 2019.
Comment MCC: Succinic acid can be produced both via petrochemical routes (e.g., hydrogenation of maleic acid, and carbonylation of ethylene glycol) and via fermentation of glucose from renewable feedstock. The rapid growth comes mostly from the second route, which gives users an incentive to include succinic acid in their products. For example, polyurethane producers may want to include succinic acid in their materials. Producers of butanediol may also use bio-based succinic acid as a raw material. In China, life science and personal care applications are also important. As the forecast growth rate for succinic acid in China is much higher than for the underlying customer industries, the authors of the report likely expect the bio-based origins of succinic acid to be a major sales argument.
---
November 30, 2014: The Financial Times published an article on coal conversion with a number of critical statements from local experts.
Comment MCC: While those involved in coal chemicals in China seem very optimistic about it, experts outside of the core industry are much more skeptical - it will be very interesting to see how this develops, and whose opinion will prevail.
---
November 28, 2014: PetroChina stock fell by up to 5.6% after the OPEC decision not to substantially reduce current oil production.
Comment MCC: PetroChina already has very low margins and will be strongly affected by lower oil prices. The two main competitors Sinopec and CNOOC showed similar drops in share price - a reminder all three companies are mostly oil and not chemical companies.
---
November 28, 2014: Organizations such as the Chinese government-affiliated Energy Research Institute and the U.S.-based Natural Resources Defense Council now predict China will reach peak coal use before 2020.
Comment MCC: This casts some doubts over the future of coal conversion into chemicals in China. It seems somewhat unlikely that China can reduce coal usage in other areas to the extent to provide coal for these new projects without increasing overall coal usage. It seems this doubt is already factored into the analyses of the research organizations.
---
November 27, 2014: The FT has an article titled "Cheap energy is the new cheap labor".
Comment MCC: For the chemical industry, at least for basic chemicals, this is highly relevant. Energy costs - particularly if one includes the type of "energy" that the chemical industry uses as raw materials, such as natural gas - are a big share of production costs of commodity chemicals. The article has two additional important statements. According to BCG, Chinese wage rates adjusted for productivity in have risen to more than half the level in the US. And the example of BASF is given: "BASF, the German chemicals company, ... is allocating a quarter of its €20bn investment budget over five years to the US, and plans to build a $1.4bn propylene site on the Gulf Coast. Natural gas will provide not only the energy but also the chemical raw materials."
---
November 25, 2014: Most of China's petrochemical imports fell year-on-year in October, amid weak domestic demand (ICIS).
Comment MCC: Weak demand is indeed one of the two main factors, as acknowledged by the Central Bank´s rate cut. The other is that for many petrochemicals, local capacity and production are increasing as domestic companies are eagerly seeking for expansion opportunities.
---
November 24, 2014: China´s corruption watchdog now also targets Sinopec after previously already focusing on PetroChina and CNOOC and thus now targets all three major state-owned oil companies.
Comment MCC: Given Zhou Yongkang´s background in the Chinese oil industry, it is not surprising that the major state-owned oil companies have recently become the focus of such investigations.
---
November 24, 2014: Provincial SOE Shanghai Huayi sold a USD 350 million bond at 2.45% above US treasuries.
Comment MCC: The rate is slightly above those of some comparable companies. Though Huayi suffers from having many commodity products and declining prices, the fact that the bond is unconditionally guaranteed and that it is unlikely that Shanghai province would let one of its companies go under should make this a fairly solid investment.
---
November 24, 2014: According to the China Geological Survey ( the government agency that oversees geological research), - by 2030, commercial extraction of methane from gas hydrates, will begin in China. The Royal Society of Chemistry states "Gas hydrates are chemical lattices in which small molecules - including gases such as methane - are locked up in a network of hydrogen bonded water molecules and are found in permafrost and ocean sediments. They represent an enormous and as yet untapped source of fuel, and vast reserves have been identified in the South China Sea and northwestern Qilian Mountains. It is estimated that in total, China may be sitting on gas hydrates equivalent to 110 billion tonnes of oil. Last year, the entire country's energy consumption was equivalent to 2.6 billion tonnes."
Comment MCC: This could be another game changer similar to shale gas in the US - if China manages to master the complex technological challenges involved in exploiting this resource.
---
November 24, 2014: Bluestar, a subsidiary of ChemChina, will buy Norwegian solar panel maker REC Solar Asa.
Comment MCC: China is already the clear leader in solar panels – 8 of the 10 leading global companies are Chinese. By buying a foreign player, Chinese producers can circumvent trade restrictions imposed by Western countries on Chinese solar panel producers.
---
November 21, 2014: A paper in CCR, authored by a PetroChina researcher, states that the "Domestic PDH [propane dehydrogenation] Market is not promising".
Comment MCC: Propane dehydrogenation (to produce propylene for production of polypropylene, an important plastics) is another example for a market starting from zero, attracting huge attention, and then immediately moving to overcapacity and low profits without ever making a decent return. While only one 600 kt unit is already running, another 5.6 million of capacity are being built. And the author states that being squeezed between propane costs and propylene from other sources, units are unlikely to give satisfactory returns.
---
November 21, 2014: According to CCR, China currently has 46%, or 1.28 million t of global BDO (1,4-butanediol) capacity while another 2.63 million t are being planned or under construction.
Comment MCC: At the risk of repeating myself - another example of the sometimes almost insane development of the Chinese chemical industry. Global utilization of BDO is 58% - so what is happening in China? The capacity currently being built or planned is almost the same as the existing global capacity (2.6 million kt vs 2.8 million kt). Which would lower global capacity utilization to about 30%.
---
November 21, 2014: At the same day that the chemical businesses of Sinopec and PetroChina each report losses for the first nine months of 2014, the Economist shows that their market cap has decreased by more than 50% between 2007 and 2014.
Comment MCC: Obviously the Chinese chemical SOEs are not truly competitive in China´s current market environment. Even government statistics show that their role and market share is shrinking. It is hard to imagine a scenario in which this trend will be reversed.
---
November 20, 2014: China plans to set a cap on coal consumption in 2020 (NYTimes). The State Council released details of an energy strategy that includes capping coal consumption at 4.2 billion tons in 2020 and having coal be no more than 62 percent of the primary energy mix by that year.
Comment MCC: This is indeed a major step, and a somewhat surprising one after Xi Jinping´s vague announcement to reach peak carbon dioxide emissions "sometime around 2030".
---
November 20, 2014: Grain processor Archer Daniels Midland has sued Syngenta over alleged losses suffered as Syngenta´s genetically engineered corn produced in the US was rejected for import into China.
Comment MCC: China is not always particularly concerned about the environmental impact of its policies. The fear of becoming dependent on foreign companies - such as the agrochemical ones providing GM corn - is probably the stronger rationale for China´s rejection of such imports. Similar efforts to become less dependent on imports can be seen in traditional areas of the chemical industry, e.g., in the push for coal conversion in order to reduce dependency on oil imports.

---
November 18, 2014: The Chinese government is tightening control over coal-to-chemicals projects. Approvals of major projects by local governments are banned.
Comment MCC: Coal conversion projects are the subject of controversy between central and provincial government, with the central government taking a more holistic view that also focuses more strongly on environmental pollution while provincial and local governments are mainly interested in the tax increases that can be derived from coal conversion. The central government is now strengthening its grip, indicating that the future of coal conversion may not be as bright as originally assumed.
---
November 18, 2014: Kemira officially opened its Nanjing plant for chemicals primarily for the paper industry, an investment of approximately USD 100 million and about 100 kt capacity.

Comment MCC: While paper chemicals are not a segment with the same spectacular growth rates as some other chemical segments in China, growth rates are still high compared to stagnating Western markets - one of the reasons being that many books sold in the West are now printed in China.

---
November 18, 2014: PlasticsNews reports that despite a noisy clamor for beauty products that are sold in easy-to-recycle PET, Chinese consumers still prefer the better appearance of acrylic.
Comment MCC: This is a general characteristic of the Chinese market - it is very difficult to sell products just based on their general environmental friendliness rather than on specific benefits to the consumer. In this respect, markets in Europe are already somewhat more developed. In China, environmental improvements are driven more strongly by government than by consumers - in fact, in the PlasticsNews report, one Chinese producer of packaging materials states that his company had to invest USD 200,000 in 2013 just due to governmental regulation related to pollution control.
---
November 17, 2014: Responding to an AP press release, fluorochemicals producer Tianhe called its business registration filings heavily out of date and stated that new customer contracts would be announced soon.
Comment MCC: It is not clear to me how Tianhe´s announcement really contradicts the accusations of fraud directed at the company. Maybe they have run out of arguments.
---
November 16, 2014: The Gulf Countries accounted for 34% of China´s PE imports and 24% of PP imports in 2013. In the last 10 years, GCC chemicals exports to China grew by about 13% per year (Reuters).
Comment MCC: China is an important export destination not only for Middle Eastern oil but also for chemicals. However, the current growth rate of these exports is unlikely to continue in the future as there is competition both from the US (shale gas based) and from domestic production (coal conversion).
---
November 14, 2014: The Economist reports on the price of making a plastic bottle in different countries. Variations are large (from about 1.7 to 3.7 cent per bottle), with China at the higher end (about 3.0). The graph can be found here.
Comment MCC: For many mass-produced products of the chemical industry, direct labor cost is only a very small component. The relative disadvantage of China regarding naphtha prices therefore is far more relevant than the advantage in labor cost. In some way, this is a positive message for the chemical industry outside of China. Plastic bottles (and many other chemical products) will primarily be produced in China because there is a market for them here, not because it is cheap to produce them here.
---
November 13, 2014: China XD Plastics, a producer of polymer composite materials primarily for automotive applications, achieved a 7.7% YoY increase in sales in Q3 2014.
Comment MCC: While the company press release makes the expected positive noises about recent developments, in reality the growth rate is quite low given the 75% increase in sale from 2012 to 2013. Very likely an indication of this market gradually reaching maturity.
---
November 13, 2014: Both HC Starck (metals and ceramics) and Invista (fibers) achieved some successes related to the protection of IP in China. HC Starck reached an agreement with Ningxia Orient Tantalum Industry, which allegedly had infringed a Starck patent relating to high capacitance tantalum powders and sintered anodes that are manufactured from these powders. The agreement was described as highly favorable to Starck by the company itself. And a Hong Kong court ruled in favor of Invista, preventing another producer of BDO, the Chinese Pioneer Tech Enterprise, from making any use of Invista's trade secrets.
Comment MCC: This is in line with my belief that intellectual property protection in China is improving, and that this issue should only rarely prevent Western chemical companies from establishing production in China.
---
November 12, 2014: A two-month investigation by AP identified significant discrepancies in public financial records and statements Tianhe made to investors (AP). This includes questions about whether its chairman sold himself Tianhe's main assets while he was running a predecessor company owned by the Chinese government.
Comment MCC: At this point it is fair to say that Tianhe has not been able to disprove the allegations made by Anonymous Analytics in early September. A pity as independent of whether the allegations are true, I still feel that the company has a sound business at its core.
---
November 12, 2014: Citic and KKR are jointly bidding for United Envirotech, a Chinese company providing engineering services for water treatment and clients such as Sinopec; Petrochina and CNOOC.
Comment MCC: The offering will be about 1 billion USD - this and the interest by private equity show that many parties now believe that China´s efforts to reduce environmental pollution are now quite serious.
---
November 12, 2014: BASF and Anhui Huaheng Biotechnology will examine the feasibility of a joint operation for amino acid L-alanine production based on AHB technology and operations.
Comment MCC: Another one of these JVs that seem to become more popular, between an MNC and a domestic company engaged in different stages of the value chain. It should give BASF secure and low-cost supply, AHB a stable customer and additional material for sale to other customers, and both parties good economies of scale.
---
November 12, 2014: Xi Jinping stated in his meeting with B. Obama that China will increase its share of renewable energies to about 20% in 2030. The US also made some minor promises (Spiegel)
Comment MCC: Xi Jinping´s commitment is rather soft as it is just phrased as a share of total energy consumption and does not contain any absolute limit for greenhouse gases. Both the US and China stick to their policy of not taking full responsibility for global warming.
---
November 10, 2014: The joint refinery venture of Russia's oil company Rosneft and CNPC in Tianjin will include 1.4m tonnes/year of paraxylene capacity.
Comment MCC: In the past, the announcement of PX plants has frequently led to protests from the Chinese local population. Perhaps the Chinese government assumes that the inclusion of PX production in an existing refinery project will be less critical.
---
November 9, 2014: Chinese investors will spend 800 million Euro on financing two projects for the conversion of methanol to propylene in Iran (Farsnews). The petrochemical units are the Masjed Soleiman Petrochemical Complex and the Sabalan Methanol Unit.
Comment MCC: Iran is currently building huge additional methanol capacity, partly for export to China and also partly financed by Chinese parties. It is interesting that Iran now also wants to do the MTO conversion within the country rather than only exporting methanol to China for conversion there. Based on previous discussions the MTO technology used will very likely be bought from China.
---
November 7, 2014: A Bloomberg report states that low oil prices will substantially decrease revenue at China´s state-owned oil producers and subsequently will decrease their ability to make overseas acquisitions. An analyst is quoted that "If Brent averages $80 a barrel next year, earnings at the large oil companies in China, the world's fourth-largest oil producer, would drop as much as 54 percent from a year earlier".
Comment MCC: The big Chinese petrochemicals producers have indeed invested substantial capital in overseas oil deals - maybe not such a bad thing if there are some limits to these activities in the future. On the other hand, the SOEs also need funds to explore domestic resources in areas such as shale gas - here, any reduction in investment is likely to have quite negative effects in a decade or so.
---
November 6, 2014: Inner Mongolia Dunan Solar Technology will start operation of phase II (5kt of a total of 20 kt) of its polysilicon project (CCR).
Comment MCC: China is a huge importer of polysilicone - recent monthly imports were about 8-10 kt at a value of about 200 million USD. As antidumping regulation favors local production, the market prospects for Dunan´s product seem to be good.
---
November 6, 2014: Henan Energy Chemical Yimei started construction of a 60 kt/a single-cell protein (SCP) plant from methanol in Xining (CCR)
Comment MCC: SCP is mixed protein extracted from cultures of algae, yeasts, fungi or bacteria used as a substitute for protein-rich food and feed. In spite of its promise, so far only a limited number of commercial‐scale SCP processes are being used. And generally these use agricultural waste as a cheap and easily available starting material, though companies such as Norprotein have done research on methanol as source as early as 1974. It is intriguing to hear this new plant, which is probably meant as an outlet for methanol produced by the same company from coal. As the investment even for the first phase of the project (20 kt) is substantial (about 1.1 billion RMB), I am wondering whether the commercial viability of the approach has already been proven. Any input on this is very welcome.
---
November 6, 2014: Shandong Mingshui Chemical expanded a hydrogen peroxide plant, increasing the capacity to 80 kt/a from the original 35 kt/a (CCR).
Comment MCC: Small plant sizes are a legacy issue of China´s chemical industry. In the same year that Mingshui expands its plant from 35 to 80 kt, Evonik starts a Jilin plant with a capacity of 230 kt. Which one will be better at utilizing economies of scale?
---
November 6, 2014: Phase one (100 kt) of a 300 kt/a 1,4-butanediol (BDO) project in Inner Mongolia Dongyuan Sci-Tech Co. came on line in mid-October (CCR).
Comment MCC: In some areas of China´s chemical industry, capacity developments are really frightening. BDO is such an example. In 2012, total Chinese capacity was 606 kt and capacity utilization was somewhere around 50-55%. The reaction of Chinese companies to this situation was to add a total of 830 kt to come onstream in 2013 or 2014, including the one mentioned above. They also announced plans for another 1105 kt. It is hard to comment on this without being borderline offensive.
---
November 6, 2014: Hubei Xingfa Chemicals will construct a 60 kt/a glyphosate technical plant which is expected to start operation in 2016. Total capacity then will be 130 kt/a (CCR)
Comment MCC: Glyphosate is one of the first major examples for a product in which increased environmental standards really affect the local producers. Particularly small and medium enterprises were strongly affected by the investments required by the new regulation (estimated to be about 2-4 million RMB per kt of annual capacity). This has led to reduced production, though not to a substantial increase in prices. At this point, investing in becoming a leading player may actually be quite sensible (130 kt/a would be about 30% of total annual Chinese output, making Xingfa an important player), but of course in China the problem is that often too many companies have the same idea.
---
November 12, 2014: Vertellus opened a 5000 t niacinamide feed plant in Nantong, creating a fully integrated the Nantong site from the production of beta picoline to vitamin B3.
Comment MCC: This marks another chapter in the shift of vitamin production to China – Vertellus will no longer produce niacinamide in Antwerp.
---
November 06, 2014: CNOOC completed construction of an LNG terminal phase I in Tianjin. Phase 1 will supply an annual 3 billion cubic meters of imported LNG to Beijing and Tianjin.
Comment MCC: This is all part of the efforts to reduce air pollution in Beijing - ideally for a bit longer than just during the APEC days, for which Chinese bloggers invented many new meanings in the last few days, most of them beginning with "Air Pollution".
---
November 5, 2014: ChangYuan Group (Shenzhen) bought HSC Corp. (Zhangjiagang), a producer of electrolyte additives for lithium ion batteries for RMB 900 million (CW).
Comment MCC: ChangYuan makes heat shrinkable materials, power grid equipment, circuit protection products and electronic products - areas with some but not extremely strong relation to HSC´s business. However, HSC is a small company with market leadership in its segment and thus may be a good investment for a larger player.
---
November 5, 2014: Teijin will shut down its polycarbonate plant in Singapore as part of a restructuring.
Comment MCC: It is interesting that Teijin shuts down the Singapore plant while keeping the plants in Japan and China, both of which have lower capacities. High energy costs are given as the official reason, but it may not be the only one.
---
November 5, 2014: DSM stated at its capital market day that they may sell their caprolactam business to Ineos.
Comment MCC: It is quite recent that DSM still invested in expanding the caprolactam capacity in China. Now the market is also threatened by overcapacity. Is it really that all chemical markets get unattractive for MNCs once a sufficient number of Chinese players enters? What is next then - MDI?
---
November 5, 2014: Average wage growth in German companies in China was 8.9% in 2013 and is expected to fall to 8.1% in 2015 (German Chamber of Commerce Survey). About 41% of respondents stated that productivity grows more slowly than salaries, indicating an increase in labor cost per produced unit.
Comment MCC: Actually this data is more positive than I expected. Given that the chemical industry is not particularly labor intensive, the threat for chemical companies probably comes less from an average salary increase but rather from losing high performers due to insufficient retention and bonus systems.
---
November 5, 2014: Sinopec got a penalty of 8 million yuan from the Ministry of Land and Resources, for its insufficient investment in exploring shale gas (Thanks for the info to Paul Cherry!)
Comment MCC: This is about less than 0.0003% of Sinopec´s 2013 sales - a nice little symbolic gesture but not more.
---
November 5, 2014: McKinsey estimates that China´s chemical market will be responsible for 60% of the global chemical industry growth (Energy Global)
Comment MCC: Despite the many difficulties of doing business in China´s chemical market - particularly for multinational companies - this is still more than enough reason to focus on this market. An obvious and almost boring comment, I know.
---
November 4, 2014: Two more Chinese agrochemical companies entered the top 20 list by global sales in 2013, for a total of 4 (Agropages)
Comment MCC: Though none of the Chinese agrochemical companies is in the top 10, they now are at No. 14 to 17 (Wynca, Zhejiang Jinfanda, Huapont-Nutrichem, Sichuan Leshan Fuhua Tongda). It is telling that three of these four are makers of glyphosate - thus they are still essentially production companies rather than companies based on more sophisticated capabilities such as research, development of new products or formulation. Still, in the longer run the Chinese companies will certainly enter these areas as well.
---
November 3, 2014: Bayer bought Dihon Pharmaceutical (Kunming, China), a pharma company specializing in OTC and herbal traditional Chinese medicine for 3.6 billion RMB.
Comment MCC: As a chemist by background, I am somewhat skeptical about the real benefits of OTC and Chinese medicine. But certainly once a Western company has decided to enter this market, it is a wise step to buy a local competitor - not only to get hold of local products and the associated credibility but also because presumably market access in this area is more important than developing products. Or maybe I am just too sceptical about this.
---
November 3, 2014: Connell Brothers acquired Bioworld Fine Chemical (Shanghai), a distributor of company personal and home care ingredients in China.
Comment MCC: I know from my own work how hard it is to find a Chinese chemical distributor with some degree of specialization (i.e., not just selling either solvents or plastics). It is even harder to buy such a distributor at an acceptable price. CB has achieved at least the first.
---
October 31, 2014: The value of China´s pesticide exports increased by 3.8% in 1H 2014 compared to 1H2013 and reached 4.7 bn USD. The growth driver was formulations (+3.6%) while exports of isolated active ingredients shrank by 9.6% (ChemLinked).
Comment MCC: This is an indicator of China moving up the value chain and towards capturing a larger share of the value creation in the overall pesticide production.
---
October 31, 2014: Sinopec Corp. will buy its parent's (Sinopec Group) stake in an oil-processing plant in Saudi Arabia for $562 million.
Comment MCC: Sinopec Group aims to float more of its oilfield assets without a separate listing while Sinopec Corp. is keen to buy more overseas upstream assets to boost oil and gas production and to counter losses in its downstream businesses (which are sometimes unavoidable due to the state control of gasoline prices). In the future, overseas assets may still be acquired by the parent company first as its balance sheet is stronger, even if in the long run they are intended to be injected into Sinopec Corp.
---
October 30, 2014: UniTao, a subsidiary of Tenry Pharmaceutical (Shanghai), bought a US plant for chemical active ingredients for use in pharmaceuticals from Boehringer Ingelheim.
Comment MCC: The same active ingredients plants that suffer from competition from China are now being bought by Chinese players in their quest to become more global. Oh, the irony.
---
October 30, 2014: Sinopec increased its ethylene production by 6.2% for the first three quarters of 2014 compared to the previous year, and made a small operating profit in chemicals in Q3.
Comment MCC: It is telling that Sinopec chooses to mention an unspectacular increase in ethylene production among the highlights of its quarterly results. Operating income of the company fell by 1.1% and operating profit by 2.5% (Q1-3 of 2014 vs. Q1-3 of 2013) in an economy which still grew by 7.4%.
---
October 30, 2014: LG Chem has broken ground on an electric vehicle battery plant in Nanjing. Startup is planned for the end of 2015, with a capacity of over 100,000 batteries/year.
Comment MCC: This seems a fairly ambitious capacity - in 2013, less than 15,000 electric cars were registered in China, the government target for 2014 is 20,000 and for 2017, it is 170,000. Of course, production for export may increase this number - still, LG Chem has to achieve a fairly high market share to utilize the capacity of the new plant.
---
October 29, 2014: The Scientific American published a paper on coal-to-gas plants in China which is fairly critical of the industry (http://www.scientificamerican.com/article/can-china-s-bid-to-turn-coal-t...). Key reasons for the skepticism are not only environmental but related to business risks such as reliance on immature technologies, rising environmental costs and dim market prospects
Comment MCC: An interesting aspect of the internal debate on coal conversion is the divergence in opinion between central and local governments. Local governments tend to be highly supportive, as also stated in the paper cited above: "When companies negotiate with local authorities to seek the right of mining coal, local authorities often require them to develop coal-to-chemicals projects in the region" (quote from a local researcher). This was also the result of MCC´s own research on the subject. Local governments support coal conversion as the tax revenue is substantially higher than for coal mining alone. As a consequence, they make coal conversion a precondition for granting mining licenses.
---
October 28, 2014: The coal-to-gas (to energy) plant of Southern Co. in Mississippi will only start operations in 2016, not 2013 as planned. Costs will be 6.1 billion USD, not the original 2.2 billion USD.
Comment MCC: This is a clean coal plant in which the carbon dioxide is separated from the natural gas - the majority of it is subsequently captured in oil wells. Southern´s aim is to establish a showcase for sale of the technology to China. However, so far it only serves as proof that Chinese companies have no monopoly in struggling with coal conversion technology.
---
October 28, 2014: Canadian company Enerkem will partner with several Chinese entities in Shanghai and Qingdao to build plants for the conversion of solid municipal waste to biofuels and chemicals.
Comment MCC: While as a chemist I am somewhat skeptical about the claimed proprietary thermochemical technology of Enerkem, the company indeed is in the process of commissioning a commercial-scale plant in Canada (though this does not say too much about the cost position of that plant). What is interesting is that now Chinese organizations also show a strong interest in this technology even though it is likely to be still quite far away from being commercially viable without any subsidies.
---
October 28, 2014: According to Paul Hodges of ICIS based on global trade data, China has turned from an importer to a net exporter of PVC in 2014
Comment MCC: This is part of a broader trend - on the same day, a Korean newspaper mentioned the threat to the Korean chemical industry from coal-based PE and PP produced in China (they state that Korean petrochemical companies rely on Chinese customers for 45% of their output). Many global producers of commodity chemicals will have to reduce their reliance on China. And even in specialty chemicals, the pace at which China´s companies are catching up is much faster than the pace at which foreign companies can come up with innovations.
---
October 27, 2014: National Titanium Dioxide Co. (Cristal; Saudi Arabia) will acquire the titanium dioxide assets of Jiangxi Tikon Titanium Co. (Fuzhou, China).
Comment MCC: Cristal is the world's second-largest producer of TiO2 with slightly above 10% of global capacity (DuPont is the global leader but is likely to spin off the titanium dioxide business). Jiangxi Tikon is a relatively small Chinese player with about 70 kt combined capacity (the top 5 Chinese players all have capacities above 100 kt), so the acquisition will only slightly increase Cristal´s current capacity of about 750 kt. It seems this is more a platform to increase Cristal´s market presence in China and/or add capacity in China - probably based on the realization that while China´s titanium dioxide market is not very attractive due to a threat of overcapacity, it is the biggest in the world and still shows decent growth.
---
October 27, 2014: BASF will increase its tert-butylamine capacity in Nanjing from 10 to 16 kt.
Comment MCC: Key applications for tert-butylamine are in rubber processing (thus linked to the car industry via tires) and in agrochemicals (pesticide production) - both segments that are likely to grow further even if China´s economy slows down.
---
October 27, 2014: According to ICIS, a number of investors in China´s LNG plants are trying to exit the business as margins are shrinking due to overcapacity and rising gas prices.
Comment MCC: In a number of regards, this is similar to the situation in coal chemicals: many of the investors are from outside of the industry, capital investment is high, margins were attractive, and consequently many investors entered within a short period of time. In the case of LNG, this has led to the current negative profit margins - something similar may happen in coal chemicals, particularly if oil prices keep sliding downwards.
---
October 24, 2014: BASF has lowered its revenue and earnings targets for 2015, following a further weakening of the European economy and a slowdown in China (FT).
Comment MCC: While I hope that John Richardson and Paul Hodges are too pessimistic with regard to their China outlook, China is certainly slowing down, and this will affect the chemical industry as well. It is hard to see another region which could replace China as growth driver. BASF seems to have realized this as well.
---
October 24, 2014: AkzoNobel has started production at its vehicle refinishes plant in Changzhou, China. The plant has a capacity of 25 kt and is the company's 30th plant in China.
Comment MCC: Changzhou is the location of Prime, a domestic car refinish producer acquired by Akzo in 2010. In the new plant, Akzo will produce paint for three different brands - Sikkens (premium), Lesonal (Western budget brand) and Prime (the brand acquired - presumably now targeting the Chinese mid-market). Such differentiated brand strategies will become more and more important for Western companies unwilling to restrict themselves to the high end, and ambitious to profit from the increasing mid-market in China.
---
October 22, 2014: CEPSA has selected UOP technology for its 250 kt phenol/150 kt acetone project in Shanghai.
Comment MCC: Phenol is another Chinese chemical market in which past supply gaps have led to vast capacity announcements, putting the future profitability at risk. While 2013 consumption was about 1.55 million tons, a similar capacity will come into operation in the next 2-3 years, CEPSA´s being one part of it. The market grows quickly due to the shift to bisphenol A as major consumer instead of phenolic resins, still, the capacity may grow so fast that China may become a phenol exporter soon.
---
October 22, 2014: According to Gao Liping of CNCIC, most of the ethylene and propylene produced in coal-to-olefin plants will be converted to PP and PE (PlasticsNews). Coal conversion will thus become the main raw material source for new polyolefin capacity unless coal conversion will be subject to a pollution tax. She also sees a shift of Chinese plastics producers towards higher-end plastics grades due to the saturation of the commodity market.
Comment MCC: This shift is long overdue in terms of economics but was in the past hindered by limited knowledge and the decent market situation for commodities. As for the pollution tax, this would probably be a good thing but is unlikely to happen in the near future as coal producers are already suffering from low prices, and the government therefore is unlikely to put additional pressure on them.
---
October 22, 2014: According to Qi Min of ICIS China, the Chinese government does not encourage the use of domestic shale gas in chemical production (PlasticsNews)
Comment MCC: China´s focus currently is on reducing air pollution in the major cities via replacement of coal power plants with gas powered ones. As China´s gas resources are limited, this prioritization does not leave a substantial amount of gas for chemicals production - a situation very different from the US.
---
October 22, 2014: According to Greepeace, the amount of coal burned in China in the first three quarters of 2014 dropped by 1-2% compared to the same period in the previous year.
Comment MCC: This is surprising and at first glance somewhat inconsistent with official GDP growth data of slightly above 7%. However, Greenpeace is fairly certain that this is a real effect and not just based on unreliable data (and as a source, Greenpeace is probably more likely to err on the pessimistic side). Their explanation is that coal consumption for electricity is coming down and there is very slow growth of steel and cement. China's statistical agency also noted that economic growth was increasingly coming from the service sector instead of heavy industry, as well as new renewable energy such as hydropower and wind power. Hopefully this recent trend of Chinese environmental-related news not always being negative will continue.
---
October 22, 2014: Veolia won industrial water treatment contracts from China's biggest steelmaker in Hebei province, Tanshan Iron & Steel, valued at US$497 million. Veolia will build a wastewater-treatment plant for a coking plant and a gas-liquefaction facility.
Comment MCC: This highlights the opportunity for water treatment companies as environmental regulation in China gets more strict and additional customers such as coal chemicals plants emerge.
---
October 21, 2014: PPG and Henan Billions Chemical celebrated the completion of Henan Billions' titanium dioxide manufacturing and research facility in Henan.
Comment MCC: This is an interesting model - PPG supplied technology for chloride-based titanium dioxide and agreed to a long-term supply contract, thus giving the company stable access to high-quality pigment without significant capital investment. And of course the Chinese partner profits, too.
---
October 21, 2014: Arkema has finalized the first stage of a 160 kt acrylic acid plant acquisition from local player SunVic in Taixing, China, at a price of US$ 240 million.
Comment MCC: As growth in China slows down somewhat, it may increasingly make sense for global players to buy existing chemical production capacity rather than establishing new capacity. Not only is this faster and reduces the risk of overcapacity, it also becomes more attractive as capacity recently created by local players gets closer to world class standards.
---
October 21, 2014: According to the Conference Board, a US-based research organization, China´s growth will slow down to about 4% after 2020. The organization also says that foreign companies may benefit from more moderate growth in China, e.g., due to greater ease in attracting skilled workers and more opportunities to buy struggling local enterprises (Bloomberg).
Comment MCC: Seems a bit like trying to put a positive spin on a bad story - with global chemical companies relying on China for growth, they will not be helped much by the opportunities mentioned in the report, in particular as those opportunities are only relevant if China keeps growing fast.
---
October 20, 2014: Petrochina will achieve its 2015 for shale gas production of 2.6 billion cubic meters (Bloomberg).
Comment MCC: Finally some better news for China´s shale gas development. But still a long way from the situation in the US, and the impact on the chemical industry there.
---
October 17, 2014: According to the China National Coatings Industry Association, the Chinese government is planning to impose a tax on restricted solvent-based coatings in order to reduce the release of VOC (CW). The association is also lobbying for adding producers of water-based wood coatings into the government purchasing list, and cooperates with the home furniture association to create a label for home furniture using water based coatings.
Comment MCC: These are quite positive steps, particularly as they are being pursued by the industry association. This indicates that at least a large share of industry participants no longer opposes the trend towards water-based coatings.
---
October 16, 2014: Bayer Material Science organized an event on Green Buildings together with Tongji university.
Comment MCC: Is this really news? Probably not, but a good example of a multinational company becoming more localized via cooperation with local academia. Bayer sponsors a professorship at Tongji and achieved the participation of several important institutions for their event, including the president of the Shanghai Green Building Council and a deputy director of the ministry of housing. Given the potential huge market for polyurethane as insulation material in China´s future more sustainable construction industry, this seems like an effort well spent. Maybe an example for other companies.
---
October 15, 2014: Currently about 48% of the global BDO capacity of about 3.35 mio tons is located in China (ReportInChina).
Comment MCC: BDO is another example for the sometimes mysterious ways in which the Chinese market for chemicals works. Current China capacity utilization is only about 30% - yet if all projects currently announced will go ahead, the domestic capacity will almost double again. Part of this can be explained by a change in favored technologies, and some projects will probably not be realized, but still it is hard to see how most of these projects can be profitable.
---
October 15, 2014: According to Asiachem, up to 26 million tons of methanol will be required by 2019 to feed MTO projects not or not fully integrated into coal. Of those 9 MTO projects starting in 2015, only 3 are integrated while the other 6 add a methanol demand of about 9 million tons.
Comment MCC: This shows that MTO projects may not be as much based on domestic coal as generally imagined. Non-integrated MTO projects tend to be located on the coast and thus are likely to be based on imported methanol. The question is whether these non-integrated MTO projects will also have some kind of government support as they do not really reduce China´s dependence on imported raw materials.
---
October 14, 2014: CB&I will design and engineer a coal gasification unit for Shandong Sincier Petrochemical at Dongying, Shandong, China.
Comment MCC: Nowadays most coal gasification technology selected for new plants in China is provided by domestic suppliers. The CB&I technology is not widely used in China. However, Sincier has been a customer of CB&I for other technologies - probably CB&I used the resulting contacts in selling their coal gasification technology.
---
October 14, 2014: Badlands NLG, a private equity company, will build a 1.5 millon t/year polyethylene plant, an investment of 4 billion USD, in North Dakota, atop the Bakken shale gas field (CW).
Comment MCC: The future market for PE may get crowded as additional capacities are being built in the US, and China may reduce its import dependency via plastics made from coal. Nevertheless, this private equity investment shows that this will still be a profitable market, at least for players with good raw materials cost position.
---
October 11, 2014: China will implement a nationwide coal tax for domestic producers, with a rate of 2-10% depending on decisions of provincial governments (Reuters).
Comment MCC: This is a move both away from the previous volume-based tax, and a simplification of the system (currently coal producers have to pay 16 types of national taxes and 31 types of policy fees to local and central governments). Due to the low current coal prices, it may benefit coal producers at this point in time - however, the long-term goal of the new system is to encourage more efficient coal use, which would only be consistent with price increases. So the long-term effect on coal-to-chemicals conversion may be negative.
---
October 10, 2014: John Richardson of ICIS describes the current situation in China - particularly with regard to lending - here.
Comment MCC: While I do hope John is too pessimistic, a lot of his analysis seems right. Some of the more robust economic indicators such as electricity consumption also point downwards. That is why "May you live in interesting times" is a curse, not a wish.
---
October 10, 2014: Shenhua Ningxia has selected the Novolen polypropylene technology for its 600 kt plant in Yinchuan, China. This will be the third such unit at the site, with a total capacity of 1.6 mio kt (CB&I.)
Comment MCC: In coal gasification, Chinese technology now has a market share of at least 70% in China, as the utilization of the technology is focused on China which has thus become the center of new development. However, as the Ningxia example shows, in subsequent steps of the coal to chemicals value chain, Western technology still has an edge, primarily due to the larger number of operating reference projects.
---
October 10, 2014: Wanhua is planning to build an MDI splitter on the US Gulf Coast in order to participate as a local player. It will be supplied with product from China (PlasticsNews).
Comment MCC: Wanhua´s global ambitions have already been obvious with the acquisition of Borsod, making a presence in the US a logical next step. Wanhua seems to take a more cautious approach in the US, which is a bit surprising given the big steps the company has taken in the past. However, the company also has long-term plans for producing MDI in the US.
---
October 9, 2014: China will levy an import tax on coal of 3-6% depending on coal type starting from October 15 (Reuters).
Comment MCC: It seems the government has caved in to lobbying from the local mining companies that have suffered from the recent very low coal prices. The import duties should lead to an increase of prices for domestic coal, particularly the lower grades which have the highest import tax (6%). This could negatively affect coal-to-chemicals projects as they are partly driven by low coal prices.
---
October 9, 2014: Tianhe lost up to 47% of its value on its first day of trading today (Bloomberg).
Comment MCC: So the rebuttal did not convince the markets. Indeed, in its reply to Tianhe´s second rebuttal, Analytics Anonymous challenges many of their points again. Somehow it seems unlikely now that after giving a statement that took more than one month to prepare, Tianhe will be able to clarify the whole issue in a satisfactory manner later.
---
October 9, 2014: Tianhe, a fluorochemicals and lubricant producer, has issued a second rebuttal of the fraud allegations raised by Anonymous Analytics. Stock will resume trading today.
Comment MCC: Some of Tianhe´s statements sound convincing, others, less so. It will be interesting to see how the stock price will develop now, and whether there will be comments by Anonymous Analytics on the second rebuttal.
---
October 8, 2014: Leucadia (New York) will not proceed with its 2.6 billion USD Lake Charles project to use gasification technology to convert petroleum coke to methanol and other products. Costs were given as the main reason (ChemWeek).
Comment MCC: With natural gas plentiful in the US, the project seems slightly absurd in the first place. Of course, costs of alternative raw materials are quite different in the US and in China. Still, the methanol market is a global one, so the decision may also have implications for China´s many coal to methanol projects.

---
October 7, 2014: Johnson Matthey bought the Changzhou plant for lithium iron phosphate (LFP) from A123. LFP is used as cathode material in lithium-ion batteries. A123 will remain the owner of its intellectual property in battery materials, and Johnson has an exclusive contract to supply LFP to them.
Comment MCC: A123 is an interesting company. Founded in 2001 in the US, the company had a highly successful IPO in 2009 due to the excitement over their lithium ion battery know-how. In 2012, the company went bust as the market did not develop fast enough, and the company failed to attract major customers. The company then was acquired by a Chinese auto parts maker, Wanxiang. Now A123 seems to move away from materials production, leaving this to the UK-based Johnson Matthey - typically the kind of outsourcing seen in the reverse direction.
---
October 6, 2014: Cleantech Group issued its annual list of 100 leading cleantech companies today. 67 companies are located in North America, 28 in Europe, and of the remaining 5, 2 are in China.

Comment MCC: The large share of North American companies probably reflects Cleantech Group´s target customers as much as the regional focus of the industry ... In any case, from their perspective cleantech is still primarily a topic for highly developed markets.
The two Chinese companies are LP Amina, a provider of products and services that improve the efficiency and reduce emissions of power plants, and Scinor Technology, a provider of membrane-based water treatment technology. LP Amina focuses on coal utilization, for which China is certainly a good target market due to the large coal resources and the dominant role of coal in China´s energy mix. Similarly, water treatment as offered by Scinor is highly relevant particularly in China´s North as the water resources there are insufficient for China´s increasing demands.

---
October 6, 2014: A study by markets&markets forecasts a growth of 6.25% per year for coatings resins in the 2014-2019 period (from about 27.1 bn USD in 2013 to 38.7 bn USD in 2019).
Comment MCC: To some extent these studies cater to their potential buyers´ wish for a positive outlook. Still, 6.25% seems overly optimistic. For China, the coatings growth forecast is only about 7% in that period. Global growth was only about 3% in the last few years, similar to global GDP growth. So unless one expects either a significantly stronger global economy or resins vastly outperforming the overall coatings market, the forecast does not seem very likely to come true.
---
October 6, 2014: By the end of 2014, NutraSweet will exit the production of aspartame, leaving the Japanese Ajinomoto as the only serious non-Chinese producer of the sweetener (C&EN).
Comment MCC: Sweeteners are an example of what can happen to chemicals markets when being pushed towards commoditization by Chinese players. Aspartame prices were about 30 USD per kg in 2004 (long after the patent had expired in 1992) - they are about 12 USD/kg now, and about 70% of global supply comes from a number of Chinese producers including Niutang and GSweet. Incidentally, the latter is in the process of expanding its aspartame capacity from 5 to 10 kt - which adds 20% to global capacity. For sucralose, the trend is similar - 2004 prices of 300 US/kg have dropped to 40 US/kg . By now, even established Chinese players such as Niutang claim that "current sucralose prices are not realistic". One crucial factor is that for sucralose, US beverage manufacturers no longer shy away from Chinese producers - their quality and reliability seems to have reached acceptable levels.
---
October 4, 2014: A report "Maleic Anhydride Industry Global and China 2014 Market Research Report" was released today - one of many with the same "xxx Industry Global and China Market Research" title.
Comment MCC: When I started working in China a bit more than 10 years ago, the ambitious target of my first client´s China organization was to become the third biggest Asian market for the company. Nowadays, market reports show their relevance by stating specifically that they are not just covering the global market but also the Chinese one. Times are changing.
---
October 3, 2014: Asian glycerol prices fell by 30% in the last 6 months, and are likely to fall further due to the large supply available on the market (ICIS).

Comment MCC: This is a side effect of the increasing production of biodiesel and oleochemicals. Biodiesel is produced by transesterification of triglycerides contained in vegetable oils. One ton of biodiesel produced yields about 100 kg of glycerol. Though China so far produces only limited amounts of biodiesel, production in countries such as Indonesia obviously also affects prices in China.

---
October 2, 2014: BioAmber signed a 5-year exclusive supply agreement for bio-based succinic acid with the Chinese Xuchuan Chemical, one of the bigger producers of polyester polyols for use in PU. The succinic acid will be used as a replacement for adipic acid in the production of polyester polyols, which will then be used in cast polyurethane elastomers (CPU). CPU is used in many applications including automotive instruments, industrial and mining equipment, power tools and industrial tires.
Comment MCC: If Xuchuan was a Western company, my suspicion would be that the main rationale for the replacement is to be able to claim a better environmental footprint. As Xuchuan is a Chinese company mainly providing materials for use in B2B applications, in this case this is probably only a minor reason. Indeed, Xuchuan claims that the succinic acid based CPUs are more resistant to solvents and to abrasion. Hopefully there will be more examples in the future where the replacement of materials derived from petrochemicals by biobased ones also leads to improved properties.
---
October 1, 2014: Pesticide producer Adama (formerly Makhteshim Agan) will acquire the Chinese businesses of ChemChina's China National Agrochemical Corporation. Adama is 60% owned by ChemChina.
Comment MCC: This is a sensible step that combines Adama´s strong position research, marketing and sales of generic crop protection with production capacity in China, which is the leading producer of pesticides and a big market. About 50% of China´s production is exported, and Adama will likely be a major party in these exports.
---
October 1, 2014: As the first US state, California will prohibit the retailers from giving away free ultrathin plastic bags from 2015/2016 depending on the type of store (Spiegel).
Comment MCC: Today is China´s National Holiday so this seems appropriately positive news: China already introduced such a ban 6 years ago, prohibiting the manufacture or use of the thinnest types of plastic bags. They also ban supermarkets, department stores, and grocery stores from giving away thicker varieties, requiring them to charge customers for the bags. While this ban is routinely violated by the smaller shops, it is generally obeyed by larger stores and supermarkets. According to the NDRC, in the first 5 years of this regulation it reduced the number of plastic bags by two thirds. Some sensible regulations seem to be enacted far more quickly in China than in the Western world (in the US, lobbying efforts are already in progress against the California rules).
---
September 30, 2014: Shaanxi Future Energy Chemical Corp. got NDRC approval for the construction of its 1 million t/a indirect coal-to-liquids project in Yulin City of Shaanxi Province (CCR).
Comment MCC: The project produces primarily diesel. Chinese experts generally do not see the production of fuel from coal as promising - it is rather regarded as wasteful. This makes the approval a bit surprising. However, the additional news provided by CCR offers some explanation: the project is expected to start commissioning by the end of 2014 and start production in the first half of 2015. This must mean that construction of the project started long before the approval - so probably the NDRC just accepted the facts already on the ground.
---
September 30, 2014: DuPont invest more than $15 million to move production of fluorpolymer finishes from a facility in Shenzhen to its Teflon production site in Changshu. DuPont also will establish a new R&D lab for Teflon finishes in Shanghai.
Comment MCC: Some of the items written about here do not seem particularly interesting, right? Still, the DuPont move indicates that some of the major chemical companies are now getting closer to approaching maturity in China. Closing down one facility in order to reopen it at an existing site that is thus becoming an integrated one is clearly an action dictated by efficiency gains and other operational considerations rather than by a strong desire to expand further. Of course, the simultaneous opening of an additional R&D lab indicates maturity has not fully reached yet.
---
September 29, 2013: The China (Shanghai) Pilot Free Trade Zone was officially inaugurated.
Comment MCC: One of the goals of the Free Trade Zone is to get more headquarters of international companies to China. However, there is probably a lot more to do to achieve this than just the opening of such a zone. So far, the reactions to the zone have been fairly unenthusiastic.
---
September 29, 2014: According to Platts, new PDH plants in China are under intense margin pressure and partly try to resell their contracted propane rather than producing propylene.
Comment MCC: There are several reasons for the current low margins (300-500 RMB per ton rather than the forecast 1000-1200 RMB or the 900 RMB achieved a few months ago). One is the closure of a PP producer in Taiwan following an explosion - a short term effect not particularly worrying to the industry. However, there are also several new PDH plants being started in China within a short period. And finally, there may also be an effect of a slowdown of PP demand following an overall China slowdown. This would of course be much more worrying not only for PDH plant operators.
---
September 29, 2014: Clariant will acquire VitaPac, a Chinese specialist for healthcare packaging with sales of about 4.2 million USD. The company is based in Hong Kong and has a production site in Dongguan, China. The business focus is on protective packaging solutions for the pharmaceutical, nutraceutical and food industries in APAC, particularly on desiccant packets for moisture adsorption (Business standard)
Comment MCC: This acquisition is somewhat surprising due to its small size and the move into finished products. It is likely an indication of the growing importance of more complex products/services in order to protect margins, particularly in segments that are threatened by commoditization, such as Clariant´s masterbatch business, of which the acquisition will become a part.
---
September 26, 2014: Northwest Innovation Works, an outfit backed by Western and Chinese petrochemical and financial investors, considers building three methanol plants in the US with a total capacity of more than 9 million tons (ICB).
Comment MCC: This is in addition to the more than 10 million tons of methanol considered for two other projects by Yuhuang and Connell, for a total of almost 20 million tons. All capacities are primarily built by Chinese investors, and are based on cheap US natural gas. The vast majority of the methanol (80-90%) is intended to be shipped back to China, primarily for use in China´s methanol-to-olefin plants. It is not clear if the plants will actually be built - but if they will, it could make life for Chinese coal-to-methanol operators much more difficult.
---
September 26, 2014: The China price for metallurgical coal fell to a six-year low today (Bloomberg).
Comment MCC: This hints at a serious slowdown in steel production and thus infrastructure and construction investment in China. On coal conversion to chemicals, however, the low coal price should have a positive effect.
---
September 25, 2014: The first phase of a 200 kt/a silicone project by Jiahui Silica Chemical was started in Inner Mongolia, with a capacity of 80 kt/a (CCR).
Comment MCC: Currently China has about 40% of global silicone capacity – this will rise to 50% by 2016 if all announced projects are realized. Another segment threatened by overcapacity, nothing new …
---
September 25, 2014: Privately owned China Kingho Energy Group signed an MOU with KazMunaiGas, Kazakh state-run oil and gas company, for the production of coal-based fuel and chemicals (CCR).
Comment MCC: So China now starts exporting its enthusiasm for coal chemicals.
---
September 25, 2014: Air Liquide will invest 30 million Euro to supply the Chongqing plant of Chinese flat panel display producer BOE technologies with ultra-pure nitrogen.
Comment MCC: Industrial gases are a somewhat peculiar chemical segment - the on-site supply of a gas like nitrogen has some characteristics that are more like those of service businesses than those of typical chemical segments. Pure nitrogen is produced from air directly at the client´s site, and safe and continuous supply is vital for the client´s plant to run as the nitrogen protects the sensitive processes from the outer environment. This creates a fairly strong mutual bond between supplier and client. For other chemical businesses, it may be worth considering if such a business model (or at least parts of it) could also applied. Another note: I wonder whether the location of the new plant in Chongqing is a result of government efforts to promote the development of China´s central and western provinces.
---
September 24, 2014: The Ministry of Environmental Protection announced that ammonia nitrogen and chemical oxygen demand has decreased during the first six months period of this year, by 2.7% and 2.3% respectively, exceeding the target of 2% to reduce water pollution. (ChinaTopix)
Comment MCC: As more than half of China´s groundwater is believed to be contaminated, any progress in this area is very welcome. However, as government figures are of a political nature, exceeding the targets may actually be bad news and indicate that future efforts will be less intensive. After all, any tightening of regulation may particularly hurt small companies, for example in the textile industry.
---
September 23, 2014: 5 people died in a plant fire in a barium nitrate plant in Hunan (Xinhua)
Comment MCC: One of the areas of the chemical industry I usually try to ignore is that for military and related applications. Barium nitrate is an ingredient in explosives and grenades, though also in fireworks (green fire) and in production of barium oxide. The explosion is both a reminder of the link between chemicals and such applications, and the limited implementation of safety measures in many domestic chemical companies.
---
September 23, 2014: A new report forecasts the China market for textile chemicals to increase by an annual 9.7% to 2019 (Research&Markets).
Comment MCC: As somebody with a background as natural scientist, I always find these exact estimates somewhat suspicious - I would be happier with the forecast just stating "9-10%". Anyway, overall the number broadly makes sense. China textile exports grew by about 11% in 2013, and domestic consumption of textiles will probably be slightly above GDP growth in the next few years as the government promotes consumption over investment and exports. Fairly good news for makers of colorants and textile auxiliaries.
---
September 23, 2014: Taiwan reports a trend of their companies leaving mainland China and shifting production back to their home country due to rising salaries (Spiegel).
Comment MCC: Although the chemical industry is not particularly sensitive to salary levels, many of its customer industries are. Some segments such as textile chemicals will probably notice such an effect sooner rather than later. See also an article on rising salaries in the chemical industry at http://www.mc-chemicals.com/content/knowledge
---
September 22, 2014: Evonik will build a new plant to manufacture its Rohacell polymethacrylimide structural foam at Shanghai (Evonik)
Comment MCC: These foams are used in fairly high-end applications such as aviation, automotive, electronics, medical technology, and sporting goods. Consequently, the existing Evonik plants are located in Germany and the US. The establishment of such a plant in China indicates that China has at least some success in moving its manufacturing industries towards higher-end products.

---
September 21, 2014: According to a study just published at the UN climate conference, mankind has to leave half of the world´s global fossile resources unused to keep global warming below 2 degrees.
Comment MCC: China is the clear leader of carbon dioxide emissions with a 29% share followed by the US with 15% and the EU with 10%. Though per capita this is still comparatively low, it means that no effort to reduce carbon dioxide emissions will be successful if China does not play along. However, so far it does not look that way. The current boom in coal chemicals projects will increase coal usage rather than decrease it.
---
September 19 and 22, 2014: Sinopec Engineering started a 1.3 billion USD refining project for Petronas in Malaysia. CNOOC Engineering founded a branch in Abu Dhabi (CCR).
Comment MCC: Based on their extensive manpower and domestic experience, the engineering arms of the petrochemical SOEs now turn into serious regional engineering players.
---
September 19, 2014: Sinopec won the "2014 Global Competitiveness Brands - Top 10 from China" award for the fifth consecutive year in a row (PR Newswire).
Comment MCC: Sounds good at first but less so if you look at the details. The award is given out by IDG, a company focusing mostly on helping companies in their global branding and marketing. Who knows who their clients are - and they surely do not want to offend potential clients (of the 35 companies assessed, 10 won the award). In addition, the press release about the award reads as if it was written directly by Sinopec PR staff: "As an advocate for and leader in China's green and low carbon transition, Sinopec has always adhered to the principles behind the new path of industrialization: advanced technology, low-resource consumption, and lower environmental pollution."
---
September 19, 2014: At the AsiaMold fair, Hunan Farsoon Hi-Tech displayed a nylon-based sintering system for use in industrial prototyping. The company claims to be the third in nylon 3-D printing, the only competitor for Evonik in selective nylon laser sintering, and the only company offering the whole selective laser sintering value chain from manufacturing equipment to materials and processing services (PlasticNews).
Comment MCC: If these claims are all true, this company is indeed a leader in the field and may - at least in the initial stages of this technology - have an advantage over companies offering either materials or services, but not both.
---
September 19, 2014: Chinese plastics producer Polymax Elastomer Technology has opened a North American production site in Illinoise. The company makes makes styrenic block copolymer-type thermoplastic elastomers and thermoplastic rubber. Applications are in automotive, healthcare, electrical and packaging (PlasticNews).
Comment MCC: One of the key recommendations I give to by Western clients in China is to further localize their China approach. Apparently Chinese companies see the same need to localize their presence in their foreign markets. Particularly in such a case, the rationale is much less cost-driven but more related to customer requirements for technical service and local market knowledge.

---
September 18, 2014: China has cut the fuel price by about 2% - the fourth consecutive reduction in the last 2 months (SCMP).
Comment MCC: The reason for the decrease in retail prices is the lower global oil price, which currently is about 98 USD/bbl. While lower fuel prices have an obvious potential negative effect on Sinopec and Petrochina, they may also affect coal chemicals plants. For example, Shenhua claims that their coal liquefaction is profitable above an oil price of 85 USD/bbl - the safety margin for profitability is not very high now. And other coal chemical ompanies may have higher oil price requirements for their projects to be profitable than the experienced Shenhua.
---
September 17, 2014: Publicly traded investment vehicle CIS Acquisition (Moscow) will acquire a majority in Chinese chemical producer Delta Technology Holdings (ChemWeek). Delta makes 25 kt p-chlorotoluene as well as maleic acid, unsaturated polyester resin and other chemicals.
Comment MCC: This deal is interesting for a number of reasons - CIS Acquisition is based in Moscow, and Delta was already an acquisition target before but got dropped by the would-be acquirer FDS Networks a year ago. It is also interesting how the sale of a chemical company immediately seems to turn its products into specialty and fine chemicals, even if they are just maleic acid and PTC (ChemWeek describes Delta as a fine and specialty chemicals maker).
---
September 15, 2014: Anonymous Analytics published a reply to Tianhe Chemical´s first reaction to the fraud accusations made by Anonymous Analytics on September. As of September 20, the stock is still suspended from trading.
Comment MCC: Anonymous Analytics point out many parts of Tianhe´s reply that do not sound very convincing. As the stock has now been suspended for almost three weeks, it gets harder and harder to believe that the accusations are all false.
---
September 15, 2014: China announced the closure of five hydrochlorofluorocarbons (HCFCs) production lines, resulting in the phase-out of 58,864 tons of HCFC production, reduction of HCFC production capacity by 88,000 tons and elimination of over 93 million tons of CO2 equivalent in greenhouse gas emissions (World Bank).
Comment MCC: Good.
---
September 15, 2014: Standard Chartered Private Equity and Tiger Group Investments will invest US$95 million in Shanghai-based Greathorse Chemical Ltd. Greathorse Chemical plans to use the money to expand its current fleet of eight ships. The company aims to become a leading Asian chemical tanker operator (China Money Network).
Comment MCC: So far Greathorse Chemical´s main clients are SOEs, though this does not necessarily have to stay the same. In any case, it is interesting that investors bet on increased shipping of chemicals despite the ambition of China to become more self-sufficient. Possibly the recently announced plans of Chinese companies to produce methanol in the US and ship it back to China are among the reasons for the investment in this sector.
---
September 15, 2014: Last month, Anhui Huaxing Chemical, a large Chinese pesticide producer, bought a 12% stake in China Natural Gas, a producer and vendor of natural gas for 647 million RMB (CCR).
Comment MCC: Anhui Huaxing is a pesticide producer with a self-declared strategy of globalization, branding and innovation in agrochemicals. How this strategy relates to entering the gas sector? Feel free to ask them.
---
September 14, 2014: Sinopec has sold a 29.99% stake in its retail fuel business to investors including Fosun, China Life and ENN (Bloomberg).
Additional information of September 15, 2014: Sinopec´s stock declined by more than 5% after the sale, with the low sales price of the stake a likely reason.
Comment MCC: Bloomberg states that "the deal comes amid a push by the Chinese government to restructure state-run companies and allow markets greater sway in resource allocation". However, how this can be achieved via the sale of a minority stake, with control remaining at Sinopec, remains a mystery to me.
---
September 13, 2014: The 13th Five-Year Plan (2016-20) for the petroleum and petrochemical industry will focus on eliminating obsolete capacity and raising coal chemical output, said Gu Zongqin, head of the China National Petroleum and Chemical Planning Institute, at the 2014 China Petroleum and Chemical International Conference in Tianjin. Coal chemical output will rise from about 10 million metric tons annually to 100 million tons by 2020, according to the plan (China Daily).
Comment MCC: Excess capacity is indeed a major problem for the Chinese chemical industry. However, tackling this problem while at the same time aiming to increase coal chemicals output from 10 million tons to 100 million tons by 2020 seems contradictory. Many coal chemicals are exactly the basic chemicals of which China already has overcapacity, such as methanol. And recent announcements (such as the NDRC statement to take coal chemicals off the list of promoted industries) seem to contradict the coal chemicals goal anyway.
---
September 12, 2014: Sabic and the Chinese Academy of Sciences have agreed on a strategic collaboration to promote science and technology in China (Zawya).
Comment MCC: Independent of whether this specific agreement is meaningful or not, any growing ties between the Middle East and China may have a strong impact on the global chemical industry. With the Middle East as the main raw materials source and China as the main market for chemicals, the role of Europe is mostly in providing knowledge. This role is threatened by scientific cooperation between the Middle East and China, particularly in basic chemicals in which technologies are already fairly mature (for the US, the situation is somewhat different as shale gas has added a role as raw materials supplier to the US, apart from their role as knowledge provider).
---
September 12, 2014: Shenyang Chemical, a subsidiary of ChemChina, started production of metallocene PE in its recently opened 30 kt plant (ChemChina)
Comment MCC: China still partly relies on PE imports, particularly for the higher-end materials such as metallocene PE. Even though the capacity of the new plant is relatively small, it still shows that the exclusivity of foreign players in the high-end segments is ending.
---
September 12, 2014: Sinochem Group will transfer its oilfield engineering unit into its loss-making fiber producing subsidiary Yinzheng (Bloomberg, Reuters).
Comment MCC: Yinzheng runs the risk of being delisted due to its losses in 2012 and 2013 (delisting would be mandatory after three loss-making years in a row). Sinopec group now prevents this by adding the more solid engineering business into Yinzheng, which in turn pays by issuing new shares to Sinopec. This will allow Yinzheng to exit the fiber business. While this is supposedly a part of the government-promoted push to restructure state-run companies and expose them more to market forces, it also smells of financial trickery.
---
September 12, 2014: Zhongtai Chemical will cancel the planned 800 kt expansion of its PVC capacity in Xinjiang and build a 600 kt calcium carbide plant instead (PlasticNews)
Comment MCC: Two of the main ideas that Chinese basic chemicals producers seem to be fascinated with are capacity expansion and value chain extension. Zhongtai´s cancellation of their planned expansion gives some hope that in the future, capacity expansions may be driven a bit more by market needs - overall capacity utilization of calcium carbide based PVC is only about 50% in China, so there clearly is no real need or market for the expansion. On the other hand, while the extension of the value chain to include production of calcium carbide has some internal logic, it faces a similar problem. The average operating rate of calcium carbide plants in China was only 60% in China.
---
September 12, 2014: According to the industry federation CPCIF, chemical sales grew by 11% for Jan-July 2014 compared to the previous year.
Comment MCC: While I do not trust these figures much, the subsegment growth may contain some valuable information. It is highest for specialty chemicals (17%) followed by coatings/pigments (13%), basic chemicals (11%), rubber (10%) and plastics (7%). This fits with a higher growth for consumer products than for the construction/investment sector.
---
September 11, 2014: PPG sold the assets of its Illinoise glass manufacturing plant to the Chinese automotive glass manufacturer Fuyao.
Comment MCC: A natural move for PPG to focus on higher-value areas. Fuyao is the market leader for automotive glass in China, and is using this acquisition to strengthen its international position.

---
September 11, 2014: Lanxess will add a mixing and milling plant to the pigment plant already under construction in Ningbo. The firm will close its existing mixing and milling operations in Taopu, Shanghai. Shanghai City Council will be integrating the vacated plant grounds into a high-tech park in Shanghai's Putuo District.
Comment MCC: One of the many plant closures necessitated by the tighter regulation in China, particularly in the wealthiest cities such as Shanghai. For that reason, I am generally fairly optimistic regarding the long-term environmental development in China.
---
September 11, 2014: China is likely to become the world leader in electricity production from renewable sources (wind, water, sun), taking the lead from current leader Germany. In the first half of 2014, Germany generated 31% of its electricity from these sources while China reached slightly below 30% in 2013. However, growth of renewables is much higher in China (Spiegel Online).
Comment MCC: This is impressive - despite China still leading in global carbon dioxide emissions. It should also give a boost to the many chemical companies supplying a variety of materials used in these technologies.

---
September 10, 2014: Tianhe, the fluorochemicals producer, has denied issuing falsified profit statements and accuses the provider of the original report of fraud, Anonymus Analytics, of publishing falsified documents (Financial Times).
Comment MCC: This case currently seems to be the equivalent of a World Cup Finale in the investors community, generating a lot of interest. So far it is not clear to me which side is right. Tianhe certainly is a successful company with good products, but that does not rule out fraud.
---
September 9, 2014: China's Industrial Bank has lent 40 million yuan to a chemical company, Hubei Yihua Chemical Industry, using carbon permits as collateral (Reuters).
Comment MCC: As credit gets more difficult to obtain, companies think of new ways to secure it. This was the first loan using permits from China´s carbon market as collateral. Fittingly, the loan will be used to reduce energy consumption of the chemical firm. So maybe a good thing after all, despite the widespread distrust against creative ways of financing after the financial crisis.
---
September 9, 2014: The European Chamber of Commerce issued its annual Position Paper with a section on the chemical industry. Most recommendations relate to regulation, either with regard to environmental pollution or toxic and pharmacologically active substances.
Comment MCC: It seems the chamber is trying to find a balance between embracing regulation (as it is seen as something Western companies can better deal with) and trying to reduce it (to encourage R&D etc.). Overall, the call for transparency is laudable and sensible. And who would object if the Chamber asks for a "fair process"?
---
September 8, 2014: In the ICIS list of global chemical companies, Sinopec is at number 2 behind BASF.
Comment MCC: Sinopec showed substantial growth, particularly compared to the companies in the subsequent ranks. However, while sales of Sinopec are about 70% of those of BASF, profits are less than 2%. So this is essentially a not-for-profit operation which is kept alive due to the political will of the government. Apart from that, a general problem with the ICIS list is that the biggest state-owned chemical companies after Sinopec - e.g., Petrochina, CNOOC, Sinochem and Chemchina are all not included due to lack of sales figures specific to the chemical business. This lowers the value of the list for those particularly interested in China.
---
September 5, 2014: BASF has started up a second production line for HDI (hexamethylene diisocyanate) at the Caojing, Shanghai site.
Comment MCC: This is an indication of the growing importance of aliphatic isocyanates, which have advantages over the aromatic isocyanates MDI and TDI, particularly in coatings applications. Another interesting bit of information is BASF´s target to locally produce 75% of materials sold in Asia by 2020. MCC has long argued that localization is a key success factor for multinational chemical companies in China.
---
September 5, 2014: The NDRC removed coal-to-chemicals projects from the list of encouraged industries in western China. This will end a number of projects in Xinjiang, Inner Mongolia and other provinces.
Comment MCC: It seems the government now takes the criticism of coal-to-chemicals projects more seriously. Whether it is the environmental issues or the existing methanol overcapacity that led to the change of the government attitude is hard to say, though I suspect the latter.
---
September 5, 2014: Sichuan Chemical put an iminodiacetonitrile (IDAN) plant in its subsidiary Sichuan Hepu Chemical up for sale for RMB 102 million (CCR).
Comment MCC: IDAN is a raw material for glyphosate. Sichuan Chemical is a big producer of fertilizers and probably thought of entering the pesticide segment as well. However, even though construction of the plant now for sale was started in 2008, it has not been operating successfully yet. This probably shows how big the knowledge gap is between very basic chemicals such as ammonia and higher-end chemicals such as IDAN. No wonder that in the Western world fertilizer and pesticide production is done by completely different companies.
---
September 5, 2014: China´s National Energy Administration is promoting rooftop solar installations. It has asked local authorities to identify projects where power can be delivered to nearby customers and to provide extra subsidies for more projects (Bloomberg).
Comment MCC: China is trying to become the biggest market and not just the biggest producer for solar installations. this should benefit both panel manufacturers such as Jinko, Jingly, JA Solar and the specialty chemical companies providing some of the raw materials for the solar panels.
---
September 5, 2014: China XD, a plastics compounder mainly focusing on the Chinese automotive industry, will open a compounding plant in Dubai (PlasticNews).
Comment MCC: So far overseas manufacturing of Chinese chemical companies has been fairly limited, so any such activities are interesting. Dubai is a somewhat unexpected place for such activities as it is not a strong consumer of plastics itself. But it is well suited as a hub to supply Europe, Russia and parts of Asia, and it offers a good business environment as well.
---
September 4, 2014: Sinopec Corp is pushing ahead with plans to build China's largest plant to convert coal into synthetic gas. The project, an investment of USD $10 billion, is an 8-billion cubic metres of gas a year CTG plant in northwestern Xinjiang (Reuters).
Comment MCC: Despite the recent issues at similar projects including the ones of Datang, Sinopec is willing to take the risk of cost overruns and problems with the technology involved. This shows the importance of reducing China´s dependence on imported gas for the government standing ultimately behind Sinopec.
---
September 2, 2014: Chinese enterprise Sichuan Beier Chemical Group plans to cooperate with Russia-based Orgsyntes Group (a branch of Renova Group) to produce glyphosate at the Russian site of Orgsyntes (AgroNews).
Comment MCC: Beier is a relatively small pesticide producer with only about 100 million USD of agrochemical sales. In the cooperation, they will primarily contribute IP and production knowledge while the Russian partner contributes raw materials, the site and energy. A rather unexpected example for the progressing globalization of Chinese chemical companies.
---
September 2, 2014: Scientists from Shanghai´s Fudan university have prepared flexible solar cells which can be woven into fabric, potentially opening up the way to portable electronics powered by energy coming from the wearer´s clothes (RSC).
Comment MCC: Though energy conversion rates of these prototype cells are fairly low at around 1%, the polymeric material used for them gives them much more flexibility than the conventional ones made from silicon. It is still a long way before these cells can be commercialized, but it is interesting to see Chinese scientists at the forefront of this research area.
---
September 2, 2014: Shares of Tianhe Chemicals Group were suspended after Anonymous Analytics, a US group of anonymous analysts, alleged massive fraud in the company. Tianhe had listed in Hong Kong in June, raising HK$3.5 billion. They claim that Tianhe's profits and revenue were far less than what the company reported (SCMP).
Update September 3, 2014: Tianhe has denied the allegations but not provided details yet (SCMP). Two of the banks which sponsored the IPO have suspended their ratings of the company pending further information from Tianhe (Reuters).
Comment MCC: This is a bit of a shock as Tianhe has some good products and a long-term R&D program. I have occasionally mentioned them as an example of one of the better Chinese chemical companies. This will come back to haunt me if the allegations turn out to be true ...
---
September 2, 2014: Russian President Vladimir Putin offered to sell a stake in the country's second-biggest oil project to China. Rosneft may offer as much as a 49 percent stake of their second-biggest producing project, Vankor, to Petrochina and/or Sinopec for $4 billion to $5 billion (Bloomberg).
Comment MCC: China again profiting from Putin´s need for international friends as relationships with the Western world deteriorate due to the situation in the Ukraine.
---
September 2, 2014: China BlueChemical, a subsidiary of state-owned CNOOC, lost about 700 million RMB in a private-public partnership. The company invested in a 49% share in a JV with private-owned Shanxi Hualu, with the aim of producing urea based on China BlueChemical´s knowledge and Shanxi Hualu´s coal resources. However, due to a dispute between Shanxi Hualu and its coal mining contractor, no coal was mined. And China Blue was prevented from taking over the whole project due to government regulations (SCMP).
Comment MCC: Sometimes it is good to get a reminder of the difficulties of doing business in China. If a state-owned company loses money due to a mix of regulation and unreliable partners, private and foreign companies certainly are at the same risk.
---
September 1, 2014: R&D spending in China focuses mainly on development research, accounting for more than 83% of the total. Applied research is 12%, basic research only 5%. The majority of spending is by private enterprises (78%), not the government (22%) (Science).
Comment MCC: As the authors of this Science article remark, government spending on research is comparatively small. This contributes to the low share of funds spent on basic research. If China truly wants to shift its business model to a more knowledge-oriented type, the share of basic research will have to go up - not only but also in the chemical segment. Even on the basis of total R&D spending as share of GDP, China´s 2012 share of 2.0% still lags behind the US (2.7%) though it reaches the level of the EU (2.0%) and is a big increase from China´s 0.6% share in 1996.
---
August 29, 2014: IHS expects the global methanol market to grow by an annual 6%, reaching 109 mio tons in 2023 from the current 61 mio tons. China is the main demand driver.
Comment MCC: The most interesting question will be who will produce this methanol. There is unused capacity in China now, and more will be added, mostly coal based. On the other hand, there will also be a huge expansion of US capacity, partly directly produced by Chinese companies in the US (see the entries of July 17 and July 22). The US production is likely to be possible at a lower cost. So even if the market grows at the forecast rate, this does not necessarily mean domestic methanol producers will benefit all that much.
---
August 29, 2014: Revenue of Kingfa, China´s biggest plastics compounder, increased by 26% in 1H2014 compared to 1H2013. However, profit decreased by about 24% (PlasticNews).
Comment MCC: Frequently Chinese companies focus so much on market share that they are willing to sacrifice profit for sales and market share. Kingfa may not be an exception, though the lower profit is probably also partly due to an extension of the less profitable non-automotive business. Still, the question remains whether this is a sustainable business model.
---
August 29, 2014: China National Petroleum (CNPC) paid CN$ 1.184 billion to Athabasca Oil Corp. to complete a deal for an oil sands project (Caixin).
Comment MCC: There were some worries about the deal not going ahead as the project is not yet producing, and the head of CNPC´s Canada operations is under investigation for corruption. Still, securing resources seems to be more important than these issues.
---
August 28, 2014: Keyuan Petrochemicals, a Ningbo-based producer of SBS, ethylene styrene copolymer and other petrochemicals, had a loss of 3.8 million USD in 1H2014 on sales of 386 million USD. In 1H2013, a profit of 2.4 million was achieved (WSJ).
Comment MCC: Sometimes company results are interesting not for the main information but some smaller details. In 1H2014, cost of sales for Keyuan Petrochemicals were 95% of sales - already a slight improvement from the 97% required in 1H2013. With such low gross margins, it is very difficult to pay for good distribution as well as for branding and marketing. And indeed, looking at the official websitewww.keyuanpetrochemicals.com, we are informed that the site has been suspended.
---
August 28, 2014: PetroChina´s chemical business in 1H2014 was making an operating loss similar to the one in 1H2014 (7.8 bn RMB versus 8.1 RMB in the previous year). However, production of ethylene (+16%) and plastics (+17%) increased while production of fiber intermediates, rubber and urea decreased.
Comment MCC: Similar to the situation at Sinopec, for PetroChina the chemical business is still a lossmaker and the reason for the segment Refining&Chemicals being the only loss making segment of the company. Particularly in plastics, both state-owned companies are much more exposed to competition from the Middle East than in the more protected other segments, explaining the losses.
---
August 28, 2014: Some additional information on the technical problems at Datang (see July 8 entry). According to the South China Morning Post, the operating loss of its chemical production business increased to 1.37 billion yuan for 1H 2014, from a loss of 519 million yuan in the first half of 2013. Output of the key product polypropylene from its Duolun coal-to-chemical conversion project in Inner Mongolia tumbled 46.3 per cent year on year to 68,200 tonnes from 127,000 tonnes.
Comment MCC: Datang has already announced to sell all or part of its coal-to-chemicals business to improve its profitability. The fall in PP production is quite dramatic, highlighting the difficulties that some of the coal chemicals players have with the technologies involved.
---
August 27, 2014: Amerigen and Ningbo Menovo Pharmaceutical will jointly develop generic pharmaceuticals, primarily for the United States market. Menovo will be responsible for manufacturing API and finished product whereas Amerigen will be responsible for clinical, regulatory and commercial activities in the United States (Amerigen)
Comment MCC: One of the relatively rare occasions where there is not much to add to an official statement (by the Amerigen CEO) from the press release: "This collaboration enables each party to leverage its respective strengths".
---
August 26, 2014: CB&I has been awarded a contract by Shenhua Ningxia Coal Industry Group for the design of a grassroots petrochemicals complex in Lingwu, Yinchuan, Ningxia, China. The complex will use CB&I's Olefins Conversion Technology to produce 196 kt of propylene (CB&I).
Comment MCC: The CB&I design is part of a larger complex in which Shenhua turns coal into 1000 kt of polypropylene. The CB&I process allows conversion of ethylene and n-butenes into propylene via a metathesis reaction. Thus the amount of propylene obtained from methanol can be increased in a second reaction step. Reactions like this which increase the production of propylene are also likely to become more important in the US as the shift to ethane crackers reduces the amount of propylene produced directly.
---
August 26, 2014: China's state-owned petrochemical giant Sinopec Corp. said it is licensing polypropylene polymerization technology to a U.S. plant of Formosa Plastics Corp. USA for the first time in history (PlasticNews).
Comment MCC: So far these deals always were done the other way round – quite an achievement for Sinopec.
---
August 26, 2014: DIC, the Japanese company, will open its first polyphenylene sulfide (PPS) compounding plant in Zhangjiagang, China by the end of 2015 (DIC).
Comment MCC: PPS is an engineering plastic, and is utilized for various applications such as alternatives to metals and thermoset plastics in automotive, electrical & electronic, and industrial market. For DIC, probably the growing Chinese automotive market together with the trend towards metal replacement is the main reason to add capacity in China.
---
August 22, 2014: Sinopec reported interim results for 1H 2014. In the chemicals segment, production of rubber, resin and ethylene increased somewhat while fiber-related products decreased. Overall, production volume increased by about 6% but sales only by 1% due to lower prices. Overall, operating chemicals revenue for the first half of the year was 213 billion RMB, operating loss was 4 billion RMB.
Comment MCC: Chemicals was the only segment reporting a loss, indicating that Sinopec is still essentially a petrochemical company not only due to the low share of the chemicals business (only about 15%) of the total company, but also as the company still is unable to realize the potentially higher profits from the downstream chemicals business.
---
August 22, 2014: While there are plans for many coal-to-gas plants in China, there are also many critical voices from inside the country. For example, scientists at Tsinghua University and Ford estimate the process emits between 36 and 82 percent more greenhouse gases than burning coal to produce electricity. And Zhou Xueshuang, the director of China's petrochemical industry regulator, warned of unchecked pollution and the plants' use of water in some of China's driest regions. "From the environmental standpoint, it doesn't make sense," Zhou said at the conference. "To turn coal into gas and from gas to electricity, I think most of the projects aren't worth supporting."
Comment MCC: The Chinese are obviously fully aware of the tradeoff between improving local air quality in the population centers and greater overall pollution and carbon dioxide emission in the whole of the country. At the moment, the many planned coal-to-gas plants indicate that the more populistic alternative is preferred.
---
August 21, 2014: Bayer MaterialScience and Shanghai Chlor-Alkali Chemical Co. will cooperate in reusing of waste water from Bayer's polycarbonate production in Shanghai. Process salt water from Bayer's PC production will be turned into high-quality salt brine, which SCAC will then use in an its chlor-alkali electrolysis (PlasticNews).
Comment MCC: Call me cynical, but I find it interesting that such cooperation always seems to be much easier if it is "only" about environmental protection and not about truly commercial topics. Still, a good thing.
---
August 21, 2014: According to PlasticNews, China´s PVC exports may suffer from trade restrictions and more local production at its major export destinations.
Comment MCC: China´s PVC production suffers from overcapacity, so the antidumping duties imposed by, e.g., Brazil and India, as well as increased local production in Russian and some smaller companies may have quite a negative impact. About half of China´s PVC producers made losses in 2013, and lower exports will not help.
---
August 20, 2014: The shares of JA Solar, a Chinese company which is one of the largest makers of solar panels, fell by about 6% on the Nasdaq as the company missed its profitability expectations (Bloomberg).
Comment MCC: JA Solar turned from a loss into a profit, though one that was below the expectations of analysts. However, taking the longer view this is a good sign for the overall market. Demand has picked up, particularly in China and Japan, and prices have stabilized as some weaker producers have been forced out of the market. So overall the solar market is improving.
---
August 20, 2014: Akzo Nobel started construction of a factory for decorative paints in Chengdu today, the fourth such Akzo plant in China.
Comment MCC: The construction boom is not limited to Eastern China. So far multinational companies have been fairly reluctant to establish chemical production away from the Eastern seabord, but many will eventually follow Akzo.
---
August 19, 2014: China will raise the wholesale price of natural gas for non-residential uses by 20.5% from September 2014 The apparent aim is to promote the development of domestic natural gas resources (CCR).
Comment MCC: Indeed a support measure to encourage the domestic oil companies to invest more in gas exploration.
---
August 19, 2014: Petrochina signed a memorandum of understanding with the Uzbek company Uzbekneftegaz to - among other things - produce PE in Uzbekistan via a JV.
Comment MCC: Gradually the leading Chinese oil companies seem to have the technology to produce PE and PP, and even to export this technology.
---
August 19, 2014: According to CPCIF, the chemical industry in China showed a 10.4% growth in revenue and an 8.9% growth in profit in Jan-Jun 2014 compared to the same period one year earlier.
Comment MCC: It is hard to judge how reliable these figures are - at least they seem fairly reasonable at about 3% above GDP growth, which cannot be said for some of the growth rates announced by CPCIF in earlier years.
---
August 19, 2014: Sinopec plans to sell up to 30 percent of Sinopec Sales, their fuel retail network, by the end of 2014 (Reuters).
Comment MCC: Sinopec presumably needs cash to further invest in oil and gas exploration. As only a minority of the fuel retail network is sold, Sinopec keeps firmly in control. Furthermore, some of the interested bidders are experienced in non-fuel retail and may help Sinopec in increasing their (currently very low) share of non-fuel sales at service stations. Anyone who has ever been to one of these stations - with their three cans of motor oil and not much else - knows there is much to improve. US gas stations earn half of their money from non-gas sales, for Sinopec it is less than 1%.
---
August 19, 2014: The China's National Energy Administration, the country's energy regulatory and planning agency, has revised its 2020 forecasts for domestic shale gas production to 30 billion cubic meters per year, down from a previous target of 60 to 100 billion cubic meters (Forbes).
Comment MCC: While China has the largest global resources of shale gas, exploration is much more difficult than in the US. Even the 2020 China target is still only about one tenth of the 2013 US shale gas production of about 270 billion cubic meters. And in 2013, China only reached 0.2 billion cubic meters, though Sinopec plans to obtain 3.2 billion cubic meters per year from 2015 from their Fuling gas field. The Chinese government is promoting gas exploration by raising domestic prices, which has already affected one domestic fertilizer producer relying on gas as raw material. Overall the direct impact of domestic shale gas on the chemical industry in China is likely to be moderate in the near future.
---
August 19, 2014: A couple of Wyoming lawmakers recently traveled to China to look at coal chemicals plants there. Wyoming is considering its own coal-to-chemicals complexes. This would help support the state's mining industry as it faces flat or declining demand among U.S. utilities (WyoFile).
Comment MCC: Funny how coal chemicals seem attractive whenever there is lots of coal and not many people - whether in Ningxia or in Wyoming. However, given the carbon dioxide emissions of producing chemicals from coal, the process is unlikely to get very far in the US. There is local support, but unlike in China, there is no support on the country level. This could only change if carbon capture ever becomes commercially feasible. But according to Matt Targett, vice president of research and development for LP Amina, an American company working with utilities around the world to reduce coal emissions, "I think we're a couple of Nobel Peace Prizes away" (from achieving that).
---
August 19, 2014: Kemira and Wilmar have mutually agreed to terminate the planned JV for the manufacture of AKD (alkyl ketene dimer) wax in China because of changes to their commercial objectives (BT Invest).

Comment MCC: While no reasons were given in the public announcement, it is likely to be a consequence of Kemira´s July acquisiton of Akzo Nobel´s paper chemicals, which include AKD, rather than a reduced interest in the China market for paper chemicals.
---
August 18, 2014: Chongqing Jianfeng Chemical, a fertilizer producer and China's first major industrial user of shale gas, swung to a loss in the first half of the year from a profit a year earlier due to the rising cost of gas.
Comment MCC: Though the government´s move of increasing the price of locally produced gas was probably sensible (it encourages local production), it also shows that depending on "political" prices when planning projects is risky. The 15% increase enacted last year apparently was enough to completely change the project economics at Jianfeng. This in turn may deter other users from relying too much on locally produced shale gas.
---
August 18, 2014: Samsung SDI has started work on a factory in Xian for production of battery cells for electric cars. Production will start in October 2015 and will be an annual 40,000 units. Samsung SDI has a 50 percent stake in the new entity, Samsung ARN (Xian) Power Battery; other investors are Anqing Ring New Group and a real estate investor. The JV will invest US$600 million and have sales of $1 billion by 2020 (Yonhap).
Comment MCC: The participation of Chinese investors and the production location in the somewhat remote Xian indicate strong government support for the venture - not surprising given China´s ambitious goal of having about 5 million electric cars on the roads by 2020. The plant should be a good customer for providers of chemicals used in electric batteries
---
August 15, 2014: BASF and the Chinese Research Academy of Environmental Sciences are expanding their cooperation on emissions reduction. Under a new strategic agreement, the two organizations aim to help tackle deteriorating air quality resulting partially from vehicle exhaust emissions (BASF).
Comment MCC: It will be interesting to see whether this is a real cooperation or just a public relations activity. Though both sides have a common interest in achieving reductions in vehicle emissions, the underlying rationale for this interest is very likely different.
---
August 14, 2014: Celanese will relocate the global head of its business line Transportation Industry to Shanghai (Business Standard).
Comment MCC: Another indicator of the ever-growing importance of the Chinese automotive market compared to those in the Western world.
---
August 8, 2014: According to Nina Sun of PlasticNews, Chinese farmers in some areas particularly hit by drought are now using plastic bags filled with water as a kind of low-budget drip irrigation system. The farmers fill up plastic bags with water, punch a few tiny holes at the bottom, and tie the bags to the root of the plants. One local government in Shaanxi has already ordered 100,000 bags for this purpose (PlasticNews).
Comment MCC: I came across this bit of information while preparing a paper on how chemical products can contribute to China´s development, and I had just written down something on the importance of plastic (PE, PVC) pipes for drip irrigation. I thought this was a pretty low-tech example but as the plastic bag example shows, there are even simpler examples.
---
August 7, 2014: China's government has approved the creation of two regional monopolies in the rare earth metals industry. The mergers, to take place by the end of this year, are the latest example of state-driven consolidation in the industry. Inner Mongolia Baotou Steel Rare-Earth Hi-Tech Co. and Xiamen Tungsten Co. Ltd. have been approved by the Ministry of Industry and Information Technology to lead the formation of the two groups (Caixin).
Update of August 8, 2014: The WTO indeed ruled that China violated international trade rules by restricting exports of rare earths (Reuters).
Comment MCC: As the WTO decision on China´s policy regarding rare earths is pending, it seems the companies and the government want to already create a safety net to prevent prices from crashing. Of course, China´s argument that the export quotas for rare earth are due to environmental concerns never were very credible given the damage coal mining does to the Chinese environment.
---
August 6, 2014: New York Stock Exchange-listed Chinese company Jinko Solar, the fourth-largest solar PV manufacturer in the world, started a solar photovoltaic module manufacturing plant in Cape Town. The factory is the company's first outside of China. It will produce up to 1 300 solar panels a day, translating to 120 megawatts in solar power generating capacity per year (SouthAfrica.info)
Comment MCC: Interesting that South Africa is the first production site of Jinko Solar outside of China, though given China´s active Africa policy and the need for off-grid energy in Africa, this seems like a sensible move.
---
August 1, 2014: Hubei Sanning Chemical Co. was granted RMB40 million by the government to construct a 200 kt/a caprolactam project. The project with a total investment of RMB5 billion is located in Yaojiagang Chemical Industry Park, Zhijiang city, Hubei. While the first production line with 100 kt/a caprolactam has already been completed, the second one will be completed in 2015 (China Chemical Reporter).
Comment MCC: It is rare to see such an open announcement of government support of a chemical production plant, though the amount granted is small compared to the overall project size (less than 1%). Caprolactam is another potential candidate for massive overcapacity in China - though China so far has relied strongly on imports, the 2013 production capacity may more than triple by 2017, creating a surplus. As frequently in China, many Chinese companies such as Hubei Sanning are currently constructing mid-size plants that may later have problems being competitive with the big players such as BASF, Sinopec and DSM.
---
August 1, 2014: Private equity owned IGM Resins, a US supplier of materials to the UV coatings and inks industry, has acquired Insight High Technology, a Beijing-based manufacturer of photoinitiators and other fine chemicals. The rationale given by IGM was that "Their great strength in development of new materials, manufacturing capabilities and position in the Asia UV market combined with IGM's market strength in the rest of the world creates a powerful organization". (IGM Resins).
Comment MCC: This deal is interesting for two aspects. One is that the role of the Chinese company is that of the source of R&D strength and new products rather than in providing market access - a bit of a role reversal from the common scheme. The other is that a PE owned company is making an full-scale acquisition in China rather than just buying a minority share, which tends to be more common.
---
August 1, 2014: Sichuan Lutianhua has started operation of phase one of its Ningxia project for production of 200 kt of methanol, 400 kt of synthetic ammonia and 700 kt of urea, an investment of RMB4.5 billion. The capacity of the phase II project is planned to be 600 kt/a of olefins (China Chemical Reporter).
Comment MCC: Another example for the ongoing trend of shifting the production of basic chemicals directly to the location where the coal is mined.
---
August 1, 2014: Yanzhou Coal Ordos Energy Chemical started to produce 99.99% pure methanol in Ordos. The capacity of phase I of the project is 1.8 million t/a of coal-based methanol and 600 kt/a of olefins (China Chemical Reporter).
Comment MCC: China´s methanol capacity keeps increasing despite low capacity utilization and likely cost disadvantages compared to methanol production based on natural gas. In this case, it seems driven by Yanzhou having access to coal in a remote location which does not allow cost-efficient use of the coal in those regions of China where it is needed.
---
August 1, 2014: Of the 151 Chinese stock chemical companies listed on domestic stock markets, around 64% of them posted successful numbers in 1H 2014. Forty firms estimate 50% plus growth in net profit; 35 other firms estimate increased net profit but up less than 50%; 11 profitable firms report negligible change; 13 firms report losses (China Chemical Reporter).
Comment MCC: As the stock-market listed companies tend to be those with better technologies, they generally profit from stricter environmental regulation as it drives out smaller competitors and thus increases the prices of their products.
---
August 1, 2014: Shaanxi Yanchang Petroleum started operations at a 1.8 million t/a coal-based methanol to olefins (propylene and ethylene) plant started operation in late-June 2014. Construction on the plant was started in July 2011. Both PP and PE will be produced on the site (Yanchang).
Comment MCC: Though hardly a household name, Yanchang is the only Western Chinese company in the Fortune 500, coming in at number 432 with annual sales of about 28 billion USD. However, despite the size of the company, the project above is rumored not to be running at full capacity due to shortage of qualified engineers, a consequence of the many similar projects currently in progress.
---
July 31, 2014: Nippon Shokubai announced the cancellation of its SAP production capacity expansion (from 30 kt to 60 kt). The expansion project had been announced in 2012 and was supposed to come onstream in July 2014.
Comment MCC: A somewhat surprising step given that Shokubai is one of the biggest global SAP producers but has a relatively small capacity in China. Overall, the SAP market is still fairly promising in China as the economy shifts towards consumer products. However, the planned BASF/Sinopec production of SAP in Nanjing along with the rapid expansion of the leading domestic player Jurong Chemical apparently reduced the attractiveness of the Chinese market for Shokubai, particularly as these two competitors have better backwards integration and thus better cost positions than Shokubai.
---
July 28, 2014: Merck KGaA aims to double its China sales (from 500 million Euro to 1000 million Euro) by 2018
Comment MCC: Nice to hear that despite slower GDP growth, some companies still have relatively ambitious goals for China - Merck will need to grow by 15% per year to achieve its goal.
---
July 28, 2014: M&G International, a subsidiary of M&G Chemicals, has agreed on a 70:30 joint venture with Anhui Guozhen CO. The JV, an investment of about USD 325 million, will convert 970,000-1,300,000 metric tons per year of agricultural cellulosic residues into ethanol, glycols and by-products such as lignin in Fuyang City (Anhui Province, PRC). The biomass will be supplied by Guozhen under a long term fixed price agreement, and the enzymes needed for the conversion of the biomass will be supplied by Novozymes. This will be by far the largest cellulosic (i.e. using non food biomass) bio-refinery in the world.
Comment MCC: Interesting how China now is one of the forefronts of biomass conversion. Also, note the approach of organizing the business as a JV while giving the raw materials supplier a minority share, which gives the supplier a strong interest in a stable long-term relationship.
---
July 28, 2014: BASF broke ground on the second phase of its Innovation Campus Asia Pacific at its Pudong site in Shanghai, China. The €90 million expansion consists of an additional regional R&D building and auxiliary facilities and it will be completed by the end of 2015 (BASF).
Comment MCC: Not a particularly interesting press release, though it again shows the growing importance of China as a location for R&d. In a statement during the ceremony, Dr. Kreimeyer of BASF further emphasized the point of local and regional R&D. According to him, in 2020 BASF aims to have 25% of its R&D staff to be located in Asia - a share in line with the sales share of 23% (25 bn Euro of 110 bn Euro globally) targeted by then.
---
July 28, 2014: China BAK Battery, a leading lithium battery manufacturer, will cooperate with the Dalian Institute of Chemical Physics of Chinese Academy of Sciences to research and develop the next-generation key technologies and materials in power batteries (China BAK).
Comment MCC: Another one of these less-than-thrilling press releases, it nevertheless shows some of the differences between the chemical industry in China and in Europe/US. Broad coooperations between companies and academy are much more common in China than elsewhere. The main reason is probably the more application-oriented focus of China´s academic work in combination with the higher acceptance of commercial rather than scientific goals. This surely helps Chinese companies improve their technologies in a fairly inexpensive way. However, China may also suffer from having less academic resources available for truly basic research.
---
July 28, 2014: C&EN released its list of top 50 global chemical companies (based on 2013 sales). Sinopec is now on number 2 behind BASF, having passed Dow (C&EN).
Comment MCC: Not surprisingly, this shows the growing global importance of Chinese chemical companies. Surprisingly, however, the C&EN list seems to be seriously flawed. Sinopec is the only mainland Chinese company among the top 50. Surely companies such as Petrochina, Sinochem, Shanghai Huayi or ChemChina have higher sales than the 7 bn USD of Alpek on position 50 of the list?
---
July 24, 2014: BASF Shanghai Coatings Co. today inaugurated an automotive coatings plant at the Shanghai Chemical Industry Park in Shanghai, China at an investment of about €50 million.
Comment MCC: Though not a huge investment by BASF standards, the new plant shows the ongoing localization process of multinational chemical companies in China, which now more and more also applies to specialty chemicals segments. With China driving the global automotive market, this is a logical step. Interestingly, BASF Shanghai Coatings is not a 100% BASF subsidiary but a JV with Shanghai Huayi, a provincial-level state-owned entity. Presumably BASF would not utilize such a vehicle any longer if it were not for the long history (17 years) of this JV.
---
July 24, 2014: FMC, a US chemical company focusing on agricultural pest control, household and food chemicals as well as on alkali and lithium chemicals, has opened an R&D center in Shanghai (Shanghai Daily).
Comment MCC: The opening of yet another R&D center in Shanghai is hardly news. However, FMC is a comparatively small company, barely entering the global top 100 (it was no. 97 by 2012 sales). This indicates that having local R&D in China by now no longer the preserve of a few leading players but indeed another phase in China´s eventual dominance of the global market for chemicals.
---
July 22, 2014: China's National Energy Administration (NEA) has put a lower limit on development of coal-to-oil and coal-to-gas projects. The country will ban coal-to-gas projects with an annual output of no more than 2 billion cubic meters and coal-to-oil schemes that produce 1 million tonnes or less. Projects larger than those will be subject to regulatory approval from the State Council, China's cabinet (Xinhua).
Comment MCC: The number of coal-related projects is indeed somewhat frightening, not only with regard to environmental concerns. Many of the project owners seem to have limited experience in the area, and now specific competitive advantage, putting the economic success of such projects in severe doubt. Putting a lower limit on project size will at least prevent some of the smaller and presumably less competitive companies from pursuing such projects. It will remain to be seen whether this measure will be sufficient, or whether China will experience its typical phenomenon of overcapacity buildup the moment there are any obvious market opportunities.
---
July 22, 2014: A Chinese chemical company, Connell Group of China and Sino Life Insurance Company, through their U.S. arms Fund Connell USA Energy and Chemical Investment Corporation, are seriously considering an investment in a massive methanol plant in the US. The sites currently under investigation are in Texas and Louisiana. The plant would have the capability of producing about 7.2 million tons of methanol annually and would ship almost all of the feedstock chemical to China. (Galveston Daily News)
Comment MCC: One is an accident, two is a trend ... With the announcement of Yuhuang on July 17, 2014, this is now a total of about 10 million kt of Chinese methanol capacity announced in the US by two companies alone - about one third of China´s 2012 methanol consumption. Of course, not all these expansions may materialize to their full extent, but it seems that some Chinese producers are quite willing to shift their methanol production to sources of cheap natural gas, while others rely more strongly on Chinese coal.
---
July 21, 2014: According to the China Petroleum and Chemical Industry Federation, revenue growth of the bigger (sales above 20 mio RMB) chemical companies in China was 10.0% from January to May 2014 compared to the same period in 2013. Subsegments with higher growth include specialty chemicals as well as coatings&pigments (both above 13% growth (China Chemical Reporter)
Comment MCC: The data confirms that the chemical industry in China still grows 2-3% faster than GDP. However, the gradual shift towards more sophisticated products as well as service-oriented items is already visible in the higher growth of specialties and coatings compared to, e.g., basic plastics and rubber.
---
July 21, 2014: 10 people were detained after a disastrous accident in which 43 people died. A van carrying 6.5 t of ethanol hit a long-distance bus on a Hunan highway, leading to a fire and the deaths. The van had been illegally remodeled to carry the inflammable chemical (Global Times).
Comment MCC: Chinese regulations require that inflammable materials are transported in special containers by properly licensed and inspected vehicles. However, the reality is often different, particularly away from the more developed Eastern provinces. For some chemicals, very few or no carriers are licensed, however, still large volumes of these chemicals are being transported (according to one estimate, 200 million t per year). As frequently occurring in China, there is a gap between regulation and implementation. Often the MNCs suffer more from this gap as their internal requirements do not allow them to disregard official regulations.
---
July 21, 2014: Shaanxi Binchang Coal Industry, a subsidiary of Shaanxi Coal and Chemical Industry, has started to construct a 300 kt/a coal-to-mono ethylene glycol project in Binchang Mining Zone, Shaanxi province, at a cost of about RMB5 billion (China Chemical Reporter).
Comment MCC: Ethylene glycol is a basic organic chemical with a very low share of domestic production (about 28% in 2012), making China heavily reliant on imports. As a consequence, in a development somewhat typical for the Chinese chemical industry, a large number domestic companies have announced ethylene glycol plants or capacity expansions. The total capacity announced to 2017 is about 20% higher than current imports. However, as the market is also likely to increase during this period, this will still not mean domestic overcapacity, though imports will likely be reduced. Similar to the project started in Shaanxi, the majority of domestic capacity announcements are for glycol produced from coal (coal-to-MEG), which is one of the more sensible production routes in the area of coal chemistry.
---
July 17, 2014: Shandong Haihua Group, a subsidiary of China's oil giant China National Offshore Oil Corporation (CNOOC), intends to sell its 6.27% stake of Shandong Xuejiao Chemical Co. for only RMB1 (CCR).
Comment MCC: This is only one of the several loss-making parts of CNOOC that have been or are to be divested as CNOOC wants to focus on oil and gas production. The loss-making projects include a coal-to-chemical one which made substantial losses in 2013. While it is sensible for CNOOC to focus on core areas, I wonder who will buy these loss-making ventures. I always thought it is the job of the big SOEs to prop them up, not to get rid of them ...
---
July 17, 2014: Shandong Yuhuang, a private Chinese chemical company with a focus on basic organic chemicals and polymers, plans to invest US$ 1.85 billion in a methanol production complex in Louisiana. The project will start in 2016 with the construction of a single methanol plant that will go into operation in 2018. Subsequently, a second plant and a methanol derivatives plant will be built. Total planned methanol capacity is 3 million metric tons. Most of the methanol produced will be shipped to China for use in Shandong Yuhuang´s domestic petrochemical operations. (Times Picayune)
Comment MCC: Despite huge domestic methanol production capacity (partly based on coal), a substantial share of China´s methanol requirements are imported due to the lower price and the more convenient transportation via ship from abroad (compared to the land transport from, e.g., Western China). Yuhuang´s direct investment in the US in their own methanol plant is a step further in this direction, utilizing the lower natural gas costs in the US in an integrated approach. As most of the US-produced methanol of Yuhuang will be imported to China, there will be further pressure on capacity utilization of Chinese methanol production. It will also be interesting to see what Yuhuang plans to do with this methanol - so far to my knowledge they have not announced any plans to go into the MTO business.
---
July 17, 2014: Praxair will build an air-separation unit with a capacity of 900 t per day of oxygene at the Nanjing Chemical Industry Park. The oxygene will be supplied to Nanjing Jinling Huntsman New Materials, a joint venture between SINOPEC Jinling and Huntsman, and used to produce propylene oxide and methyl tertiary butyl ether. They will also build a pipeline within the park to supply other customers. Expected start up date is 2016 (Praxair)
Comment MCC: This is indeed a significant success for Praxair as it will make the company the first pipeline gas supplier at the park. Nanjing Chemical Park is one of the very few state-level chemical parks with a good reputation and room for further expansion, thus providing further opportunities for Praxair. As Praxair so far only achieves 5% of its sales in China - far below the share of the global chemical market - such success is necessary if Praxair wants to be a truly global supplier of gases.
---
July 16, 2014: GTS Chemical Holdings, China's biggest manufacturer of ammonium sulfite and second biggest of ammonium bisulfite, will have an IPO on London´s Aim market this month in order to raise £3m, which would give the company a market value of about £35m. Ammonium sulphite is used to make straw based paper from waste materials (Telegraph).
Comment MCC: The lower requirements make the Aim market interesting for small companies raising only limited amounts of money, such as GTS. GTS primarily uses waste sulfur coming from steel mills and coking plants while the ammonia used as raw material is also a byproduct of a local chemical company. This should give GTS both low production costs and a good reputation as an environmentally friendly company. However, the overall market for ammonium sulfite is not unlimited, and the product itself is somewhat of a commodity despite contrary statements on the company website. Last years broadening of the GTS portfolio to include lubricants seems to be a tacit acknowledgement of this fact.
---
July 15, 2014: Albemarle will acquire Rockwood for US$6.2 billion, creating a market leader in the four areas of lithium, bromine, refinery/polyolefin catalysts, and surface treatment (Albemarle).
Comment MCC: Obviously this is more global than China-specific news. However, it is noteworthy that despite both parts of the new entity being among the top 2 in their respective business areas, their Asian sales are still comparatively low (22% for Albemarle, 16% for Rockwood) given that China alone now accounts for about 25-30% of the global chemicals market. It will be interesting to see whether the post-merger Albemarle will make a stronger attempt in improving its market position in Asia. Some of the business areas - particularly lithium - are likely to have strong growth in China.
---
July 14, 2014: Evonik and a subsidiary of GCL-Poly intend to establish a 60/40 JV for production of an annual 20 kt of fumed silica and ultra-pure silicon tetrachloride in Xuzhou, China. Planned start-up is in 2016. As raw material, the plant will use silicone tetrachloride supplied from GCL, which is a byproduct in GCLs production of polycrystalline silicone.
Comment MCC: This seems to be a very sensible JV for Evonik as it gives them stable raw materials supply for their production while at the same time the 60% ownership of the JV allows them to keep control of the venture. Key to this ownership structure is the fact that the planned production is part of Evonik´s core business area, while the same does not apply to GCL (for them it is essentially just a sensible way to use byproduct). Other chemical companies may look into their supply chain to see whether similar deals are possible.
---
July 14, 2014: The stock of a Chinese power generation company, SinoCoking Coal and Chemical Industries, rose by 20% on NASDAQ after the company announced it intends to change its name to Clean Synthetic Technologies and to focus more strongly on producing clean-burning synthetic gas. This price rise is despite the fact so far the company does not have any clean-burning gas power plants, and has not stated what future share of its revenue will come from this part of its business (marketwatch).
Comment MCC: The jump in stock price shows the immense potential that investors see in shifting towards greener technologies - even if the realities behind such announced shifts have not been verified yet. Presumably chemical companies active in China could profit from this using similar measures. From Sinochem to Sinoclean?
---
July 11, 2014: Oriental Energy, a Nanjing-based company focusing on alkane trade and processing, has announced to establish a shale-gas based industrial park at Tangshan Caofeidian Industry Park. The park will be centered on production of chemicals from shale gas - both basic chemicals such as ethylene, propylene and butylene and downstream materials. Production start is scheduled for 2020.
Comment MCC: Though lagging far behind the US regarding the development of shale gas, China regards domestic shale gas as an important future raw materials source. The announcement of a shale-gas based chemical park further strengthens this point - interesting that apparently the term "shale gas" is now deemed to be effective for marketing. However, overall the announcement needs to be taken with a grain of salt. Oriental Energy is not a particularly big company (market cap about 1 billion Euro), and due to the troubles of Caofeidian Industrial Park (see HSBC article), they can currently not be particularly selective regarding potential investors.
---
July 11, 2014: DSM has agreed to acquire Aland´s Vitamin C business. Aland is a Hong Kong-based company with vitamin C production in Jiangsu province, mainland China. In 2013 the company had net sales of about USD 90 million in vitamin C. DSM plans to invest in Aland's production facilities for operational excellence including quality and environmental performance (DSM).
Comment MCC: The global Vitamin C business has long been dominated by the major 5 Chinese producers which alone have a combined capacity higher than global demand (about 120 kt vs 100 kt) and a high global market share (about 85%). DSM is the only remaining serious competitor with their production in Scotland. However, their production costs there are much higher than those of the Chinese producers. And even the Chinese producers currently have very low profitability. For this reason, the acquisition of Aland, the biggest Chinese producer, is a bit of a surprise (though negotiations had already been announced a few months ago) and an indication that DSM regards the production of Vitamin C as strategically important. DSM needs to take care not to substantially increase production costs after the takeover (as it often happens due to the adaption of Western standards and overheads), as the current market situation does not leave much buffer for cost increases. On a more positive note, DSM may benefit from getting better prices as their reputation in the sensitive food additives segment is certainly better than that of Chinese competitors. In addition, there is a chance that the cyclical vitamin C business leaves the bottom and experiences an upswing, possibly supported by the industry consolidation promoted by DSM´s acquisition.

---
July 9, 2014: Sinochem started operations at its 12 million t/a refinery complex in Quanzhou, Fujian (Sinochem).
Comment MCC: Sinochem is already active in energy, agriculture, chemical industry, real estate and finance. Now petrochemicals have been added, showing that China´s big state-owned chemical companies believe much more in assets and size rather than in knowledge and in focus. This is a missed chance in positioning itself as the future domestic champion in specialty chemicals, a position that is still open.
---
July 9, 2014: Evonik has opened a hydrogen peroxide plant in Jilin with an annual capacity of 230 kt - an investment of more than 100 million Euro. The plant is to supply the neighboring propylene oxide plant run by Jishen Chemical Industry via long-term supply contracts (Evonik).
Comment MCC: This seems to be part of a broader trend in China towards closer on-site supply relationships between chemical companies. Other recent examples are the Praxair oxygene supply to the Huntsman plant in Nanjing, and the JV formation between Evonik and GCL in Xuzhou to guarantee raw materials supply. On a slightly different note, we still wonder how hydrogen peroxide fits into the portfolio of a specialty chemicals company.
---
July 8, 2014: Datang Power, one of China's largest independent power producers, will divest its coal-to-gas and coal-to-chemical divisions following multiple problems that have risked the company's attractiveness to investors (Platts).
Comment MCC: This confirms our suspicion that coal chemicals may not be as attractive an area as many Chinese companies think. Key issues are the large number of projects and participants, potential environmental issues and uncertainties related to the immaturity of the technology involved. As a consequence, companies without a strong intrinsic advantage in coal chemicals (e.g., access to cheap coal, integrated value chain, strong technology) are at risk of being uncompetitive, as the example of Datang seems to show.
---
July 4, 2014: DIC will build a 6 kt polyphenylene sulfide (PPS) compound plant at its Zhangjiagang site in Jiangsu province, to be completed at the end of 2015 (DIC)
Comment MCC: This is an indication of both the growth expectations for the Chinese automotive market and the growing importance of engineering plastics such as PPS in automotive production. More and more, engineering plastics replace metal parts as this saves weight and simplifies the manufacturing process due to the more complex possible shapes of plastic parts. However, in China this shift from metal to plastics is still in its early stages compared to Western markets - the share of plastics is still low. This should allow for substantial further growth of at least 10% per year, particularly if environmental regulation tightens further and the automotive market gradually switches towards higher-end models.
---
July 1, 2014: Shanghai Lianheng Isocyanate, a venture formed by BASF, Huntsman, Shanghai Huayi, Shanghai Chlor-Alkali Chemical and Sinopec will expand its 240 kt MDI plant to double the capacity to 480 kt, with an expected start-up date in 2017 (BASF).
Comment MCC: MDI is one of the relatively few commodity chemicals that are still quite profitable on the Chinese market as the investment and technological entry barriers are high. In fact there are only three producers, the other two being Bayer and Wanhua. Shanghai Lianheng currently has the smallest capacity of all three of them, making an expansion important to stay relevant. Both of the other players have also announced substantial capacity expansions, as have Huntsman (in Shanghai) and BASF (Chongqing). However, as the market is still growing at about 13% and China still imports a substantial share of MDI, MDI production is likely to stay profitable for at least the next few years.
---
June 26, 2014: Chinese central authorities unveiled a program to promote the integrated circuit (IC) industry. The "National Guideline for the Development and Promotion of the IC Industry," published by the State Council, is meant to accelerate the pace of China's IC industry. The focus is on boosting the IC packaging and testing industry, and on making breakthroughs in key equipment and materials. Financial support and tax credits will be increased. Currently China relies heavily on imported ICs (Caijing).
Comment MCC: This should in the long term boost domestic sales of electronic chemicals, providing an opportunity for makers of such chemicals, e.g., ultra pure acids, solvents and gases as well as specific specialty chemicals and formulations
---
June 25, 2014: HB Fuller has acquired 95 percent of the equity of Tonsan for about $230 million. Tonsan sells a range of engineering adhesives for markets such as transportation, machinery, photovoltaic, electronics and electrical appliances. It is the largest independent engineering adhesives provider in China, offering silicone, epoxy, anaerobic and cyanoacrylate technologies. Tonsan's current annual revenue is about $100 million with normalized EBITDA of just under $20 million (HB Fuller)
Comment MCC: Targets such as Tonsan with a strong position in advanced chemical market segments are extremely rare in China. It is therefore not suprising that HB Fuller had to pay a very high EBITDA multiple (somewhat above 12) for this company. With such a high multiple, the success of the acquisition will depend not only on growing the market in China but also on leveraging HB Fuller´s international market position to achieve strong sales of Tonsan´s products outside of China.
---
June 25, 2014: In 2013, the energy consumption for each ten thousand RMB of industrial added value in the Chinese petroleum and chemical industry was decreased by 46.9% compared to 2005 (China Chemical Reporter).
Comment MCC: Despite this positive development, the total energy consumption of the chemical industry keeps increasing, and the industry is far from meeting the targets of the 12th 5-Year Plan. Achieving this target will be hard as many of the savings achieved so far were in segments dominated by old plants and production processes, thus allowing for easy pickings.
---
June 20, 2014: In its 2013 Greater China report, BASF states that the number of employees in the region is 7606 (from 7305 in 2012) and sales are 5.5 billion Euro, from 5.1 billion Euro in 2013 (BASF).
Comment MCC: This means that sales per employee increased by about 3.6% (from 698 k Euro to 723 k Euro), which quite likely is a lower increase than that of the salaries of BASF employees of probably at least the GDP growth rate of above 7%. Not proof but an indication that the productivity increases are lower than the cost increases, which could be a long-term problem for the business.
---
June 16, 2014: China Petroleum and Chemical Industry Federation (CPCIF) recently finished a "Report on Resolution of Excess Capacity." The Federation has reported to national management and planning authorities some suggestions for remedying excess capacity in eight industries: refinery, nitrogenous fertilizers, ammonium phosphate, chlor-alkali, caustic soda, calcium carbide, methanol and fluorosilicone (China Chemical Reporter)
Comment MCC: The list contains some of the obvious candidates for overcapacity, along with a specialty segment (fluorosilicone). The overcapacity results from the fragmentation of the industry, from inter-provincial competition and the limited regard that Chinese chemical companies attribute to their own competitive position in their strategic planning. Obviously, most outside investors would be well-advised to stay outside of these segments.
---
June 13, 2014: China's Tianhe Chemicals Group raised US$654 million in an initial public offering in Hong Kong, the city's fourth-biggest float this year. This values the company at around 5.9 billion USD. Tianhe is a Chinese market leader in lubricant additives and specialty fluorochemicals.
Comment MCC: Tianhe is interesting in that it is one of the few Chinese specialty chemicals companies that can compete with the global players with regard to their portfolio, at least in the area of specialty fluorochemicals. The owner pursued an interesting and successful strategy of investing some of the cash flow coming from the fairly mature lubricant additives into a growth area, specialty fluorochemicals. He heavily relied on American scientists with fluorochemical expertise from their previous jobs at MNCs, and gave them a sufficiently long timeframe to develop and market their products. This is rare for China, where company owners generally have a relatively short timeframe for investments.