We specialize exclusively in the chemical industry in China, providing
- Strategy Development
- Market Information
- M&A Target Search
- Trainings/Workshops
- R&D Optimization
Our clients profit from our in-depth knowledge.
For more information contact Dr. Pflug:
Management Consulting – Chemicals Ltd.
M: Dr. Pflug +86 136 8187 3992
Email: kai.pflug@mc-chemicals.com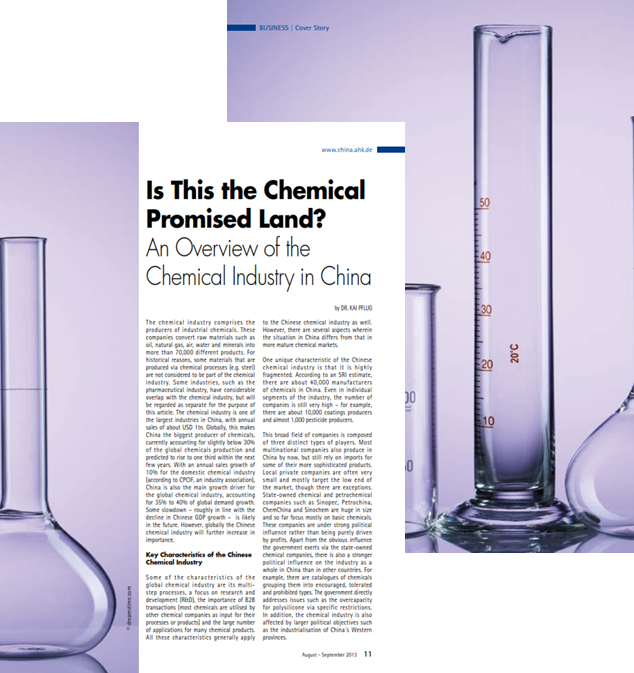 References
Barbara Sun, Manager of Mergers & Acquisitions at Brenntag China
I had the opportunity to work with Kai from 2009, I must say that it was a pleasure. Kai began working with our projet that time since our comapny explored a new maket segment then further movement will be decided.
I am responsible for marketing reasearch who need provide necessary materials for decision makers and aissist our company strategic development. I have found Kai to be effective and professional in his expertise as a Business Consultant. Not noly from his industry knowledge, but also his profound marketing insights. So we hired him to contuniue working with other projects in order to achieve the success in China market.
Kai has demonstrated in the workplace that he is indeed a great added-value to our company and I am sure he will be to any group he's associated. I wish Kai much success in all endeavors.
Jennifer Ye, Director Asia Pacific - Business Development/M&A at Fresenius Kabi
I got to know Kai when he managed a large scale strategy project at Bayer Asia Pacific region as a consultant. Kai did an exceptional job. His conception, wonderful work flow, creativity and deep understanding of the chemical business made the project a big success.
The project showed me that Kai is someone you could trust with very important work. His personality could be described as: Honest, Forward Thinking, a Listener, and Calm.
Daniel Meyer, Member of the Executive Commitee and Executive Vice President Head BU CAS at Bayer Materialscience AG
I have first met Kai when he led a project on the Coatings Industry in China in the early days of my Asian assignment. Kai provided us with an excellent work with actionable results and so a great basis for decision making.
During his time on the project he worked well with all the stakeholders of the projects, extracting know-how and insights from a complex and multifunctional team, analyzing and structuring them to workable strategic proposition.
Beyond the usual work provided by consultancy he could add significant value to the project by his great personal insights and a superb expertise of the Chemical Industry in China.
Kai is now a real entrepreneur, taking position of his unique penetration within the Chinese Chemical Industry embedded in a global context.
I would recommend Kai for everyone looking for great intelligence at service of a thorough knowledge, with a great analytical and critical judgment.